✓ You on Insta?
👍@triplyzer
---
✓ Find the best offers on your
Stays on 🏡 booking.com
---
✓ Deals on Private xfers, SIM Cards, City tours, Day trips
on 🛵 GetYourGuide
|
on 🛵 Klook
---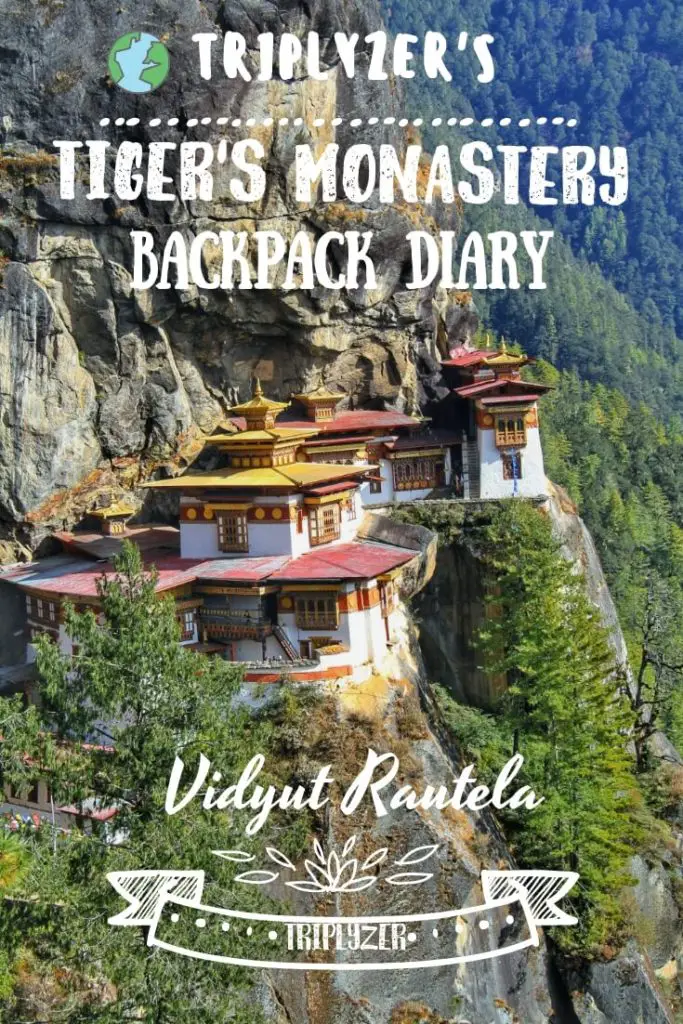 I watch from a distance as Dorjee ji, our cab driver, stands on the highway in the dark trying to flag down cars going to Thimpu. The night is getting chilly and it certainly looks as if it might pour anytime but the man is determined. He finally finds a suitable passer-by to whom he hands over the mobile phone.
Earlier, in a very similar way, a woman flagged down our car and handed over the phone to Dorjee ji. Apparently, somebody forgot the phone in that woman's restaurant and she was trying her best to get it to Thimpu where the owner currently was.
Seems unbelievable ???
… It's just another day Backpacking Bhutan
What is wrong with the people of Bhutan? How could they be so nice, so righteous?
Is Bhutan really the lost Shangri-la? Can you truly measure a country's prosperity with happiness? Can you even measure happiness in the first place?
Crunched between the two economic powerhouses is the tiny Himalayan kingdom which unlike its neighbours chose to go to a different direction altogether. The happiness of its citizen is the sole prosperity metric this tiny country swears by.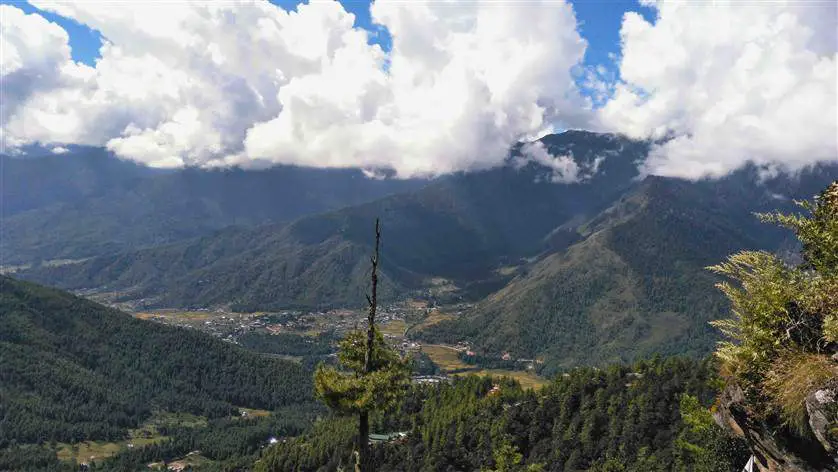 My journey to Taktsang monastery (popularly known as Tiger's nest) takes me to the beautiful valley of Paro (Devdas anyone?). Paro surely looks like the Shangri-la of the Shangri-la, that Bhutan is.
It might sound cliche but I don't really know how to put my Paro experience in words, perhaps I'd let the pictures speak.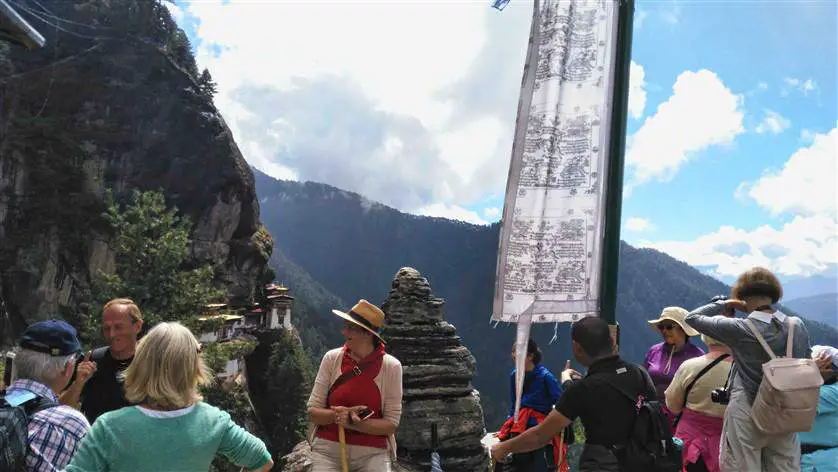 As it happened I stayed in a family run hotel for the night, my cabbie, named Dorjee, helped me negotiate. It was not much of a negotiation really – they quoted a price, and Dorjee asked for a discount with a puppy face backed by a sweet voice. Since then, I too have picked up this technique and ran it successfully all over my Bhutan, and SE Asia travel.
My hotel is quite close Sonam Trophel Hotel. As I observed in my travel through Bhutan every other business is named Sonam, what's the mystery, eh?
The most likely connection is the princess who is named Princess Ashi Sonam Dechan Wangchuck. But I can't be sure, do you have any idea? Please notify me in the comments.
Paro had an amazingly calming effect on me, something that I had not felt for years, perhaps it was the lack of the crowd that I had gotten so used to in India. Or perhaps it was the beautiful nature – the green valley and the emerald green Paro Chhu which runs right through it.
Could life be lived more idyllic?
The traditional houses dotted the landscape. Paro dzong stood by the Paro Chhu. I've been to this place before, in my dreams. Yes, I have dreamed of Paro so many times that it has become a reality.
We get up early so that we could scale our trek to Tiger's nest before the hot afternoon Sun. We stop at a shop on the way to get some snacks and the owner is all thankful to Dorjee ji for bringing in business.
So much kindness, so much smiles around, I think I am getting infected too, but I don't mind a bit. Maybe my big city, busy life bitterness will simmer down in all this spread of sweetness of Bhutan.
Dorjee ji drops us at the base of the mountain from where Tiger's nest looks too far, a ship which appears like a dot in the ocean. Nothing good in life comes easy, right?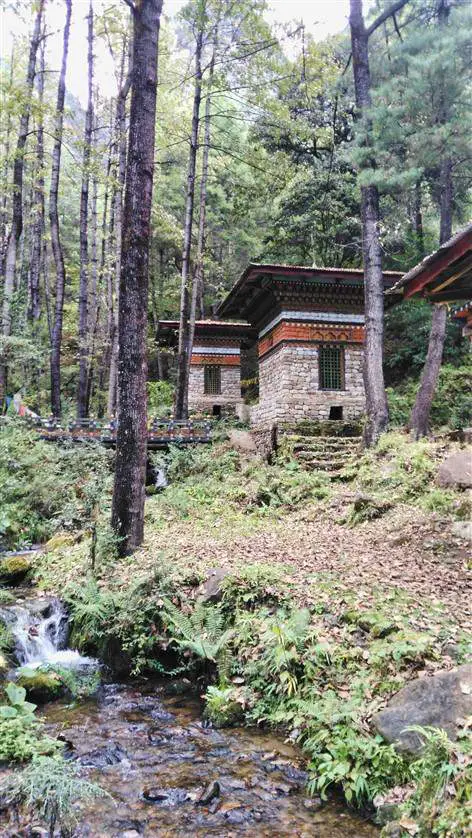 It takes me more than three hours of strenuous walk to reach the Tatsang monastery. There is a coffee-shop on the way (seriously?) which also serve meals two times a day. I don't bother to stop, though my breakfast-less stomach growls in between.
Finally, the winds scatter the cloud and we get the first glimpse of the Tiger's nest. It seemed monastery was just there but not quite yet, still a long line of stairs to climb on.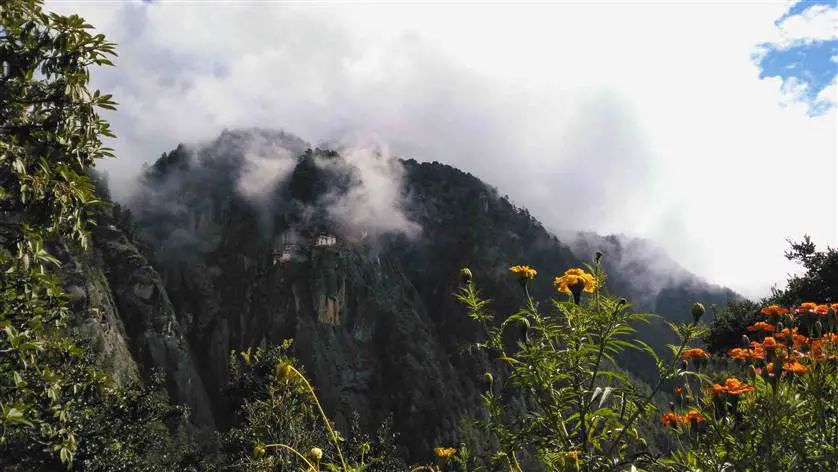 It is better to read about the significance and other details of the monastery before you go, otherwise you will end up staring at the statues.
The monastery is dedicated to Guru Riponche and it believed that the guru mediated here in a narrow cave. The cave can still be visited today, but be warned it's not everyone's cup of cake.
The guru came in flying to the cave on the back of a local deity, who shape shifted to a tigress form, hence the name Tiger's nest.
My friend was feeling playful and rang the giant bell which stood toward the edge of the temple, over a lookout. A monk in a maroon dress appeared on the scene immediately.
"Don't ring the bell" He said stressing on each of the words.
We looked confused at each other. What was the big deal ringing a harmless bell.
"It is a signal to gather all the monks in the monastery at one place." He explained patiently.
Öops!
He certainly was a monk, I'd have slapped a person who'd fool around with my system.
I bow to Guru Rinpoche once more, for laying the foundation of a culture, a civilization so truly amazing. And as an Indian I feel immensely lucky that we have such a neighbor, and which despite its tiny size has lot to teach us.
I wave goodbye and begin the descent to the base where Dorjee ji waits patiently to take us to Thimpu …
✓ You on Insta?
👍@triplyzer
---
✓ Find the best offers on your
Stays on 🏡 booking.com
---
✓ Deals on Private xfers, SIM Cards, City tours, Day trips
on 🛵 GetYourGuide
|
on 🛵 Klook
---