Love Sports? 8 of The Top Sports Stadiums in the World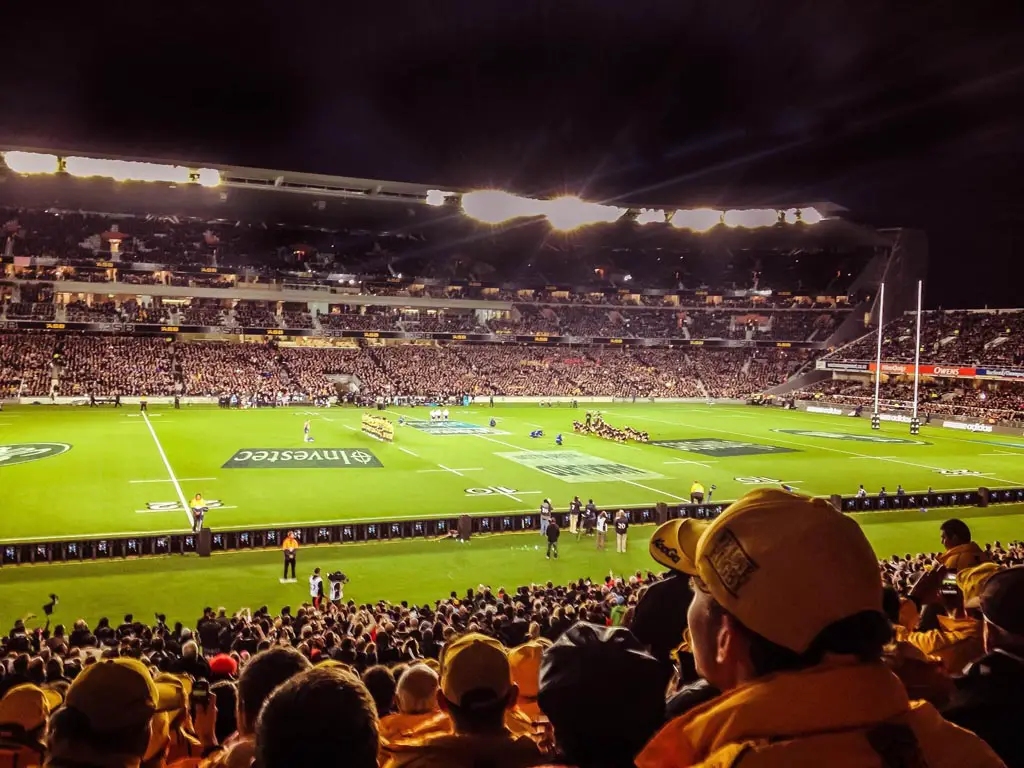 Football, rugby union, cricket, whichever your sport we all know that the stadium plays an important role in the match-day experience. Here are 8 of the top stadiums in the world that you NEED to see a game in.
1. Eden Park, Auckland, New Zealand
For any Rugby Union fanatic around the world, Eden Park is known as a sacred place of rivalry, comradery and respect. It is also a place that is on every one of these people's bucket list. It of course is not just a rugby stadium but also hosts other sports such as the T20 and one day cricket matches plus numerous other events. With a capacity of 50,000 you know the atmosphere in here during a rugby match will be one of the best live experiences you will ever have.
BEST MATCH: Opening Ceremony of Rugby World Cup 2011, New Zealand v Tonga
2. Forsyth Barr, Dunedin, New Zealand
New Zealand is very well known for their passion for and skill in Rugby Union hence why their national rugby team is number 1 in the world, and one of the best stadiums in the land of the long white cloud is Forsyth Barr Stadium in Dunedin located in the South Island. This stadium has built a roof as you can see in the above picture allowing you to take in your surroundings both inside and outside the stadium. With a capacity of just under 31,000 it is hard not to feel like you are a part of the team playing on the field.
BEST MATCH: Bledisloe Cup, Australia v New Zealand
3. Allianz Stadium, Sydney, Australia
Built only 3km from Sydney's city Centre Allianz Stadium was designed to sit deeper into the earth with a roof specially designed to reduce sound to neighbouring houses only a few short feet away. A multi-use stadium for sports such as rugby union, rugby league, soccer and also well known for some fantastic music concerts such as Taylor Swift and Coldplay.
Atmosphere is something that will be talked about a bit in this article and so it should be, this stadium can change your attitude to one of absolute delight and awe when you attend an event in this 45,000 capacity arena.
BEST MATCH: Australian Socceroos v Bahrain
4. Melbourne Cricket Ground (MCG), Melbourne, Australia
Three words always pop straight into my head when I hear MCG…Boxing Day Test. One of Australia's most sought after ticketed event is the 5 day cricket Test Match held at the MCG commencing on Boxing Day. A capacity of 100,000 you can see why you will need new eardrums after attending a sold out event. Cricket and Australian Football Rules (AFL) are the two main sporting events held in this circular ground and you cannot get a bad seat in the house.
Gather your mates and purchase your tickets ready for an amazing experience that you will never forget.
BEST MATCH: AFL Semi-Final, Geelong Cats v Hawthorn Hawks
5. Twickenham Stadium, London, England
Home of English Rugby, Twickenham Stadium has a capacity of 82,000 and has been witness to some of the best rugby union matches in the world, including having the Rugby World Cup in 2015. The three-tier stadium boasts amazing views from all angles across the rectangle pitch below and carries the chant of 'swing low, sweet chariot' to every single seat.
A cool thing about this stadium is when you purchase a beer it is served to you in a plastic cup usually with a Twickenham logo on the outside and details of the match you are attending. You do pay an extra pound for this when receiving your drink but you can always take it back with you when ordering another to have that price taken off your next beer. An even cooler thing is if you are savvy enough make sure to grab as many of these empty cups as you can throughout the course of the match as you can cash these in on your way out of the stadium…cheeky way to make a few extra pounds to come off your next pint!
BEST MATCH: Rugby World Cup 2015 Final, Australia v New Zealand
6. Emirates Stadium, London, England
A stadium known as Arsenal's home ground during the English Premier League (EPL) season, Emirates' atmosphere is something to behold. It doesn't matter where you sit in this stadium you can see every inch of the football pitch and have the feeling that you can almost touch each of the players below you. Something that all football matches in the UK enforce is no drinking alcohol in your seats. You can however drink beforehand and during half-time within the stadium where food and drink can be purchased. Something that can take getting used to if you are used to attending events and matches where alcohol is readily available. 60,500 football fans in this stadium, you are in for an unforgettable experience.
BEST MATCH: EPL 2016, Arsenal v Chelsea
7. Hong Kong Stadium, Hong Kong
Shopping and holidaying are 2 things you associate with Hong Kong, but what if I told you that sport is also something you should consider. Hong Kong Stadium holds many sports including rugby union matches and the famous annual Rugby Sevens Tournament. Considered one of the best legs of the World Sevens Series, Hong Kong stadium offers general admission seating for the event allowing you to choose your seats so long as you arrive at a decent time of day. Costumes are also are major part of this 3 day tournament so make sure you arrive with your best dress up!
Located in Causeway Bay the stadium is only a short 20 min walk from the MKR (tube station). If you feel you might get lost just follow the crowd of colourful costumes and flags! Within the stadium you can drink alcohol in all areas except the upper seating area for the sevens event. This may vary for each sporting match they have so check their website to find out more.
BEST MATCH: HSBC Rugby Sevens Tournament
8. Metlife Stadium, New York, USA
NFL is one sport that you need to witness live when in America. All  NFL stadiums have their own unique selling points and one of the biggest and best is of course Metlife in New Jersey. No matter where you sit in this stadium you have an unobstructed view of the entire field and can really take in all aspects of the game without having to rely on the big screens.
The above photo was taken in the last row of the stadium and as you can see the view was unbelievable.
Attending an NFL game at Metlife is something to add to your bucket list even if you don't know much or any about the sport. The fans around you are more than happy to help you understand the rules and will love to share a beer and hotdog.
BEST MATCH: NFL New Jersey Jets v Denver Broncos
There are many amazing stadiums around the world that hold all types of sporting matches and various other events and I am sure you can add your own to the above list. Have you also been to any of the above stadiums? If so which one and what did you watch?