Nongriat Trek – Double Decker Living Root Bridge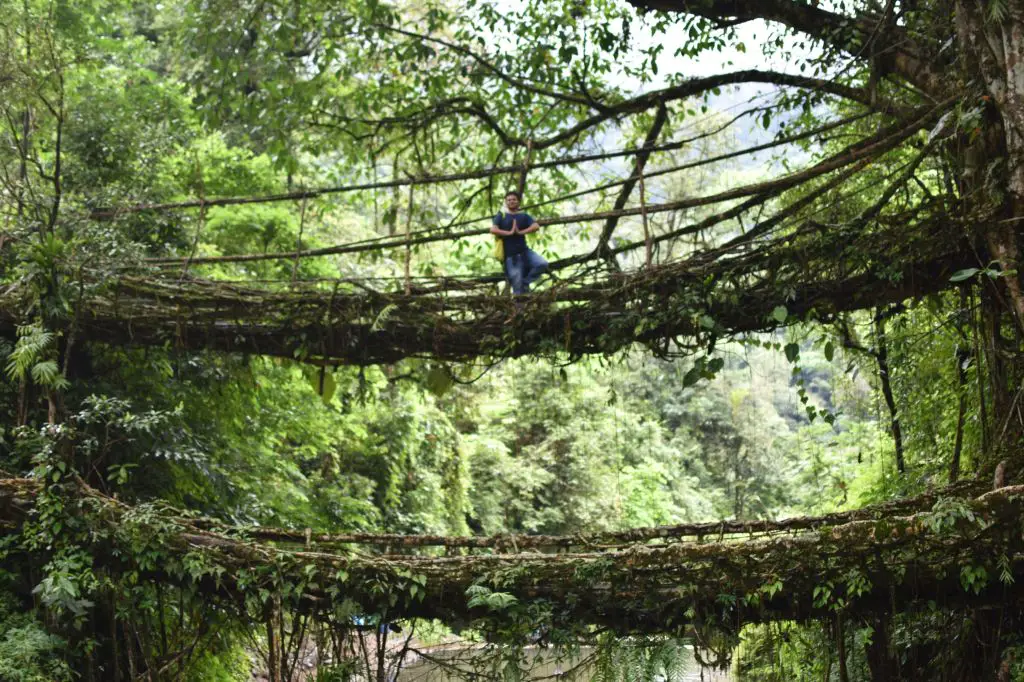 Read Now, The Himalayan Tsunami - a gritting new novel by Vidyut Rautela
Let me begin by saying that Meghalaya is one of the most beautiful places to visit in India. Wait a minute… it is 'The' most beautiful place in India. Meghalaya is called adobe of clouds and India's Scotland for a reason. Add it to the fact that I was there in the absolute best season to visit Meghalaya. The monsoon season in Meghalaya adds unprecedented beauty to the state. The green rolling hills seemed even more bright.
As part of my North east backpacking trip I traveled from Sohra to Double root bridge. By the time I arrived Sohra from Guwahati it was quite late, the dark of the night had taken over. The shared cab in which I came dropped me in the upper Sohra, from where I walked all the way to lower Sohra.
The reason for coming down to lower Sohra was that I had a hostel to stay for the night in mind. I couldn't book it online, and most of the other options seemed bit expensive. The worst part of most of Sohra accommodation online were booked and the ones available seemed bit away from the city.
I decided to test a shortcut from Upper Sohra to Lower Sohra, something that seemed to be used by the locals. Though unsure it turned out to be a great decision to experience the local life, not to mention it went through the beautiful landscape. When I finally arrived at Lower Sohra and looked for the hostel, I came to know it was locked. The guy upstairs told me that he had no idea about, the place seemed sort of abandoned. It was puzzling.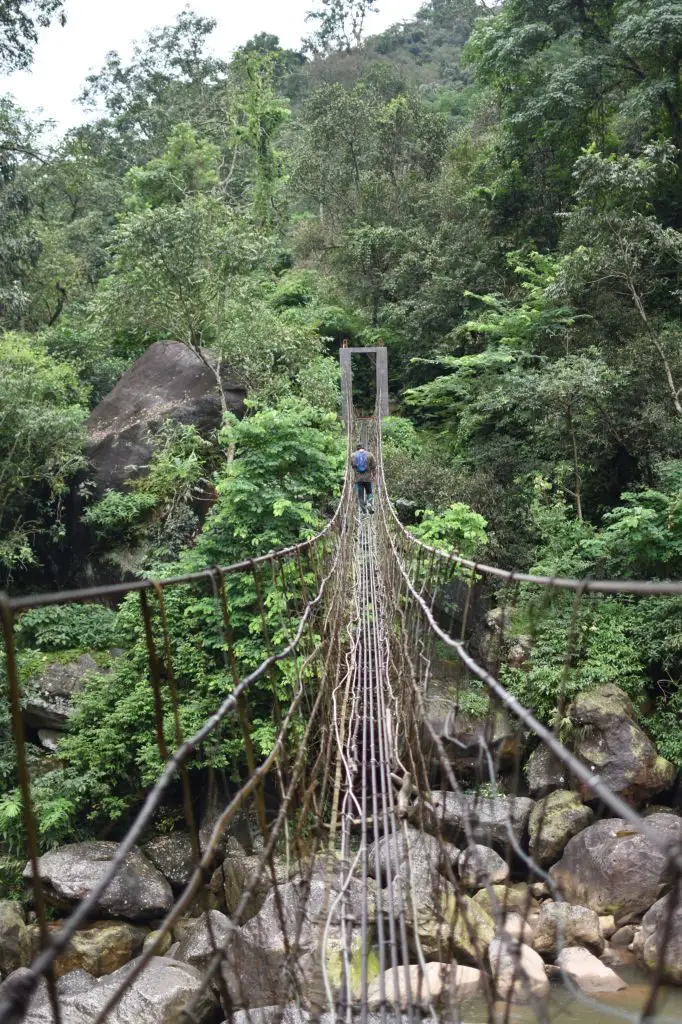 Wandering around I met this guy who asked me I was traveling alone in Meghalaya. In the small conversation we had, he offered me to take to a place nearby. At first, I thought he was sort of an agent or something but out of options I decided to follow him anyway. Just my luck, the guesthouse said they didn't have any room not even a bed. Knowing fully that it was late and needed a sleep to get myself ready for the trip to I insisted. I was allocated a big room, which I shared with the caretaker. I was planning to get up really early, something like 5ish so that I can get to root bridge in time.
Next morning, I woke up to the sound of raindrops falling on the tin foiled roof. Damn! It was only by 7 I could leave the Sohra guesthouse. With umbrella in one hand, backpack on the other I walked to the main road to the root bridge. This was not it, I was relying on the local bus from Sohra to Double root bridge, but as it turned out none came. It was Sunday and there was no bus service.
After waiting for a while and after unsuccessfully trying to flag down passing cars, I decided to start walking. I was hopeful I will find something along the way. To be honest, couple of cars did stop. Few of them turned out to be cabs, asking for exorbitant sum for a one-way trip, one slowed down, rolled down his window and apologized because he wasn't sure he wanted to go in the direction. It was drizzling, and I had tucked my DSLR safely in bag. With mobile in my hand I started clicking every time I spotted a rolling hill, or a beautiful house surrounded in mist, or gurgling streams. It was as if I was inside a waking dream.
I was happy that I chose to walk, I was happy that there was no bus, or I didn't take a cab for I couldn't have enjoyed the gift of nature. I closed my eyes saved the views of Sohra in the pages of book of my happy places. Part of the reason I enjoy traveling alone is the escape. Escaping not just the mundane, or the environment I am part of but escaping myself. All my compulsions, all my worries are whisked away. It is as if I am a different person when I am traveling. Part of it is perhaps, the excitement of journeying into unknown. I have always suffered with lack of focus, lack of attention throughout my lifetime, not just because they bore me, but I already know what's going to happen next. Traveling solo can be physically tiring, and mentally exhausting, specially when you are backpacking alone on a budget.
Lost in the clouds of my own thought I was walking when a car finally stopped. The old man talked to me in local language and I only nodded. As long as he was going in my direction, all I needed to talk to him was the nod of the head. He whizzed past this mist covered village and dropped me right where the hills begin to start. I think I had covered about 1/3rd of the area. By now I was calm, I had accepted my fate that I will be late to get to the double root bridge.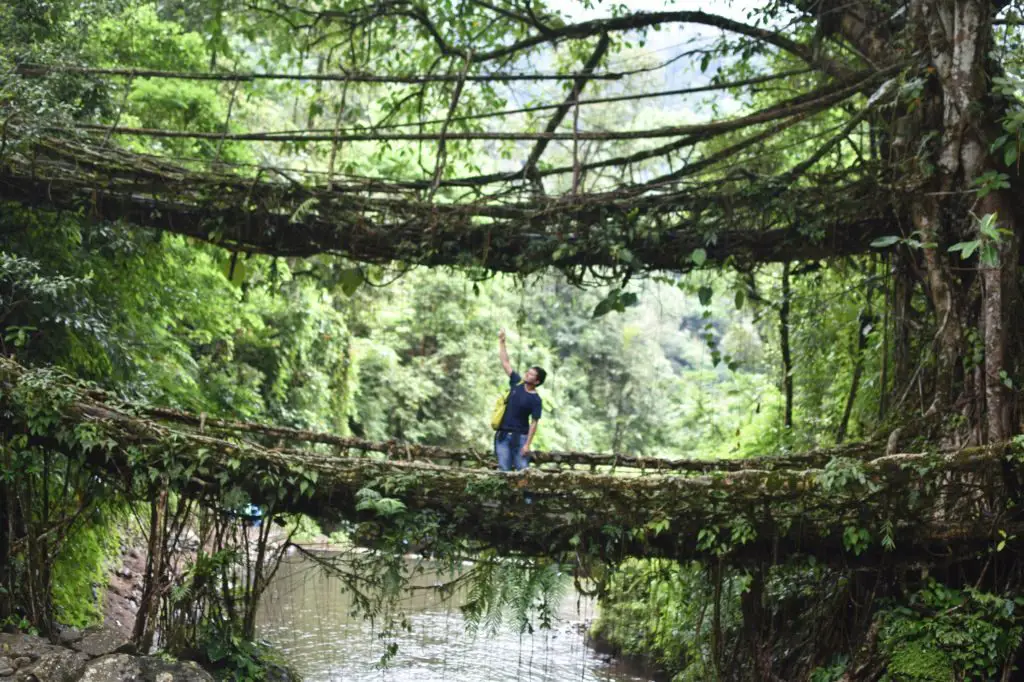 Straddled to my back but now raised to my head, my backpack became my umbrella against the rain. Just out of instinct, and not really expecting I stretched my hands again, and this time, this time, it was a perfect bloody match. The guy with the cap, smiled and pushed open the lock of the passenger door. He was going exactly to the place where I was going… just my luck… the double root bridge!
So, the long walk and the hitchhike took me to the entrance of the double root bridge. The cap guy was going to the double root bridge to deliver a gift to one of the villagers there. It is a story in itself but perhaps better left untold.
I was running down comfortably with my 10 kg backpack. Did I tell you that my backpack was way too heavy and foolish I was to carry it all along? My confidence broke when I slipped, I got away cheaply as I only lost my balance, but it was enough to make me realize I had to be careful on the wet, slippery steps.
Both of us continue to descend and stopped once to load some eatables. Here at this small shop which comes in first 10 minutes of your trek, you can load some food essentials and cold water. Note that there are few more shops along the way to double root bridge which sell water, none of these sell any food item though.
The cap guy purposed I should deposit my backpack at the shop. The two knew each other very well. Apparently, the guy with the cap has been quite a regular to the double root bridge trek. As per my original plan I wanted to stay for the night in the village near the double root bridge. There was a guesthouse near the double root bridge, which offered basic amenities including food. So, in short, I wanted to keep the option of the staying open. Little did I knew it was quite a heavy price tag for a choice. It proved extremely difficult to trek with my 10 kg backpack. Let me tell you, the trek to root bridge is difficult. Yes, it is meant for people with good fitness. If a travel blog tells you that double root bridge trek is easy or moderate, they are outrightly underplaying it. For a person with average fitness the trek is arduous, this is especially true when you make your way back.
The trek to double root bridge itself is very beautiful. Long steep flight of steps takes you to a descent to the bottom of the hill, deep in the jungle. The path is well marked and well paved and so it is absolutely safe to hike to double root bridge. Along with the cap guy who didn't seem to slow down and to whom it seemed like he was walking in a park, I huffed and puffed my way through.
When the initial descent finally ends you will observe the path branches out to single root bridge. I skipped it for the lack of time but if you do have time, visit the single root bridge too. Some people only walk upto single root bridge and come back without seeing double root bridge. This is perfectly acceptable as you will need considerable amount of more energy to complete the trek to double root bridge.
Along the way, there were couple of swing bridges which connected the two sides of a hill and a mountain river which was flowing under. Swing bridges could be little scary at first but believe me you will start enjoying as you walk along.
The route to double root bridge goes both uphill and downhill before you make your final stop at a small village. At the village you can eat Maggi and sip hot tea, which is what we did while coming back. A perfect reward for an arduous trek all the way to rainbow fall. Interestingly, neither of us had breakfast and we were trekking to the double root bridge without any food. To make the matter worse, the guy at the start of the trek had also run out of eatables, so weren't stocked at all.
The guy with the cap delivered the present to the happy villager. And after resting for few minutes we continued our trek. It took us only 5 minutes to reach from the village to the double root bridge. We bought two tickets, it's easy to skip the double root bridge ticket, but I will suggest you do buy the entrance ticket to double root bridge as the money is spent on the upkeep of the area.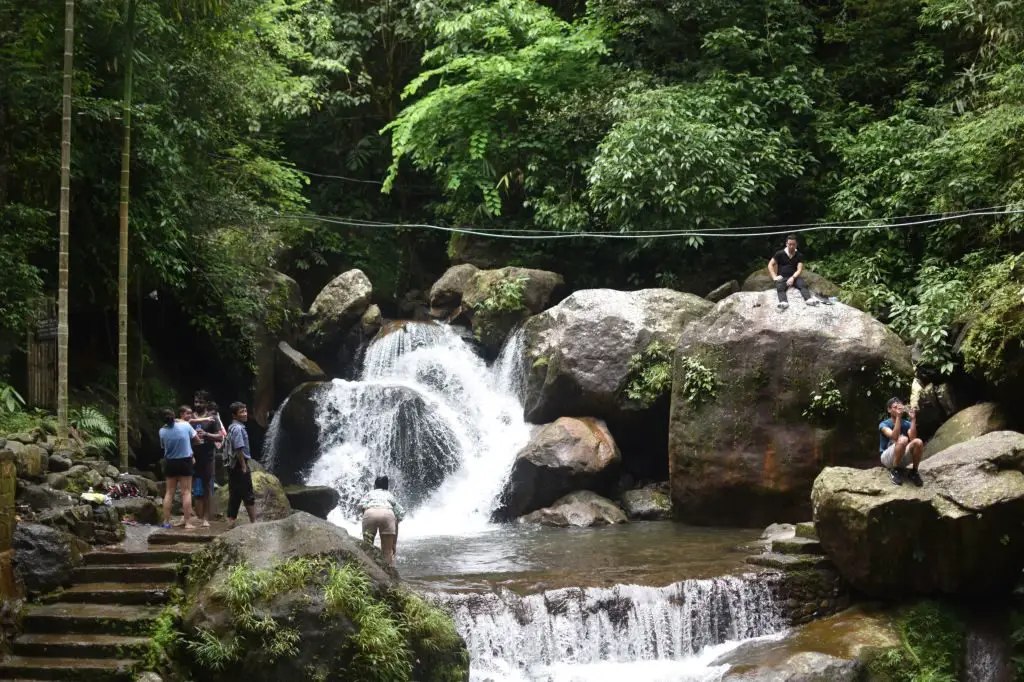 The double root bridge is built over a small stream, which you can cross with the help of the bridge. There is a beautiful waterfall nearby and a small pool where you can enjoy a dip. We spent a few minutes relaxing in the cold stream.
The best part was that we had the double root bridge all for ourselves as tourists were yet to pour in. We fooled around a bit, taking snaps before heading out. Wait a minute, we didn't really go back to the base, but we decided to head further. We were trekking from double root bridge to rainbow falls.
I was tired, exhausted and to be honest lacked fitness to trek further but what the heck! Let's do it! Let's trek to rainbow falls…