✓ You on Insta?
👍@triplyzer
---
✓ Find the best offers on your
Stays on 🏡 booking.com
---
✓ Deals on Private xfers, SIM Cards, City tours, Day trips
on 🛵 GetYourGuide
|
on 🛵 Klook
---
Inle lake is one of those places straight out of a magical land. This vast lake located in the picturesque Shan State (known for its plateaus and hills) is spread over 116 square km.
Inle Lake is known for its ecological system, floating villages and the iconic Intha fishermen who row with a special technique using just their legs!
Nyaungshwe is where you will be arriving as it serves the base of the Inle Lake adventure. Nyaungshwe is the nearest town to Inle lake catering to the every needs of tourists, you will find hotels, restaurants, bike-rentals and tours and packages to fit every budget. That being said there are also accommodations which are available on the Inle Lake itself, which if you can afford, is a great way to experience the local life.
Just when you get down from your Bagan, Yangon bus (or any other) you will be stopped and asked to pay for the entrance fee. Yes! No matter what time of night or day it is expect a group of young Burmese (students perhaps?) to be present, so do not expect to dodge this fees. I too was asked for the fees as soon as I got down from my Bagan-Inle Lake bus which arrived around 4 in the morning. Although strange, the entrance fee is consistent with the govt. policy of charging the tourists when they arrive to Bagan.
The entrance fees to Inle lake amounts to 13.500 Kyat of U.S. $10 and is good for 7 days. Don't worry if you are staying any longer, once inside the town nobody checks the payment slip.
So, how to avoid the Inle Lake entrance fees?
Since you won't give up asking, here is a neat trick: Get down from the bus a few km. before the town, hitch a ride with a local and pray that you won't be stopped. All in good faith, right?
Where to stay near Inle Lake
Nyaung Shwe is the nearest town to Inle lake and here you will find lots and lots of hotels, guest houses and even resorts. You can also find a hotel on Inle Lake itself, but that will require pre-planning and not to mention the Inle Lake Hotels are expensive. Here are some of the budget hotels in Nyaung Shwe:
1. Ostello Bello Nyaung Shwe – booking.com/ostello
The cheapest dorm room will cost you $11. Ostello Bello has an excellent 8.8 rating on booking.com
2. Bright Hotel – booking.com/bright
Dorm cost $8 – perhaps cheapest – good location.
3. Song of Travel Hostel – booking.com/song
Amenities on par with western hostels in europe and US. Excellent views of valley. Perhaps the best hostel near Inle Lake and almost perfect for a Solo Backpacker. They have tea and coffee all day. They have free bicycles to get around too. You can use the cycle to go around Inle Lake. A bed in dorm room starts from $13
4. Manaw Thukha Hotel – booking.com/manaw
Another budget option to stay near Inle Lake. Private single room will cost you about $18, while a bed in dorm will be $9
Getting around Inle Lake
A bike rental costs about 2,000 Kyat a day. These bikes are imported from Chinese and though they look really cheap, they ride just fine. If you are feeling more adventurous you can take a mountain bike but be ready to pay around 10,000 Kyat.
Ebikes or motorbikes are not available for rent, in-fact it is illegal for foreigners to ride a motorbike.
Backpacking Inle Lake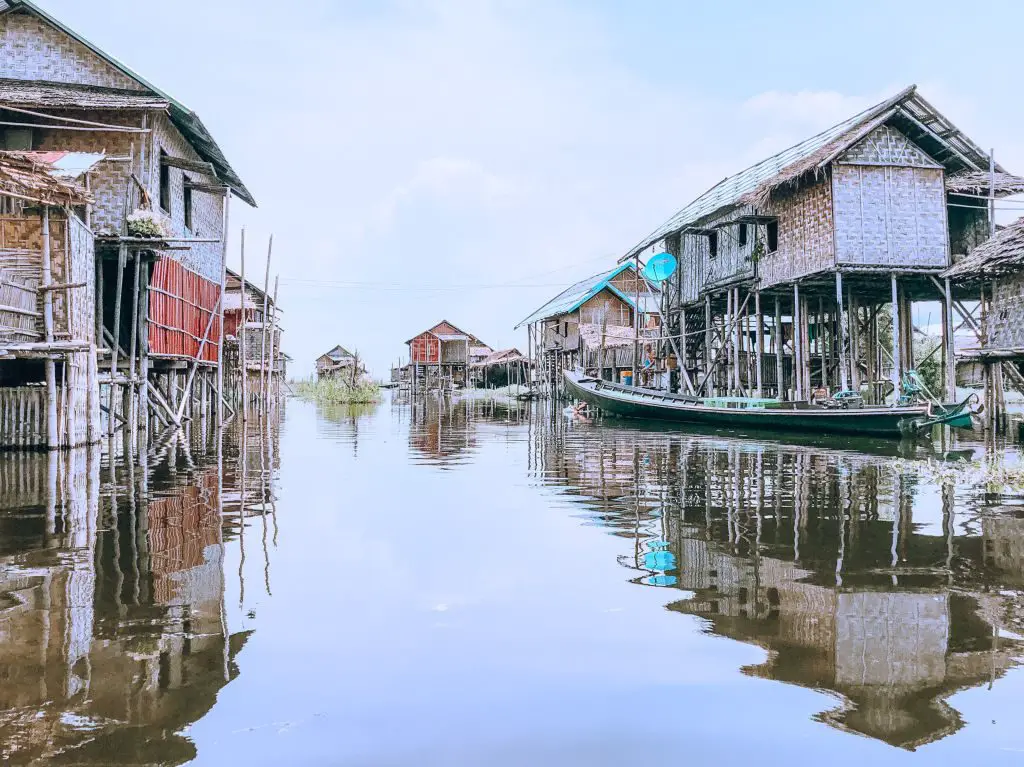 Here's my Inle Lake backpacking experience:
Arrived early morning around 5. The bus dropped me in the town. Paid the fees of 12,500 kyat as an entrance fees as soon as the bus entered town. There is no way to avoid it, unless the ticket collectors are on leave. I recommend that you have sufficient kyats with you otherwise you would have to go to an ATM. This is exactly what happened to the guy sitting next to me.
Pick up trucks/ Sangthew were readily available for 2000 kyats. Instead of taking a ride I asked the direction of the main road from a driver but he refused saying no free information. I then asked the bus staff and he pointed me in the general direction. So much so for helping someone at an odd hour.
While I waited for GPS to work, flashes of memory from backpacking Bagan came flooding. I was stuck for over an hour because Google Maps was not working offline, not to mention it was raining quite hard. But this time I was better prepared with Inle lake map already saved on my phone. In next few minutes I got a GPS fix, I knew where I was, I followed the direction and simply walked to my guest house.
Let me tell you even though it was pitch dark I felt absolutely safe walking to my hostel. If you are worried about safety while backpacking Myanmar, rest assured the major tourist destinations like Inle Lake, Bagan etc. are very safe.
I had booked a guest house from agoda for a price of $6! That's really dirt cheap for Inle Lake. And did I tell you the price includes breakfast as well!
After reaching to my place, I slept for a while and went to the market to buy the the boat trip for the next day, later I also bought the ticket to Yangon.
I asked couple of travel agents about Inle lake boat trip, the lowest price I got was 14,000 kyat. The other price I was quoted by another agency was 20k kyats and 2k discount if I purchased the bus ticket from them (20k kyat).
I recommend, for the cheapest rates buy your trip from near the jetty on the canal. To find the place, go to the junction of Strand Road and Yon Gyi Street. There is a bridge where the two road meets, from there you can walk along the Strand road to find dozens of boat trips direct from the boat owners.
Get Inle Lake boat trip for cheap: Gmap location of: Inle Boat Station
Take a walk or cycle along the canal and several people will approach you with their offer. I was offered a rate of 10k! while I was cycling there. And I didn't even stop and look at that person. He just shouted at me as I passed him. Perhaps he would have given me even better rate if I had negotiated. But I had already purchased the ticket by then.
Inle lake is located around 10 km from the the town of Nyaung shwe. A narrow canal connects Nyaung shwe with the Inle lake. There are several jetty/ boat stations on the canal and this is where you begin your boat trip to Inle Lake from.
There were multiple options – at least three – for the bus to Yangon. The cheapest for VIP was 17k kyats. Met a guy next day who had bought the same ticket from his Guest house for 20k kyats.
So, the prices, including bus fares, and trips vary quite a lot. The best course is to ask around take the best offer.
✓ You on Insta?
👍@triplyzer
---
✓ Find the best offers on your
Stays on 🏡 booking.com
---
✓ Deals on Private xfers, SIM Cards, City tours, Day trips
on 🛵 GetYourGuide
|
on 🛵 Klook
---