Read Now, The Himalayan Tsunami - a gritting new novel by Vidyut Rautela
I backpacked Myanmar and absolutely loved it. I will also recommend you to take a solo trip to Myanmar and you will love this gem of a place too! There is so much to see and do in this beautiful less explored country that even a month's time wouldn't be enough. In this Myanmar travel blog, I have put together ideas and tips from my backpacking trip so that it get easier for you to plan your travel.
How to Plan your Solo Trip to Myanmar
Start planing your Myanmar trip by first building an itinerary that will take you to all your favorite destinations in Myanmar. Once you have the Myanmar itinerary ready, start filling in the details for each of the 7 days Myanmar trip.
One week Myanmar itinerary
I backpacked in Myanmar for 6 days, seeing the highlights of the country. Here's my Myanmar itinerary that I built myself for my solo Myanmar trip. And guess what it was point on! A runaway success.
Day 1: Arrive Myanmar early morning/ by afternoon. Full day in Yangon. Take night bus to Bagan.

Day 2: Full day in Bagan

Day 3: Full day in Bagan- Explore temples you missed, or take half day trip (optional) to Mt. Popa and relax for the rest of the day. Take overnight bus from Bagan to Inle.

Day 4: Full day in Inle Lake. Go on a lake trip.

Day 5: Full day in Inle Lake. Go on a bike trip around the lake. Inle to Yangon overnight bus.

Day 6: Half day in Yangon – So long Myanmar!

Bagan vs Inle Lake: Where to go first?
Note: I suggest you go visit Bagan first and then Inle. The reason is Bagan can be really tiring with you wandering around all day in the hot Sun (with almost no shade!). On top of that the weather is really dry, and the terrain is very, very dusty.
Inle Lake on the other hand is very relaxing, and much colder being in the mountains. Go on lazy bicycle tour to the lake area or just sit back in the boat and enjoy the grandeur of Inle lake.
Note: You can do the whole trip in 5 days too, if you feel you are strong enough to take in all the travelling and the dust and the heat. If so, cut down a day from Bagan, and take the same night bus from Bagan to Inle. But remember it will really tiring to do so, I'd suggest you take up a room for the day. Take shower in the evening and keep your feet down before you start again.
Hire a e-scooter in Bagan instead of a bicycle. Electric scooter is much faster and much less tiring option to go around in Bagan. And guess what, it's environment friendly too!
How to go from Yangon to Inle Lake by bus
The best way, in terms of time and comfort, to travel between Yangon and Inle Lake is by bus. The distance between the two cities is 650 km and the bus usually takes about 12 hours (up to 14 in worse case) to cover the distance. The road condition, contrary to the bumpy city roads, is good, making the journey comfortable.
There are several bus operators to choose from, and price varies from 17k-20k depending on how well you can negotiate. Yes! The bus ticket prices in Myanmar are completely negotiable, so don't hesitate to bargain!
In Yangon buses to Inle lake runs from Aung Mingalar Highway Bus Station. Be warned that Aung Mingalar Bus station is a huge one, and it is best to ask your cab driver (if you are coming from airport) to take you to a bus operator for Inle Lake.
JJ express, Elite express, Amara express, Shwe Mandalar express, and Lumbini Express are some of the most popular bus operators.
These buses are VIP buses, very modern and comfortable with reclining seats, and not to mention they are run very professionally. In the bus you'd get light snacks and drinks, wet tissue and a blanket. The a/c might be turned all the way, so keep something warm to wear.
The bus from Yangon drops you to the nearby town of Nyung shwe. This is where you will be based at during your stay to Inle. There are hotels around and on Inle Lake too, but I wouldn't recommend them as those are premier ones and cost a fortune. There are plenty, perhaps more than plenty, of budget options available in Nyung shwe. There is even a hostel accommodation available in the town.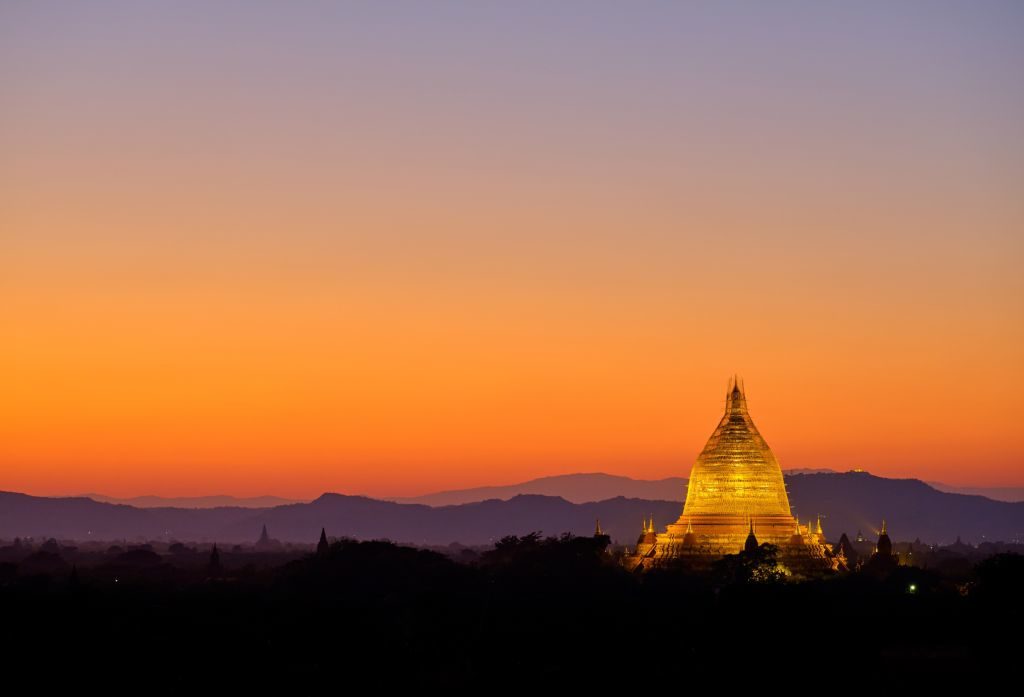 How to go from Yangon to Bagan by bus
Bus is the most efficient way to travel between Yangon and Bagan both in terms of time and comfort. The distance between the two cities is 510 km and the journey usually takes 10 hours (upto 12 if you have a bad luck). The highway road condition, as opposite to the pathetic Yangon city roads, is good, and hence the ride is a comfortable one.
You can choose among several bus operators, which ply between the Yangon-Bagan route, and price varies from 17k-20k, it entirely depends on your negotiation skills and the no. of unsold seats. Yes! The bus ticket prices are open to negotiation, so try your best.
Buses to Bagan from Yangon run from Aung Mingalar Highway Bus Station. The challenge is that Aung Mingalar bus station is really huge, and very confusing to navigate. The locals are helpful but language still remains a barrier. If you are arriving from Yangon airport by cab, make sure to instruct your cab driver to drop you to the bus operator to Bagan.
Some of the most popular bus opertor in Myanmar in no particular order are: JJ express, Elite express, Amara express, Shwe Mandalar express, and Lumbini Express.
Rest assured about the quality of the bus as these operators run a very comfortable VIP bus. These bus fleets are very modern and come with a satisfying degree of comfort. In the bus you will find, well cushioned reclining seats, with a very professional staff. You will also get some light snacks and soft drink, along with a wet tissue and a blanket. But on the downside the a/c might be little too chill, so I'd suggest to have something to keep you warm. (I didn't mean whiskey, but a jacket ;))
The bus station near Bagan is bit inconvenient though, the Bagan Shwe Pyi Highway Bus Terminal is located about 7 km outside the town of Old Bagan. There are several options of budget guesthouses available in and around Old Bagan. Hostels are not that common in the whole Myanmar but budget guesthouses are often provide value at an inexpensive rate.
And yeah, while you are there don't forget to eat heartful of the Chinese Mooncake! I can't really get enough of it.

How to book bus ticket in Myanmar
You have several different options to book a bus ticket: you can book bus ticket online in Myanmar, you can book through a local travel agent (even your hotel must sell the bus ticket) or you can directly buy from a Myanmar bus company.
If you want to buy a Myanmar bus ticket Myanmar bus ticket is the most reliable online site to book bus ticket from anywhere to anywhere in Myanmar.