✓ You on Insta?
👍@triplyzer
---
✓ Find the best offers on your
Stays on 🏡 booking.com
---
✓ Deals on Private xfers, SIM Cards, City tours, Day trips
on 🛵 GetYourGuide
|
on 🛵 Klook
---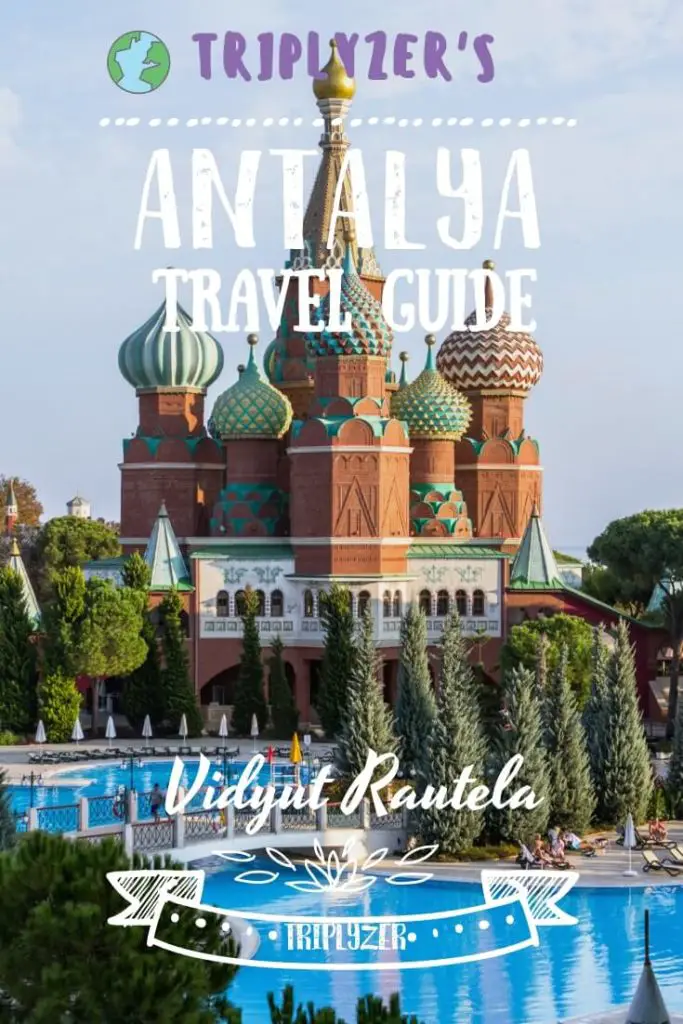 Introduction
Located by the gulf of Antalya this beautiful Turkish town is more than just a front to the Turkish Riviera. And with hordes of cruise ships lining up its shore in the summer, Antalya is quickly gaining pace as a center of attraction away from the chaos of the Turkish cultural capital Istanbul.
Among the pearls of Antalya are the stunning Mediterranean coast with turquoise water, the medieval town – a haven of backpackers – and a string of ruin sites which lace its surroundings.
If you are still not convinced take a leaf from the lives of the legends, the great traveler Ibn Battuta and Paul the Apostle (a Christian religious figure from 1st century) both have been here centuries ago.
How to reach Antalya
Antalya by Flight: The city of Antalya has an international airport which is served by Turkish airways and several other international airlines. To get to the old town from the airport take the bus (ticket costs 6-7 TL) which leaves from near the domestic terminal, which is only a short walk from international terminal. Alternatively, you can hail a taxi to the city from the airport which should cost you around 60 TL. Here's a guide for you to find cheap flights online.
Antalya by Bus/Train: Antalya doesn't have a railway station but is well connected by bus to many other Turkish cities.
Getting around Antalya
Although, Antalya boasts of a good bus network, I'd recommend you to take the tram which runs through the city and is the cheapest, convenient and not to mention, a fun way to travel. What more, tram ticket costs only 1.5 TL for an end to end journey!
Antalya Top Attractions
Kaleici
Kaleici is to Antalya what an 'old town' is to the rest of the Europe. This historical part of the city is a bustling energy of numerous shops, restaurants, cafes and bars.
Take a leisurely walk on the cobbled stone streets as you window shop the crafts. If you are feeling little adventurous take a detour into the winding alleys and get lost in the maze. Whichever path you choose, do not forget to look up and around, pay attention to the beautiful stone buildings which are a living testimony of the marvelous Ottoman architecture.
And yes, before you zero-in on buying a handicraft or a souvenir do try to negotiate, the merchants are friendly and you would enjoy a tête-à-tête. Beware, if they try to lure you by bribing with that rich, aromatic Turkish coffee, its charm is irresistible! That being said, do not just limit yourself to the Turkish coffee, also try a traditional tea-house, you'd certainly love the Turkish brew.
The protective wall which goes around the perimeter of the old town has two entrances. The old Hadrian's Gate is a sight in itself. A Greek Orthodox church, Kisik and Yivli minaret are the other historical buildings worth stopping for.
And finally, if you want to get to the harbor take the main street which slopes gently toward the harbor.
Antalya Archaeological Museum
Antalya has a history dating back to thousands of years and is littered with numerous ruins going through active excavation. The well-organized exhibitions in Antalya museum presents this archaeological treasure of the city and its surrounding region. There is so much detail in this enormous collection that it'd take a full day to just get an overview; the whole experience is somewhat like going through a personal journal, which tells you a story of a town that stood the test of time while the empires that ruled it rose and fell.
A special mention goes to Roman & Phrygian finds (pottery, tools, cloths, jewelry etc.) and also check out the great collection from Lycian era. Statues from the Roman period might interest a few as well.
The admission fee is 20 TL and an English audio guide is available for extra. Taking pictures inside the museum is allowed. For souvenir hunters, museum has a decent gift shop along with a cafe if you need to refresh yourself.
Getting here from Kaleici is pretty straightforward, just hop on in the tram and hold on till the last stop. Alternatively, take any of the bus no. 6,7,8.
Archaeological site of Termessos
I admit Termessos is a bit out of the beaten path attraction and trickier to get to and that's exactly what makes it my top recommendation for a ruin site. In Termessos on any given day you'd find only a handful of tourists around. The ruins are in great shapes which makes you ponder why there is no excavation activity here. Nevertheless, on the brighter side, you have the entire ruins to yourself, no yellow tapes, no stop signs!
The fascinating ruins of Termessos are spread over a hill and are little more than two millennia old!
To get to the ruins you need to hike for 30-45 minutes from the parking level, depending on your fitness level. The hike is steep but what makes it even more challenging is the scorching heat of the Antalya summer. Once at the top, there is a whole complex of ruins to explore, the highlight of which is the Grand amphitheater. And to add to the bonus the views of the coast and the sea from the top are amazing.
The Termessos ruins are about 35 km from the city and can only be reached by a cab. There are no restaurants nearby so pack a meal for yourself beforehand, and importantly enough water to last you through a hot day.
The entrance is 5 TL which I think is a steal.
Tip: Come early to beat the heat, and find partners in your hostel to split the cab fare.
Archeological site of Perge
About 15 km outside the city are the popular Greco-Roman ruins of Perge. Unlike Termessos, this site is heavily promoted as a tourist attraction and consequently you will find it crowded in comparison. To make matter worse, a number of sections are inaccessible as they are cordoned off for excavation.
The highlight of Perge is the wide colonnaded street lined up with a series of giant columns. A water canal which was used for sewage runs along the street.
The bath complex, theater and stadium are equally perplexing. The giant theater had a capacity to hold 14k people at a time while stadium could host 12k people. It makes you wonder what exactly did they do in these stadiums which would warrant such a large audience. On the downside, you might feel lost as there is a lack of information to complement the site.
Tip: Carry umbrella as there are no trees around, also carry a water bottle. If you have time, include a visit to Anatalya museum which houses the artefacts collected from Perge site.
Duden Waterfalls
Duden is a string of waterfalls that dots the bay area where Duden river cascades down to the sea from a hundred feet cliff. There are two major waterfalls to see in the area – Upper and Lower Duden Waterfalls.
You have an option to take a boat tour which goes close to the waterfall. Up close you will be able to feel the massive force of the falling water on the rocky area down below. The sound is so loud that you can hear it from a distance – even from the distant parking lot.
There is a small park nearby with ample benches making this place an idle picnic spot. Bring along a lunch box or you can eat at the nearby restaurant. And if you are lucky you could be treated with a beautiful rainbow, an absolute delight if you are accompanied by children. A perfect place for family fun!
Tip: If you don't mind getting wet, go behind the water fall in the small cave to the natural viewing platform but be careful of the slippery rocks. And needless to say wear good shoes!
The entrance to the waterfalls is mere 3TL, a steal deal!
Happy Holidays! Hope you have great fun!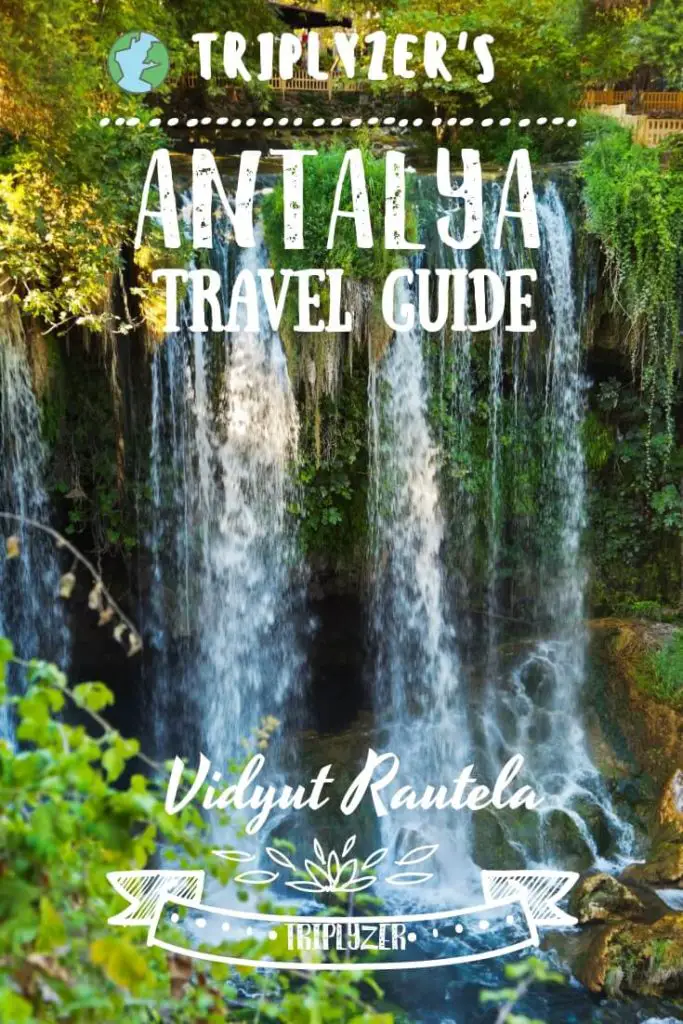 ✓ You on Insta?
👍@triplyzer
---
✓ Find the best offers on your
Stays on 🏡 booking.com
---
✓ Deals on Private xfers, SIM Cards, City tours, Day trips
on 🛵 GetYourGuide
|
on 🛵 Klook
---