Ultimate Guide to Angkor Wat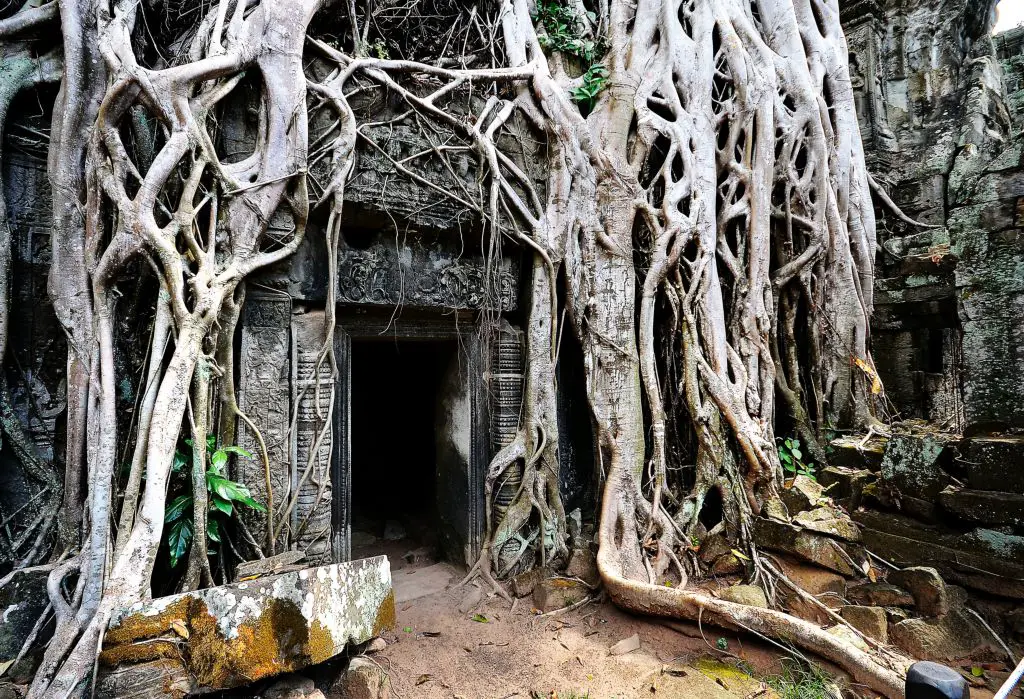 Read Now, The Himalayan Tsunami - a gritting new novel by Vidyut Rautela
– Where to stay in Siem Reap, Things to do in Angkor Wat, What to visit in Siem Reap and Food Recommendations!
About Angkor Wat
Siem Reap, closest city to Angkor Wat, is at the top of every list on what to see in Cambodia. Hundreds of thousands of tourist throng here for visiting the Ankgor Wat temple complex. No matter if you have only 2 days in Siem Reap or more, you will always stay busy with Sightseeing. Please note that there is lot to see and do in Cambodia, and Siem Reap is perhaps the most popular destination. Following is a short Travel guide to Siem Reap to help you plan your trip to this historical city of South East Asia.
How to get to Angkor Wat
Siem Reap is the nearest town to the Angkor Wat archaeological complex. There are multitudes of ways in which you can get to Siem Reap from Thailand, Vietnam or other nearby South East Asian countries.
Flight to Siem Reap
You can fly to Siem Reap International Airport which is not surprisingly the only other international airport in Cambodia apart from the capital Phnom Penh.
If you are traveling budget, good news is that the Siem Reap airport is served by AirAsia which connects the ancient Khmer city of Siem Reap to Kuala Lampur and Bangkok. If you are traveling from/to Vietnam, take Vietnam Airlines for Ho Chi Minh and Hanoi connection. While if you are doing the backpacking in the Thailand peninsula, you can use Lao airlines for connectivity to number one tourist destination in Laos, Luang Prabang.
Getting from Siem Reap Airport to City
Getting from Siem Reap Airport to City can be a pricey affair if you are not vigilant. Key is you should know before hand your options and an estimated fare to travel from airport to Siem Reap City center. Also, do check if your hotel provides a free airport pickup, many of them actually do!
Taxi from Siem Reap Airport: How to reach from Siem Reap Airport to Old Market: If you book through the airport counter, taxi from Siem Reap Airport to the city will cost you $12 U.S.
Airport to Siem reap city center by Motorbike taxi: If you are looking for a cheap way to get to the city from Siem Reap airport, come out of the airport and take a motorbike-taxi, which will cost you $2-3.
Taking a tuk to Siem Reap City from Airport: If you have bigger luggage or if there are two of you instead take the tuk-tuk ($4-$6).
Remember to avoid taking motorbike taxi or tuk-tuk from the arrival counter as the rates are unreasonably high.
How to get from Bangkok to Siem Reap by Bus
Siem Reap is well connected to the capital Phnom Penh and other inter-country destinations, and as well as with neighboring Thailand (Bangkok) and Vietnam. Booking a bus is straightforward as all the guesthouses and hotels sell tickets on the spot.
If you are coming from Thailand you have two options:
Take the direct bus from Mo Chit bus station – cost around $30
Take one of those bus run by private operators: ticket can be easily purchased from the hotel or the travel agent in Khao San road. Or book online from 12go.asia
Note that you need to change the bus at the border crossing, just stick with your guide (every bus has a guide) and you should be fine.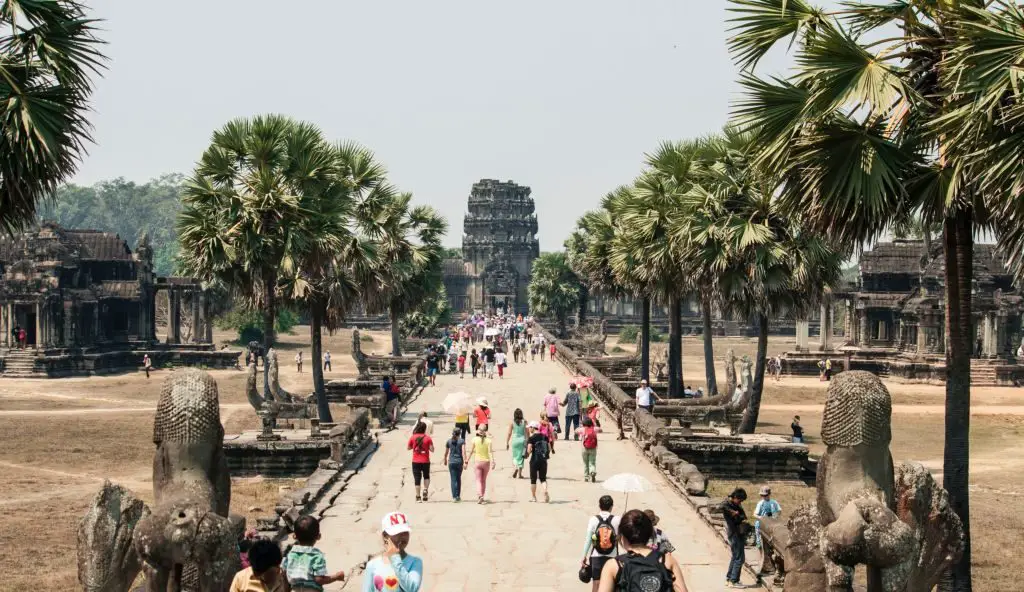 How to get around Siem Reap
Cambodian people have their own version of tuk-tuk which needless to say is a great, cheap way to travel around the city. Usually a ride within the city costs $1 or a maximum of $2 for further distances.
Rent a bicycle: Rent a bicycle for as low as $2 a day.
E-bike: Ebikes are available from some vendors and will generally cost $10 for 24 hours.
Renting a motorbike in Siem Reap is prohibited. And if you are caught driving one you have to shell out hefty fines.
Getting from Siem reap to Angkor wat
If you are wondering how far is Angkor Wat from siem reap, fear not it's simple and cheap. Here's how to get to Angkor Wat from Siem Reap – you can take a cab or a tuk-tuk. It's also possible to pay a visit to Angkor wat by tuk-tuk. Siem reap to angkor wat travel time is around 30 minutes.
Getting around Angkor Wat
The best way to get around angkor wat is by tuk-tuk or by a bicycle. As the distance between the various temples in the Angkor complex is reasonable, it is best you take on biking.
Things to do in Angkor Wat
Angkor Wat temples are top things to see in Siem Reap as well as of the whole of Cambodia. The temples spread over an incredible 400 square kilometers are collectively known as Angkor Archaeological Park. The complex, with dozens of Angkor Wat attractions, lies at a distances of 8 km from the city of Siem Reap and can be easily reached by Cambodian Tuk tuk.
The area which now lie in ruins, was once inhabited by the famous Khmer Empire. The majority of the temples in the complex are dedicated to Hindu Gods while a few are related to Buddhism. A UNESCO World Heritage site declared in 1992, Angkor Archaeological Park includes the following main attractions. If you want to know what to see in Angkor Wat, in this travel blog I have listed the top temples to see in Angkor Wat.
Best Temples to See in Angkor Wat
The Angkor Wat walking tour let's you explore the ancient temples on your own. The
best way to explore Angkor Wat temples is by hiring a tuk-tuk. It might be hot during the day but still biking is not only a good way but the best way to see angkor wat temples.
There are so many temples here, that you will feel even 3 days might not be enough. The only option you have is to find out the very best temples to see in Angkor Wat.
Which temples to visit in Angkor wat
Angkor Wat – The star attraction, highly sought after destination for sunrise and sunset photography. Top among the best Angkor Wat temples.
Bayon Temple – The temple with countless faces (It's 216, but can you keep the count?). Do check out the Shivling inside the temple!
Ta Prohm – This is where scenes from the movie Lara Croft were shot. Also, extremely popular among black and white photographers.
Preah Kahn – The place looks very haunting, sad that tourists are not allowed to explore in the night. Surely, one of the best temples around Angkor Wat.
Where to buy Angkor Wat Ticket
Tourists, except Cambodians, need to buy Angkor Wat tickets, in order to enter the Angkor Archaeological park. The entrance ticket, is actually a pass, called the Angkor Pass, allows you to enter the various temples in the complex. There are three types of Angkor Wat Temple pass are available for sale. The Angkor pass can be bought at the APSARA counters near the entrance checkpoint. Don't worry about the location, your tuk-tuk driver will take you there. Angkor Wat entrance fee:
1 day Angkor Pass; Angkor Wat Entry Fee = $20

3 day Angkor Pass; Angkor Wat Entry Fee = $40 => Recommended

7 day Angkor Pass; Angkor Wat Entry Fee = $60
Children under 12 can visit for free – But seriously why would you bring children here? There's so much walking around that they would easily lose interest (unless of-course you buy them ice-creams and mango shakes every fifteen minutes or so). Angkor 3 days pass is the most popular option to see
Angkor Wat entry fee is quite reasonable for such a magnificent monument. Besides, I feel Angkor Wat admission charge is justified as the money goes for the upkeep of this historical complex. Angkor Wat 3 day pass cost is idle for budget travelers and this pass is what I will recommend others. Angkor wat ticket booth is located at the intersection of Apsara Road and Road 60. Th admission fee of Angkor wat also include US$ 2 donation to Children's Hospital fund.
Angkor wat ticket office opening hours: 4.30 AM – 5 PM
How to See Angkor Wat
In order to see Angkor Wat, you need to hire a tuk tuk or ride around the area on a bicycle. The best way to see Angkor Wat is by hiring a Tuk Tuk.
Angkor wat tourist attraction include the main temple itself and several others large and small temples, there are also water barrages and courtyards to explore.
Angkor wat travel tips
Here are some tips for visiting Angkor Wat:
Buy the Angkor Wat guide book called Ancient Angkor written by Michael Freeman and Claude Jacques and available for somewhere between $3-$5 (for a mint copy!) from the hawkers near the temples. The guidebook is excellent and at that steal price (original is $28) also serves as a nice souvenir. How do they sell it for cheap, no idea! Let me know if you have a working theory.
The best way to visit Angkor Wat is to get in early. When you reach early to see the Angkor temples, you not only beat the heat but also the crowd. You can enter as early as 05:00.
Hire a tuk tuk for about $15. Don't pay more, no matter what! This is a peak season price.
Hot Sun – Drink fresh mango shake, and chilled Passion fruit juice – costs about $1!
How many days in Angkor Wat: 5 days is the ideal time, though you can see the best of temples in 3 days in Siem Reap.
What to wear to Angkor Wat
Before you decide on what to wear visiting angkor wat, you should know the weather of Siem Reap. Temperatures can soar high in Siem Reap even during the mildest season of the year, Nov-Jan, so consider wearing cooler clothes. Note, as you will be walking around all day in hot sun, naturally you will be sweating a lot.
Wear loose cloths which you can buy for cheap from the shops around the Angkor wat temple ruins. Buy and wear elephant pants!
Carry an umbrella and wear sunglasses to protect yourself from direct sunlight.
Best time to visit Angkor Wat
When to visit Angkor Wat? The best time of year to visit angkor wat is the winter season. There isn't really a winter there, but more like less heat and humidity. Best month to visit Angkor Wat is December for its favorable day time temperature.
Angkor Wat tourist information
Angkor Wat tourist office hours of operations are long. Angkor Wat visiting hours are from 5 AM to 6 PM. It is open throughout the year and there are no close day for Angkor Wat. You can visit any temple during the opening hours of Angkor Wat.
Angkor Wat Itinerary
This guide to Angkor Wat temples include a complete itinerary for your to easily explore this large complex. Exploring angkor wat ideally requires 5 days. Though if you are on a shorter itinerary, it is quite possible to see Angkor Wat in one day.
Our Angkor wat itinerary for 1 day includes the best temples of the city. 1 day tour is also feasible if you only want to see the main temple. Angkor Wat one day itinerary consists of Angkor wat temple and Bayon temple, both are close to each other. Though I will advise you to spend more than a day at ankor wat.
Angkor wat tour itinerary: Angkor Wat Temples in 2 days; Other Attractions of Siem Reap – 1 day. Add one more day to each place if want a more relaxed itinerary. I will suggest you to explore and find out yourself what to do in Angkor Wat.
You can easily pack all the major temples and a few minor ones in 2 days Angkor Wat Itinerary. And if you have one extra day, you can visit a museum (Angkor National Museum), plus go on half a day trip to Banteay Srei or Koh Ker. On the last night take the bus to Phnom Penh, a day is enough to see the major sights in the capital city.
Day 1 – Arrive in Siem Reap
Day 2 – Angkor Wat Sunrise (around 3-4 hours), Ta Prohm, Phnom Bakheng (Sunset view)
Day 3 – Explore the lost city of Angkor Thom (includes Bayon, Baphuon, and a walk along the terrace of the elephant.), Preah Khan, Pre Rup or Srah Srang for sunset views.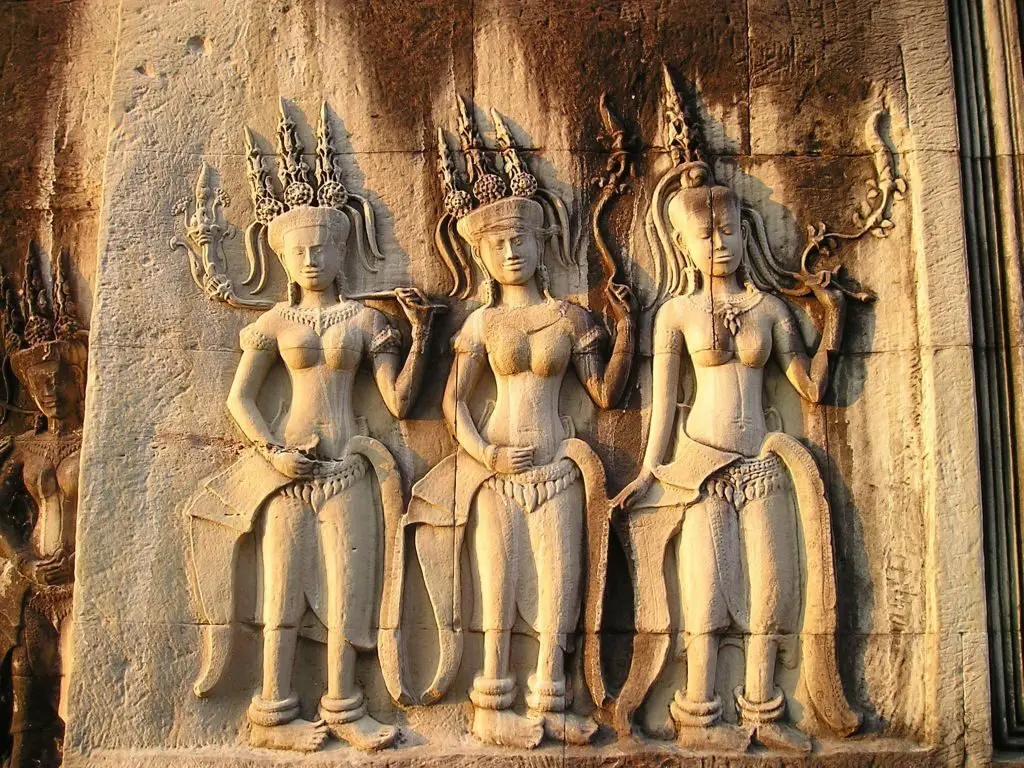 Angkor Wat Sunrise and Sunset
Sunrise at Angkor Wat is quite special, though big crowd gather to witness the sunset at angkor wat too. There are quite a few best spots to witness the Angkor wat sunrise, and the same you can find in my angkor wat travel blog.
What to do in Siem Reap other than temples
There are a no. of tourist attractions in Cambodia Siem reap but Angkor wat temple is siem reap's top attraction. If you are wondering what to do in Siem reap besides temples, know that there are numerous day trips to nearby traditional Cambodian villages. Things to do in siem reap besides temples also include visiting museums, going on hiking trips, and partying all night at the pub street.
There are many free things to do in siem reap – window shopping in the night market, taking a stroll along the beautiful river and so on. With so many options, what to see in Siem Reap is not really a question. I loved the Sunday market which is surely one of the top 10 places to visit in Siem reap. If you are looking to unwind yourself, Pub street is a must do in Siem reap. And with so much to explore, Siem reap is top choice among must visit places in Cambodia.
Where to stay in Siem Reap
If you are wondering where to stay when visiting angkor wat, then read on. I loved the fact that accommodation in Siem Reap is affordable, the problem only arises when you haven't done any advanced booking.
If you are searching where to stay near Angkor Wat, the good news is that nearby Siem Reap has got plenty of hotels and hostels for every budget. Indians travelers can book hotels with Indian hotel booking apps/ websites such as goibibo, makemytrip and cleartrip. The benefit is three fold:
You can benefit from a running discount deal on hotels
You will save money in currency conversion as you can pay online in rupees.
If you spend less cash, you will not have to withdraw extra cash from ATM and bear the withdrawal fees.
There are no. of hostels in and around Siem Reap Old market area which can be booked online or you can simply walk in. Even in peak Dec-Jan season, you shouldn't have any problem finding accommodation be it hostel or a hotel. However, it is recommended to book 3-4 days in advance so as to get the best deal.
Budget hotels get sold old out very quickly during the peak season, it is advisable you book few days in advance. Old market is the central area of Siem reap, I recommend you look for a place in the area.
Some of these suggested places to stay in Siem Reap are hostels, do remember they have both dorm beds as well as private accommodation.
1. Siem Reap Pub Hostel
Located close to the old market area and the pub street. Separate dorms for male and female are available, and costs the same as mixed dorm ($6). Deluxe Double room which comes with extra large bed costs $12. Breakfast is not included. Check here
2. Green Park Village Guesthouse
Green Park Village Guesthouse is highly recommended. I stayed here and can personally vouch for it. It is bit further from the pub street but is very affordable. $12 for a double room. The rooms are clean, spacious and fresh. This Siem Reap hotel gives free bicycles and also free drop to pub street. Excellent complimentary breakfast. All day tea and coffee are available. Check here
3. Hangover Hostel & Bar
Located very close to the pub street, in the heart of Siem Reap Old Market. The hostel is highly rated on booking website with 8.5/206 reviews. Bed in 10 bed mixed dorm costs $5. Standard Twin Room – $14. Comes with free breakfast. Check here
Siem Ream Food Guide
While you are in Siem Reap try one of the authentic Khmer dishes. And if you are someone who can't live without his pizza and cheese burger there are plenty of options available for your in and around pub street areas.
The Indian: There are numerous Indian restaurants spread all over the old market area serving Indian non-veg, so if it is your thing don't worry you won't starve. The popular ones are: Maharajah Restaurant, Taj Mahal and New Delhi Indian Restaurant.
Happy Herb Pizza: Ask for a "happy" pizza if you are looking for one. Pizza are from scrumptious or delight but good enough to make your tummy "happy" (get it?).
What to do in Siem Reap at Night
Drink: Good enough reason for alcohol lovers (I know! It's euphemism for drunkards). Alcohol is very cheap in Siem Reap. A bottle of Jack Daniel will cost you just the same as it costs in USA – $12.
Angkor What?, Pub St. sundown until late. The most famous backpacker bar in Siem Reap, located directly across from competing late night spot Temple Club. USD 1 Draught beers, USD 2 mixers, USD 6-8 buckets. Large Western crowd. Offers inside and outside drinking. Open until late.
Shopping in Siem Reap
If you are wondering what to buy in Siem Reap, let me tell you there Siem Reap is a shopper's dream come true.
The biggest shopping destination of Siem Reap for tourists is the Old Market area. As this is the central area, you are likely to pass it many times and browse through the shops voluntarily or involuntarily.
You'd be so tempted to spend hours checking out stalls and even buying something even if you hate shopping, all because it's so damn cheap and at the time so fun to bargain with the locals! There's whole lot of stuff you can buy for as cheap as $1