Cesky Krumlov, big caravan in small package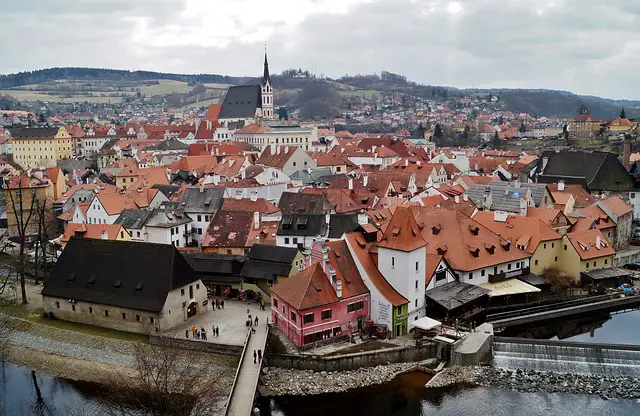 Have you seen the movie hostel 2?
No? Well, then don't.

But, if you did have, you probably wouldn't come to this place or maybe it would be the exact reason you'd like to visit Cesky Krumlov. Any which way, Cesky Krumlov is a small Czech town bustling with tourist activity. There are so many travelers that in the peak summer season tourists outnumber the locals many times over. And boy, am I glad to hear that? It certainly decreases your odd of getting picked by bunch of lunatic psychopaths ;).

Jokes apart, Cesky Krumlov is as safe as any European city or maybe even more. And it is movies like Hostel which give an unnecessary bad rep to such a fun place.
I stayed only for one night and regretted not allocating more days to this charming town. I did Cesky Krumlov as a full trip, alternatively you can take a day trip to Cesky Krumlove from Munich or Prague. I arrived in the morning by the student agency bus (excellent bus at economy price) and the hostel I booked turned out to be a pub! Beat that! My room was on the ground floor next to the pub area. The evening turned out to be a riot of music and cheerfulness. There was live music in the pub and the locals enjoyed themselves, dancing and singing. Truly, a memorable experience.

After I arrived from Prague in the early afternoon, I settled myself quickly and off I went to the tour of castle. The castle is located on the other side of the river overlooking the town. I didn't climb the tower which required an entrance fee, instead I followed a set of stairs and reached high up the castle wall (known as Cloak bridge) for an excellent uninterrupted view of the town.
The evening in Cesky Krumlov was like a carnival, with street performers, buzzing bars and colourful souvenir shops.

Near one of the bridge, I stopped by to enjoy the street music, the musical duo played beautifully for a while and then asked for donations but all they got were few pennies. Very disheartening to see 🙁
Guess what? Enter a bunch of dudes, they asked the duo to play the music again while they performed one by one. And boy, sure they danced liked anything, putting down every move in the book. With those swanky moves they could easily put all those Hollywood dance movies and shows to shame. Not surprisingly, when they asked for money this time, the hat went full.
I can't tell when I went to bed and when it was morning, time to go.
Next up on my list was Salzburg, but there were no buses. The only way out was the private shared taxis, there were couple of local agencies which ran them but both of them had bad reviews in tripadvisor. Crossing my finger, I booked one. And… and… the whole journey was glitch free.
I dropped an old novel in the hostel bookshelf in the morning and checked out.

Salzburg awaited me.