The Lost boys of Berlin – Backpacking Europe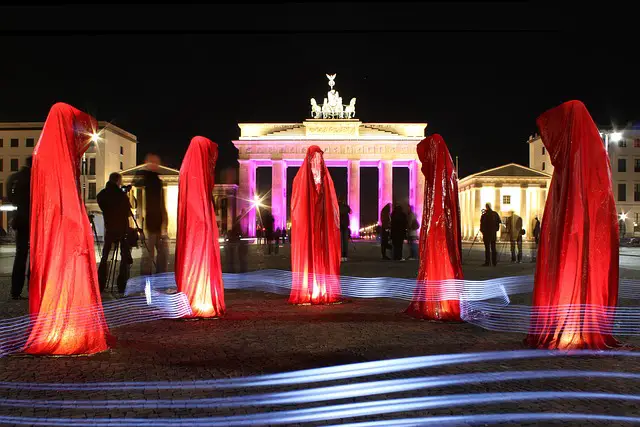 "Guys, I think we are lost." Kate said the dreaded words, something we all knew but didn't want to acknowledge.
"Who says so?" Mike replied. "It is called exploring the city."
I had the map app, but damn thing wouldn't work. All four of us were full of ideas but nobody really knew which part of the city we were and how to get to few of the attractions we wanted to see, check point charlie, Brandenburg Gate… It was then only fate that just when Mike declared that check point charlie was right around the corner, we actually ended up being in front of Brandenburg Gate.
When in Berlin it's kind of difficult to believe that we were walking in the same city which was once smashed to rubble. Of-course most of the buildings were reconstructed but the craftsmanship was so fine that it was hard to tell.
Earlier, I felt a strange feeling rise up my stomach, a sense of deja vu as our bus arrived in Berlin. The nights lights, the streets, the giant shopping complexes, I had seen them all. The nostaglia swept me over, I had been here, but I don't remember when, perhaps in another life? I had had such a weird feeling only once before, back when I was in school and my parents had just moved to Jamnagar. For months I felt that I had already been to all the places around and was just doing the same thing I had already done.
Wyrd!
The night scene of Berlin was as exciting as the day. The city definitely has one of the best night life in the entire Europe. We hopped on the metro and changed several stations all confused and without ticket as we just got on the incoming train. We asked some local teens on the train and then made our way to one of the popular clubs.
And guess what happened when we final reached?
We were denied entry!
The face control system didn't approve of us. We blamed one another, some for wearing sneakers, and some for wearing too shabby a dress. But we shouldn't squabble, seriously guys, after all we were the Lost boys of Berlin.
Mike knew one more fabulous club, we grabbed a cold one on our way. Public drinking is just fine in Berlin, anything goes, seriously. Do anything you want, that's liberal values of Berlin speaking. But of-course, don't cross the skin-heads or the cyclists in their bicycle lane. Yeah, definitely not the latter one. If you hear a bell ring, most likely it's not the sound of the bell tower from nearby church but a warning for you to get off the bicycle track. There will be no second warning and if you don't move you'd be hit full on by the maniac on the wheel. I had a couple of near escape and it was all thrilling! I definitely got enough practice to dodge a bullet.
We were finally let in one of the clubs, phew! I wondered, if this was not a top club then I couldn't imagine what the top one would be like. Interestingly, I met a nursery teacher inside (of all the places!), we got talking and all he did was complain about the noise like a 3 year old!
I am not sure when the night ended and the day began, the boundary was so blur. By the time we reached our hostel, it was time, time for us to go back to Sweden.
If you are planning a trip to Berlin, here are some ideas for things to do in Berlin along with a short guide to find some cool hostels in Berlin.
Have a great trip!