✓ You on Insta?
👍@triplyzer
---
✓ Find the best offers on your
Stays on 🏡 booking.com
---
✓ Deals on Private xfers, SIM Cards, City tours, Day trips
on 🛵 GetYourGuide
|
on 🛵 Klook
---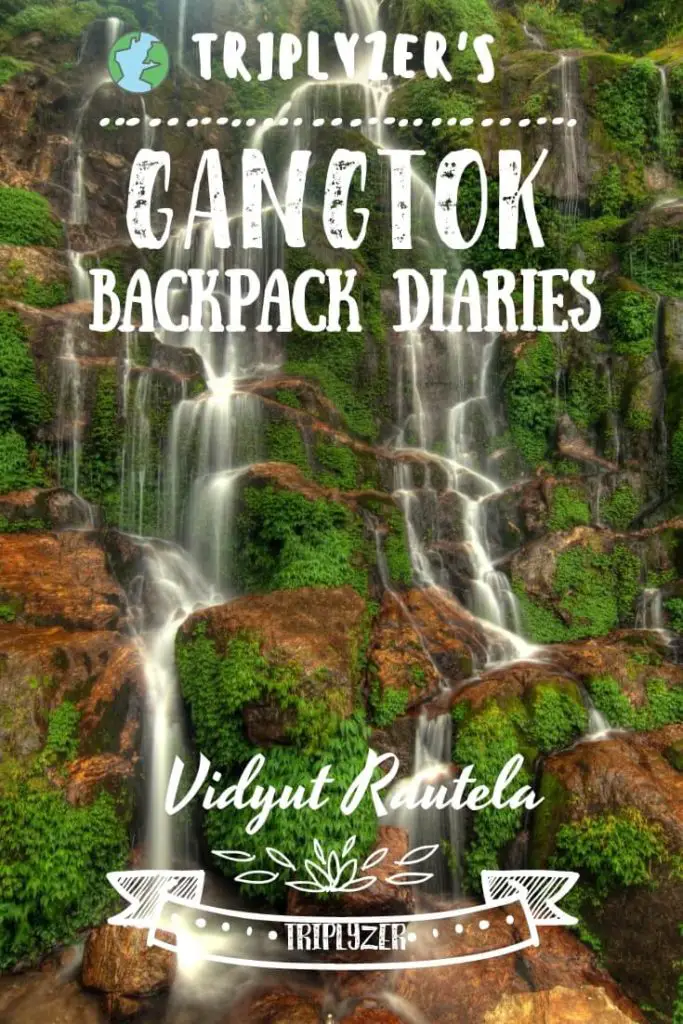 From the madness of Siliguri bazaar to the tranquility of Gangtok Himalayas all in the space of few hours.
At the Siliguri bus station, while I was patiently waiting for the bus, a guy approached me with an offer of 'chota taxi', I assumed it was a shared taxi and followed him. After five minutes I was sitting in a travel agent's office, who was trying to stick a travel package on me. It was one of the most awkward conversations I had, I somehow managed to escape.
The journey to the hilly town of Gangtok wasn't only beautiful but revealing as well; I came to know Sikkim Manipal University is indeed located in Sikkim, just on the periphery of Gangtok.
By the time I reached Gangtok it was already late, consultation was that my hotel was located right in the center though at the other end of the MG Road. I can't complain because it was cheapest deal I had gotten. For only 250 bucks a night including breakfast I'd rather say I was ripping them off.
I asked my hotel guy for a trip to Gurudongmar lake, but it proved very tricky to get to. There wasn't much demand for the trip and the place was only accessible with private tours.
I walked around MG, got to say I was impressed by the cleanliness, and asked a few travel companies. Only one of them said yes, and I bought a ticket excitedly. The morning came and I could barely got myself out of the bed in the cold weather. The difference in temperature between Siliguri and Gangtok was quite astounding.
With views like these I guess I would not want to go back to my world. I knew I had discovered a hidden gem in Gangtok, it baffled me how Gangtok remained such an underrated destination.
When I finally reached the pickup point, the cab driver calmly told me the trip was only going to Yumtang and not to Gurudongmar. After much back and forth negotiation we settled on for the next day, there was no guarantee but there was still a hope, however dim it was.
While on my way back to the hotel, I googled 'things to do in Gangtok', and Rumtek monastery seemed like a fine idea where I could head for the day. The monastery was located in a postcard perfect setting, like one of those stunning pictures from India which will make you travel on a blink of an eye. In an instant I knew I had to be there.
Found a shared taxi in the taxi stand next to Police HQ, got seated in the taxi and waited patiently for it to fill up. When you are traveling budget, patience is your highest virtue, you won't be able to go much further without it.
To kill time, I started playing candy crush saga on my cracked screen android phone. I was stuck in level 69 for the third time in row, the guy sitting next to me looked at my phone and smiled. I gave him a curious look back, in turn he took the phone and to my delight cleared the level in no time. Damn! this guy was good.
We got talking and he told he too was going to Rumtek. Since he knew the place very well, he offered me to give a tour, wonderful I said. The guy wore quite a funky clothing: a titled cap, an open full sleeves shirt over a tee, colorful wrist bands on his right hand and a digital watch on left, complete with a low waist, wash out jeans and a trendy blue-white sneaker. The only thing left, I imagine, was him singing hip-hop.
He was bit vague about himself though, I couldn't figure out who he really was. All I could understand was that he was from here and went away to Rajasthan where he was working in a shop.
The serpentine roads took us to the famed Rumtek monastery, as soon as we got down I was in a for a surprise. Everybody out there seem to know this funky guy… just who was he? Women, men, children, youth, he was the star of everyone's eye.
Just who was he?
It was only when we reached inside the monastery I got to know who he was. There was an unusual buzz in the monastery, incidentally a very important Buddhist ceremony was going on. The Guru himself, who is rarely seen, was taking part in the festivity. And this guy sitting next to me was constantly feeding me with his expert commentary on who's who. And then it dawned on me (so late, ha ha), maybe this guy lived around here, very close to the monastery.
The event was drawing to an end, I sat on my knees and bowed, damn how lucky I felt to be blessed by the Guru himself.
We got up and met couple of monks just about the guys age. And I finally knew how he was.
He was a monk who ran away!
I got to know that he used to study there but quit midway. In his own words, "Monk hood wasn't for me." I guess he wasn't quite ready to leave the Samsara.
He introduced me to several of his friends, most of them.monks and the rest the people who lives around the monastery. The guy was really popular!
I was given a private tour as he had access to go everywhere in the monastery; we went to the back of the monastery where 16th Karmpa used to live. The quarter was in ruins. Years of neglect!
Through a small window we peeped into the kitchen where the food for the monks were cooked. We came across a bunch of monks who were discussing the new features of iPhone while flashing smartphones in their hands. The behavior was not quite monk like?
Almost everyone whom we met asked the guy to stay for a few days. He smiled and refused politely. I wasn't sure what he was running from, was it his past life as a monk of which these friends were also part of, did he want to erase completely this chapter of his life? But if so, then why was he back?
Was it for someone he could never said goodbye to?
Or was he running from himself?
I saw glimpses of my life in him; I would meticulously build relationships only to let it melt in a flash. Was he looking for an escape but at the same time was trapped by a everlasting feeling of guilt?
The two forces were tearing him… me… apart… to be or not to be, to stay or to leave, to become or un-become or …
It's better to leave some questions unanswered.
Until next time…
– – –
Save
Save
✓ You on Insta?
👍@triplyzer
---
✓ Find the best offers on your
Stays on 🏡 booking.com
---
✓ Deals on Private xfers, SIM Cards, City tours, Day trips
on 🛵 GetYourGuide
|
on 🛵 Klook
---