✓ You on Insta?
👍@triplyzer
---
✓ Find the best offers on your
Stays on 🏡 booking.com
---
✓ Deals on Private xfers, SIM Cards, City tours, Day trips
on 🛵 GetYourGuide
|
on 🛵 Klook
---
My Jaipur 3 days itinerary is a great start for anyone looking to plan their trip.
My time in Jaipur flew by even before I could blink, after-all there were so many places to visit! The colors, the culture, the food, the people made this one of the best travel destinations in India.
The humongous forts, regal cuisines, unrivaled architecture and, royal heritage is what comes across our mind when we think of Rajasthan. Without further ado, here's the shorter version of my 3 days Jaipur itinerary:
Day 1:
City Palace
Jantar Mantar
Hawa Mahal
Day 2:
Amer Fort
Nahargarh Fort
Jaigarh Fort
Jal Mahal
Day 3:
Albert Hall Museum
Birla Temple
Jaipur has always been on top of my travel bucket list, and when finally the opportunity arrived I didn't hesitate to grab it!
The opportunity to visit Jaipur came as an invitation to attend a wedding. Later, I set out to explore other Rajasthan cities too. Jaipur, the city which is painted in a pink hue, is different, culturally and architecturally.
The pink city is very famous among tourists that come from all over the world making it a tourist hot-bed. This is primarily because it is super easy to reach here. Jaipur has an international airport and it lies on the famous golden triangle (Delhi-Agra-Jaipur) tour of India which makes it easier for everyone to navigate.
If you roam around the Jaipur old city you will notice pink colored buildings all around. Why Jaipur is named Pink City? Apparently, in 1876 the Prince of Wales and Queen Victoria were on an India trip and to awe them Maharaja Ram Singh, then ruler of Jaipur painted the whole city pink. Rightly so as pink denotes the color of hospitality.
From the safety point of view it is quite safe to visit, just follow your common sense such as avoid the dark places and return back to your base on time.
Here are the complete details of places to visit in Jaipur in 3 days:
Day 1: Jaipur 3 days itinerary
City Palace, Jantar Mantar, Hawa Mahal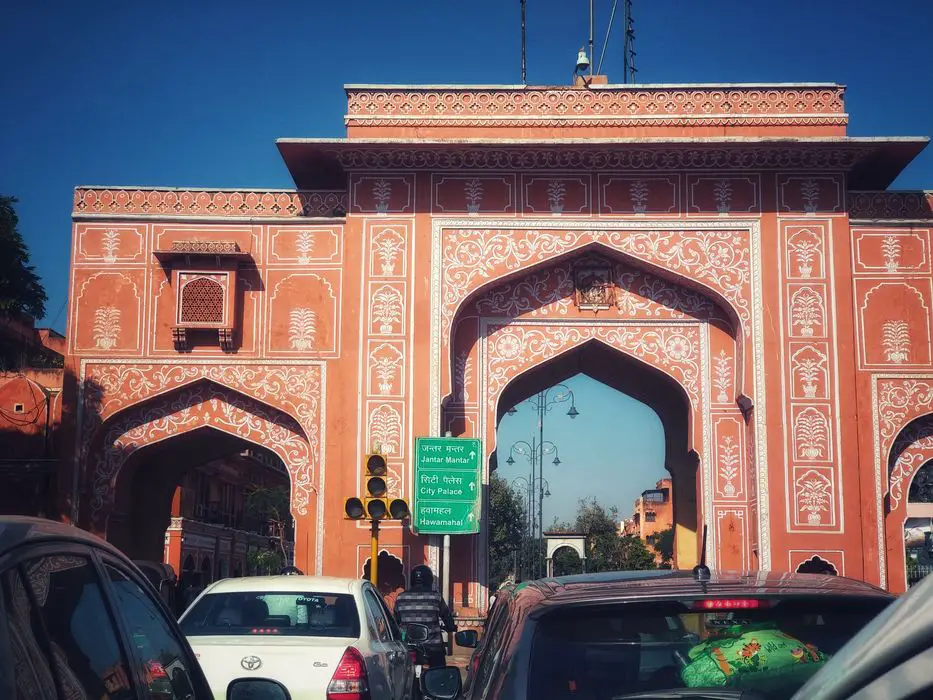 City Palace | Jaipur Itinerary for 3 days
Start the 1st day of your 3 days Jaipur itinerary with the old town. My first stop was the City Palace, the royal residence and once the seat of royals. The complex has Chandra Mahal, Mubarak Mahal, and other significant structures.
The architecture is a fusion of Indian, Mughal, Rajput and even European styles. There are two separate tickets, one for Mubarak Mahal that costs around INR 200 and another for Chandra Mahal for INR 2k (that's a lot). I skipped the latter that I regret now.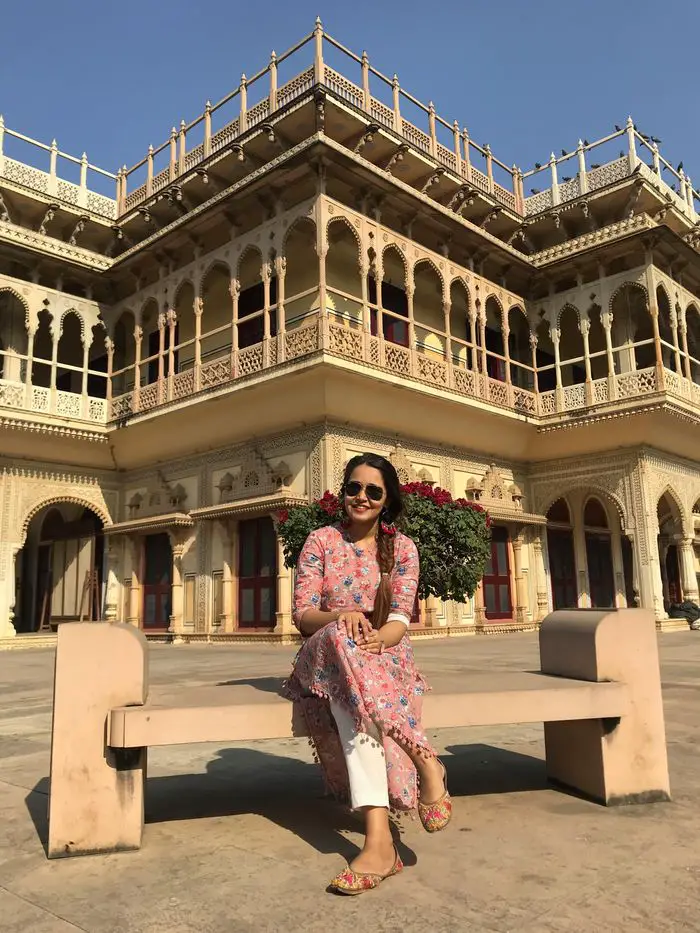 As I entered there was a humongous courtyard in front of me that has the Diwan-i-Khas. The Mubarak Mahal is a museum within the complex that is dedicated to royal textiles where all the costumes of Maharaja and Maharani are kept.
While Chandra Mahal is a 7-storey palace where you can visit the Ranga-Mandir, Pitam-Niwas, Chabi-Niwas, Shri-Niwas, and Mukut-Mandir.
Jantar Mantar | Jaipur Itinerary for 3 days
Your Jaipur itinerary for 3 days cannot be completed without a visit to the famous Jantar Mantar.
A short stroll away from City Palace lies Jantar Mantar, a popular UNESCO world heritage site. It is one of the five observatories built by Maharaja Sawai Jai Singh II.
It is a wonder for astrologers and architects that attracts visitors all over the world who remain bewildered by the level of scientific knowledge our ancestors possessed.
The observatory consists of nineteen instruments. Apart from telling the accurate time it also allows observation of planetary positions, predicting eclipses, locating major stars and much more.
After exploring City Mahal and Jantar Mantar, I stopped by the local market for some shopping. Bapu Bazaar is famous for its handicrafts and traditional art. My travel blog of Jaipur recommend you to explore the streets around and get indulged in some lip-smacking food. Don't forget to try the lassi and kachori. Yum!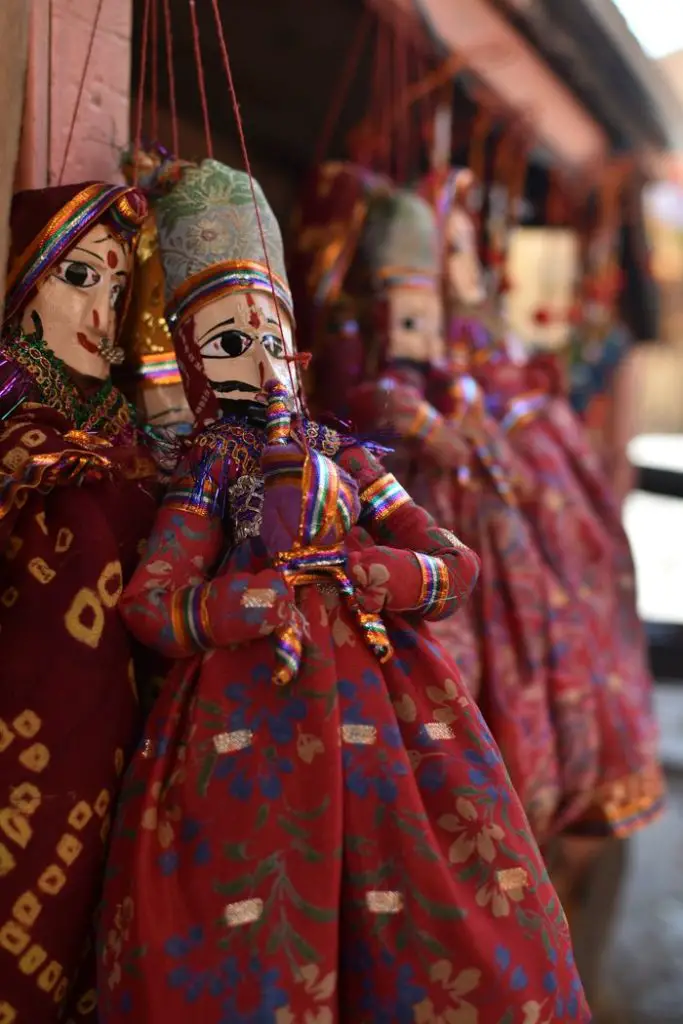 Hawa Mahal | Jaipur Itinerary for 3 days
Next up, on 3 days Jaipur itinerary was Hawa Mahal. The mahal was constructed out of red and pink sandstone, showcasing exemplary artistic excellence. It has a five story exterior consisting of 953 small windows or Jharokhas, which looks like a honeycomb.
It was originally built in 1799 as a vantage point for the ladies of the royal household. They used to observe everyday life and festivals in the streets below without being observed themselves.
It is better to view the monument from the front. There are plenty of cafes right across the street, from where you can admire it that looks even more beautiful after sunset.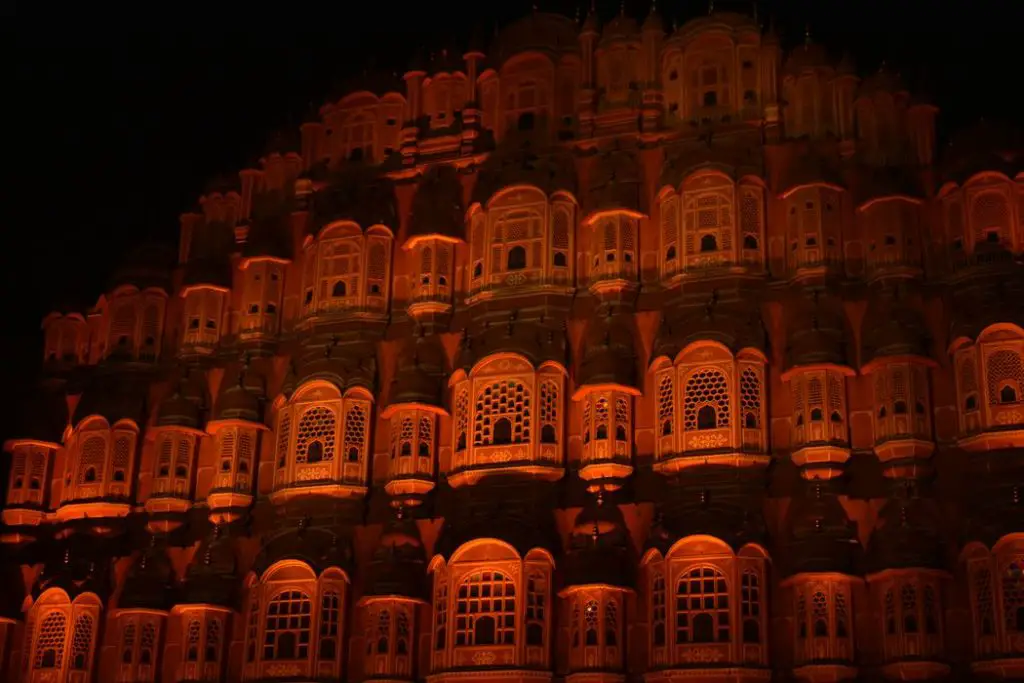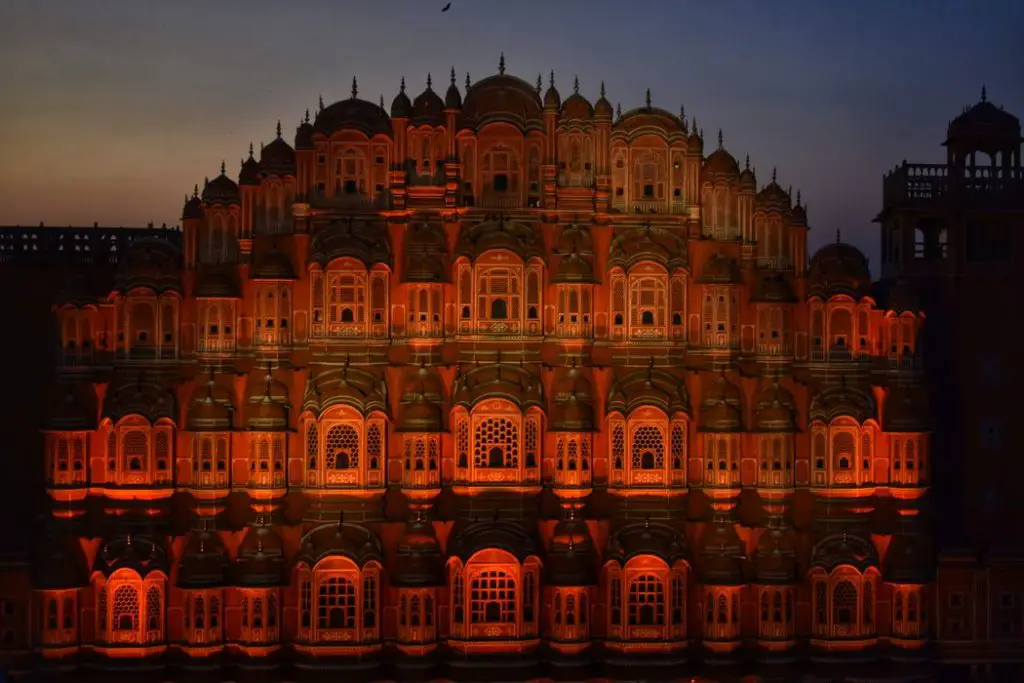 Day 2: Jaipur 3 days itinerary
Amer Fort, Nahargarh Fort, Jaigarh Fort, Jal Mahal
I was out on a venture to visit the forts on my second day of the 3 days Jaipur itinerary. The best part is all the three forts lie in the same path for which you just need to start early in the morning.
Amer Fort
As i was on a Jaipur trip I booked an auto (Ola and Uber are available in Jaipur) and headed towards the Amer fort. The Amer fort is situated atop a hill and is among the six forts in Rajasthan that is UNESCO world heritage site. There are two ways to reach the fort, the first one is to take an elephant ride and later is to walk up to the top. I chose to explore the fort on foot.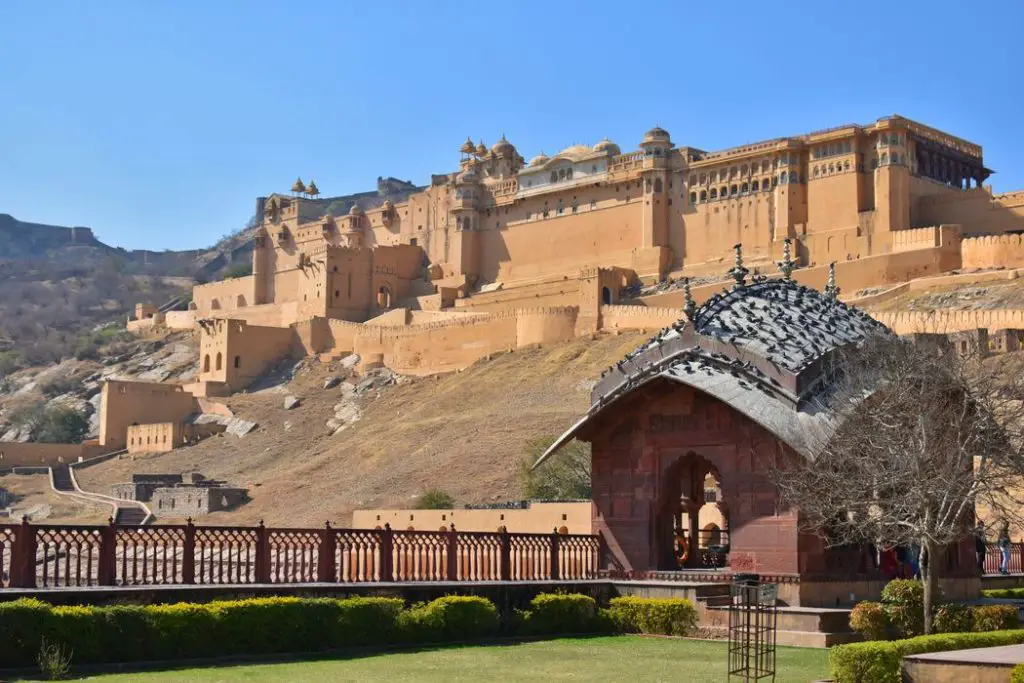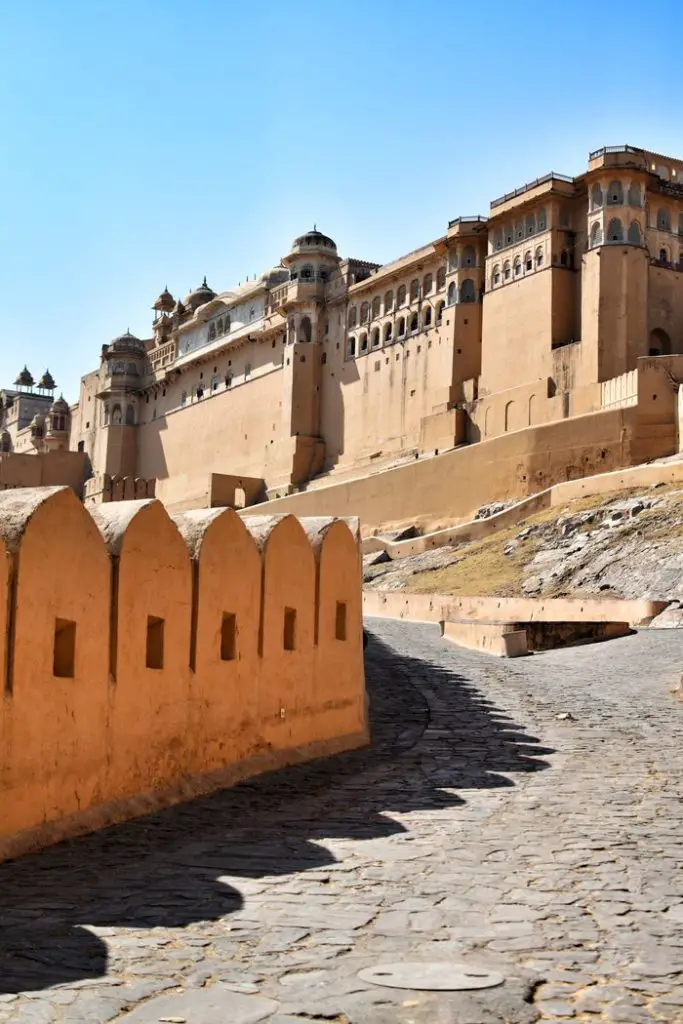 There are several courtyards in the palace which reflect the intricate architecture of the Rajputs and Mughals style. It usually takes around 3-4 hours to explore the entire palace. Moreover, there is a sound and light show every evening.
They tell you the story of Rajputs and explain and the interesting narration takes you through the memory lane of Amer Fort, describing its traditions and the grand lifestyle of the royal family. With so much history and stunning architecture, this gem of a destination was on top of my Jaipur 3 days itinerary.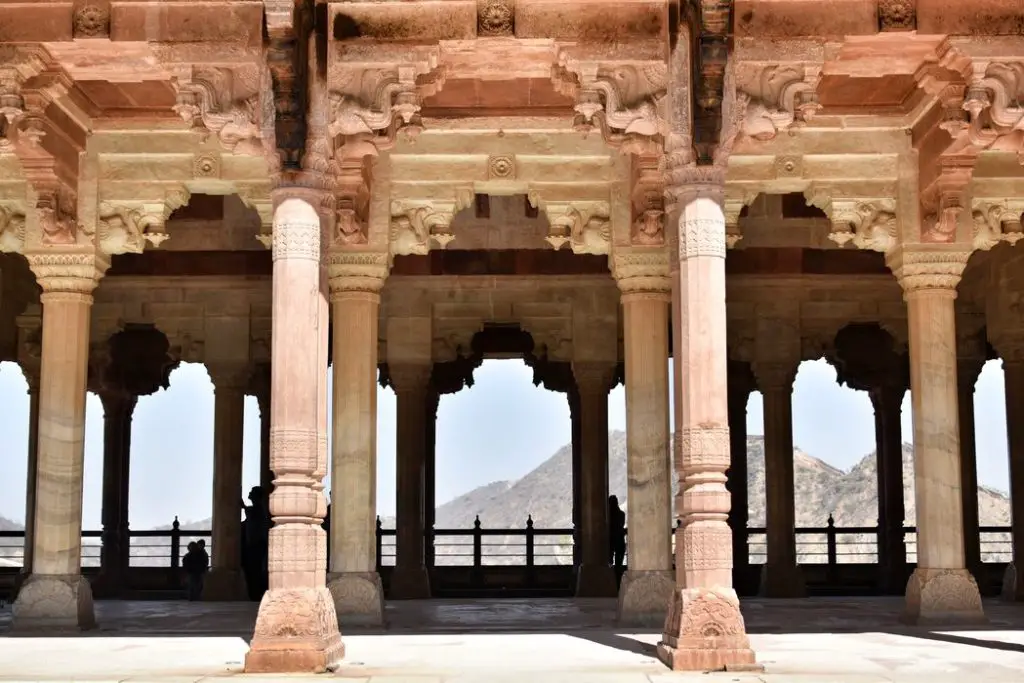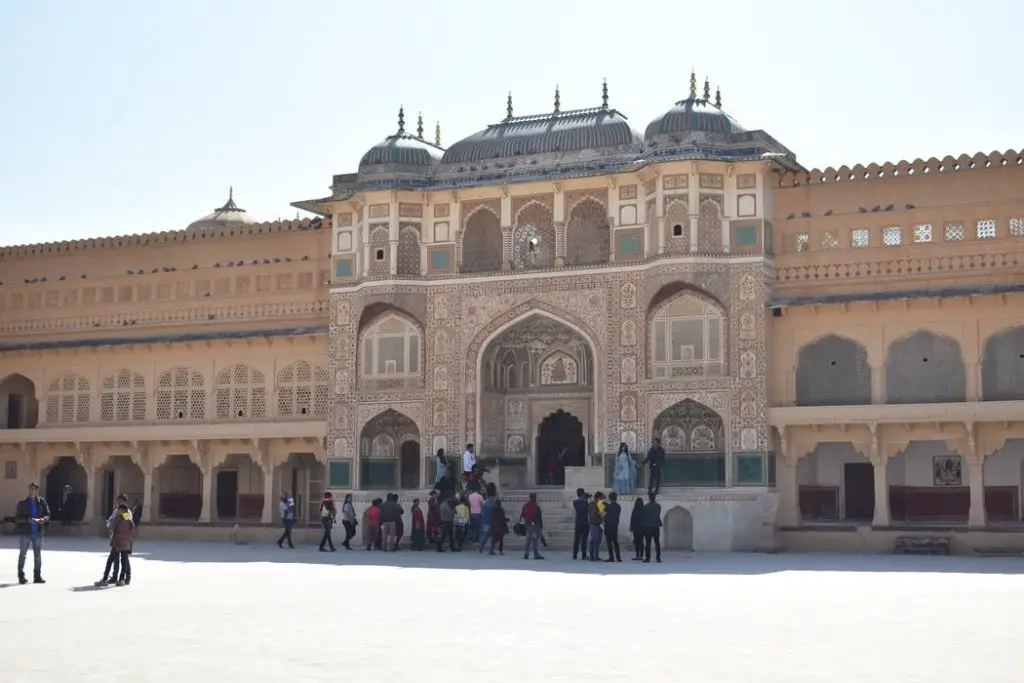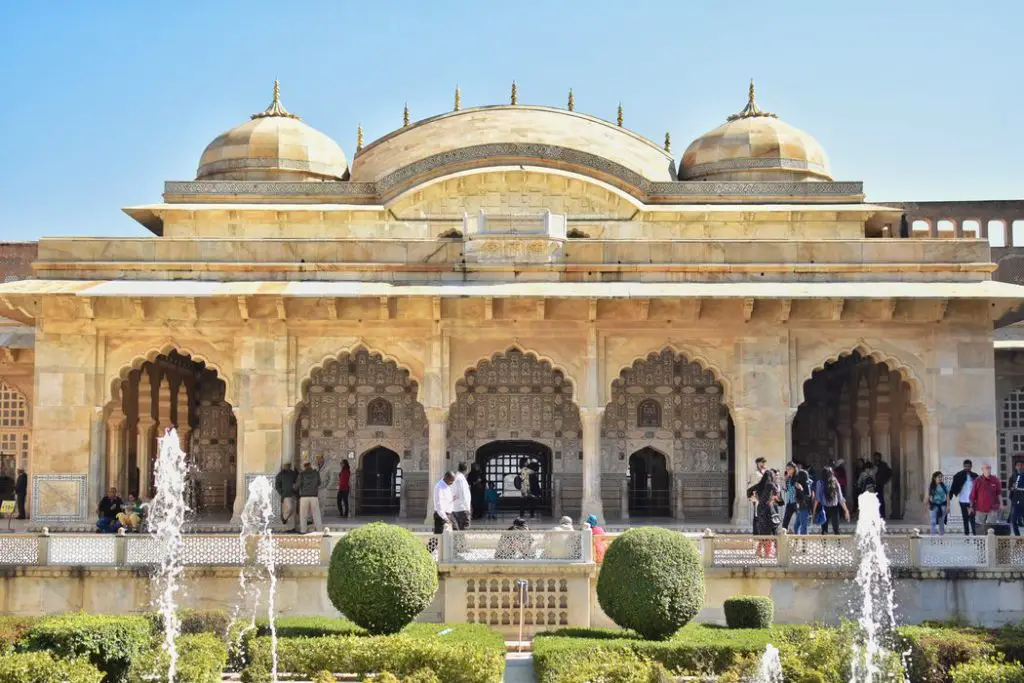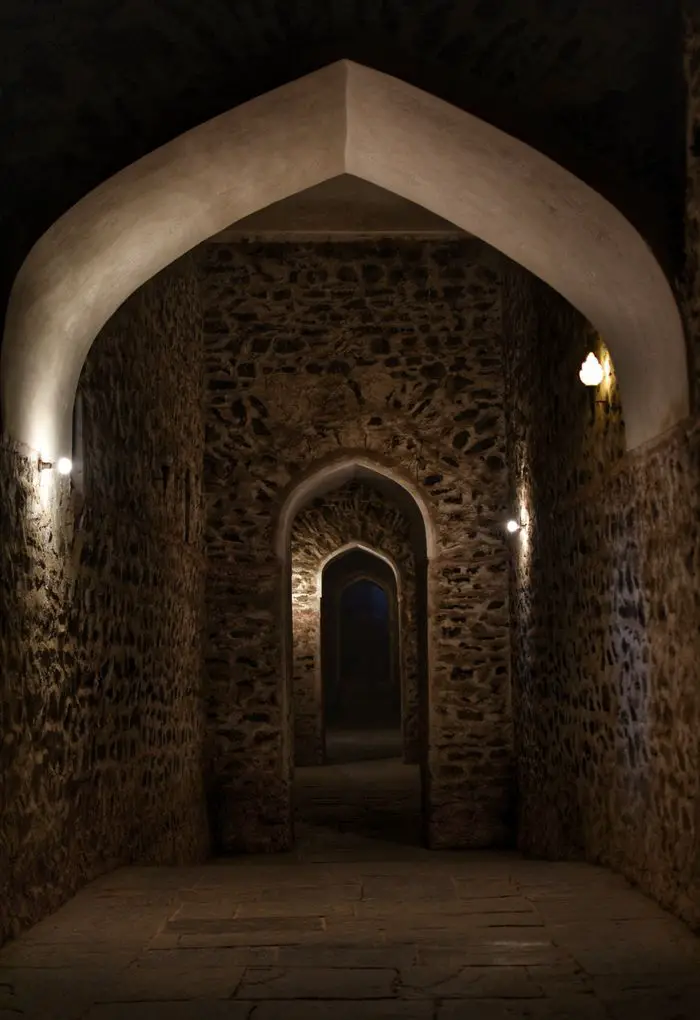 Nahargarh Fort
Standing on the edge of Aravali Hills, I could see for miles and miles around. The Nahargarh fort is the smallest of the three forts and built for defense purposes but interestingly it never came under attack during the course of its history.
Near the entrance, there is a Sheesh Mahal that was built later to attract tourist but it is not worth the money if you have already visited the one in Amer.
As I moved ahead I saw a huge step-well which is used for conserving the rainwater. If you have seen the Bollywood movie Rang De Basanti you will recognize the place instantly.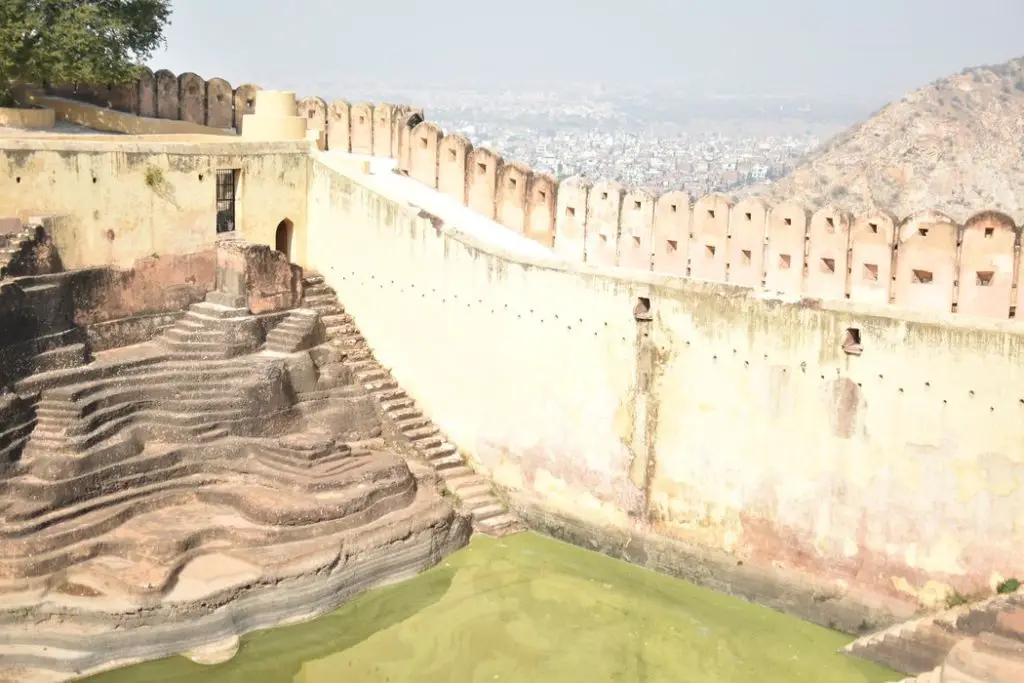 Next on my 3 days Jaipur itinerary was the Madhavendra Bhawan, which is the most spectacular part of the fort. It has 12 identical suites, for each of the 12 queens of Sawai Madho Singh.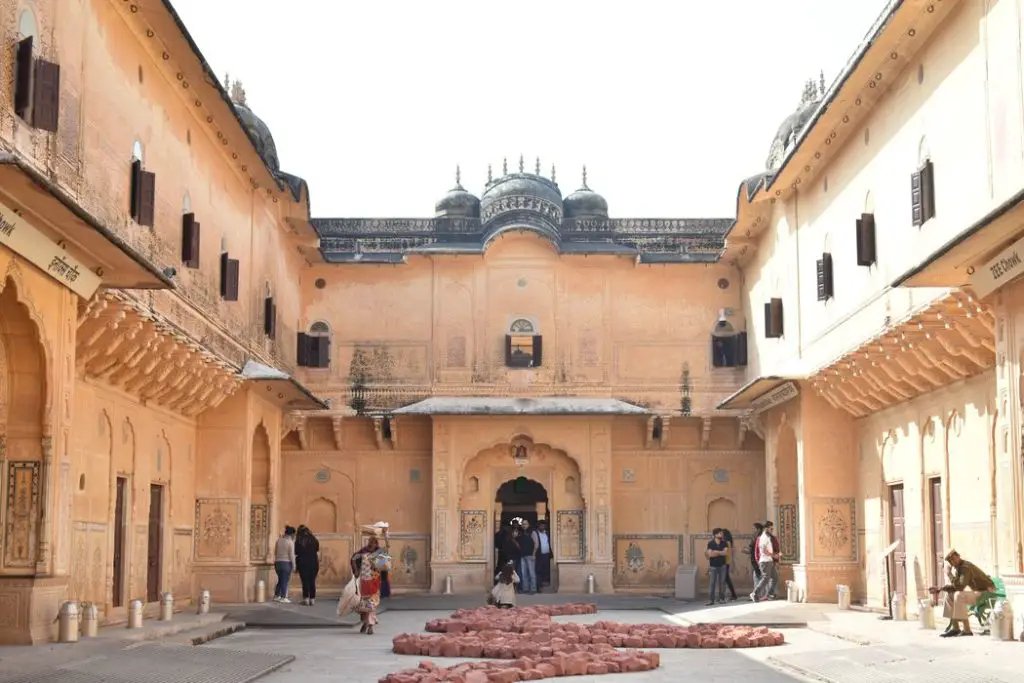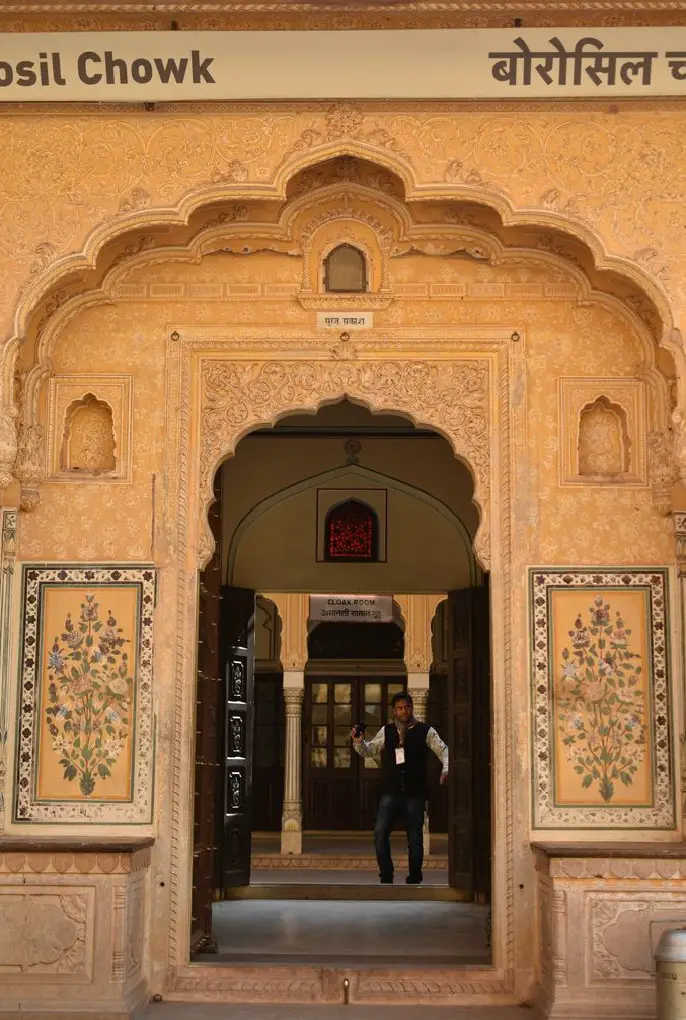 I climbed up on the rooftop from the stairs in these suites to witness the panoramic view of the Jaipur city. It was a visual treat to view the city when the lights are on, but I was in a hurry to move ahead.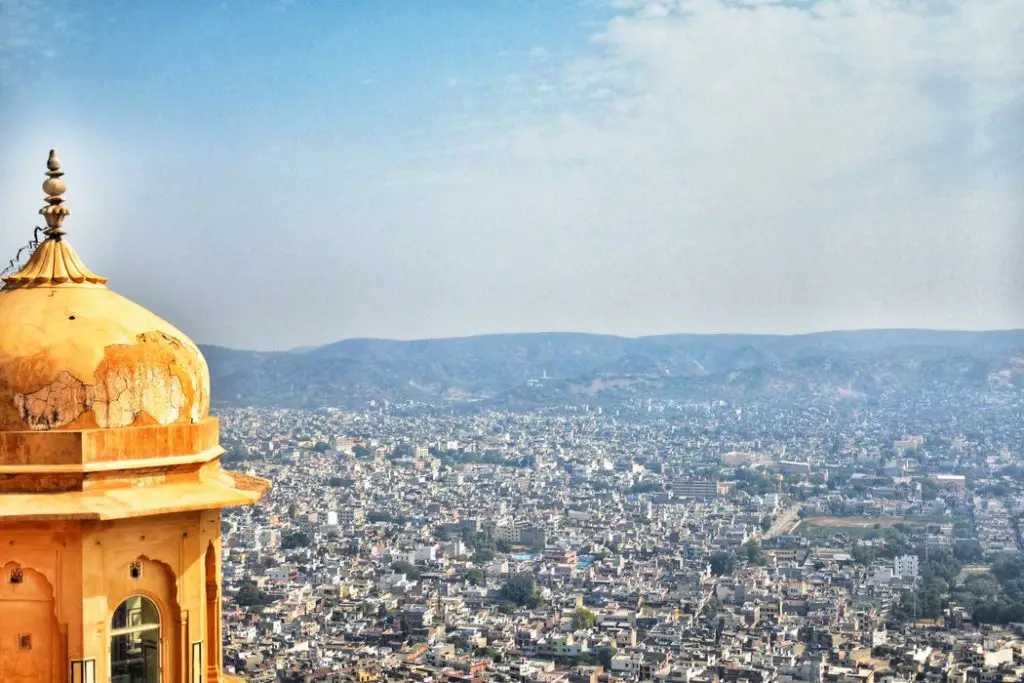 Jaigarh Fort
Located between Nahargarh and Amer is the Jaigarh Fort which was built with the purpose of protecting Amer Fort. It houses a huge collection of weapons for war and served as a storehouse of all the war amours, cannons, arms and ammunitions.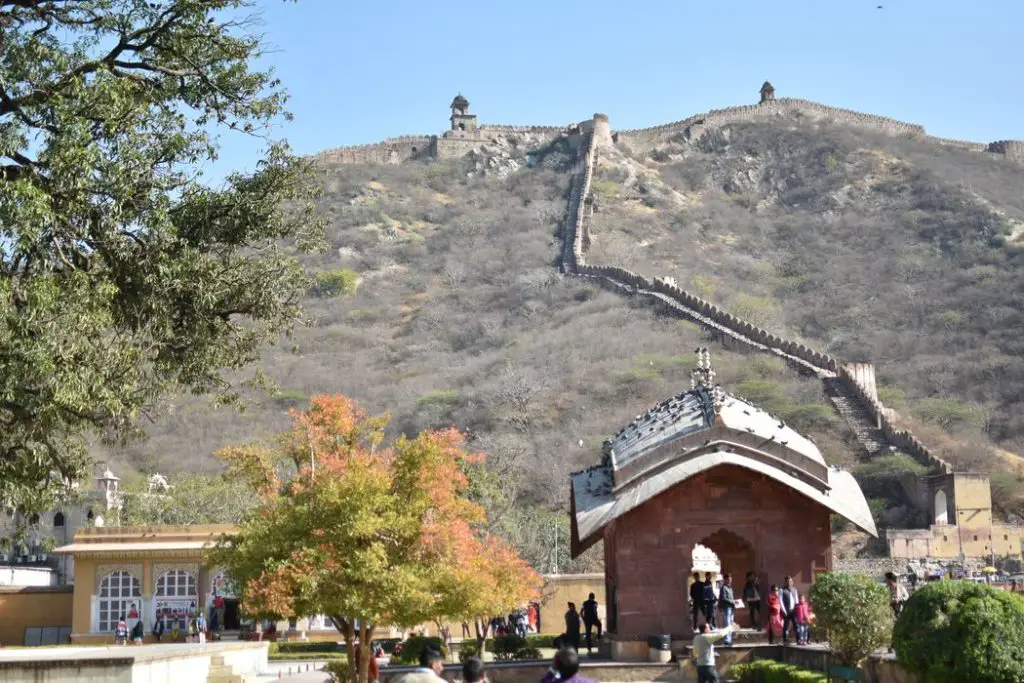 The main attraction of the fort is Jaivana, which is the largest cannon on wheels in the world. As per history, it was fired only once as a test-fire which is believed to create a pond 40km ahead. I couldn't manage to reach this fort on time and had to skip directly to Jal Mahal.
Jal Mahal
While returning to the city standing right in the middle of the Man Sagar Lake is the most intriguing palace. Other than stopping for some pictures of Jal Mahal, there are stalls for local snack and souvenirs.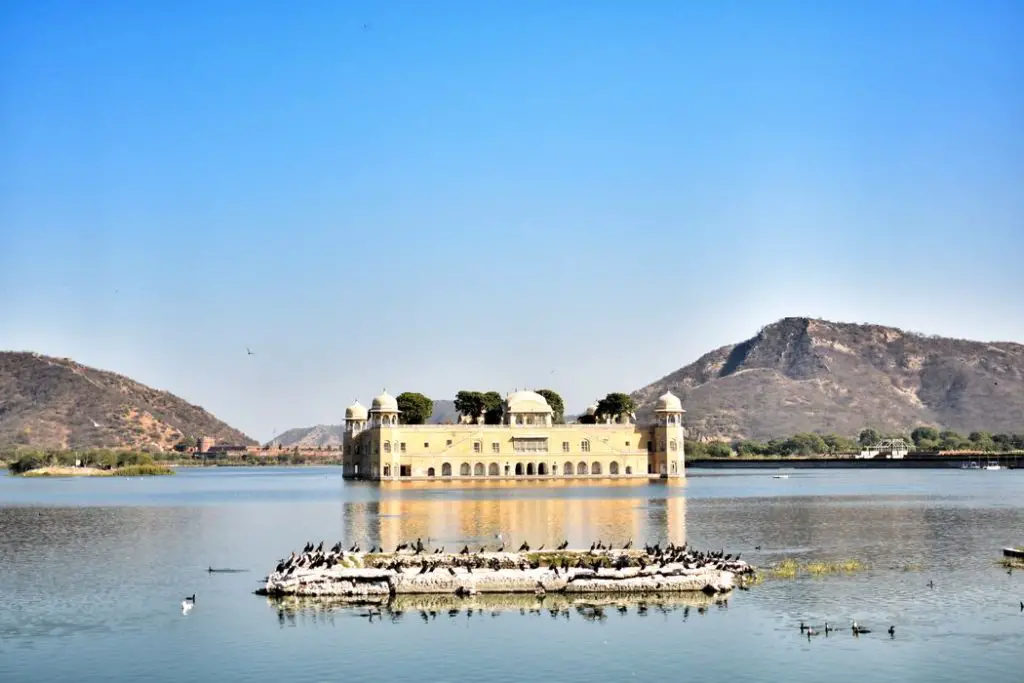 Day 3: Jaipur 3 days itinerary
Albert Hall Museum, Birla Temple
My last day of 3 days itinerary for jaipur was pretty hectic as I had to attend the wedding for which I came to Jaipur at the first place! So, taking out sometime in between I went to see the Albert Hall Museum, famed for its exquisite Indo- Saracenic architecture.
It is the oldest museum in the state and the main attraction is the 2300 years old Egyptian mummy. The best thing to do here is to have pictures with the beautiful facade.
Apart from these forts and monuments, Jaipur has some famous temples also. If you are looking for some feeling of peace and calmness, then I would highly recommend visiting Birla Mandir. The magnificent temple which is made up of white marble looks more alluring at night with hills at its backdrop.
How many days required to visit Jaipur?
Typically you can travel Jaipur in 3 days. It just the right amount of time, not too short, not too long.
What to do in Jaipur for 3 days?
In the above itinerary I've listed what to see in Jaipur, if it seems too long please pick what you like.
Jaipur trip cost for 3 days
Assume 1000-1500 INR for hotels a day, 600 INR for food and around 500 for transport. This should be enough for a comfortable budget.
Jaipur trip plan for 3 days
Use the ideas that I stated above from my trip and decide what destinations you would like to go. And don't forget to include delicious Rajashtani food! That's a travel experience in itself.
Jaipur trip for 3 days from Delhi
Jaipur is part of the golden triangle, and being so close from Delhi it is straightforward to follow my 3 days Jaipur itinerary.
Jaipur 3 days package
There are several travel agencies that can provide you Jaipur packages for 3 days, but why choose inflexibility when you can create your own Jaipur trip plan and enjoy at your own pace.
The cultural experience in Jaipur was different and incredible. While taking up lots of memories from the city, I headed towards my next destination in Rajasthan.
I loved my solo trip to Jaipur, and I challenge you to go for it too! And if you need any help to plan your trip, I will be happy to help to build your itinerary for Jaipur.
In the end, what do you think of this travel blog? I hope it was fun as well as it was insightful. As always let me know in the comments your questions or your own experience.
✓ You on Insta?
👍@triplyzer
---
✓ Find the best offers on your
Stays on 🏡 booking.com
---
✓ Deals on Private xfers, SIM Cards, City tours, Day trips
on 🛵 GetYourGuide
|
on 🛵 Klook
---