I love backpacking India, and I enjoyed my solo trip to Badami as much. In this Badami travel blog, I have written based on my Badami itinerary – the top things to do, top Badami hotels, and the places to visit in Badami. 
First things first, due to its close proximity Badami can be done as a 2 days trip from Bangalore.
Badami Pattadakal Aihole tour is also a popular one among tourists taking tour packages. This blog also serve as a Badami caves guide covering the main highlights – the top attractions of Badami.
Badami remains one of the most popular travel destinations in India. My Badami trip plan included 2 days in Badami seeing the top attractions.
As the clocked ticket 4:45 P.M. I began wrapping up my work desk. It was yet another weekend, and the third weekend I was traveling from Bangalore. Right at this time last Saturday, I was on a business trip to Mumbai from Bangalore. I was sitting in the all glass meeting cabin, after having finished off the work. I was in for a treat as I removed the window blinds.
Far in the horizon was the view of the Sun slowly dipping toward the sea. Watching a sunset among ancient monuments is truly one of the best things to do in Badami.
Places to stay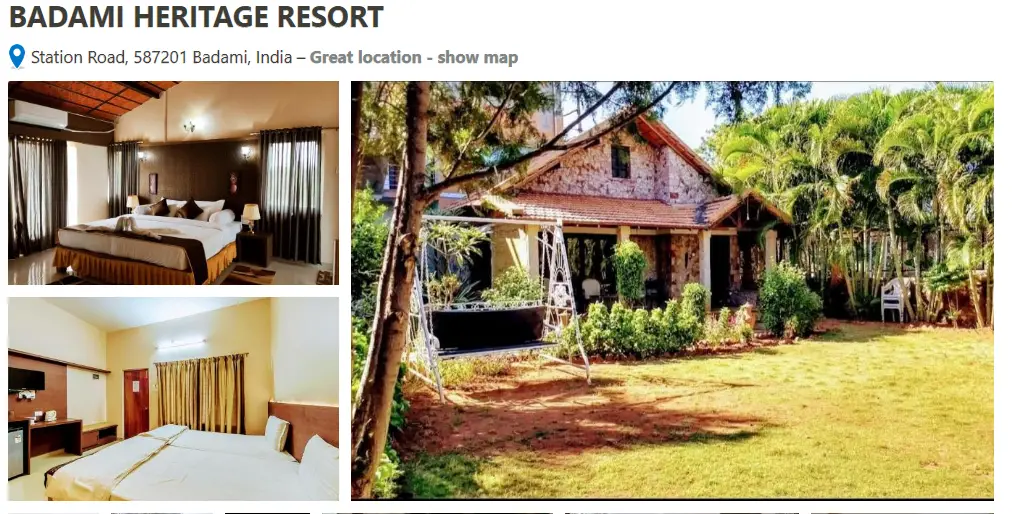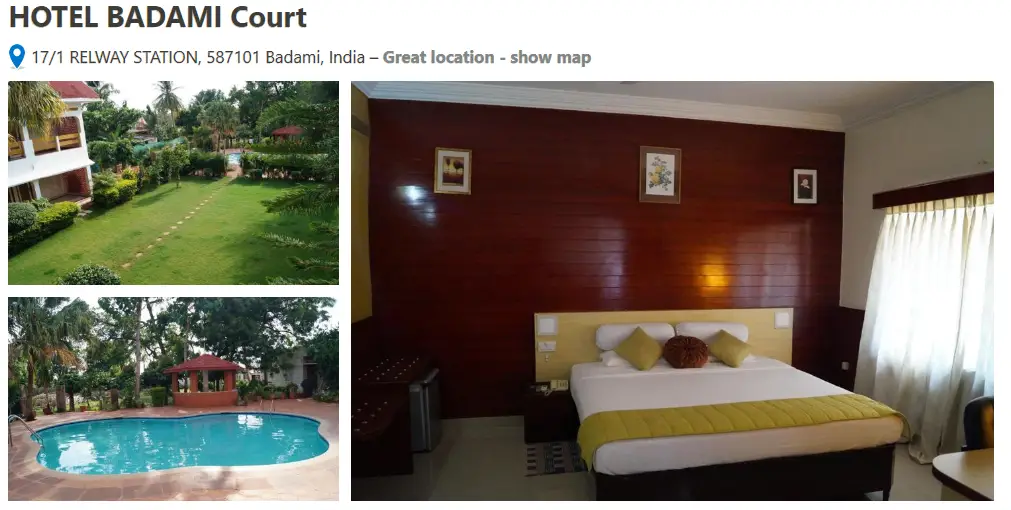 I picked up my bag and headed toward the exit. I waved a nervous bye to my manager as he looked up to see me leave. He didn't say anything but he knew, I was a weekend warrior: One job ended and another began, well sort of.
I was running late when I reached my place in Indiranagar, I stuffed my bag with what I thought I need for the next two days, which incidentally didn't include the half empty bottle of Johnny Walker, which was lying on the shelf of my room for some time now. I admit I was somewhat tempted but then quickly ditched the idea.
I reached just in time to catch the metro, thanks to the metro card which saved me from queuing up for the ticket. I was just in time for my 7 o'clock Gol Gumbaz which was surprisingly right on time. The train started and sleep took over me. For reasons unknown, I dreamt of Himalayas, I dreamt of a train journey to the snow peaks of Uttarakhand.
My mother showed me a place which she frequented as a child, and somehow I could relate to it. I had my own memories of it, though I don't remember being there before. Maybe in some other life, maybe I inherited the memory.
Somewhere in between I booked the hotel on ibibo, I am stuck to it as I still have a large no. of points to spend, and which they keep on adding with every booking. These people know business, they keep the hamsters running.
My Badami solo trip began quite uneventfully. I got down around 7 in the morning, it was a miracle how the train was right on time. And it's high time we should give some credit to our incredible Indian rail system. If you are backpacking Hampi, you can easily travel from Hampi to Badami by bus.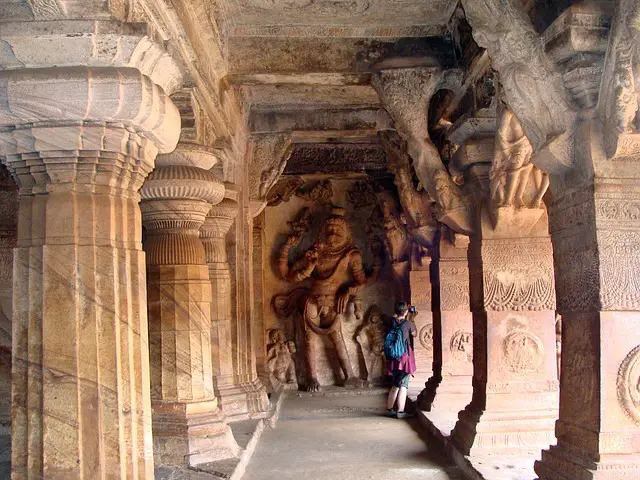 The first thing that hit me backpacking Badami was the small railway station with only a tiny tea shop. I imagined the city to be little bigger. Anyway, I got myself a tea which was delivered in a cup of size of a shot. Though it was reasonable hot, I gulped it in one go.
A shared auto carried me and ten other passengers through the dusty roads of this North Karnataka town. The road became worse as we progressed, making us, the passengers at the back, jump up and down.
After checking-in I headed straight for the breakfast, which came complementary with the hotel stay. I dared Poori bhaaji which I rarely have in Bangalore, due to self-imposed restriction on my diet. I ordered extra poori as the breakfast was free after-all.
There was a slight chill in the air when I came out of my room. Did it just get colder? I hailed an auto and headed to the Badami caves, one of the top attractions in Badami. In fact, Badami caves paintings are known all over India.
The main features of Badami cave paintings are its colorful nature and intricate details. The temples at Aihole and Badami are examples of rock cut architecture. The opening timings of the temples is 9:00 AM to 5:30 PM. Take my advice and put the caves in your Badami trip itinerary.
Badami fort situated on the top of the hill overlooking the city is another one of the best places to visit in Badami. The great views from the Fort make it worth a visit on your Badami solo trip.
Travel Tip: You can combine the two – cave temple and fort and make Badami one day trip. You can even combine Badami Hampi together and make it a part of backpacking India itinerary. You can reach Badami from Pune, as well from Bangalore.
Caves #1,2,3,4 all came in single package which cost a whooping rupees ten! How could ASI took such a good care of the monument baffled me. The place was squeaky clean barring a couple of chocolate wrappers. These children needs to be taught a lesson!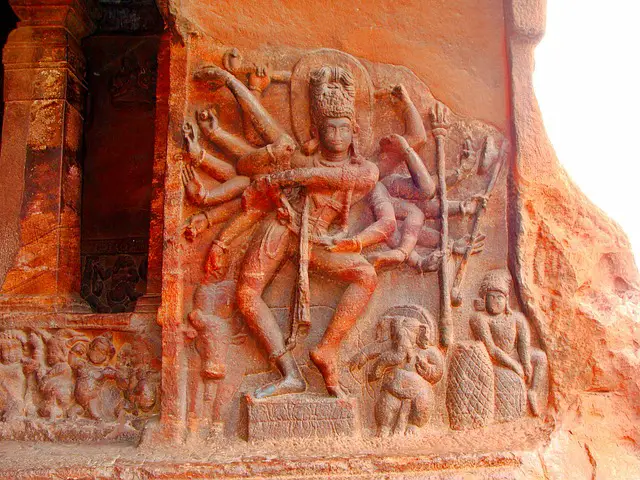 To be fair, I was left little disappointed by the visit to the caves. The disappointment of the caves was well compensated by the school kids. Neatly dressed in their uniform, adhering to queues but making noise and creating chaos whenever they found an opportunity. You can't hold a river, can you? It finds its way, eventually.
I had some Mirchi bhaaji at the small canteen in the compound, though I only wanted to have some tea. I found Mr. auto wallah who was waiting for me in the parking, even though I had told him to leave.
He showed me a notebook all with glowing reviews of the trips, but I wasn't sure of going to Pattadakal and Aihole. It wasn't that the offer wasn't good, it's just that the places didn't excite, specially after being little disappointed by the cave temples.
After a quick search on Google images, I thought the two were a pass. I generalized them as old temples on a large open ground. What's so special?
Or maybe it was my arrogance that I dismissed them without giving much thought.
Or perhaps I was being practical, I decided to spend more time exploring Badami solo then running all around and tiring myself unnecessarily.
I took a quite lane to the other side of the lake. The lane itself with its white washed houses was quite a discovery. There were hardly any people around, not adults at-least, the little people, the children coyly waved hello and goodbyes as I passed through the street clicking with my phone camera.
In the Bhoothnath temple I reluctantly followed a local who acted like a self-appointed guide. The carving on the giant stones made my day. Damn! it was some art-manship.
While on my way I decided to take the passage up to check out some inscriptions. I ended up skipping it and continued my climb till I reached the top. Aah, I gasped. It was so beautiful from up there. The landscape looked as haunting as the one around Hampi.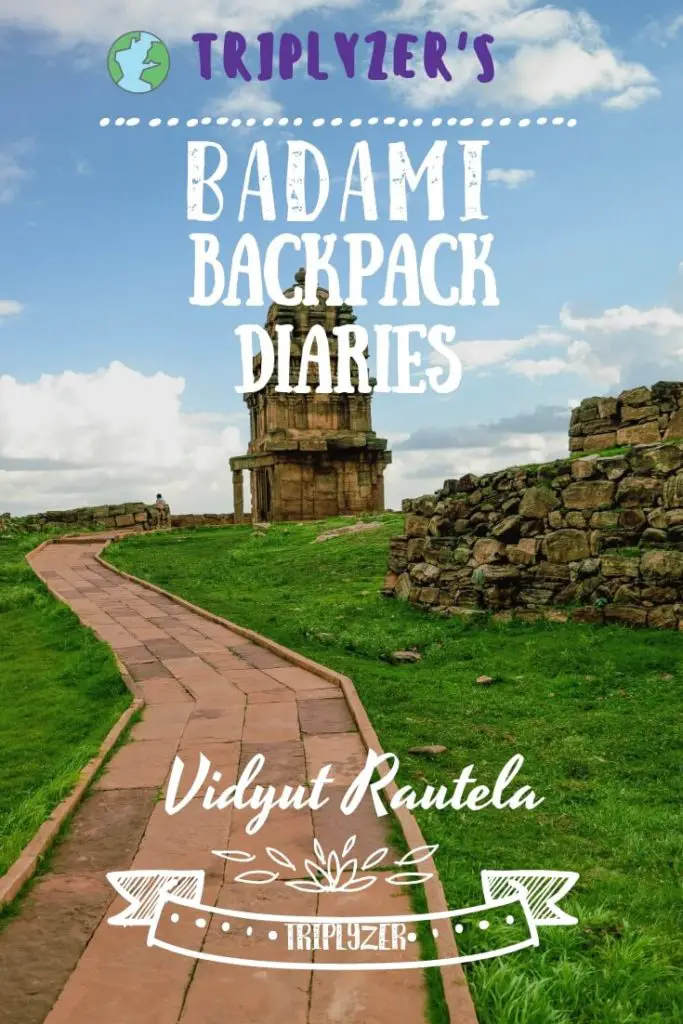 I waited patiently for the sunset, taking the refuge behind a stone till the Sun was low enough. Hues of oranges and purple filled the sky as the Sun descended on to the horizon.
The crumbling old fort, and the remains of lower and the upper Shivalaya temples under the half-moon light cast a mysterious shadow. I scrambled to find my way back as I remembered my late night adventure in Hampi. I had a train to catch in another forty minutes. I took a chance and stumbled my way down a series of steps. The well laid path lead me safely through the rifts.
A pleasant incense like smell hung in the air. I thought I heard something, music coming off from tabla and Sarangi, or maybe it was the sound of my own footsteps. My mind was playing tricks on me, but perhaps it was what I wanted to hear. I was almost there at the bottom of the stairs where to my great relief was the ASI museum by the lake.
The last bit of light in the horizon was gone and in the absence of stars it was now quite dark. I looked up toward the hill one last time and couldn't help but wonder:
The Sun might have set on the kingdom of Chalukyas, but their legacy would go on continue to inspire generations. It's not lost as long as we remember, tomorrow the Sun will rise again and with inherited memories this 'Indus valley' civilization will continue to flourish.
I challenge you to take the backpacking trip to Badami, India. And I can assure you that you will have a 'rock'ing time! 
PS: I was ten minutes late for the train, but boy was I so glad to find that the train wasn't running on time. This time, I thanked Indian Railways for not being so punctual.