✓ You on Insta?
👍@triplyzer
---
✓ Find the best offers on your
Stays on 🏡 booking.com
---
✓ Deals on Private xfers, SIM Cards, City tours, Day trips
on 🛵 GetYourGuide
|
on 🛵 Klook
---
Bored on a weekend? Done with Nandi Hills? Here in this travel blog are some ideas for two days trip from Bangalore.
Thanks to the availability of good public transportation, it is easy to take a 2 day trip near Bangalore. Alternatively, you can hire a private taxi or a self drive car and drive on the nice intercity roads of Karnataka.
There are quite a few places to visit for weekend trips from Bangalore, and the best part is no matter what your style is, solo trip, with friends or with family these destinations can be enjoyed by all.
Without further ado, here's a list of 2 day trips from Bangalore:
| Destination | Distance from Bangalore | Get by Bus | Get by Train |
| --- | --- | --- | --- |
| Hampi | 340 km | ✓ | ✓ |
| Fort Kochi | 550 km | ✓ | ✓ |
| Pondicherry | 360 km | ✓ | ✓ |
| Chikmagalur | 240 km | ✓ | ✕ |
| Mysore | 150 km | ✓ | ✓ |
| Wayanad | 270 km | ✓ | ✕ |
2 Days Trip from Bangalore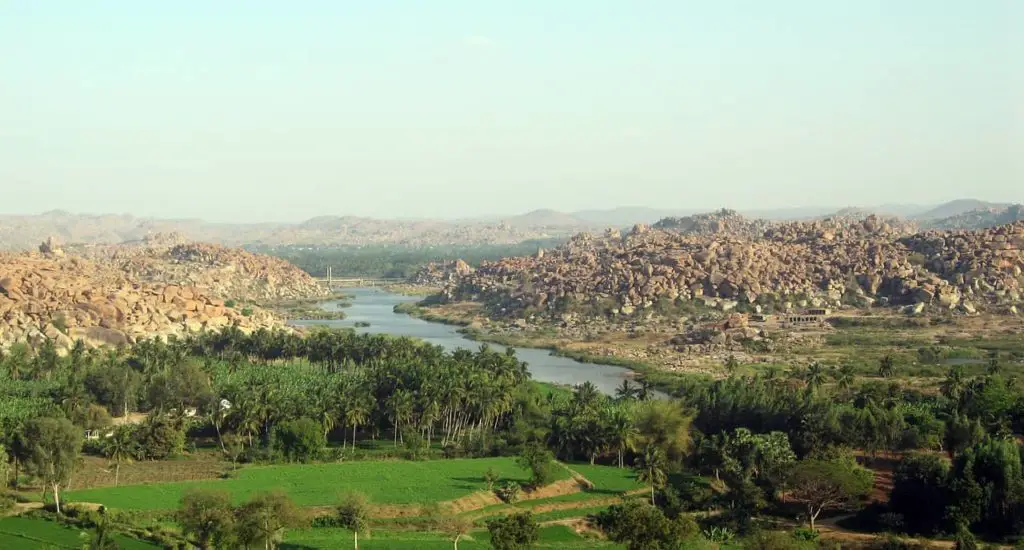 A UNESCO world heritage site, Hampi spells its charm on the visitor as soon as they take their first step down.
Hampi can either be reached by a bus from Bangalore or by a train, the nearest railway station is Hospet around 15 km from Hampi.
The modern day town of Hampi bustles around the remains of Vijayanagara Empire which once ruled the area.
Hampi is undoubtedly one of the best places to go for a 2 day trip near Bangalore. 
The old ruins of temples, palaces and bazaars, the big boulders stacked up high on the hills, and the patches of green palm trees swinging in the occasional wind are as mesmerizing as they are mysterious.
Top things to do in Hampi
Immerse yourself in the surrounding of the amazing scenery of the giant boulders.

Go explore the nearby village of Anegundi which features in the Hindu epic Ramayana.

Get a selfie clicked against the backdrop of the famous Stone chariot located in the Vittala Temple. While there, don't miss the famous musical pillars of the vittala temple, Hampi.

In the evening take a walk along the river from the Hampi Bazaar to the Vittala Temple, Hampi.

Offer prayers in the Virupaksha temple, Hampi while saying Namaste to the temple elephant Lakshmi .

Climb up the Hanuman temple on the other side of the river to get magnificent, unobstructed 360 degree views of the entire area. You'll see big boulders for miles and miles of Hampi.

Get on to the other side of the Hampi by crossing the river in the shaky rice boat.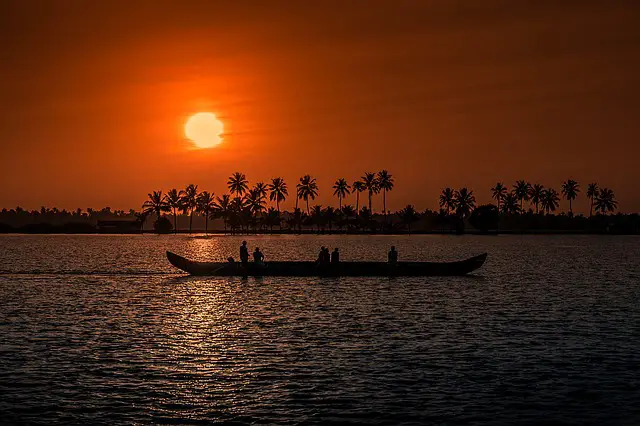 Fort Kochi is an island located close to town of Cochin. Fort Kochi can be reached both by bus as well as by a ferry. From Bangalore you can arrive at Ernakulum by train or directly at Kochi by the night bus. It takes around 8-9 to reach Kochi from Bangalore by bus.
Take a walk in the lovely, history princess street. Immerse yourself in the art studios before heading out to dinner in a fine dine European style restaurant.

Grab an ice-cream or a coconut and sit relaxed at the beach listening to the crashing waves.

Check out the Chinese fishing net on the beach which were originally provided by the Chinese sailors in the 14

th

century.

Go see the famous St. Francis Church, the rustic building, where once Vasco De Gama was buried.
An erstwhile French colony which still boasts its strong French Connection (get it ;)) and you can still see the French influence on the architecture as well as the culture of the city of Pondicherry.
The distance between Pondicherry and Bangalore is around 450 km. The best way to travel is by train which runs in the night and takes around 10 hours to complete the journey.
Check out the serene beaches –

Rocky Beach, Auro Beach and Promenade beach. Rent a moped and roam around on the beach road.

Head to

Auroville, the beautiful golden globe styled a

shram of Sri Aurobindo,

for some peaceful meditation time.
The town of Chikmagalur is famous as a coffee growing region, and once you have the local filter coffee you'd agree that it lives upto the hype.
You don't need to go to exquisite tasting session, just have a regular coffee at the Chikmagalur bus stand and you'd know what I am talking about. Chikmagalur is located around 250 km from Bangalore and the journey takes around 6-7 hours by bus.
Stay at a homestay, preferably near the coffee plantations.

If you have time take a public bus to the hilltop – Bababudangiri or B.B. Hills in short – which offers excellent views of the surrounding valley. It gets particularly scenic in rainy season.

If you are up for adventure, there are several treks around

Chikmagalur

that you can undertake – such as

Mullayanagiri (Karnataka's highest peak) and Kumara parvatha (considered the toughest of all treks in Karnataka)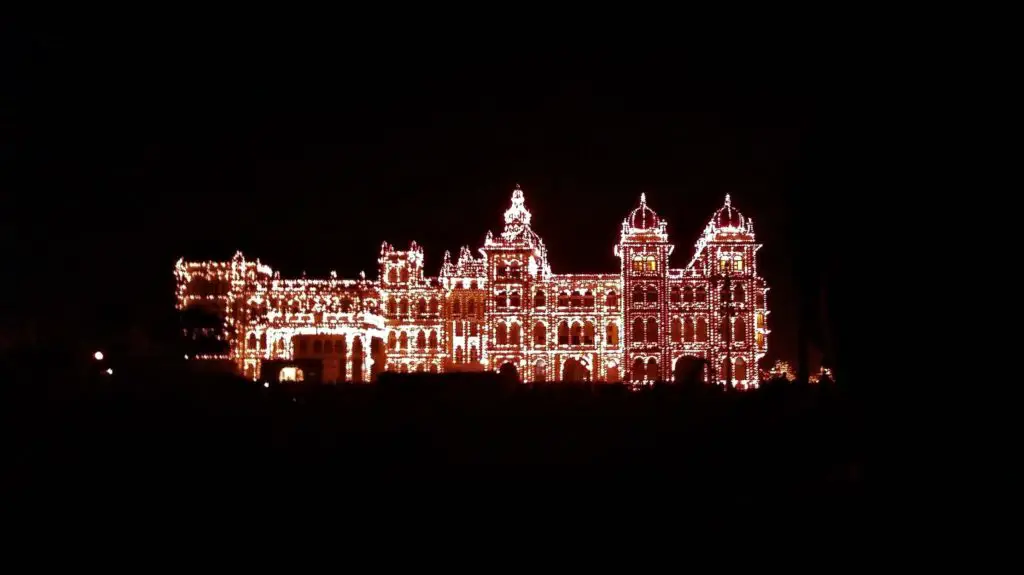 As soon as you step down in the Mysuru railway station you'd realize the crown of one of India's cleanest city rightfully belongs to Mysuru. Mysore now the second biggest city of Karnataka was once a capital of Wodeyar dynasty. Mysore has lot to offer to tourists to see and do, some of the top items on the lists are listed below:
Mysore Palace: The best tourist attraction to see in Mysore is the famous Mysore Palace which is also the site for the world famous Mysore Dusherra festivities. During Dusherra the whole palace comes live as it is visited by throngs of tourists, live events take place every other hour and is beautifully lit up with hundreds of thousands of electric bulbs.
Mysore Zoo: Established in 19th century the Mysore Zoo is well maintained and houses several species of animals including the big cats, hippos and the Giraffe. Seriously, if you have not seen Giraffe in your life you should head there immediately.
Chamundi Hills: The hill has a temple dedicated to Goddess Chamundeshwari, getting inside the temple could be a bit of challenge as queues can get long. A giant statue of Mahishasura is located nearby; he was the asura killed by Chamundi Devi. You can reach the Chamundi hills temple using public bus which run quite frequently from the city bus stand.
Brindavan Gardens: One place you should avoid at any cost. Very poorly maintained, flooded with crowd which makes it very difficult to find a public bus on the way back, the supposedly great musical fountain doesn't really work, and the place is full of pick-pockets. Perhaps I am little too biased because my expensive smartphone was stolen here which I was trying to get into a crowded bus. And to top it off the police was anything but helpful. If you are still not convinced, go and check it yourself but don't comeback crying, you have been warned!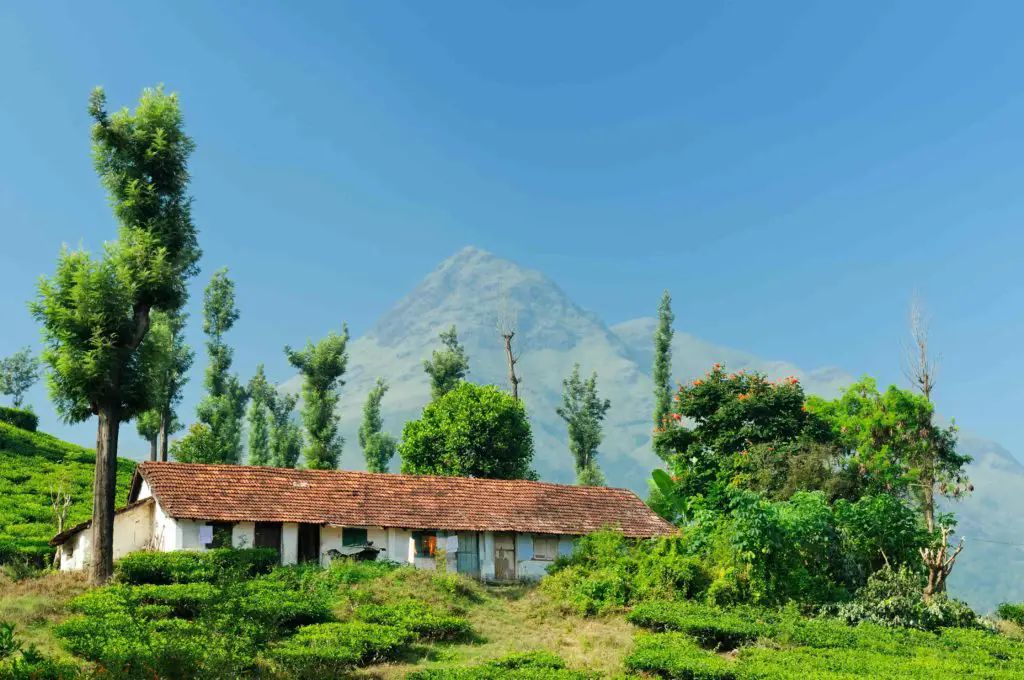 First things first, Wayanad isn't a city or a town but is a district comprising of several small towns and villages. Due to the hilly terrain there are no trains in Wayanad and the best way to reach Wayanad is by road from Bangalore via Mysore. The distance between Bangalore to Sultanbathery (the gateway town of Wayanad) is around 270 kms and several overnight buses run between the two cities every day.
The most popular of Wayanad towns where tourists head are: Sultan Bathery, Kalpetta, Meppadi. All the three towns are in close proximity to each other can be reached easily by the public bus.
Take a speed boat ride in Banasura Sagar Dam, the whole dam and catchment area is very picturesque and there are several resorts located nearby.

For the fit ones hike up the Edakkal Caves famous for prehistoric cave arts. Also, from the top you get some decent views (just decent not great) of the town as well. – near to

Sultan Bathery.

Animal lovers can spend quality time in the national park with wild elephants in Wayanad Wildlife Sanctuary. – Muthanga, Sultan Bathery.

If you are feeling spiritual head to the century old temple Thirunelli Temple. Though getting here and back using public bus could be little tricky, hence plan your day carefully around the bus schedules.
I am sure from the above list you were able to find your best weekend destinations around Bangalore. Some of these can also be considered short trip, but it is best when you travel slow and make it a 2 days trip.
If you think my weekend getaway from Bangalore blog post was helpful, please do like it and spread the word!
As always don't forget to comment below your questions and views!
Coorg
Known for its coffee plantation Coorg is a popular hill station in Karnataka. Travelers come to Coorg to see its lush green valleys and the streams of water that run through them.
Also known as kodagu, the town is a paradise for nature lovers who flock here to see its deep forest laden with spice plantations.
The city is also a popular weekend getaway from nearby cities such as Bangalore, who visit Kodagu to relax in the homestays.
These homestays are usually run by the owner of plantations themselves, they provide tour of their plantation, arrange for treks and serve delicious home cooked South Indian meals.
Gokarna
the sleepy coastal town of Gokarna is famed for its pristine beaches, Rich culture end mesmerizing landscape. Lots of tourists throng to gokarna to relax in its beaches and enjoy the party like atmosphere. The city is also an important pilgrimage site, devotees come here to pray at the mahabaleshwar temple.
Gokarna has long been known for its hippie culture where foreign tourists from across the globe come to bask in its sandy beaches. They are specially found relaxing on Om beach and Kudle beach.
During the high season a number of shacks come up near the beach where you can stay as well as eat. But if you are looking for a more private holiday Gokarna has handful of beautiful resorts too.
KR Hills
KR hills is a scenic hill station located in Karnataka. Though not as popular as the other hill stations, KR Hills has its own unique charm. People come here to enjoy the scenic beauty and walk amidst its lush green gardens.
In the monsoon season many waterfalls bursts into life adding on to the beauty.The credit for well-maintained garden goes to the royal Horticulture society of Karnataka.
KR hills was once a royal retreat of the king of Mysore, who had summer palace here. The palace is now maintained by government of Karnataka which you can book for a night stay.
With numerous beautiful waterfalls, KR Hills is a nature lover's paradise, with trekking as the best way to explore the region.
✓ You on Insta?
👍@triplyzer
---
✓ Find the best offers on your
Stays on 🏡 booking.com
---
✓ Deals on Private xfers, SIM Cards, City tours, Day trips
on 🛵 GetYourGuide
|
on 🛵 Klook
---