One of the most beautiful travel destinations in India, Wayanad is a crown of Nilgiri hills. In this Wayanad solo travel blog, I will share tips and practical info to help you plan.
The immense popularity of the holy trinity – Allepey, Kochi and Munnar – has pushed Wayanad somewhat into shadows, which probably saved this gem of a place from the tourist stampede.
I present you my Wayanad travel guide, a fruit of several trips to this serene destination in Kerala.
If you are looking for a quick itinerary, I have also listed down the places to visit in Wayanad in 2 days.
Here's my list of Places to Visit in Wayanad for solo travelers:
Day 1:
Jain temple
Edakkal Caves
Wayanad Wildlife Sanctuary
Wayanad Day 2:
Chembra Peak
Banasura Dam
Top Places to Stay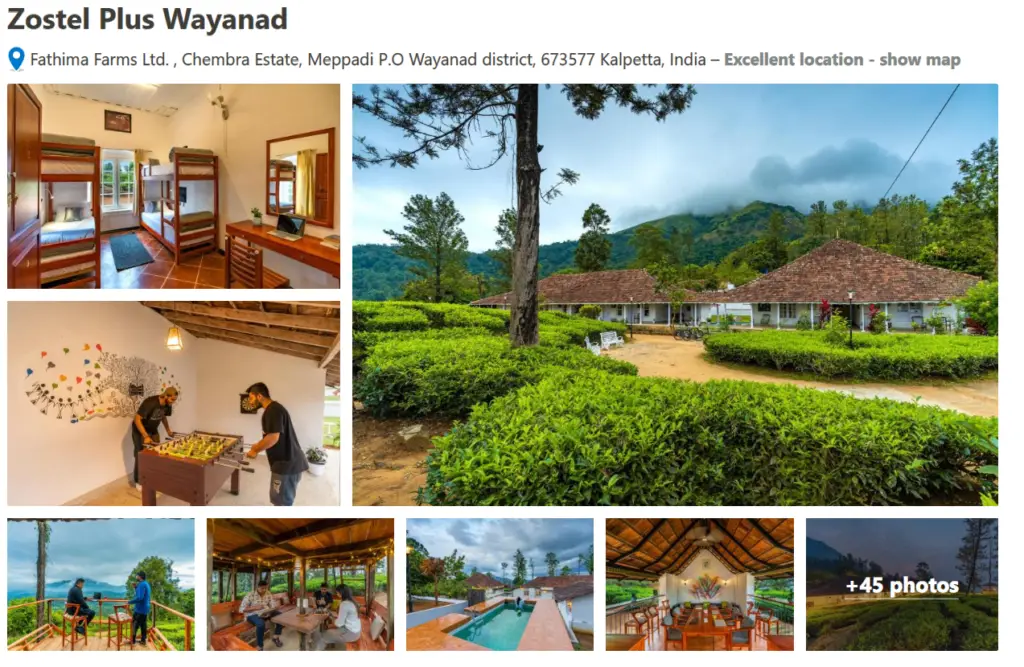 I have also included other necessary travel information that you will need to plan your Wayanad solo trip. This includes getting oriented to the area, transportation and accommodation.
Though Wayanad sees a decent tourist count, it could still be considered an off-the-beaten track destination in Kerala. This Backpacking Wayanad guide includes tourist places in Wayanad with pictures, information on public bus and the best time to visit.
There are a range of activities in Wayanad that you can do while traveling solo – jungle safari, trekking, camping and so on. There are plenty of natural attractions in Wayanad that tourists can visit including, lakes, mountains and waterfalls.
Places to visit on a Wayanad Solo Trip
I'd say you need more than a weekend to see Wayanad, three days would be ideal to check out Wayanad tourist places. If you have even less time, you can skip a few and customize it as places to visit in a day, Also, note that I have organized the best places to visit in Wayanad as per there nearest town.
1. Jain temple
On top of the list of places to visit in Wayanad is the old Jain Temple in Sultan Bathery. It is an ancient Jain temple supposedly built in thirteenth century. The temple's beautifully designed architecture is said to be influenced by the elegant style of Vijayanagara empire.
Later on, the temple was used by Tipu sultan as an ammunition battery, and hence the name of the town Sulthan Bathery. Due to its religious and historical significance Jain temple is for sure my pick as one of the places to see in Wayanad.
2. Edakkal Caves
Next up in your solo trip to Wayanad is the Edakkal Caves. I loved trekking to it and truly deserves its spot in this list. The Edakkal Caves are located at a distance of around 13 km from Sulthan Bathery and on the way from Sulthan Bathery to Ambalavayal town.
The caves are part of Ambukuthy mountain and to reach there you need to climb a steep trek for about 45-60 minutes. Be warned that you need to be in reasonable shape. On the way I heard a lot of people complain that it wasn't really worth the sweat.
The cave, which to be precise is actually a cleft, is about 100 feet long and the inner stones walls are covered with what you can call 'cave man's graffiti'. Once there you will agree Edakkal cave is one of the best things to do in Wayanad.

It's really quite amusing to see what the people in pre-historic times drew – some random geometric shapes among which the wheel is the one most prominent and striking as well. The carvings also include human and animal shapes but it is bit difficult to figure them out.
Perhaps, the most interesting thing to observe is not the cave art but a natural formation – a spheroid, a solid ball shaped rock, stuck in a fissure in the mountain. You can spot it at the very end of the Edakkal cave.
Readers of tthis Wayanad travel guide should note that taking picture with mobile (very strictly enforced) is not allowed inside but one can take picture with a camera if they purchase the ticket along with the entry ticket.
Just before the entrance of the cave there is an observation deck, more like an open area enclosed with metal railings. The view of the valley is nice from there but nothing great and if you take a selfie you'll probably not find it worth posting on Instagram.
You can easily get to Edakkal using public transport. From Sulthan Bathery get in the bus to Ambalavayal and get down at a diversion before Ambalavayal. The diversion is clearly marked as a route to Edakkal Caves, and as this is a very popular tourist spot the bus conductor should also be able to help you get down at the right place.
From the diversion you need to take another bus which comes from Ambalavayal and goes toward Edakkal. Again get down at another diversion, it is the road which leads to cave. From this point you need to walk for about 10-15 minutes to reach the base of the mountain from where the trek starts. Please note that the entrance to the caves closes around five in the evening, so plan your journey accordingly.
Solo trip to Wayanad is one of the best kept secret of Kerala and thankfully so!
3. Wayanad Wildlife Sanctuary
Adding to the list of famous tourist places in Wayanad is the Wayanad wildlife sanctuary, an attraction that every Wayanad travel guide should include.
Wayanad Wildlife Sanctuary is a part of the larger Nilgiris biosphere reserve and comprises of a wide expanse of ecological habitat spread over 345 square kilometers. Established in 1973 Wayanad Wildlife Sanctuary is second biggest wild life sanctuary after Periyar Wildlife Sanctuary (777 square km).
The sanctuary is home to several species of wild animals such as elephant (star attraction), tigers and Indian bison (a giant, majestic bull). The highlights of the park are the elephant rides organized by the forest department and sighting the herds of elephants passing by or idly grazing. The Muthanga gate is quite close to Sulthan Bathery making the town ideal base stay for you to explore this sanctuary.
The other entry point is Tholpetty which is near the town of Mananthavady. Just like Muthanga Tholpetty also organizes wild life safari tours. This incredible experience is truly one of the best things to do in wayanad. Beyond doubt, this Wayanad travel blog recommends this 'ride on the wild side'.
Without a doubt Wild Life Sanctuary is a must do attraction in your wayanad solo trip!
4. Chembra Peak
One of the top places for solo travel in Wayanad is the majestic Chembra peak and heart lake. Towering to an attitude of 2050 m the Chembra peak dominates the Wayanad landscape. The trek to the Chembra peak is not allowed anymore but you can still go upto the famous heart shaped lake, which in my opinion is worth the effort.
You need to take permission (and of-course the ticket!) from the forest department to visit the Chembra mountain. The ticket costs 750/- and is valid for a group of upto 10 people. The ticket also includes a guide (mandatory) whom you will meet ahead on the observation deck. Note, that if you are traveling alone you'll still have to pay 750/- for the ticket to trek to the heart shaped lake (bummer!).
If you are on a backpacking solo trip to Wayanad try to talk to a group of people to accommodate you and split the cost. Note that on weekdays and on Sunday it is very difficult to find groups which are trekking to the lake. However, on a Saturday morning you should have no difficulty getting into a group.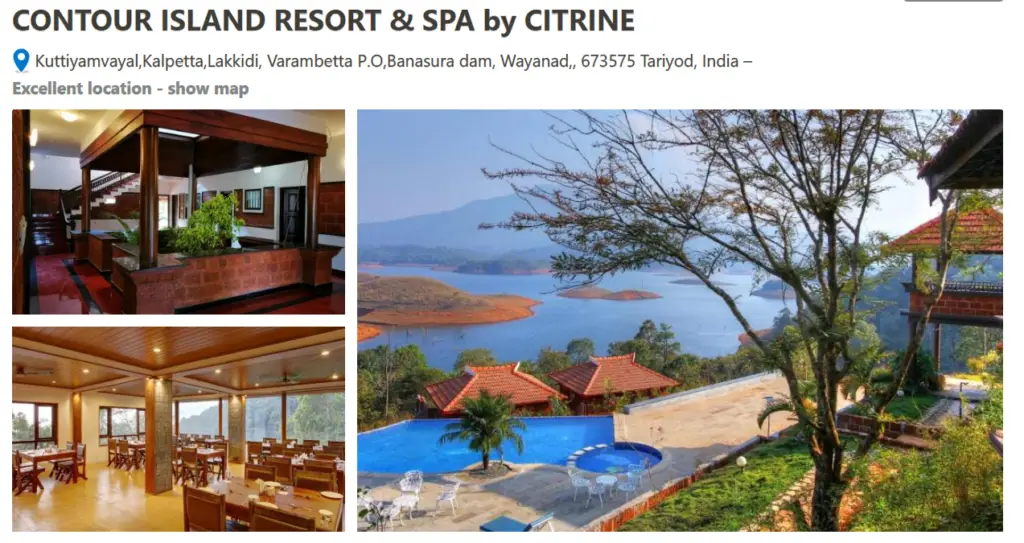 Another alternative is to buy the cheaper 30/- INR ticket with which you can visit the observation deck. The walk from the ticket check post to the observation tower is very scenic and calming as it goes through beautiful tea gardens.
The forest check post is very easy to miss (if you are on your own vehicle) and without the ticket you'd not be allowed to walk further to the observation deck. The small trek upto observation tower goes through scenic mountain with sprawling tea gardens.
From Kalpetta catch a local bus to Meppady, take right near the Meppady Jama masjid which is located on the main road five minutes from the bus station. The auto charges a whopping 200 rupees to take you to the base of the mountain, giving an excuse that the route (not really a road) is full of bumps (which is true, btw).
Chembra peak is truly one of the best places to visit in wayanad, and my travel blog whole-heartedly recommends it.
5. Banasura Dam
Another destination on the Wayanad Solo Trip is the Banasura Dam. Banasura Dam made up of soil and stones is one of its kind and has the unique distinction to be the largest earth dam in India and stands at the second position in whole Asia.
The Banasura dam is located on the tributary of Kabini river near the town of Padinjarathara. Again, from Kalpetta take a local city bus to come to Padinjarathara (around 1 hour journey). From the town you can take an auto which will charge around 100 rupees to take you to the dam.
Once at the dam there's not much to do here except the speed boat ride which will give you a ride around in the lake. But the bummer is queues can get really long and annoying. There is also a small children park in the dam area where you can sit and relax.
The lake and the surrounding Banasura hill in the backdrop creates a stunning vista which can only be truly appreciated by physically being there. And if you really want to soak in the beauty of the nature plan to stay for a night or two, there are several resorts (but expensive!) around the area.
The natural beautiful of Banasura hill and surrounding makes this earthen dam a great addition to the Wayanad sightseeing.
6. Pakshipathalam
One of the top things to do in a Wayanad solo trip, Pakshipathalam is a bird sanctuary and protected forest area. It is a home to innumerable species of birds. The sanctuary is located in Brahmagiri hills which goes upto a height of 1740 m. The sanctuary is located at a distance of only 8 km from Thirunelli and allows you to combine the two in one itinerary.
The trek is worth the sweat as you will be treated with sweeping views of Nilgiri hills, and you'll pass through meadows of wild grass, streams of clear water and pristine forests. Note that you need to take the permission from forest department to undertake the trek.
7. Thirunelli
The Thirunelli temple, built in typical Kerala architecture, is an ancient place of worship located at a distance of about 30km from Mananthavady. The presiding deity of the Thirunelli temple is Lord Vishnu and is an important pilgrim center in the north Wayanad.
It is believed that if you a take a dip in the nearby Papanasini river it would take away your sin and free you from debts of your karma. The word Papanasini in Sanskrit literally translated to destroyer of sins.
8. Soochipara Waterfalls
Soochipara waterfalls is considered one of the important tourist places in Wayanad. It is easy to reach the waterfall and the tourists can bath in the water as well!
Solo trip to Wayanad – Plan
Before you start your backpacking trip, the very first thing you need know is that it is not a city or a town but a district in northern Kerala.
How does it really matter? Well, for starter you need to find a town that you'd be catching your bus to? Really, what would you say when you buy the ticket from the conductor? Or what would you type as a destination in that autocomplete text box on the online KSRTC/ Red bus ticket portal?
Wayanad lies in the southern end of the Deccan plateau and is largely a forest area. When you head to Wayanad you'll be going to either of the three major towns – Sulthan Bathery, Mananthavady and Kalpetta (capital of Wayanad). If you are in Wayanad only for the weekend you can't possibly see everything, so choose what do you really want do or see and the select a base town around those sites. Makes sense?
a. Sulthan Bathery
Sultan Bathery is the gateway town to Wayanad and this is where you will be staying if you are planning to visit Mathunga Wild Life Sanctuary. The origin of the word Sulthan Bathery can be traced to Sultan's Battery which literally translates to – the place where the Sultan, the King, stationed his army and the ammunition.
b. Kalpetta Town

I stayed at both the places but I liked Kalpetta town even more than Sulthan Bathery. Was it because of the smile I got from small restaurant owner? No matter how much you travel in the end you forget everything and that remains are … the people and the bitter sweet memories…
… because it's a bittersweet symphony, this life!
c. Mananthavady Town
This is less visited of the three towns, mainly famous for the Thirunelli temple and Pakshipatalam Bird Sanctuary.
About Wayanad
Wayanad is largely a hilly area, a part of western ghat, with more than 80% of the area under forest. The landscape is dotted with endless paddy fields and valleys filled with palm trees. It feels as if you are transported to somewhere in South East Asia (in Philippines or Bali).
The region has highest population of Adivasi (tribal group) in whole of Kerala. As a side note, Adivasi comprises of about 8% of total Indian population. And they are quite easy to find, you'll see them as you walk on the road or travel by bus or shop in a supermarket.
Wayanad Solo Trip Itinerary
Unless you are planning to visit the Wayanad wildlife sanctuary, make Kalpetta your base. From both Bangalore as well as Mysore you can take the direct bus to Kalpetta. You can even combine Mysore, Ooty and Wayanad into one backpacking trip.
Both Karanataka KSRTC and Kerala State Government buses are available on the route. So, do check both the websites to plan and book ticket to Kalpetta.
Best season to visit Wayanad is the monsoon which is ideal for trekking. Alternatively, Winter season is good if you are looking for relaxed holidays in Wayanad.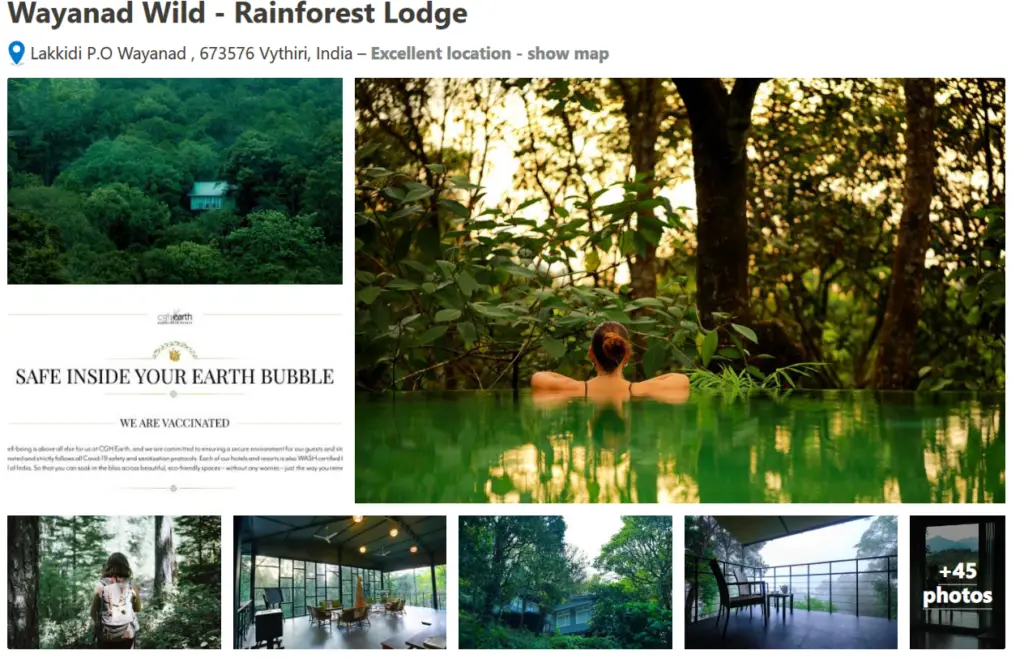 How to reach Wayanad from Bangalore
If you are wondering how to go to Wayanad from Bangalore, let me tell you it's quite easy due to excellent connectivity between the two. All you have to do is to take bus to Kalpetta or Sulthan Bathery.
Bangalore to Kalpetta Distance – 285 km.
Kohzikode to Kalpetta Distance – 75 Km.
Bangalore to Wayanad ksrtc bus
It is quite simple to get to Wayanad from Bangalore by bus. There is an excellent bus connectivity to Sulthan Bathery from Bangalore. The route goes via Mysore (and Muthanga Forest) as Sulthan Bathery is a border town. Sulthan Bathery has a big bus depot with frequent connections to other major cities in Kerala such as Kozhikode.
The same buses going to Kozikode makes a halt in Sulthan Bathery as well as Kalpetta. Note that Kalpetta and Sulthan Bathery are separated by only 45 minutes' journey. The Bangalore-Kalpetta bus takes around 8-9 hours making it an ideal overnight journey. Making Wayanad an ideal weekend trip from Bangalore.
Getting around Wayanad
Wayanad boasts of excellent local bus connectivity, the buses are frequent and extremely cheap (ranging from 5-20 rupees) at the same time. And you can practically visit any tourist site and do sightseeing in Wayanad using the public transport; perfect for solo backpacking Kerala! I also backpacked Wayanad solo and used public buses to go everywhere. Yay!
That's it folks, I hope you found this my Wayanad trip plan useful. In this travel blog I tried to chalk out all the details from my own Wayanad trip from Bangalore.
As always, if you have any questions or suggestions, please let me know in the comments!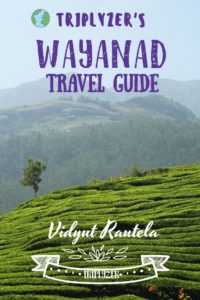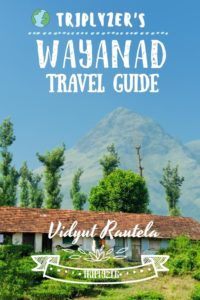 Save
Save