✓ You on Insta?
👍@triplyzer
---
✓ Find the best offers on your
Stays on 🏡 booking.com
---
✓ Deals on Private xfers, SIM Cards, City tours, Day trips
on 🛵 GetYourGuide
|
on 🛵 Klook
---
Taking a one day Mysore trip is just the right amount of time for a weekend getaway from Bangalore.
Mysore had always been a historically important city; it was once a capital of famous Wodeyars dynasty. And because of this you will find a lot of historical sites sprinkled around the city to explore, you need more time for sure!
In this blog post you will get to know about the top places to visit in Mysore in one day. Along the way I will be sharing my personal tips, and you can use all these to create your own Mysore itinerary.
Despite being the second biggest city of Karnataka and an IT hub after Bangalore, the streets of Mysore still emit a slow, and simple charm, complete with a quintessential Karnataka experience.
Well, all that is, except for the Mysore Dussehra festival when the town suddenly wakes up from its deep slumber and everything around starts to go maddening crazy.
With so much to see and do, it can be little confusing how to prioritize your day, so that you don't miss out the best.
| # | What to see in Mysore in one day | Duration | When to visit | Entry Fee | Timings |
| --- | --- | --- | --- | --- | --- |
| 1 | Chamundi Hill | 3 hours | Morning | Free | All day |
| 2 | Mysore zoo | 2 hours | Afternoon | 120 INR (adult) | 8:30am to 5:30pm |
| 3 | Mysore Palace | 2 hours | Night | 70 INR (adults) | 10 am to 5.30 pm |
| 4 | St. Philomena's Church | 20 minutes | Afternoon | Free | 08:00am to 06:00pm |
| 5 | Jagan Mohan Palace Art Gallery | 30 minutes | Evening | 20 INR (adults) | 9am tp 5:30pm |
Mysore one day trip plan
The city prides itself with the unique distinction of being one of the cleanest city in India, year after year. 
On personal level, the historical Mysore palace and the Chamundi hill temple are my top places in Mysore to visit in one day. Needless, to say I have been there several times.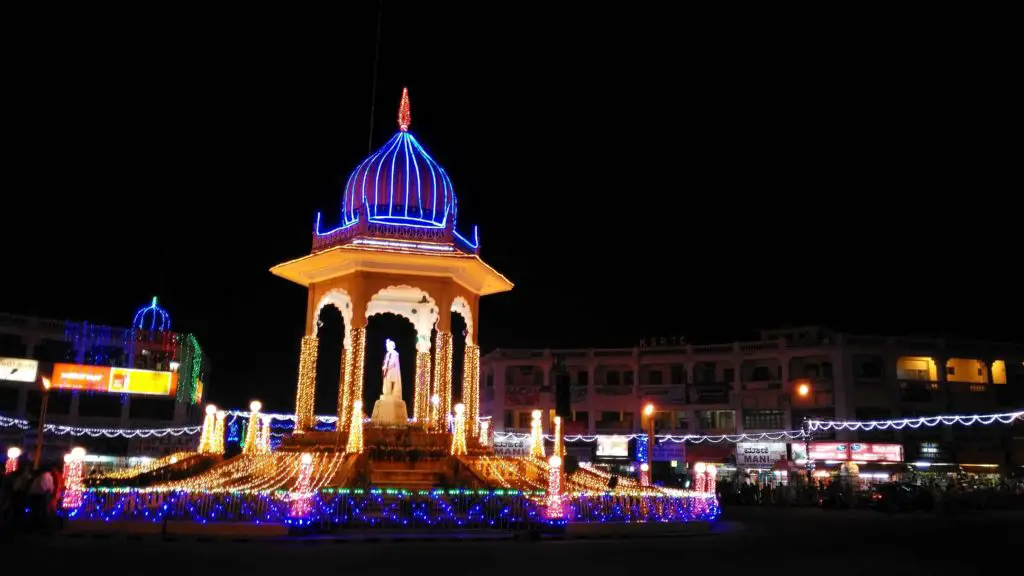 Mysore also features in international tourism circuit for the practice of ancient art of yoga. The city is the home of Ashtanga Vinyasa Yoga founded by Pattabhi Jois in the 20th century. The details can be found on the official website of the famous Shri K Pattabhi Jois Ashtanga Yoga Institute.
Without further ado, presented below is a list of places to Visit in Mysore in one day:
Chamundi Hill | Places to Visit in Mysore in One day
The hill temple is the very first stop on your one day trip to Mysore,
Chamundi hill is located on the eastern end of the Mysore city, and has a height to 3000 feet. Quite popular amongst the tourists as well as the locals, Chamundi hill is particularly known for the old temple.
The Chamundi Hills temple is dedicated to Goddess Chamundeshwari, an avatar of Durga.
The temple is one of the eighteen known Maha Shakteepeth in the country. Maha Shakteepeth are the sacred places where pieces of Goddess Sati were fallen after she immolated herself in grief. It is said that hair of Sati fell here in the Chamundi Hills.
Also, in the same temple complex, you'll find a giant statue of Mahishasura in Mysore, the asura who was killed by the Goddess Chamundi. The asura poses in an angry stance with a raised sword in one hand and a snake in another. Chamundi hill temple is undoubtedly a worthy addition to every Mysore one day trip.
Do you know you can even go for trekking on the hill!? If you consider yourself fit, considering taking the fitness test and climb up the 1008 steps that takes you to the top of the hill.
On the way to the temple you'll also find a five-meter-tall granite statue of Nandi in Mysore, the Vahana of Lord Shiva.
Once at the top you will be rewarded with panoramic views of the valley. On a clear day you can even spot the Mysore Palace, and the Karanji Lake.
Getting there: You can reach the Chamundi Hills temple by a direct bus from city bus stand. It's close proximity and good public transport makes it a popular sight.
Mysore zoo | Places to Visit in Mysore in 1 Day
Next up on your Places in Mysore to visit in one day is the city's zoo.
Spread over 160 acres the zoo is one of the top tourist attraction in Mysore. The park also includes a lake, Karanji Lake. The Mysore zoo was started way back in 1892 as a Palace Zoo of Maharaja Sri Chamaraja Wodeyar.
The zoo boasts of an impressive list of animals including – lions, tigers, and elephants. But the true star attraction of the zoo are the hippo, giraffe, zebras, and white rhinoceroses – truly unique animals that you'd seldom see in any zoo in the country.
There are a total of more than 150 species of animals in the zoo. The Mysore zoo is regarded as one of the best maintained zoos in India. (Is there anything in Mysore which isn't clean and well maintained? I mean seriously!)
Be warned that summer is the peak season due to school holiday so be prepared for long queues and a lot of rush. Apart from this little inconvenience I am sure you will truly enjoy Mysore Zoo as one of one of those perfect places to visit in Mysore with family.
Mysore Palace | Places in Mysore to Visit in one Day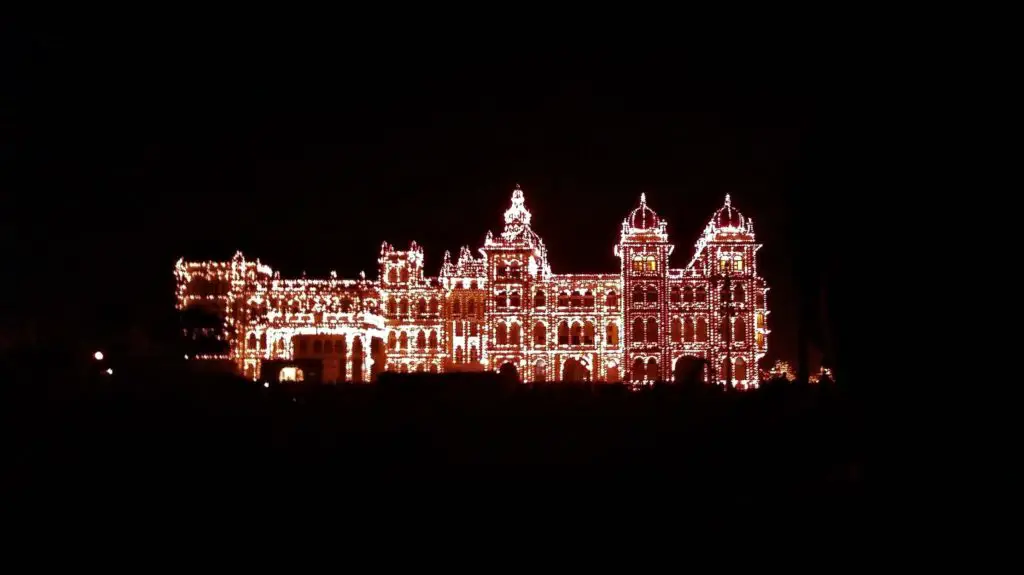 This grand historical palace is one of the perfect places to visit in mysore in night.
Mysore palace is right at the top of my places to see in Mysore. In my opinion Mysore Palace beats every palace in Europe all hands down – and I mean it including Versailles located near Paris.
The palace is comfortably situated in the center of the city. The palace once served as a residence of the Mysore maharaja – Wodeyars dynasty which ruled Mysore for hundreds of years.
It's good to know your historical facts before your Mysore one day trip, so that you can appreciate the place even more! The palace was commissioned by Krishnarajendra and the construction was completed in 1912.
The Mysore palace has three gates – only South gate is open to public, and the west gate is opened only during Dasara festival.
Most notable is the beautiful, colorful gallery with extravagant arches and intricate artwork on the ceiling. There are several temples inside the palace complex. The palace also has a huge sprawling garden in front. And the palace is constructed in such a way that it faces the Chamundi hills.
Most exciting time to visit the Mysore Palace is during Dusshera festivities as the palace is the center of myriad cultural activities. There is little doubt every one day trip in Mysore need to include this majestic palace.
The palace is visited by millions of tourists every year, and its popularity is only increasing. Note that photography is strictly prohibited inside the palace.
Official website: Mysore Palace
St. Philomena's Church
Though bit outside the center, it is still possible to add this historic church to your 1 day trip to Mysore.
It is an old church dedicated to St. Philomen. The church was built in 1936 in an Neo Gothic architecture, something very common in Europe but rare in India.
The old British era church has a front dominated by two tower rising to 170 feet. The stained glass inside the church is imported from France.
It depicts several scenes from bible such as birth, baptism and crucifixion of Jesus Christ. Now the most interesting part, the church was commissioned by a Hindu king, the Wodeyars!
Jagan Mohan Palace Art Gallery | Places to Visit in Mysore in One day
If you make time during this busy mysore 1 day trip, then head on to this palace-turned-museum.
Jagan Mohan Palace and Art Gallery is another good sight among the tourist places around mysore. It is a former palace which used as residence by the wodyars when the Mysore palace was under construction. The palace was commissioned by Krishnaraja Wodeyar III and the construction of the palace ended in 1861.
The former palace now houses an art gallery which was established in 1915. The collection includes work by famous artists such as Raja Ravi Varma with paintings depicting scenes from Mahabarata and Ramayana. Ther are more than 2000 paintings in the museum's collection.
The highlight of the collection is Glow of Hope painted by the Indian artist known as S.L. Haldenkar. The painting depicts a lady holding a lamp whose face is illuminated by the light of the lamp. The painting is not to be confused with Lady with a lamp by Raja Ravi Varma. Personally, I like Glow of hope far better than Lady with a lamp.
Mysore Dussehra | Places to Visit in Mysore in One day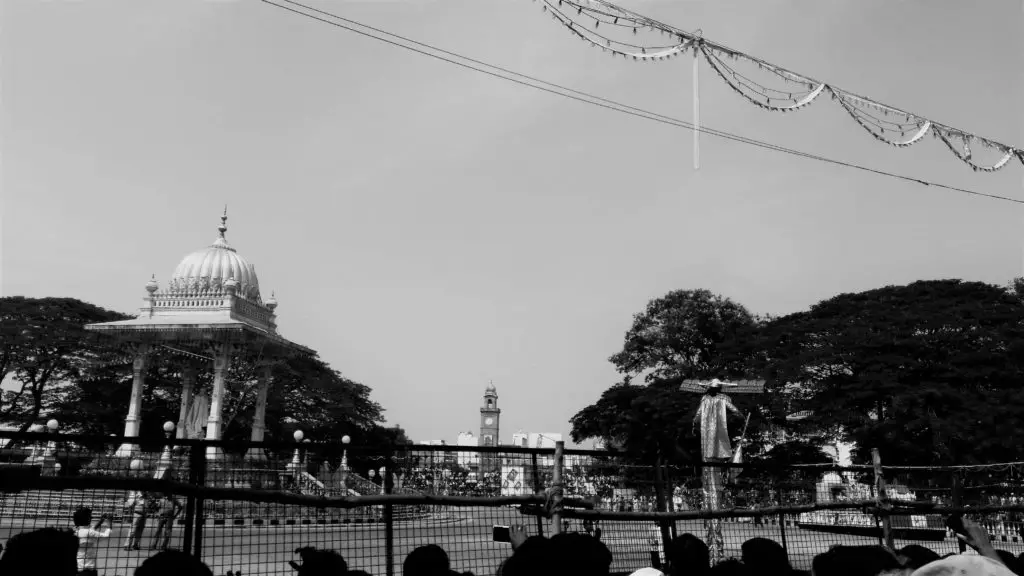 Although spread over 10 days, you can still do it as part of mysore one day trip, provided that you are there during Dussehra.
Mysore Dussehra festival, celebrated for 10 days, is officially the state festival of Kartnataka. The festival has a long history and is being celebrated for hundreds of years in the Mysore city. The history of the festival goes back to fifteenth century to the times of Vijayanagara empire.
Dusherra symbolizes the victory of good over evil, and in Mysore it is celebrated as the day when Goddess Chamundi killed Mahishasura. The highlight of the festival is the Jumboo Savari. Jamboo means elephant and savari is ride. It is a procession which is taken out on the last day, known as Vijayadashmi, of the festival.
The idol of Goddess Chamundi placed atop an elephant is given a ride from the Mysore Palace to Bannimantap (related to the auspicious Banni tree). The mantapa in which the idol is placed is said to be made of pure gold.
A huge crowd gathers to see the procession and it can really be uncomfortable standing out in the hot Sun. During the procession you can also various performers trying to entertain the crowd with music, dance performances and clown acts.
Also, the Mysore Palace is decorated in its full glory and is magnificently lit with more than hundred thousand (one lakh) light bulbs. Several cultural programs are also held in the palace ground.
http://www.mysoredasara.org/ – This is not an official website but updated info with current year's Dusshera details.
Places to eat in Mysore
That's enough with places to visit in mysore in a day, how about we add some yummy Mysore Dosa to our plate or maybe a giant South Indian Thali?
One of the best places to eat in Mysore are not the fancy Mysore restaurants but small eateries where regulars and locals eat.
If you are feeling little overwhelmed by the list of places to see in Mysore, then it is best you take a food break!
If you have got a weekend, you can actually combine places to visit in Mysore & Ooty, as the two are located nearby. From Mysuru you can book a cab to Ooty, do sightseeing and come back by evening. Or you can stay in Mysuru for little longer, as there are quite a few other tourist attractions, such as Jayalakshmi Vilas Mansion, Lalitha Mahal Palace, and Rajendra Vilas Palace.
One day trip to Mysore from Bangalore
It is quite easy to get to Mysore from Bangalore. if you are in Bangalore airport, you can take the flybus from Bangalore to Mysore. From the within the city, take the KSRTC bus to Mysore. It is available from the Mysore satellite bus station, which is very close to a metro station too. Check KSRTC bus timings as Mysore bus goes on scheduled time only.
There are several private operators who run Bangalore Mysore bus service. Greenline travels and AMR transport are some of the popular options. Note, that bus from Bangalore takes about 3.5 hours for the whole journey. And as for attractions, a quick Bangalore to Mysore one day trip should include the previously mentioned ones.
There's something about this royal city that makes me come back again and again! Hope through this Mysore travel blog you got enough ideas going to plan your own one day trip to mysore.
✓ You on Insta?
👍@triplyzer
---
✓ Find the best offers on your
Stays on 🏡 booking.com
---
✓ Deals on Private xfers, SIM Cards, City tours, Day trips
on 🛵 GetYourGuide
|
on 🛵 Klook
---