✓ You on Insta?
👍@triplyzer
---
✓ Find the best offers on your
Stays on 🏡 booking.com
---
✓ Deals on Private xfers, SIM Cards, City tours, Day trips
on 🛵 GetYourGuide
|
on 🛵 Klook
---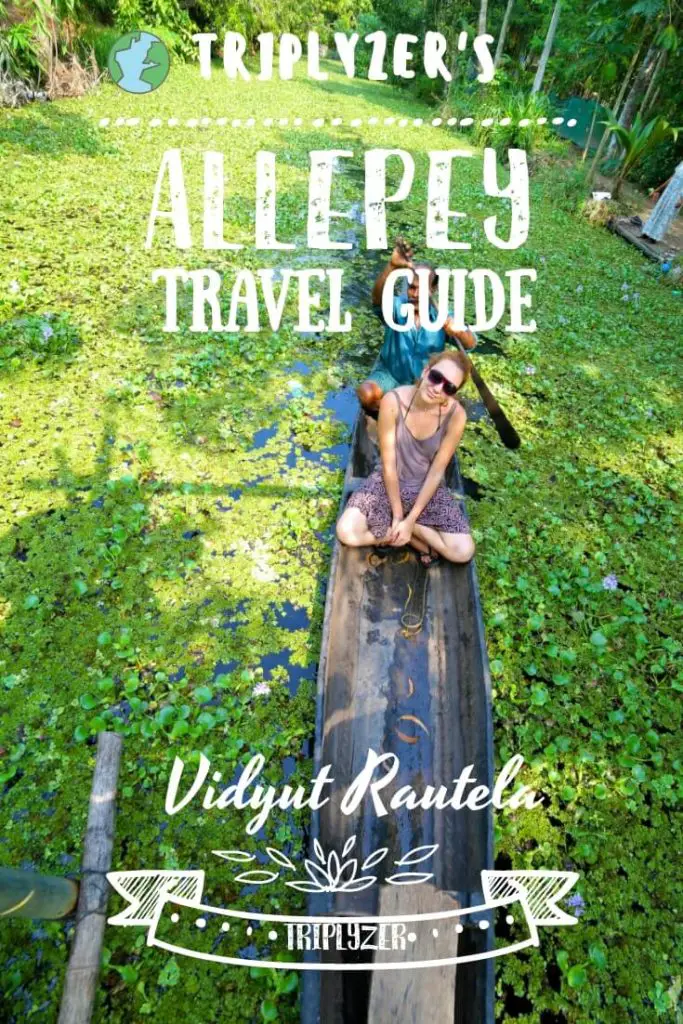 Hello travel friends! The scenic town of Alleppey is undoubtedly one of the top travel destinations in India. Though, I was there only for a 2 days trip from Bangalore, but I fully enjoyed my adventure in Alleppey.
This blog post to places to visit in Alleppey in 1 Day is written from my own experience that I had from a recent trip. But before we begin, welcome to God's own country – the fabulous natural beauty called Kerala! (little trivia – Uttarakhand, an other Indian state, is known as 'Devbhumi', The Adobe of the Gods).
Note that you can even combine Allepey with a 2 days trip to Munnar, and can even add Kochi and Trivandrum to your Kerala itinerary!
The small town of Allepey, also known as Alappuzha is considered the undisputed queen of backwaters of Kerala. The town is situated at a distance of about 80 km from Kochi and is well connected by bus as well as by train network.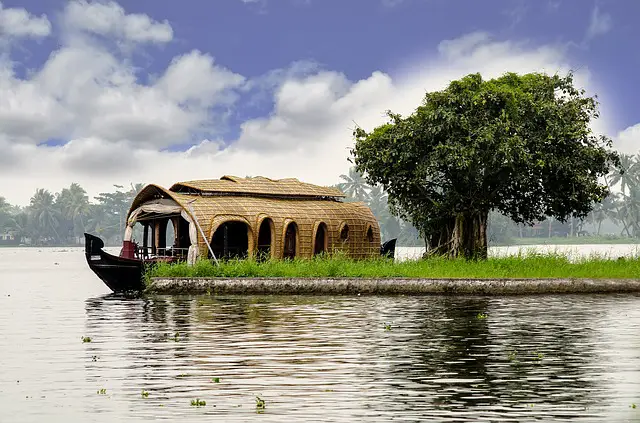 One day in Alleppey is bit of a rush but possible, you have to prioritize on what to see. In this case taking a half day houseboat in Alleppey will be an ideal choice.
Other places of interest in Alleppey include the beach and the beautiful lighthouse. And that's not it, there are also several places to see near Alleppey. The beautiful Kochi is only a short ride away!
Without further ado, here is a list of best tourist places in Alappuzha for one day trip:
Backwater cruise in Alleppey – Places to visit in Alleppey in 1 Day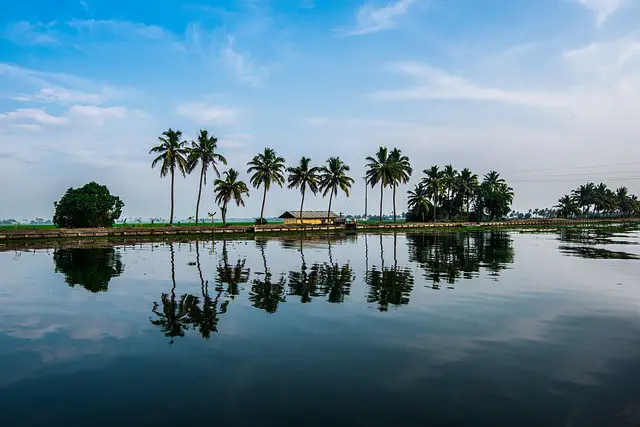 Why else would anyone even be in Alappuzha if not for the Alleppey Backwater tour. When it comes to taking the boat there are several options available.
Water Taxi: The cheapest is to use the water taxi, the boat which is used as public transport by the local to get around the neighboring areas. Yes! Backwater canals don't exist just as a decorative piece in the showcase meant to wow the tourist, they are actually used as primary means of transportation by the local people.
And as you will tread these canals you will find out there is a whole ecosystem built around the backwaters which drives the livelihood and daily lives of the people of Kerala. Needless to say this is best option for a solo backpacker traveling on a tight budget.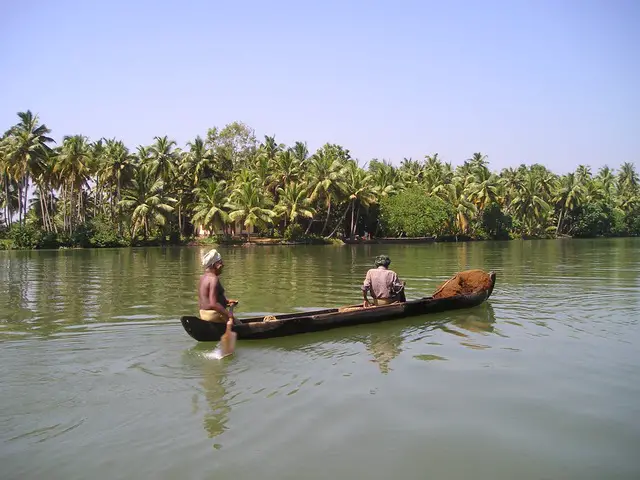 Allepey is also dubbed as the Venice of the East because of its vast network of backwater canals.
You can either go for a short ride on the water taxi or you can choose to go long distance to Kollam. The entire Allepey-Kollam journey by boat takes 8 hours. On the downside, you will miss out on the places to visit in Alleppey in 1 day. For details check the official website.
Shikara: A good option for a one day trip to Allepey. You can choose to go around in backwaters by a shikara. It is meant for a small group of people (4-5) and is good for a quick couple of hour tours. The shikara for two hours for two people would cost somewhere around 800/- INR.
Note: To get a water taxi or a shikara head to Government boat jetty located on a walkable distance from the bus station. To locate the boat jetty on Google Maps search for – KSWTD Boat Jetty.
Canoe: You can also take 3-4 hours' canoe trips which will cost you about 800/- rupees per head. This trip can be book easily with the help of your hotel or homestay.
Houseboats: The houseboats are the most luxurious option available and come with lot of bells and whistles, but these additional comforts also makes houseboats the most expensive means to explore the backwaters. The houseboat will cover as many popular places to visit in Alleppey in 1 day.
The houseboat can cost up to 10,000/- INR (155 USD) or maybe more during the peak season. I think among the best things to do in Alleppey boat house is to hang your shoes and relax, enjoy your journey on the calm waters.
The Kerala backwater cruise will take you to some of the top places to visit in Alleppey in one day. It will make stops at Kuttanadu Paddy Field, Karumadikkuttan – Buddha Statue, and the sights of everyday Kerala village life. These are the best one day trip places in Alappuzha.
They are an ideal choice of exploring Kerala backwaters if you are looking to unwind yourself (and unwind your wallet too) or if you are traveling in a group so that expenses could be split up. Houseboats are also the choice of the travel for couples on their honeymoon. Day trip in a houseboat, Allepey, is surely a memorable experience.
No matter which of the above you choose, these boats pass through the waterway where the annual Nehru Trophy race takes place.
Allepey beach – Places to visit in Alleppey in 1 Day
Allepey has a nice, clean beach which is ideal for an evening walk or to watch the sun go down the Arabian sea. And for cheap, decent coffee and snacks just walk in to Indian Coffee House located very close to the beach.
Relaxing at this beautiful beach is something you must do on your one day trip in alappuzha.
Allepey Lighthouse – Places to visit in Alleppey in 1 Day
Among the list of famous tourist places in Alleppey is the amazing Lighthouse. Every time I visit a lighthouse I trip back in time (Ah, those childhood memories) feeling nostalgic of the days gone by. The Allepey lighthouse is a part of the network of lighthouses which are scattered around the Kerala coasts.
There is also one lighthouse near Varkala, one of the great many places to visit in Varkala which is easily accessible on a gearless scooter trip. However, the Allepey lighthouse is situated right inside the city and very close to the main beach. 
The Allepey lighthouse is very well maintained and looks as if it was built only yesterday. There is a beautiful garden surrounding the lighthouse with a carpet of colorful flowers and mangoes in the summer. There is also a small museum which houses has on display old lighthouse equipment. Fantastic for the lighthouse aficionados!
But if you are looking for a view of the mesh of the canals you'd be disappointed as Allepey has a very thick green cover and all you see from the top are the towering Palm trees. For sure, the lighthouse is one of the top tourist places in Alleppey.
Snake Boat race – Places to visit in Alleppey in 1 Day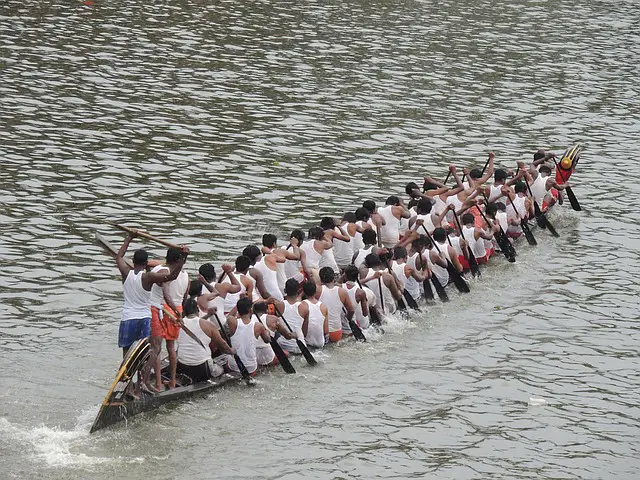 For one day sightseeing in Alleppey you have quite a few options, it all depends on your style of travel. Snake Boat race is one of the fun things to do in Alleppey. The famous snake boat race takes place in the month of august every year on 2nd Saturday.
If you are a sports fan, your one day trip in Alleppey must include this famous boat race.
The snake boat race has a long tradition and has been regularly held in Allepey since its inception in the year 1952. The waterway where the race takes places can easily be viewed as it is on the route of all the backwater boats. If you are in the season, Trip to Alleppey should mandatory include the Nehru trophy race.
Official website: Nehru Trophy
It's true that there are a good no. of places to visit in Alleppey in one day, but as everything is so close, you will still be able to have a very relaxed trip.
I am sure, this blog post helped you in helping you decide the places to visit in Alleppey in 1 Day. As always, let me know in the comments if you have any questions or insights.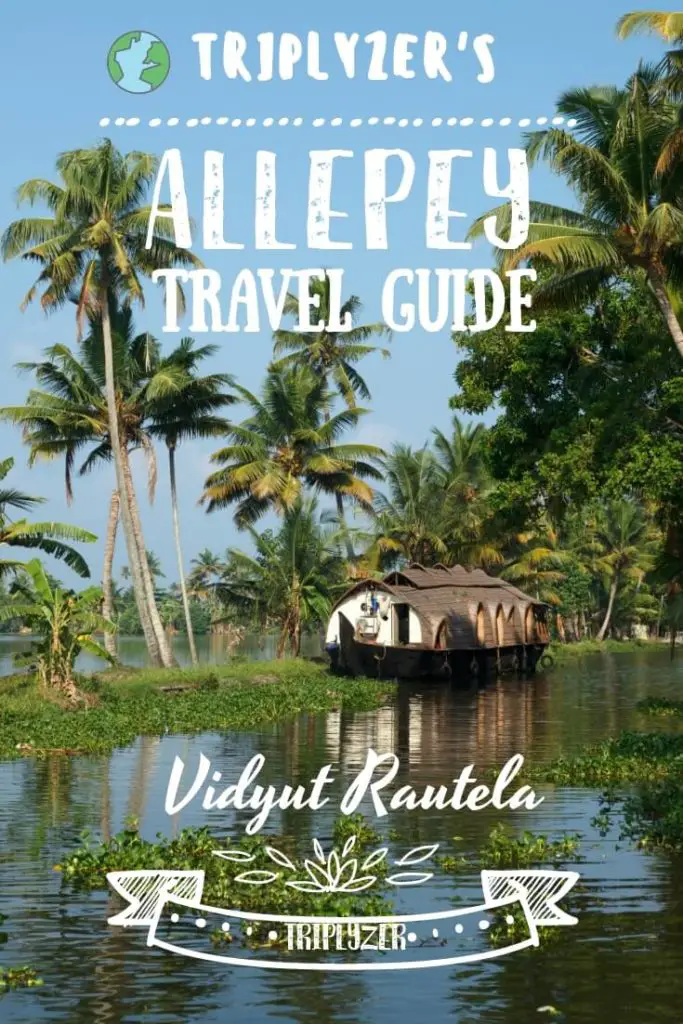 Save
✓ You on Insta?
👍@triplyzer
---
✓ Find the best offers on your
Stays on 🏡 booking.com
---
✓ Deals on Private xfers, SIM Cards, City tours, Day trips
on 🛵 GetYourGuide
|
on 🛵 Klook
---