✓ You on Insta?
👍@triplyzer
---
✓ Find the best offers on your
Stays on 🏡 booking.com
---
✓ Deals on Private xfers, SIM Cards, City tours, Day trips
on 🛵 GetYourGuide
|
on 🛵 Klook
---
Backpacking Varkala is so much fun and a must do for solo travelers in India. In this Varkala blog I'll share with you some of my top places to visit in Varkala. Also, based on my recent Varkala trip I will suggest you where to eat in Varkala and best places to stay in Varkala. And all this keeping in mind a backpacking budget.
Top places to visit in Varkala
In the list I have included, what to do in Varkala beyond the usual sightseeing and also some of the nearby tourist places. Note that Varkala tourist places are usually ideal to visit early in the morning or late in the evening. This is due to the fact that Varkala weather is hot and humid throughout the year.
I will suggest you to slow down from the fast pace of city life, enjoy the slow travel and soak yourself in the beauty of the rural Kerala!
There are a mix of activities and sightseeing places in Varkala that you can do. Below are some of my recommendations:
1. Varkala Beach
Varkala beach is one of the best places to visit in Varkala. With shoes in your hand, enjoy the tranquil evening walking on the cool sand. The beach is super clean and the water is crystal clear. Hence, undoubtedly it is one of the best things to see in Varkala.
The beautiful sandy beach is right up among the top places to visit in Varkala. My top four beaches are – Papanasam beach, Black beach, Odayam beach and Kappil beach. 
2. Varkala Temple
Right among the top places to visit in Varkala is the old Janardhana Swami temple. Janardhana Swami temple or simply Varkala temple is a old Vishnu temple and is considered among the top places to visit near Varkala. The temple offers perfect opportunity to find your inner peace.
Janardhana temple is a calm, serene ancient temple located on the south cliff of Varkala. Lord Vishnu is the presiding deity of the Janardhana Swami temple which is built in an old Kerala architectural style.
It is situated near the Papanasam beach and can be easily reached by a tuk-tuk from the Varkala railway station. From the base a series of about 200 steps will take you to the top where this beautiful Varkala temple is built. Temple timings vary depending on the season, in general the temple is usually open in the early morning and in the evening.
A visit is warranted specially during the time of Aarti. Foreign nationals can enter the temple but are not allowed inside the inner sanctum. To enter inside one needs to be dressed traditionally in a dhoti and no shirt (for men). Note, photography is not allowed inside the temple, so please respect the rule.
You can also light lamps placed on the wall. There is an ancient tree in the compound which adds to the aura. The temple is actively used by devotees and it's wonderful to watch people performing various worship ceremonies.
Regardless of whether you are spiritual or not, you should pay a visit to the temple to experience the amazing spiritual energy from the environment. Definitely a must to visit in your backpacking Varkala itinerary.
3. Varkala Lighthouse
Again, one of the favorite tourist places to visit around Varkala. If you have been to Tthangassery light house in Kollam you will surely like this one too!
The Varkala lighthouse is located bit outside the town at a distance of 10 kilometers.The distance can make it a good half-day trip on a hired scooter (300 INR for 24 hours). On the way you will get to see not only the landscape dotted with palm trees and crisscrossed with Kerala backwater, but also experience the quaint village life with people going about their daily live. Climb up the lighthouse tower for the excellent views of palm trees, lake, sea and the nearby beach.
The Kovalam lighthouse is very similar in design as well. Do note that the Varkala lighthouse timing is between 3 to 5 pm only. Add the lighthouse to your itinerary when you are backpacking Varkala.
Note: I loved the Allepey lighthouse with it's little garden and a small museum. Varkala lighthouse is nothing like it but still a worthwhile visit. There are very few tourist attractions in Varkala, so why miss it!
4. Anchuthengu and Anjengo Fort
Anjengo fort is among the top places to visit near Varkala. High up in the list of places to see in Varkala are the remains of the old Anjengo Fort. This is an old British fort which was constructed by East India Company, the harbinger of India's colonial tryst.
Though popular with the tourists, there is not much to do or see in Anjengo fort since what remains is only a wall of the fort overlooking the sea. Good thing is that the fort is located opposite to the Varkala lighthouse and the two sights can be easily combined. So, make it a small stopover and get going.
Note that if you have time and the weather in Varkala is favorable, take a walk along the Varkala beach to reach Anjengo. While backpacking in Varkala, it is surely a worthwhile addition to the Varkala things to do.
5. Yoga Classes in Varkala

Yoga is one of my favorite activities in Varkala. Attending a yoga course is a great stress buster and one of the best things to do in Varkala. Ashtanga yoga is very popular in Varkala and you can take yoga classes- in one of the top yoga schools in Varkala. Listed here are some of the best yoga schools:
Kasi yoga gurukulam, sivananda ashram, yoga with haridas varkala and shiva rishi yoga at varkala cliff. Even some yoga teachers have arrived from Mysore to Varkala.
You can also take yoga teacher training in Varkala. These Yoga Teacher Training Program are usually month long and during the duration of the training you can stay either in the Yoga ashram or in a specific Yoga retreat.
Fun fact: During my Varkala backpacking trip I saw a bunch of people doing beach yoga at the black beach. Great for those who like to photograph people, of-course take their permission first!
6. Shopping in Varkala
With all those hippie looking stuff shopping in Varkala is such a fun thing to do. From tailored fit wears to hippie style clothes, you can run out of options when it comes to shopping clothes. And there are also innumerable souvenirs, silver jewelry and tonnes of other things you (window) shop. There are several good tailors in Varkala to get your custom fit clothes. You will find numerous such shops in and around Varkala tourist places.
7. Varkala Beach Nightlife
Well, people usually come here to hang their shoes and relax, so there isn't much of a night life in Varkala beach. Plus the fact that alcohol is quite restricted in Kerala doesn't help the beach nightlife in Varkala. Sure, there are a few resort-cum-restaurants which serve alcohol (limited time) and play thumping music, but that's how far it goes.
8. Varkala Massage Centers
There are several massage centers in Varkala town. Some of the Yoga retreats also include Ayurveda sessions – including the Holistic Ayurvedic treatment and the famous Kerala Ayurvedic massage. There are few specialty Ayurvedic clinic in Varkala as well. Some of these also include one of the best body massage in varkala, very effective to unwind yourself.
Near the North Cliff you will also find one of the best spa in Varkala; and you can even get a beach massage.
9. Day Trips from Varkala
You can go for sightseeing tour to Trivandrum from Varkala. The bus and the train connectivity is good. Alternatively, you can go on a day trip to Kollam from Varkala, which you easily do on a rented motorbike.
10. Varkala Culture Center
If you have time in hand and want to explore the local culture of Kerala, I would suggest to pay a visit to the Varkala Cultre Center where you can several of the performance by local artists including Kathakali dance.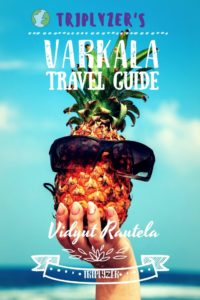 Varkala Travel Guide
Varkala 2 Days Itinerary
I will suggest to keep minimum 2 days sightseeing itinerary. On day one you can visit Cliff beach (the best beach in Varkala), the papanasam beach and the Varkala temple. On the second day you can rent a scooter and go on a day trip from Varkala to the light house, the fort and the nearby town Kollam.
Places to eat in Varkala
Good news for all the food lovers, there are myriad of places to eat in Varkala. Out of hundreds (yeah quite literally!) of restaurants here are some top picks that I personally tried and liked. I ate in several places but these below ones had best budget/ food/ taste combo. Try it out yourself when you are in Varakala and let me know how you liked these Varkala Restaurants.
List of Top Varkala Restaurants
These are top Tripadvisor Varkala Restaurants and includes my personal recommendation:
Located right on the cliff, sells yum masala dosa in budget prices (INR 80/-). The views are fabulous from its first floor location. The owner is a local Keralite (unlike many other restaurants on the cliff run by Nepalese) and a very nice person. Add chai tea to your food, refreshing taste at just INR 15/-
Located near the Papnasham beach and 10 minute easy walk from the Varkala helipad. Very authentic Kerala parota with sabzi sold at only 60/- INR. Other meal options as well as fresh juices at reasonable price available.
Always crowded and a great place to grab a quick smoothie and enjoy the sea view with the sea breeze blowing in your hair.
Places to stay in Varkala
There are several hotels in Varkala. On top of that, there are many guesthouses as well as hostels in Varkala. But in my opinion, the best places to stay in Varkala are near the Varkala Cliff and near the Varkala Helipad area. There are several guesthouse, hotels, and hostels available suited for different budget and traveler needs.
Located very close to the Varkala Cliff (5 min. walk) and to the Helipad (8 min. walk Pooja House is just as it is advertised, a big house turned into a guest house. Guests have rated it 9.5 from 38+ reviews. US $8 for a bed in 4 bed mixed dorm. Private room for one person starts at INR 600/-. I personally stayed both in dorm and private room and can vouch for them.
The owners, Babu, a local Keralite and Katie, a French Canadian woman are travelers themselves, so expect them to understand your every need. Very relaxed and friendly vibes with great opportunity to meet other travelers. The guesthouse also does the meal which costs 150/- INR.
Located very close to the Varkala Cliff (5 min. walk) and to the Helipad (5 min. walk) Pagan Hostel Varkala has good a/c room and the dorms are squeaky cleans as well. It costs US $8 in 6 bed mixed dorm.
Located right next to the Varkala Helipad. Budget Double Room – $12
Very boutique decor with a great location near to the Varkala Cliff. Budget Double or Twin Room – US$14
Located 2 min. from the Varkala Helipad. Single Room – $7 and Standard Double or Twin Room – US$12
Why Visit Varkala
Essentially, Varkala is a small town in Kerala popular for its crescent shaped beaches and a laid-back culture together with its reputation in international backpacking circuit. Inevitably, it has somewhat shunned its off the beaten track tag and has become a top getaway destination for the young crowd from Bangalore.
The clean beaches provide a perfect opportunity to unwind yourself, and the two giant beach cliffs in north and south Varkala, which overlook the sea, adds to the charm. The town is located quite close (~55 kilometers) to Trivandrum, the capital of Kerala, and can be easily reached by both train and bus.
Due to its proximity this small town also adds to the tourist places in Trivandrum. If you are short of time, you can simply take a day trip from Trivandrum to Varkala. Or you can also combine trip to Varkala as one of the things to do in Kovalam. Great thing is, it takes less than an hour to go from Varkala to Kovalam.
All in all, whether you are a backpacker, a solo traveler or a female traveler, a couple or a family, there is plenty of things to do in Varkala for everyone. I have listed not just what to see in Varkala but also what to do. Good thing is that these places can be easily covered in a weekend itinerary.
Also, accommodation is not a problem is this beautiful small Kerala town as there are plenty of budget hotels in Varkala, alternatively if you are feeling pampered you can also stay in one of those cheap Varkala beach resort.
This Varkala travel guide also includes my recommendations on best restaurants in Varkala with their Tripadvisor links. Buckle on and let's Eat, Sleep and Explore!
Thanks for reading the Varkala Travel Blog, hope now you have plenty of top things to do in Varkala. There is something about Varkala, that pulls you back to this town again and again, to explore more and more. The best places to visit in varkala are free, so it's very budget friendly destination too. Although, there is no need, but you can also take tour packages or holiday packages.
If you have any questions or suggestions, I would love to answer them in the comments section below.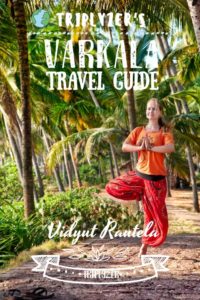 Other places to visit in Kerala
Also read: India Travel Guides
✓ You on Insta?
👍@triplyzer
---
✓ Find the best offers on your
Stays on 🏡 booking.com
---
✓ Deals on Private xfers, SIM Cards, City tours, Day trips
on 🛵 GetYourGuide
|
on 🛵 Klook
---