Trip to Ooty from Bangalore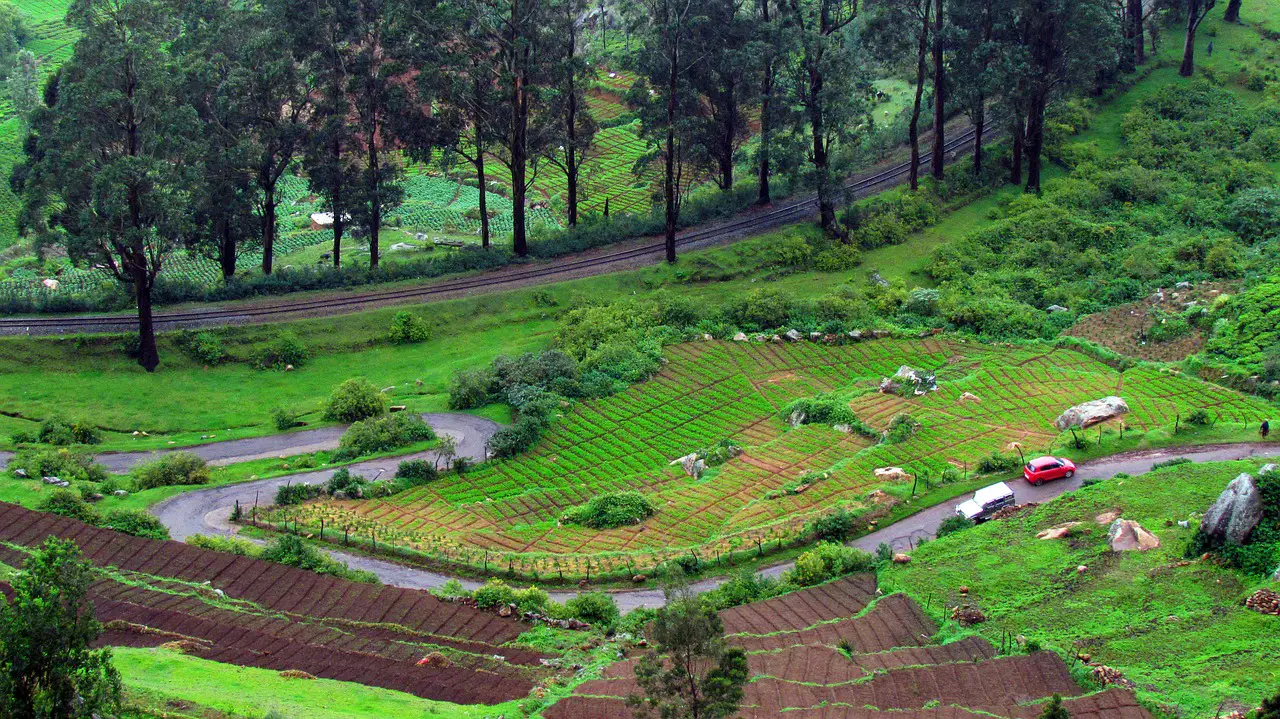 Read Now, The Himalayan Tsunami - a gritting new novel by Vidyut Rautela
How to reach Ooty
Ooty by Air
The nearest airport to Ooty is Coimbatore, which is approximately at a distance of 3-3.5 hours from Ooty. The Coimbatore airport is surprisingly well connected to nearby international destinations such as Singapore and Colombo and to other domestic airports in India such as Bangalore ,Mumbai, Delhi and Jaipur.
Ooty by Train
Mettupalayam, a town in Coimbatore district is the nearest railway station to Ooty. You must have already heard of the famous Ooty toy train. For those, who haven't, Ooty has a railway station; it's a narrow gauge, toy train (there is one in Shimla and Darjeeling  too) which runs between Mettupalayam and Ooty, a total distance of 55 km. Mettupalayam, a town in Coimbatore district is the nearest railway station to Ooty. Further, Mettupalayam is well connected to Chennai by nightly train, that runs daily.
Note, that while it is exciting to sit in a toy train, it could easily wear off as the speed of the train is dead slow taking about 5 hours for the journey (remember the old Dev Anand song when he would climb up and down the running train at will). The other factor to note is that only a small stretch of the journey is scenic – between Ketty and Ooty. It is suggested to cover the distance on road that can be done in 2 hours. So, plan accordingly.
The Ooty toy train starts at 7:10 in the morning from Mettupalayam railway station. The tickets can be booked through IRCTC website. Only limited tickets (around 30-35) of the Ooty toy train are issued on the spot and can only be bought at the stations. The ticket window at the station opens at 5 AM in Mettupalayam and 1 PM in Ooty. In the tourist season there is always a long queue to get the tickets and often quite challenging to get one. If you are really looking to buy a ticket be sure to be there at the station much before time.
The trick is to buy the tickets at a midway station where the crowd is far less. I recommend you go to Lovedale or Ketty station by road and get the ticket, it also makes sense as this is the only scenic section of the journey.
Fun fact: Do you there is a regular gauge train at Flam, Norway? It runs from the sea level to snow line.
Ooty by Car
Ooty shares a close proximity with Karnataka and Kerala borders. Hence it is feasible to drive down to Ooty from Bangalore as the distance between the two cities is around 300 km, making the Ooty hill station an obvious choice to flee the scorching heat of the Bangalore city.
Distance between Conoor and Ooty is mere 20 km and perhaps you can crunch the itinerary to include the two hill stations. Distance between Mysore and Ooty is 130 km which makes the hills station a popular destination for Infoscions (Infosys guy – as Infosys has a training center in Mysore).
Ooty by Bus
Another preferred option to travel from Bangalore to Ooty is by bus. You'll find plenty of buses in the Bangalore Ooty circuit and as well as Mysore Ooty route. The bus service takes around 8 hours to cover the distance. The best option would be to book KSRTC bus, or a non-ac sleeper by one of the private operators like KPN, SRS or National travels that commutes everyday.
If you failed to get a bus from Bangalore, then you can also consider travelling to Mysore. You can easily get a bus from Mysore to Ooty.
Note: The Bus from Bangalore to Ooty usually takes the route via Bandipur National Park. If you are lucky enough, you get to see lots of animals but the catch is that no vehicle is allowed to enter after 10:00 pm till 6:00 in the morning. So if you are planning to travel at night then be prepared to spend your night outside the entrance gate of the park till morning, when they allow the vehicle to pass.
Travel – around the Ooty town
There are numerous options to get around the city – auto rickshaw, city bus and taxi. You can consider doing the sightseeing in ooty by bus, that can be boarded from Ooty central bus stand and take you to listed Ooty attractions in a nominal rate.
If you are planning to travel by a faster and comfortable mode, then go for the cabs. You can easily find cabs in Ooty, so go through their tour packages and do not forget to ask about any hidden charges!
They might try to trick you in taking to hotels and restaurants that won't be worth the money, it is just to get commission from hotels. So avoid going to such place. Negotiate well if you are getting into an auto as they tend to quote nonsensically high price!
Judiciously take decisions, and enjoy your travel in the Nilgiris!