✓ You on Insta?
👍@triplyzer
---
✓ Find the best offers on your
Stays on 🏡 booking.com
---
✓ Deals on Private xfers, SIM Cards, City tours, Day trips
on 🛵 GetYourGuide
|
on 🛵 Klook
---
Ooty is a popular destination for those seeking 2 days trips from Bangalore.
This scenic hill station of Tamilnadu is loaded with natural beauty. With so many places to visit in Ooty in one day, you will really have a tough choice deciding.
If nothing else, just relax in the beautiful botanical gardens, sip fresh chai, get a picture taken in a tea garden and enjoy boating in the tranquil lake.
I had been to several hill stations in India, in north, in south as well as in east. Gangtok, Darjeeling, Mussorie, Munnar and so on, and from experience I can say that this queen of hill stations is right there at the top.
With so many places to visit in Ooty in 1 day, your whole day will be filled with sightseeing.
Also, many couples like to have honeymoon in Ooty as cool weather and the beautiful scenery attracts them. I have been to Ooty several times and absolutely adore these gorgeous ghats of Nilgiri.
Ooty Tourist Map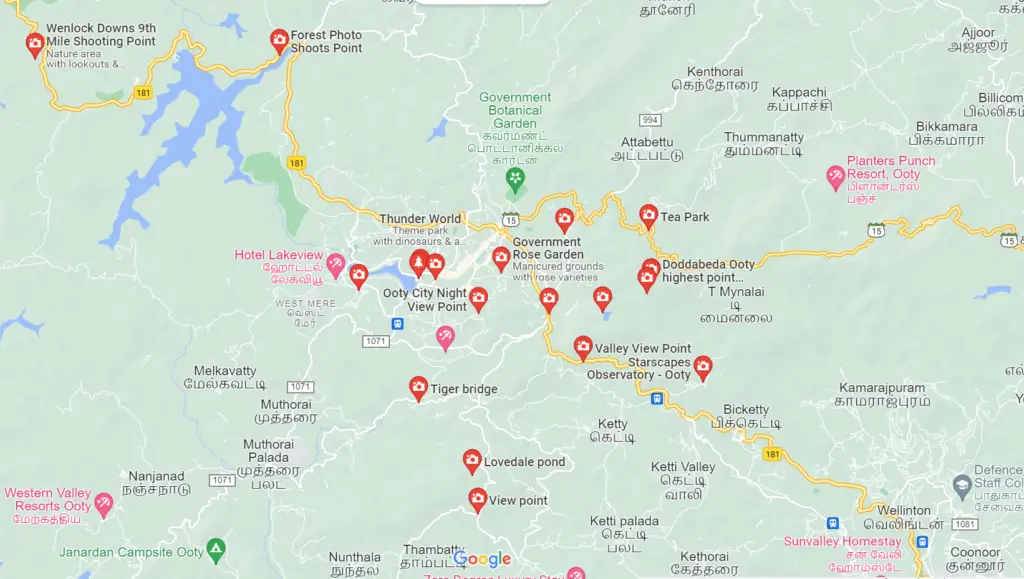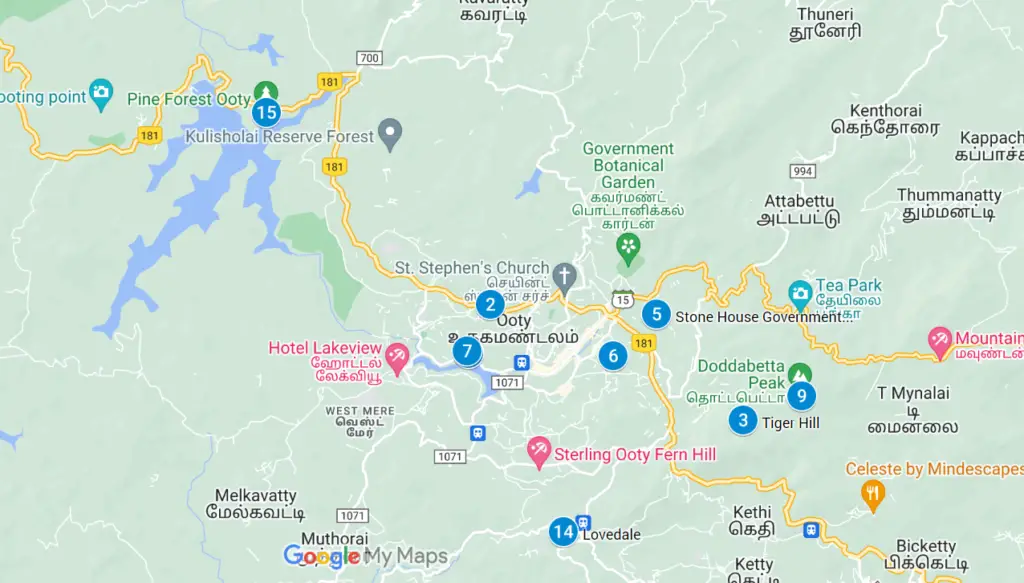 Download the Ooty tourist map here.
One Day in Ooty Itinerary
| # | Attraction | Duration | When to visit | Entry Fee | Distance | Timings |
| --- | --- | --- | --- | --- | --- | --- |
| 1 | Doddabetta Tea Factory | 2 hours | Morning | 10 INR | Near Ooty | 9 AM to 5:30 PM |
| 2 | Ooty Rose Garden | 1.5 hours | Afternoon | 30 INR (adults) | Near Ooty | 7:30am to 6:30pm |
| 3 | Ooty Botanical Gardens | 2 hours | Late Afternoon | 30 INR (adults) | In Ooty | 7am to 7pm |
| 4 | Ooty Lake | 2 hours | Evening | 10 INR | In Ooty | 9:00 am to 6:00 pm |
Places to visit in Ooty in 1 day
Without further ado, check below my list of places to visit in Ooty in one day: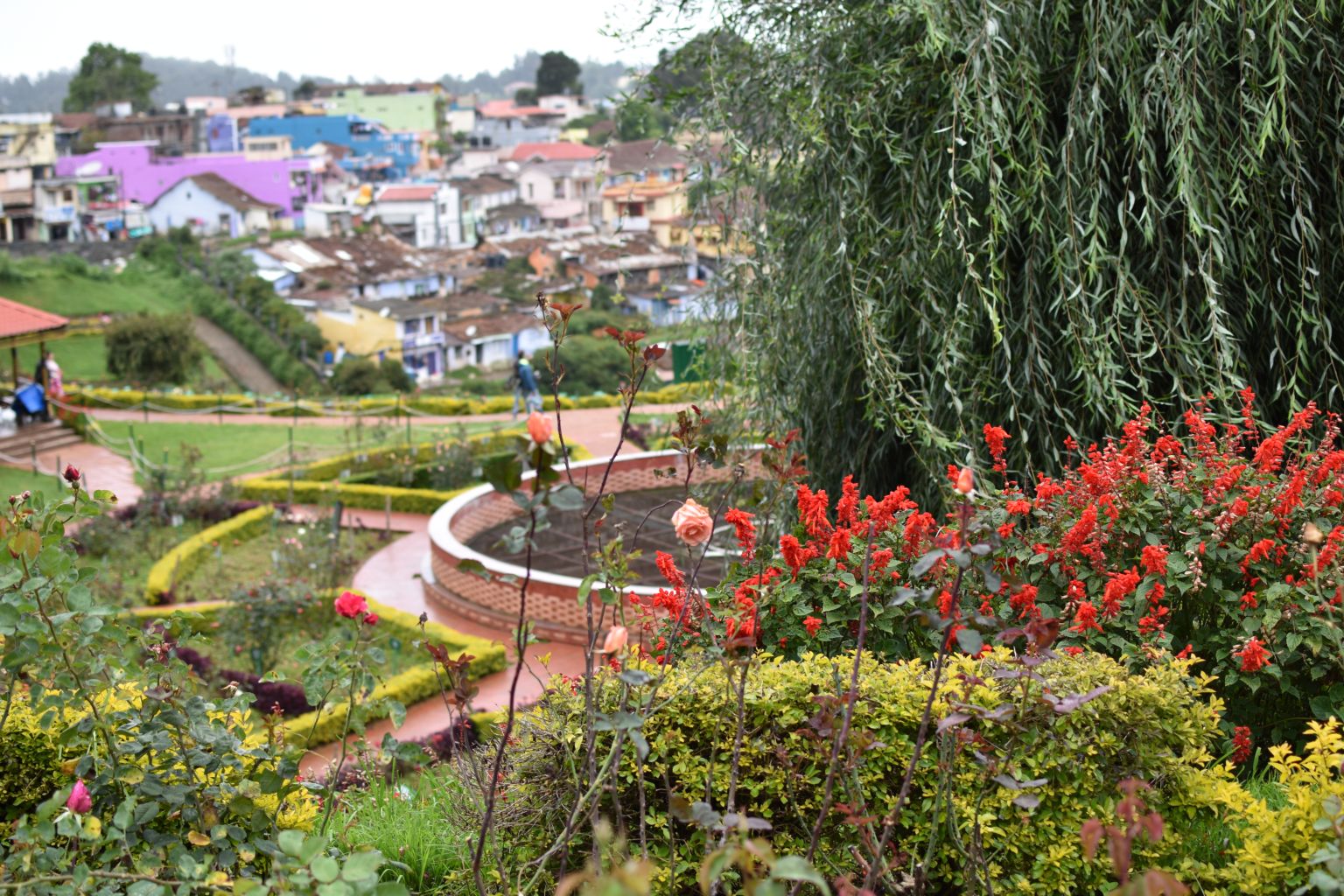 Another destination on the top places to visit in Ooty in 1 day is the pretty Rose Garden. In fact, it was one of the highlights of our trip.
There are about 20,000 different varieties of rose plants cultivated in the garden making it one of the largest such garden in India. Climb up the observation deck to get a bird's eye view of the entire park.
I strictly recommended you to visit only when the roses are in bloom, otherwise it is just an empty park. The best time to visit rose garden is in May. Though, it is still possible to see rose garden in Jun and July. May is when all
Doddabetta Tea Factory | Places to Visit in Ooty in 1 day
Visit the tea factory where you can see how your favorite brew is prepared from the freshly picked leave. At the end of the tour you also get to sample some yummy tea!
Tea lover or not, the tea factory is one of the top places to visit in Ooty in 1 day.
Once you come out will find small chocolate making facility, you can see how workers are making the famous Ooty chocolate, as well as you will have the opportunity to buy some.
Doddabetta Peak | Places to Visit in Ooty in 1 day
Strictly optional as you will need more time and have to skip few other attractions.
The beautiful Doddabetta Peak located in Nilgiri Hills, Doddabetta Peak (which literally means big mountain) is the highest peak with a height touching 2,637 meters.
The peak is surrounded by protected forest making the whole area very picturesque. From the top you get amazing 360-degree views of the valley. Also, at the top you will find a telescope house with two telescopes available at a minimal fee.
Once there you'd also agree that this stunning peak is amongst the top places to visit in Ooty in 1 day.
If you have a car, to get here take the Kotagiri Road, the peak is at about a distance of 10 km.
Alternatively, you can take the government bus from the Ooty bus stand to reach here. The ticket costs a whopping 15 rupees! From the bus stop you need to walk a distance of about 2.5-3 km to reach the top, the walk however is very pleasant and highly enjoyable.
Just don't forget to take selfies standing in the field!
Ooty Lake | Places to Visit in Ooty in 1 day
The next addition to our your one day trip to Ooty is the tranquil city lake. It is one of my personal favorite from the list of top places to visit in Ooty.
The beautiful Ooty Lake is spread over 65 acres and is located near the town center, quite close to the government bus stand area. However, it is a bit of a walk (about 2 km) from the bus stand to reach the entrance of the Ooty lake.
Another attraction, Thread Garden museum, is located bang opposite to the entrance, but it is highly recommended that you save your money and spend it on buying decent homemade Ooty chocolates!
Botanical Gardens
Despite the large crowd, the Botanical Gardens remains a good choice for nature lovers. Conveniently located within the town and spread over 20 acres it is quite well maintained. The park is operated under the Horticulture division of the Tamilnadu Government.
You'll certainly be mesmerized by hundreds of varieties of flowers and it is recommended to walk around the south-east part of the circumference of the park (with respect to the entrance). The best time to visit Ooty Botanical Garden is during the flower show which takes place in the month of May.
On a Ooty One Day Trip the Botanical garden is something that one shouldn't be missed.
Pykara lake and falls | Places to Visit in Ooty in 1 day
A beautiful natural attraction, Pykara Lake is one of the top places to visit in Ooty in 1 day. It is located in the little sleepy village of Pykara with two attractions – the lake and the waterfalls.
There is also an option of boating in the lake but I think at a price of around 400 rupees it is bit too steep. Apart from the lake and the falls the place offer fantastic views of grassy meadows (called shola).
It is best to visit the Pykara lake in the monsoon when there is greenery all around.
Fern Hills Palace | Places to Visit in Ooty in 1 day
Are you feeling lazy and just take an afternoon walk to somewhere? Take a break from the regular sightseeing in Ooty and visit this historical place. Fern Hills Palace is an erstwhile palace of the Maharaja of Mysore, now transformed into a heritage hotel.
The Fern hill palace was constructed in the 18th century and the design is inspired by Swiss architecture. As Fern hill is well within the town, it is an ideal choice for places to visit in Ooty in one day.
Emerald Lake | Places to Visit in Ooty in 1 day
If you are looking for pristine, untouched environment which is unscathed from the relentless development then Emerald Lake is your top choice among places to visit in Ooty and Coonoor. Yes, the Emerald lake can also be visited from Coonoor hill station. 
But do understand the irony of the situation, by visiting the place you are actually making a detrimental effect on its ecology.
Emerald lake is a beautiful lake nestled amidst the beautiful green hills of Nilgiri range. It is located at a distance of about 25 km from Ooty in the area known as Silent Valley.
Emerald lake is a must see in Ooty The lake is surrounded by tea gardens growing on the slopes of the nearby hills. The picturesque landscape makes Emerald Lake area an ideal picnic spot. 
Emerald Lake is also highly recommended for witnessing sunrise and sunset. Unfortunately, the access to the lake is restricted by the forest department but with little negotiation with the forest guard you can have a chance to get in.
Nevertheless, the views are as amazing from a distance as from the lake. If you are looking for accommodation in the area, Redhills resort is your only option. With the help of the hotel you can also indulge yourself in activities like bird watching, cycling and trekking.
Truly, one of the most amazing places to visit in Ooty in 1 day!
Conclusion
Hope you found this list of Ooty sightseeing places useful!. Don't forget to comment and share your experiences.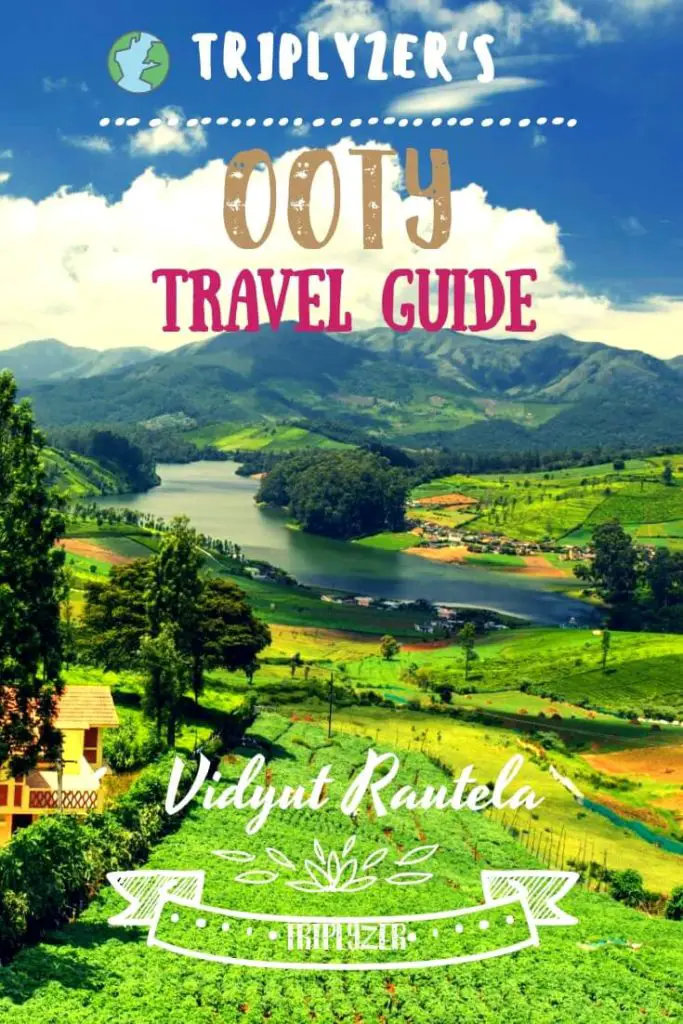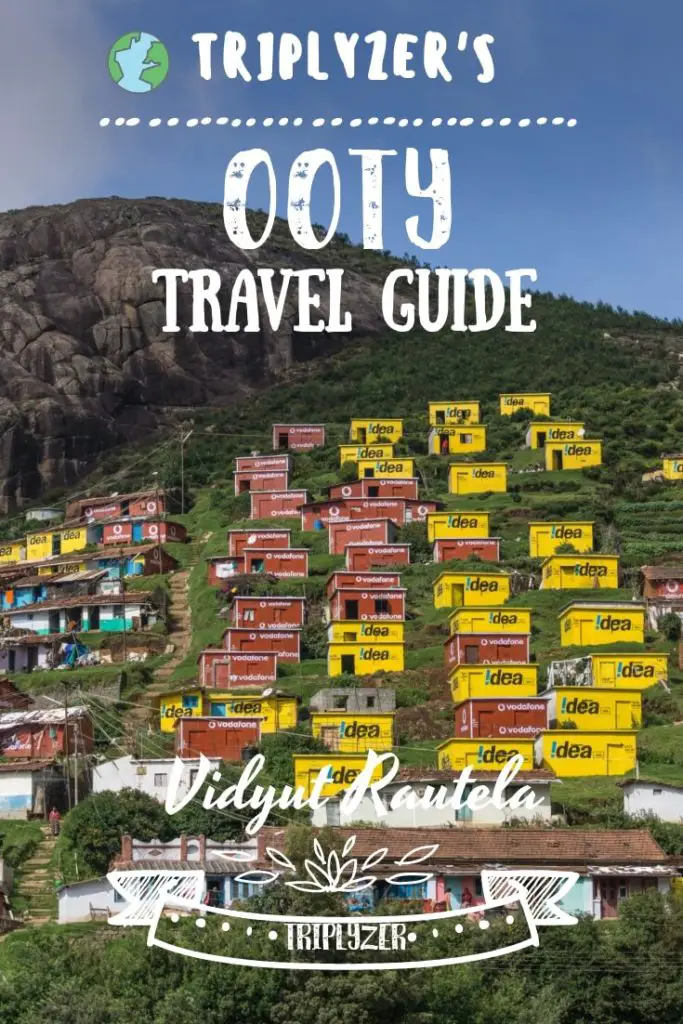 Save
Save
✓ You on Insta?
👍@triplyzer
---
✓ Find the best offers on your
Stays on 🏡 booking.com
---
✓ Deals on Private xfers, SIM Cards, City tours, Day trips
on 🛵 GetYourGuide
|
on 🛵 Klook
---