✓ Follow on Instagram:
👍@triplyzer
---
✓ Find the best offers on your
Stays on 🏡 booking.com
---
✓ Deals on Private xfers, City tours, Day trips
on 🛵 GetYourGuide
---
I spent 2 days in Hampi and came up with this blog post listing the best places to visit in Hampi. But know that Hampi in summer could be quite hot, so a 2 Days trip to Munnar could also be a great option.
This Hampi itinerary for 2 days contains all the info you need to plan your own trip to this amazing travel destination in India. One of the unique things about Hampi is that it is easily reachable as a 2 days trip from Bangalore, Pune, Goa, Mumbai and other major Indian cities.
If you are traveling on a long weekend or you have more time, check this 3 days Hampi Itinerary. or if you are on just 1 day hampi trip, I'd suggest pick the attractions from day one.
I have listed below the best places to visit in Hampi in 2 days:
Day 1:
Virupaksha temple
Kadalekalu Ganesha Temple
Ugra Narasimha
Underground Shiva Temple
Royal Enclosure
Vijaya Vittala Temple
Matanga Hill – sunset point
Hampi Itinerary Day 2:
Anjaneya Hill
Tungabhadra Dam
Top Places to stay in Hampi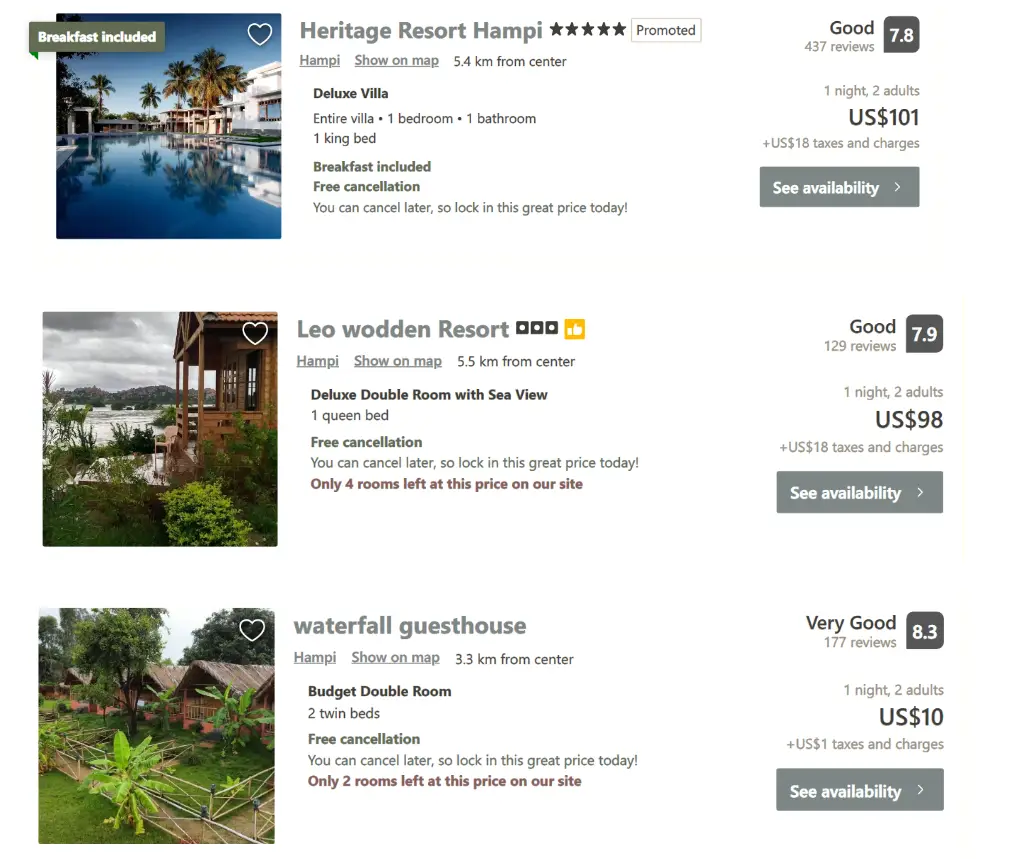 2 Days Hampi Itinerary
I have always been fascinated by the idea of traveling solo in India, even being a solo woman traveler didn't deter me. And what's better than taking a two days trip to Hampi, one of the top backpacking destination in India. It so happened during the course of a week that I made a quick 2 days Hampi Itinerary, created a rough plan and booked my Pune to Hampi bus ticket… and so began the journey to explore the ruins of Hampi.
As my brother had already been there, I took some tips from him and went through his blog posts. You can find the all the details on backpacking Hampi blog post. 
In this post, I have detailed the information based on my personal experience on places to visit, restaurants and places to stay. I have also carefully crafted answers on questions asked on quora like Hampi is worth visiting, how to commute in Hampi, ideas on Annegundi tour and the hippie island. There are lot of budget tips in here as well, so be attentive!
Thinking about visiting an offbeat destination? Plan your trip with my north east India itinerary.
Day 1: 2 Days Hampi Itinerary
As I had only 2 days for hampi sightseeing, I decided to explore the mainland on the first day. I knew I had only 2 days in Hampi, and had to rush a bit to see the top attractions of Hampi first. I started my journey from Virupaksha temple, which is located beside the river bank and has a close proximity to Hampi Bazaar.
Virupaksha temple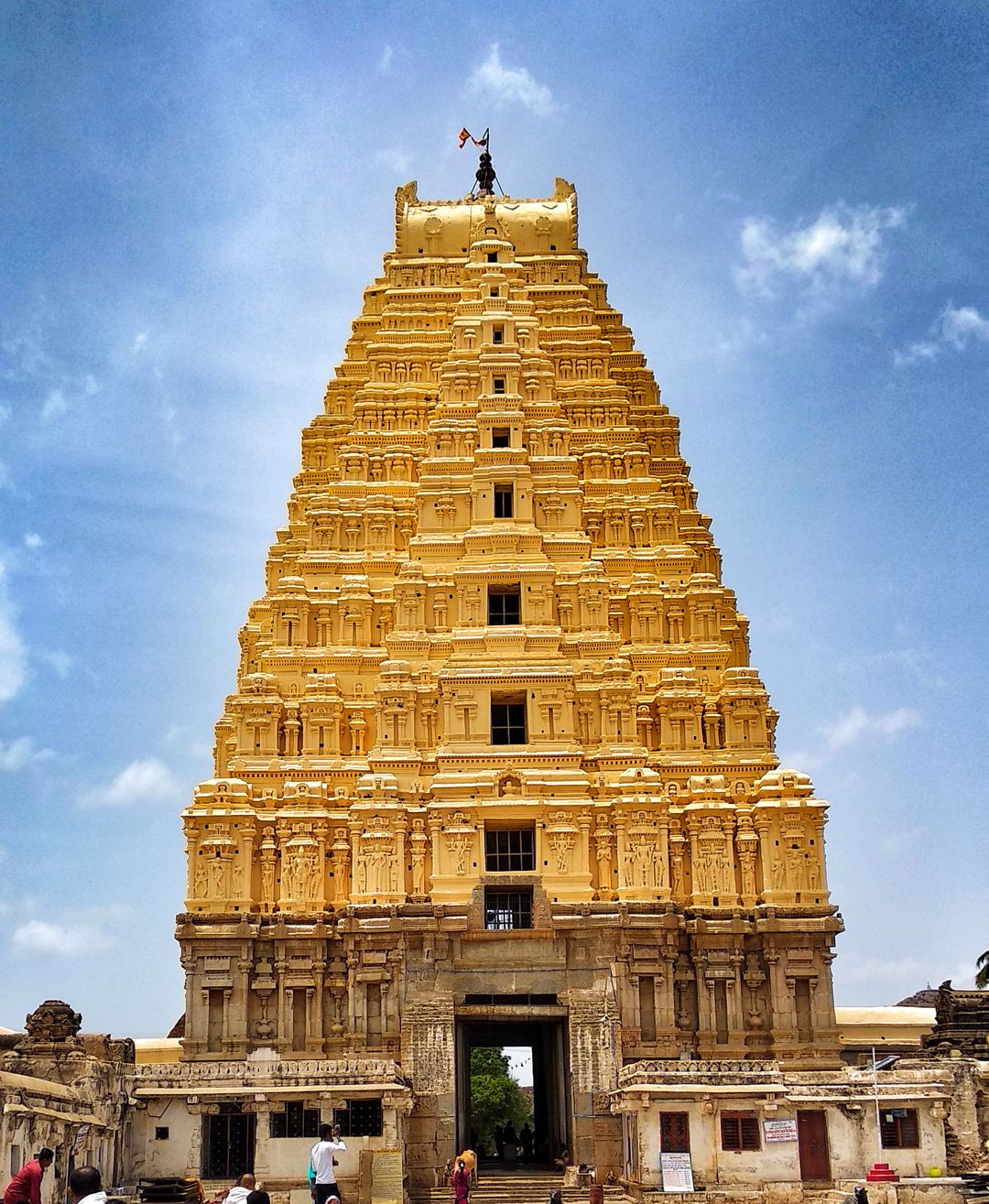 I started my 2 days Hampi trip with Virupaksha temple . The Virupaksha temple is dedicated to one of the forms of Lord Shiva. It dates back to the 7th century AD, making it one of the oldest temples in India.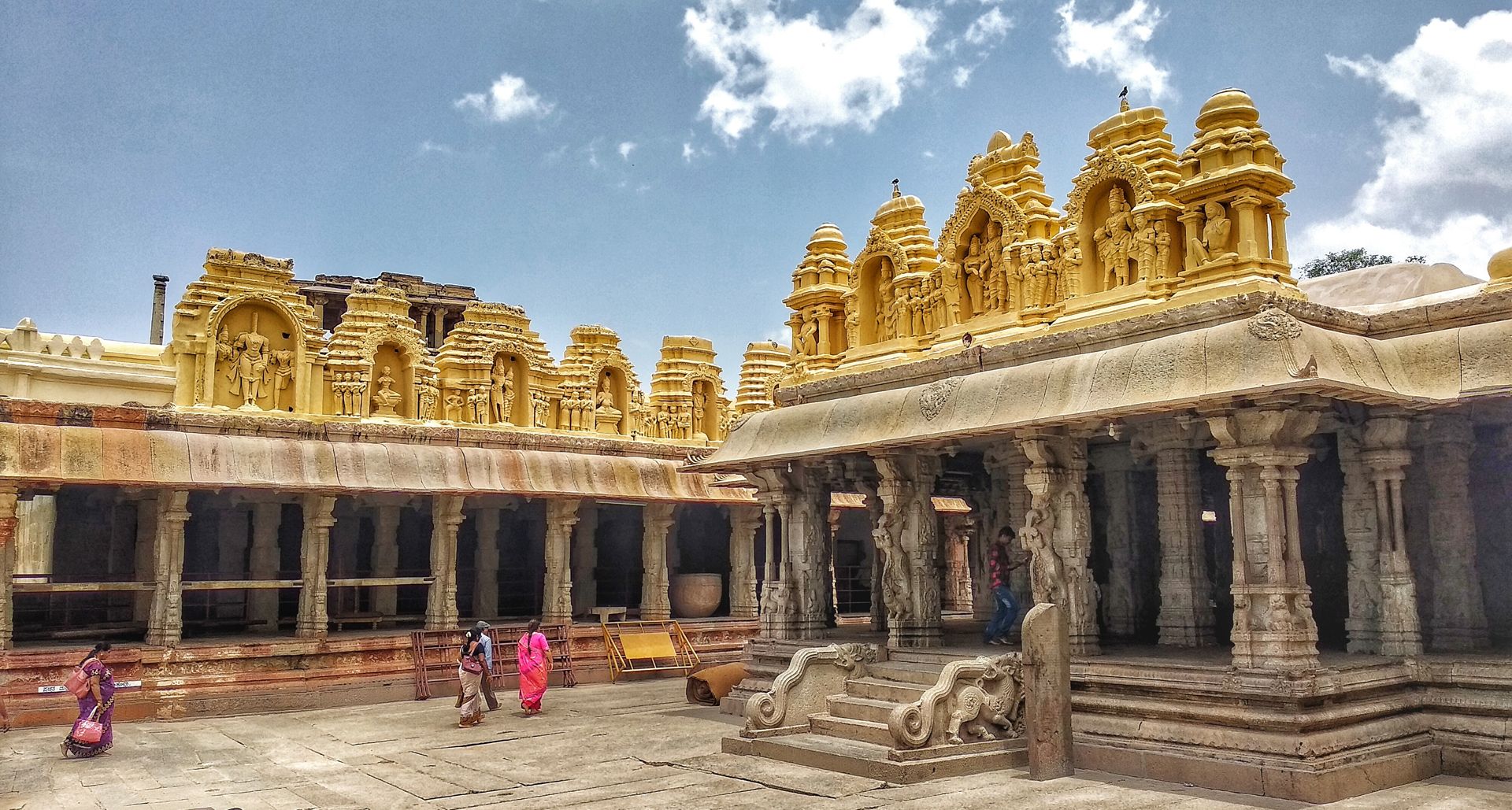 Virupaksha Temple Complex
The temple has a huge complex that grew gradually over the period.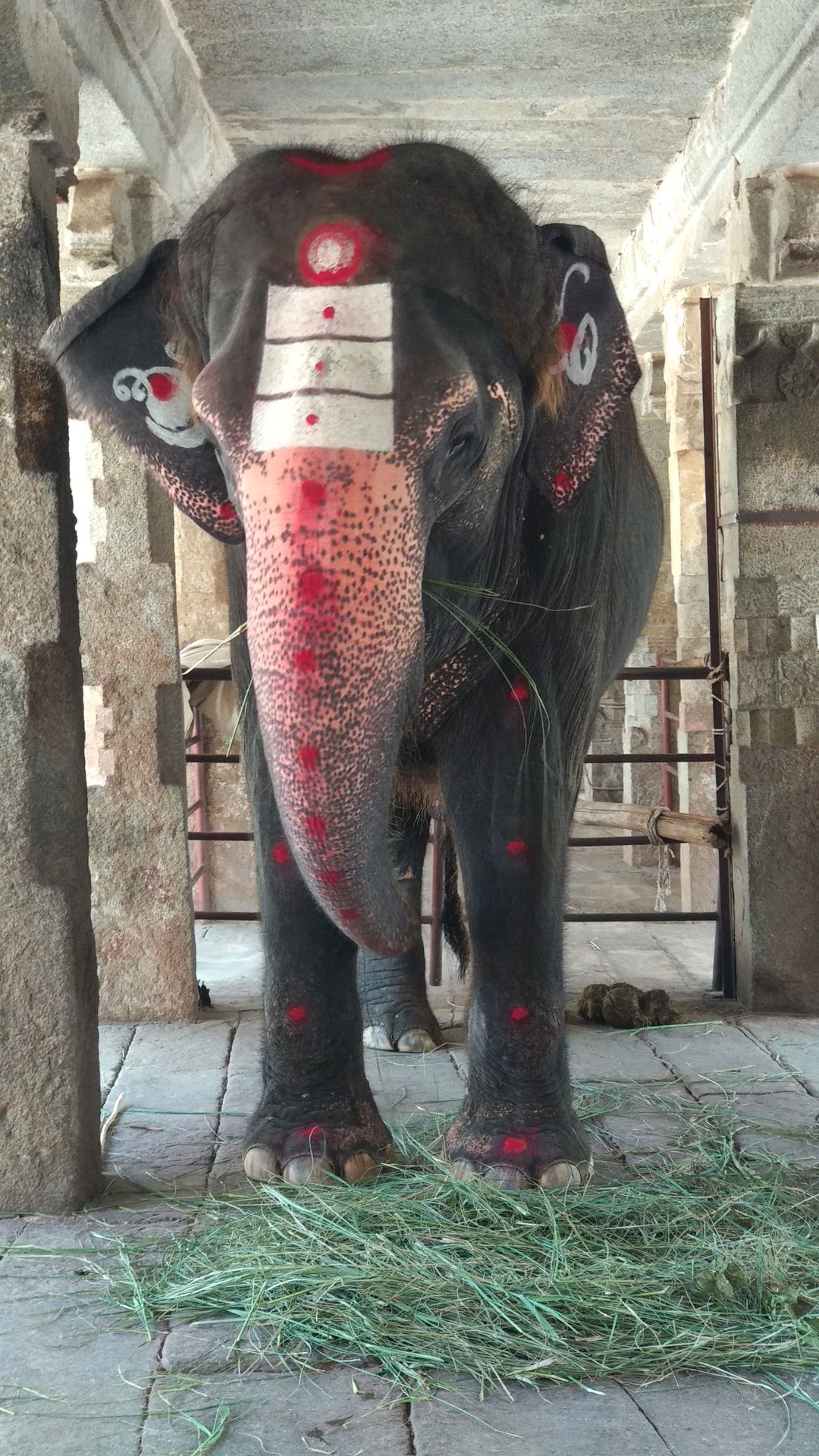 On the left side of the Virupaksha temple complex, you can see Lakshmi, the temple elephant. She blesses the devotees with her trunk touching head when you offer her Rs 10 note. If you are lucky enough, you can see her enjoy taking bathe near the ghats at around 8 in the morning.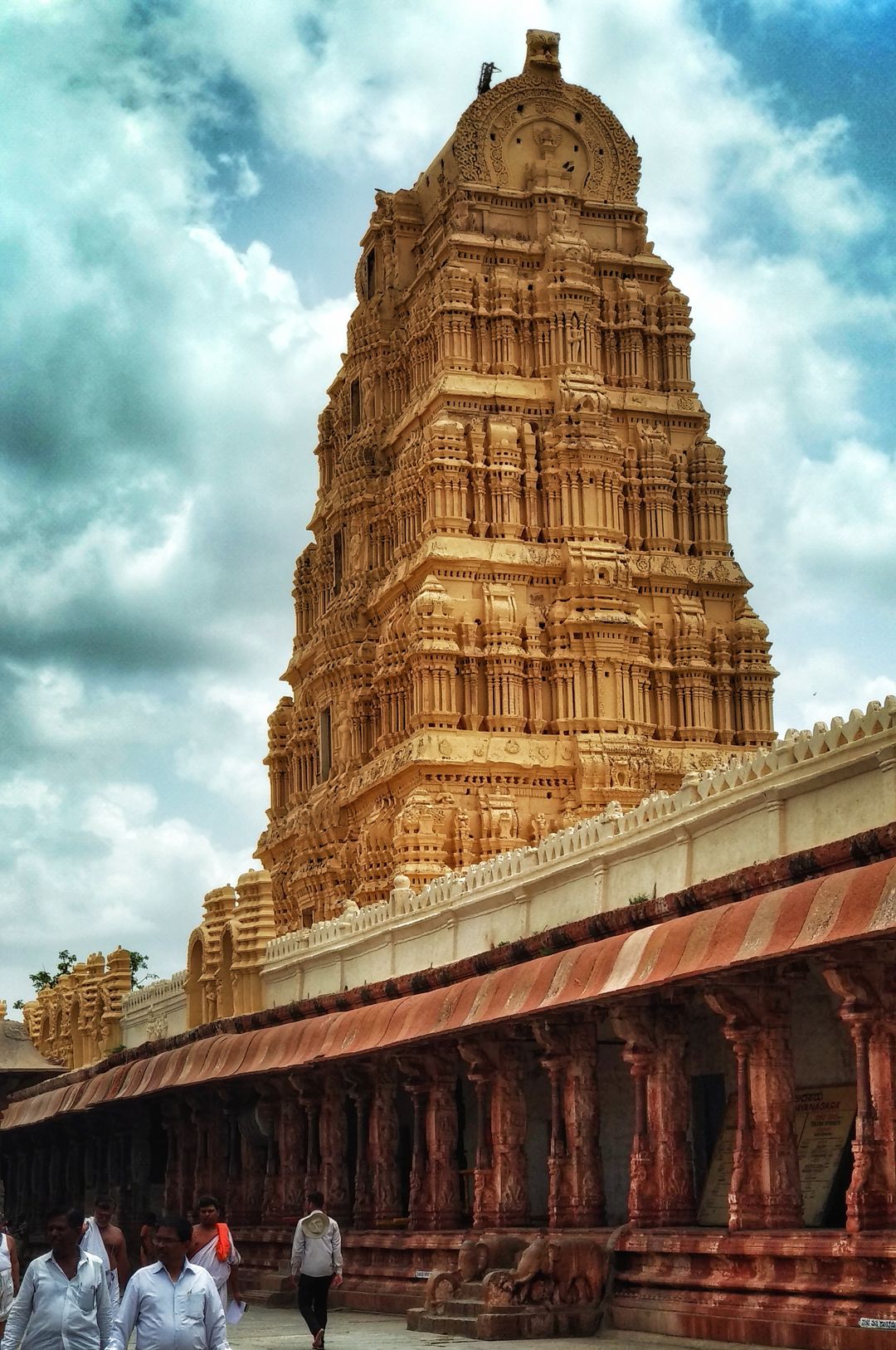 Next, I went ahead to explore the surrounding area. For that, you can hire a scooter, bike or bicycle from Hampi Bazaar which is going to cost you around Rs 200 for two-wheeler (fuel charge additional) and Rs 50-80 for a bicycle. You can consider hiring an auto at 400 bucks for the full tour. I would also recommend buying a Hampi map that shows the top places to visit in Hampi in 2 days so that you can make plans accordingly.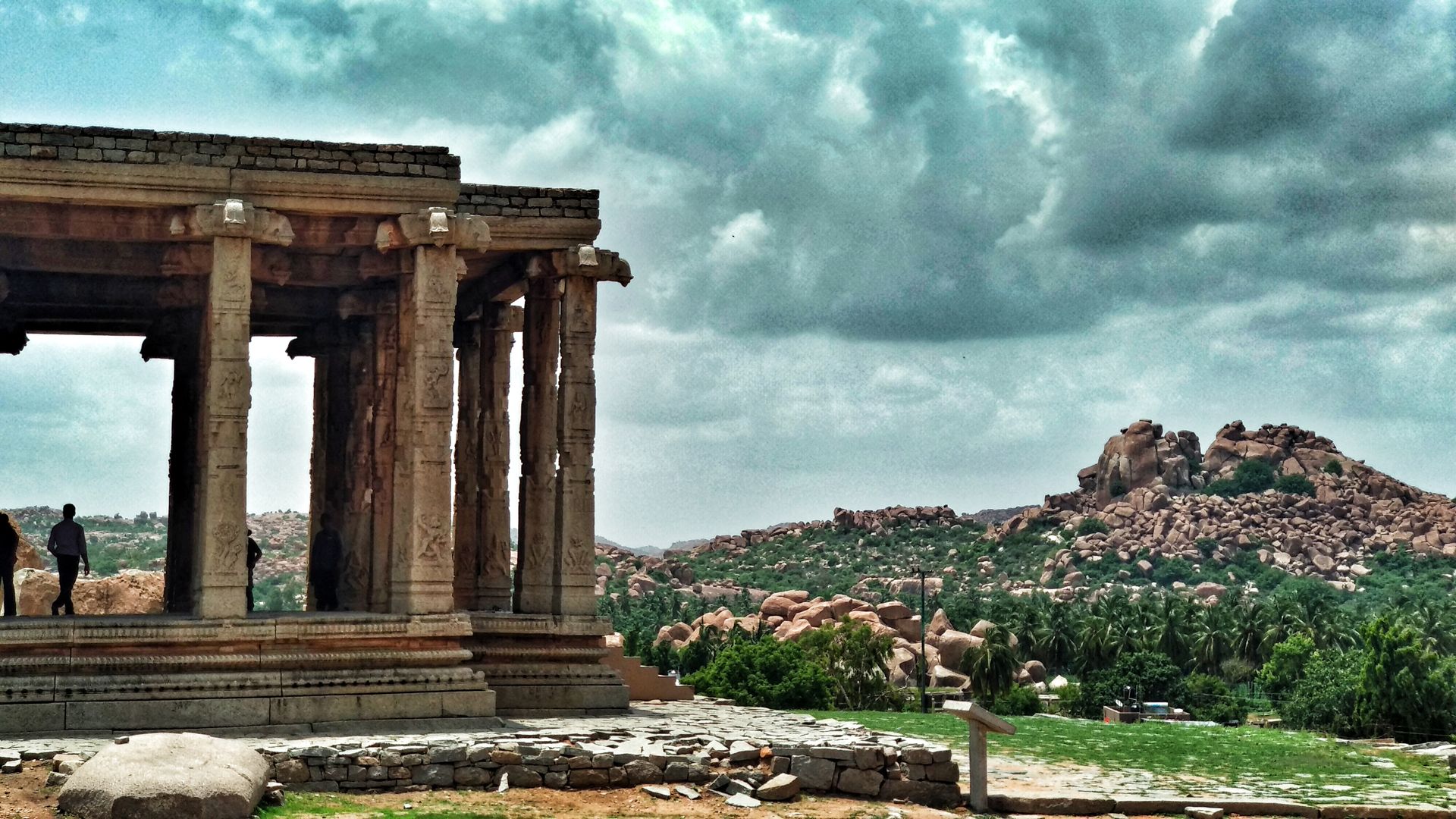 In Hampi, you will be stunned to see the landscape around you – the huge boulders and ruins weave together a magical spell on the tourists. Hampi is all about the historical monuments and beautiful sculptures. Park your vehicle wherever you feel like and enjoy the serenity.
Kadalekalu Ganesha Temple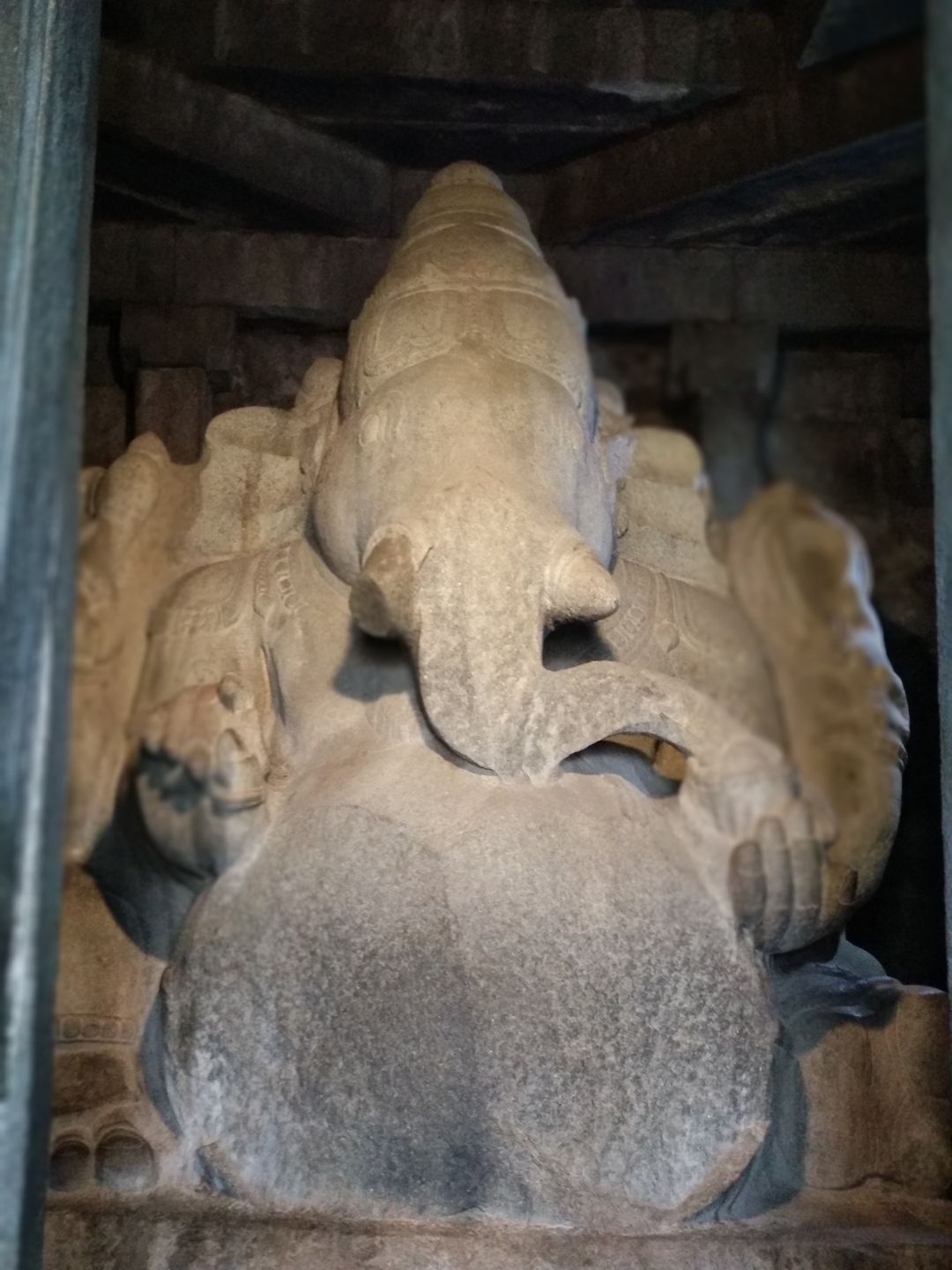 I stopped by the famous Ganesha temple in Hampi. Another one of beautiful place to visit in Hampi for 2 days trip. The temple has a monolithic statue carved on a single huge boulder.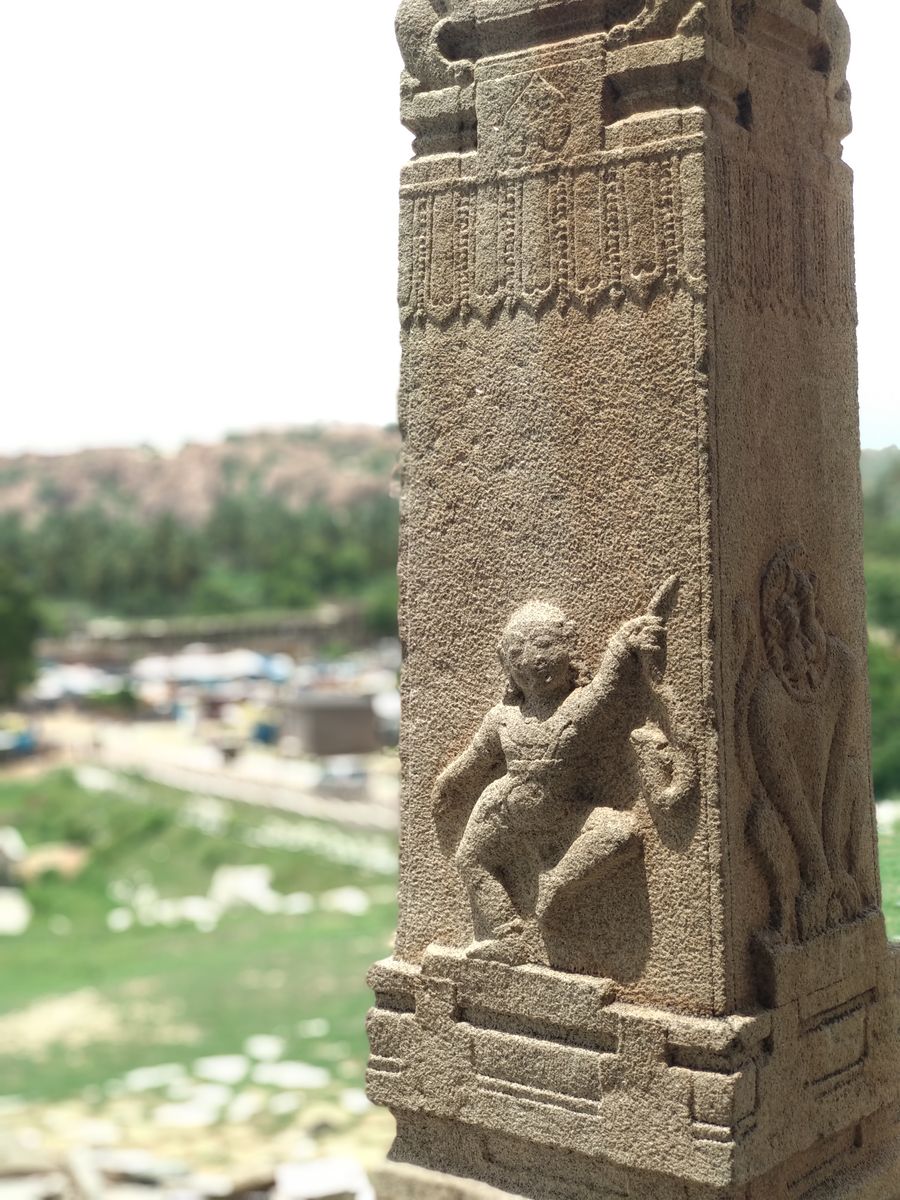 The temple hall has beautiful tall granite pillars, carved with various mythological characters. The temple has a mesmerizing view of Hampi Bazaar and Matanga Hill. I spent some time in the calm ambiance of the temple and moved to my next destination.
Ugra Narasimha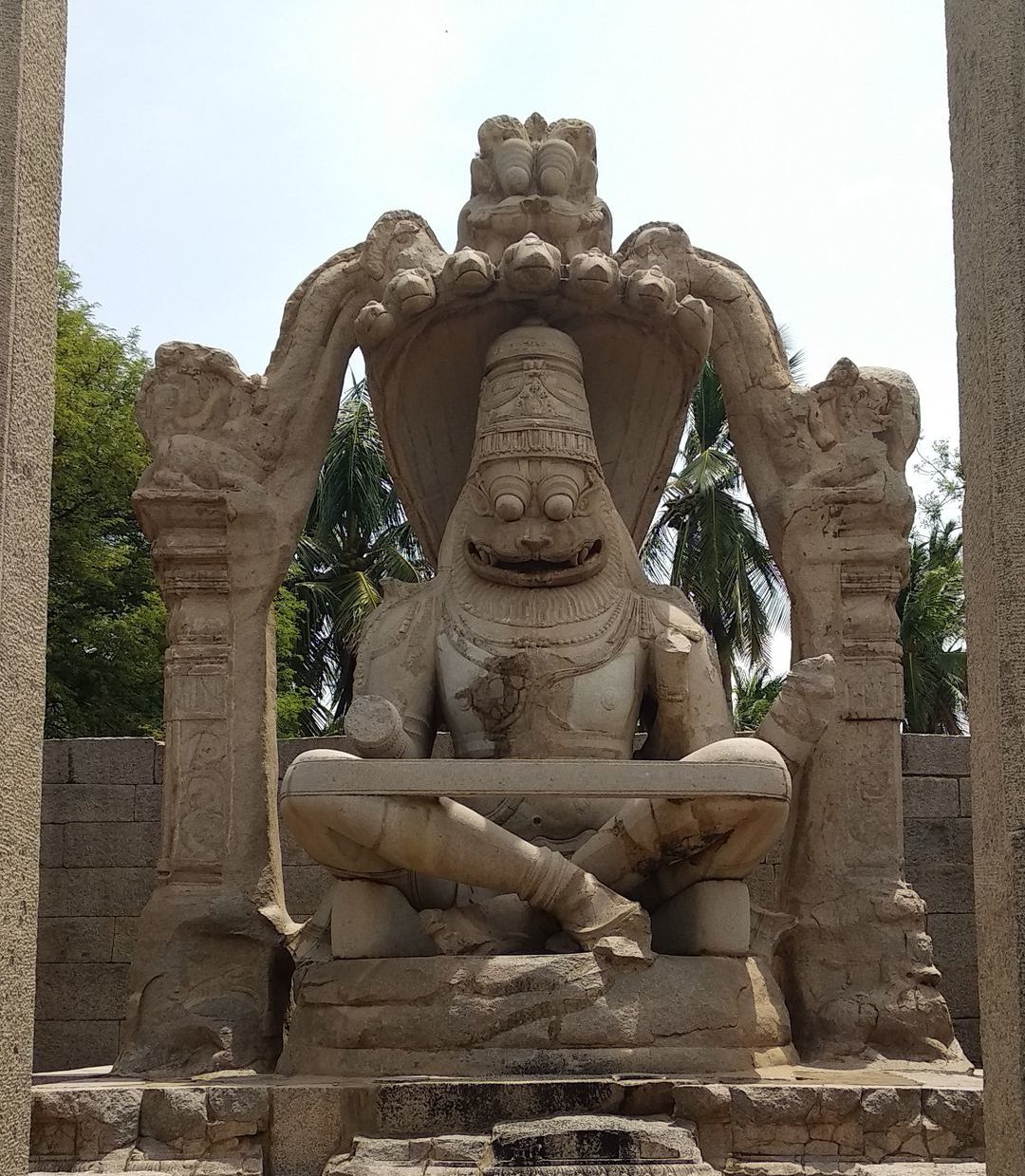 The Ugra Narasimha Temple is the largest statue in Hampi and is a major tourist attraction that one must visit in Hampi on 2 days trip. On the basis of facial expressions and eyes, the statue is referred as Ugra Narasimha, which literally means Angry Narasimha (an avatar of Lord Vishnu ).
Underground Shiva Temple
Going towards the Royal Enclosure you can visit the underground Shiva Temple and Queen's Bath.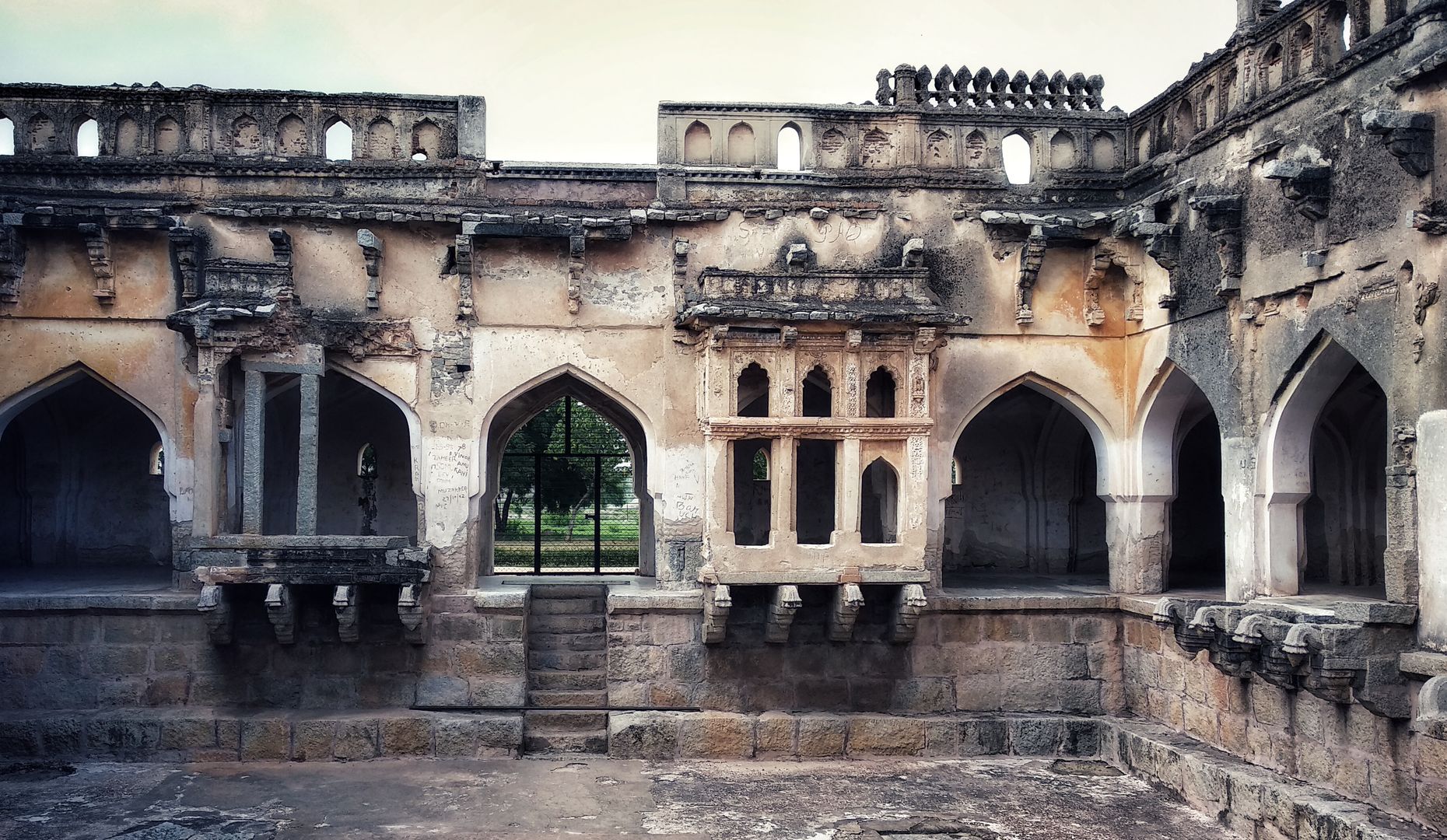 This temple has been built several meters below the ground level. It is believed that the royal family used to worship here. I went inside the main temple but quickly moved out as the place was full of bats due to darkness and moisture.
The underground Shiva temple is a must visit attraction in a 2 days Hampi itinerary.
Royal Enclosure
Hampi was the capital of Vijayanagar empire and the royal family used to reside here. The Royal Enclosure is the resident and durbar area of the royal family. It has around 45 buildings including a stepped tank, Durbar hall, temples, and platform.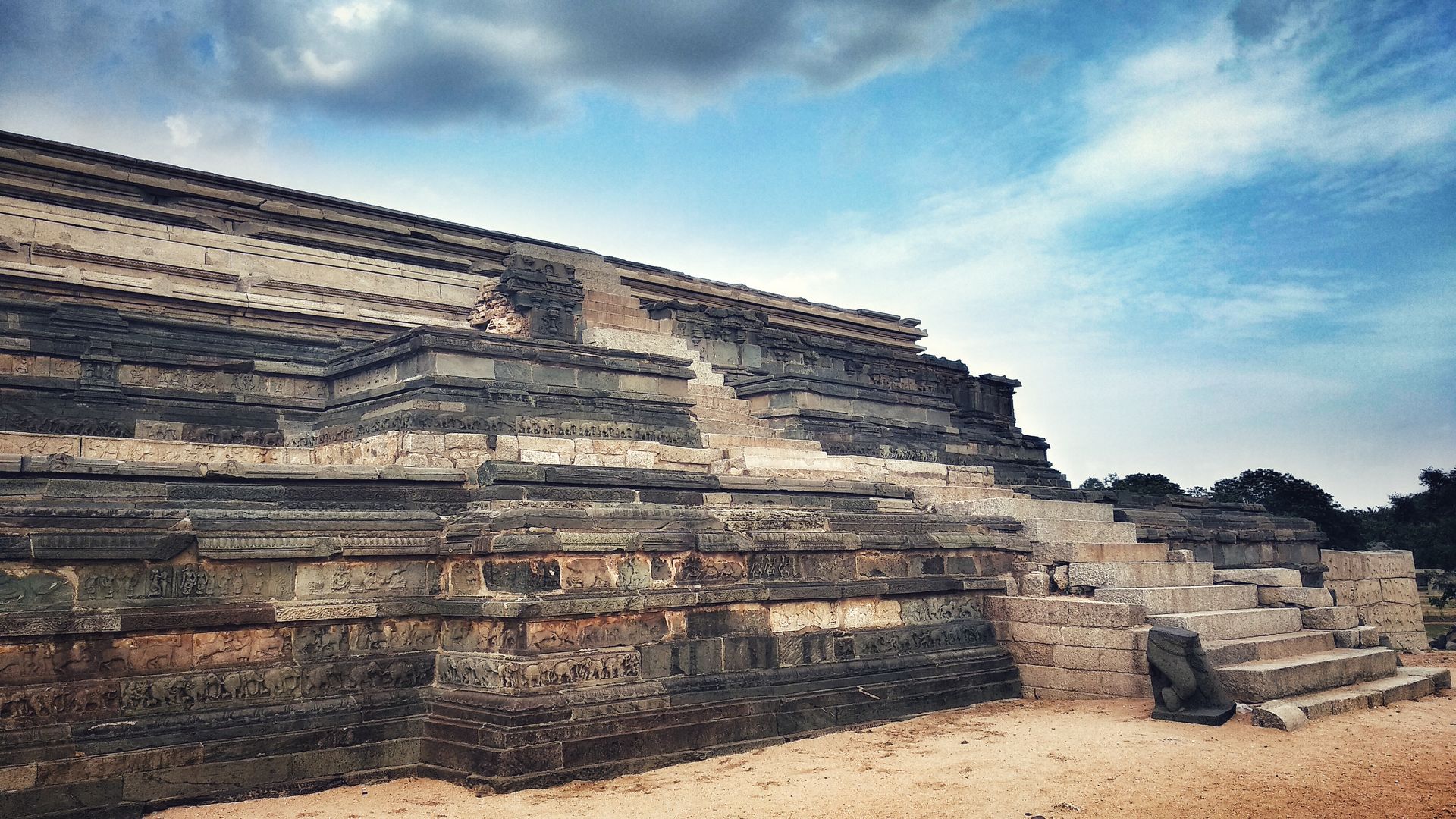 As soon as I entered the Royal Enclosure, the platform is the first thing I noticed. Mahanavami Dibba is a stone platform that has a three-tier structure. It is believed that the King used to celebrate the festival of Dussehra here.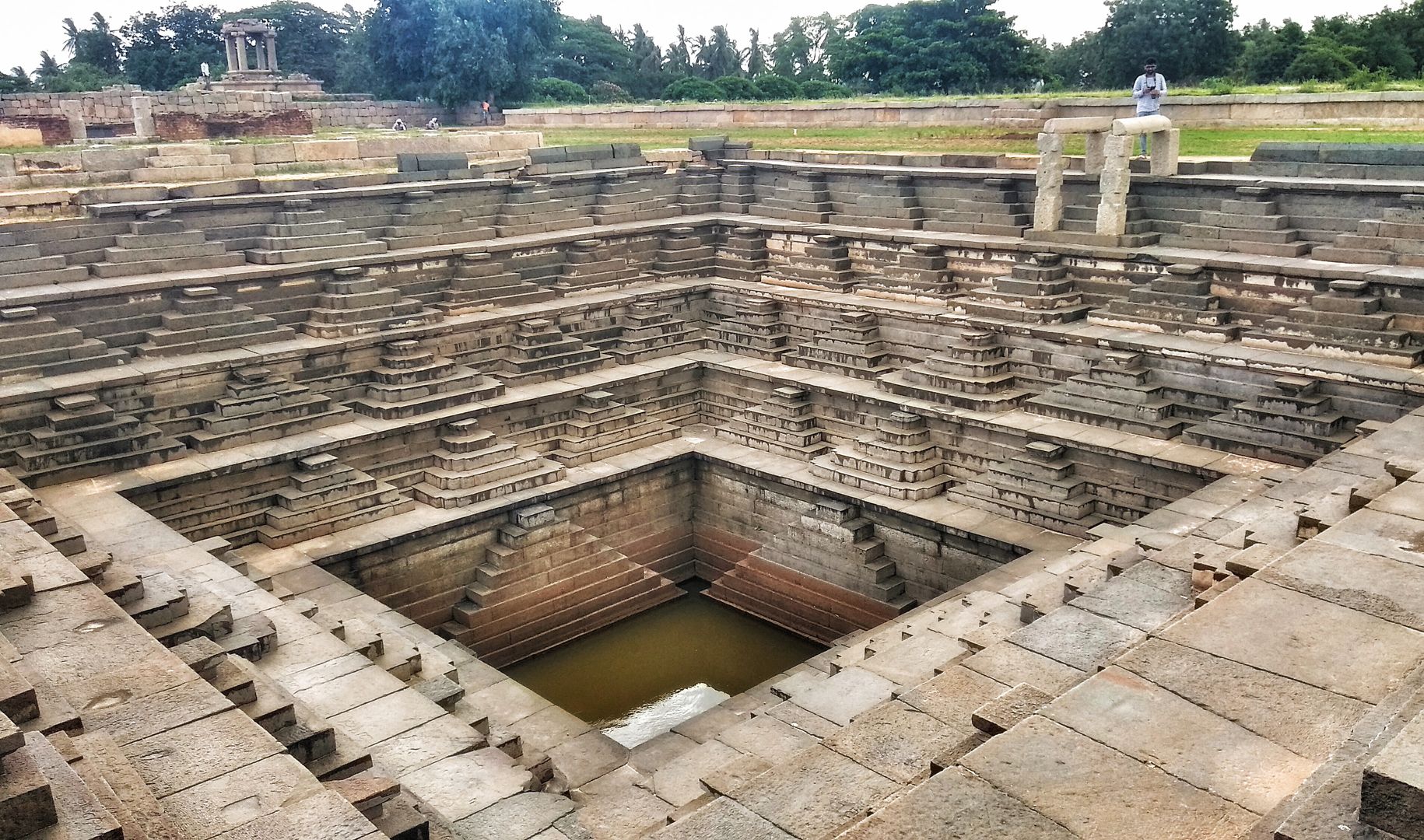 Next structure that I noticed is the Pushkarni, the sacred water tank. One of the beautifully constructed ruins of Hampi. These stepped tanks are generally made near the temples and are used for ritual bathing and cleaning.
I was amazed to see the symmetrical structure and instantly clicked few pictures to behold the moment. From there, I moved toward the Zenana Enclosure, which was a secluded area for the royal women. The main highlight was the Lotus Mahal.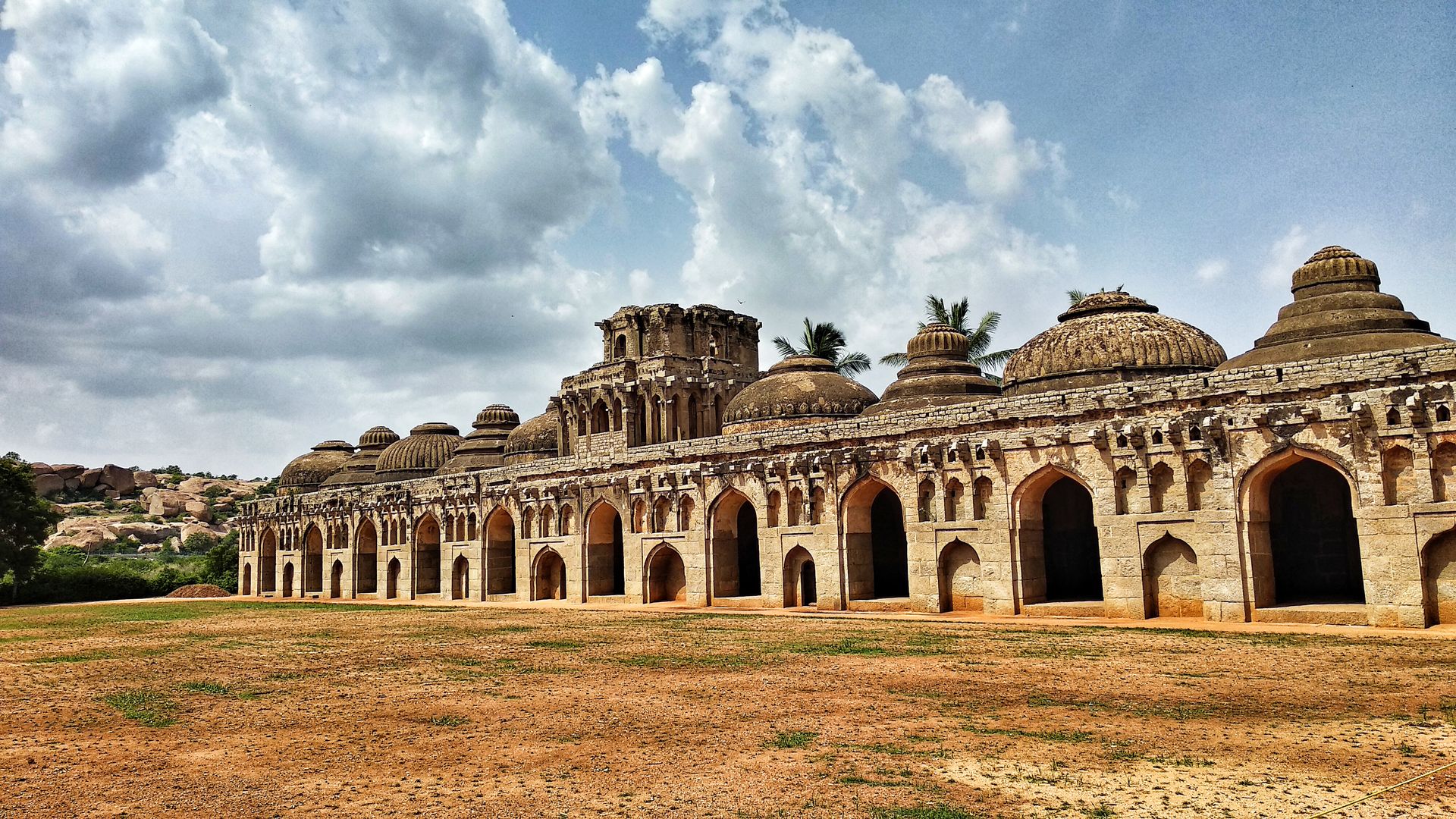 Just outside the Zenana Enclosure, I saw the Elephant Stable which was used to provide shelter for the royal elephants of the Vijayanagara Empire.
There are so many historical monuments to visit in Hamp for 2 days i that you will feel overwhelmed. This is exactly what happened to me!
Vijaya Vittala Temple
One destination that is a must visit place in Hampi is the grand Vijaya Vittala Temple. The Vittala temple is located at around 15-20 minutes away from the Royal Enclosure. Once you reach the temple area, you need to wait for a ride to the main entrance of Vittala temple. A non-combustible vehicle (golf cart) will pick you up and will drop you at the main entrance of the temple (around 1.5 km).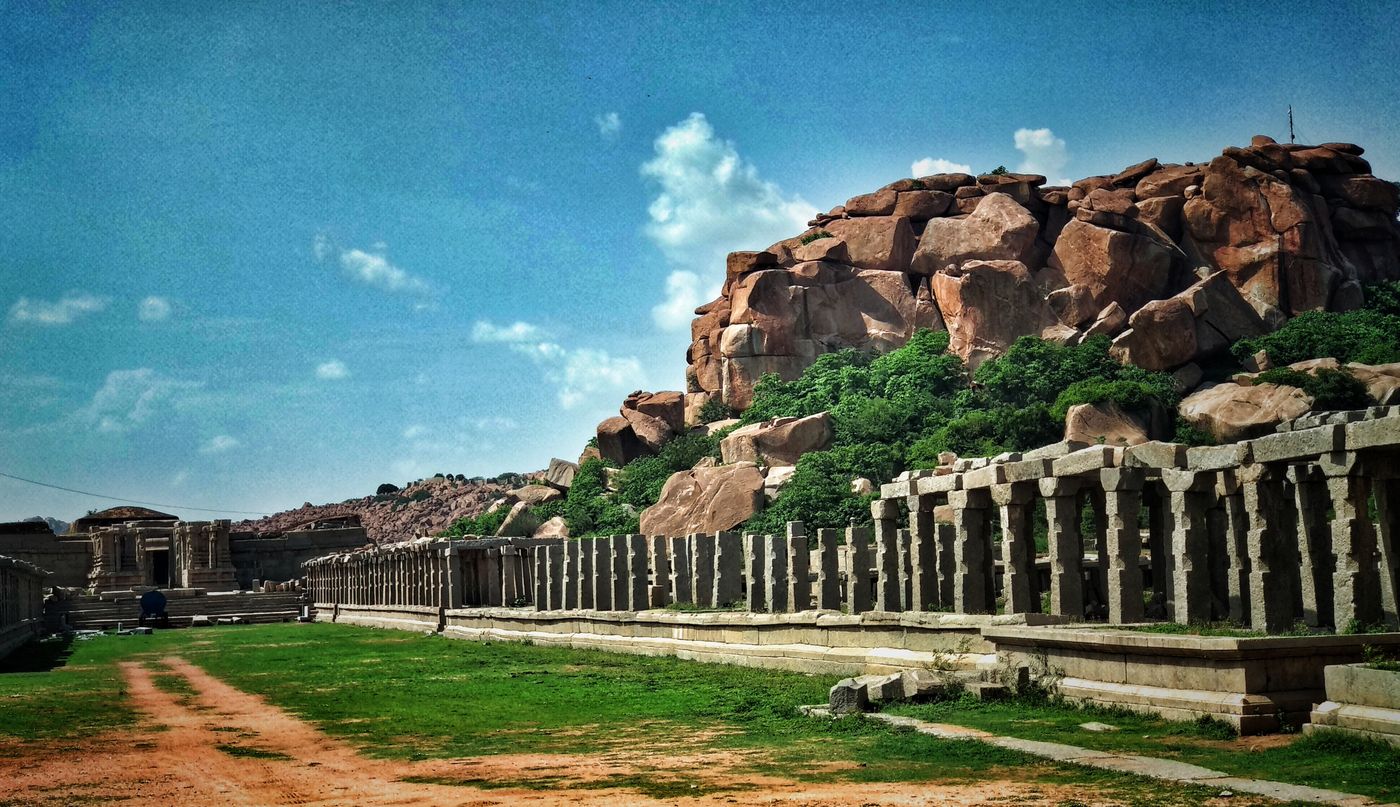 Outside Vittala Temple, Hampi
There is an entry fee of Rs 10 for Indians and Rs 500 for foreign nationals. The tickets are sold at the main entrance fo the Vittala temple, Hampi. The Temple has a huge complex that consists of amazing structures.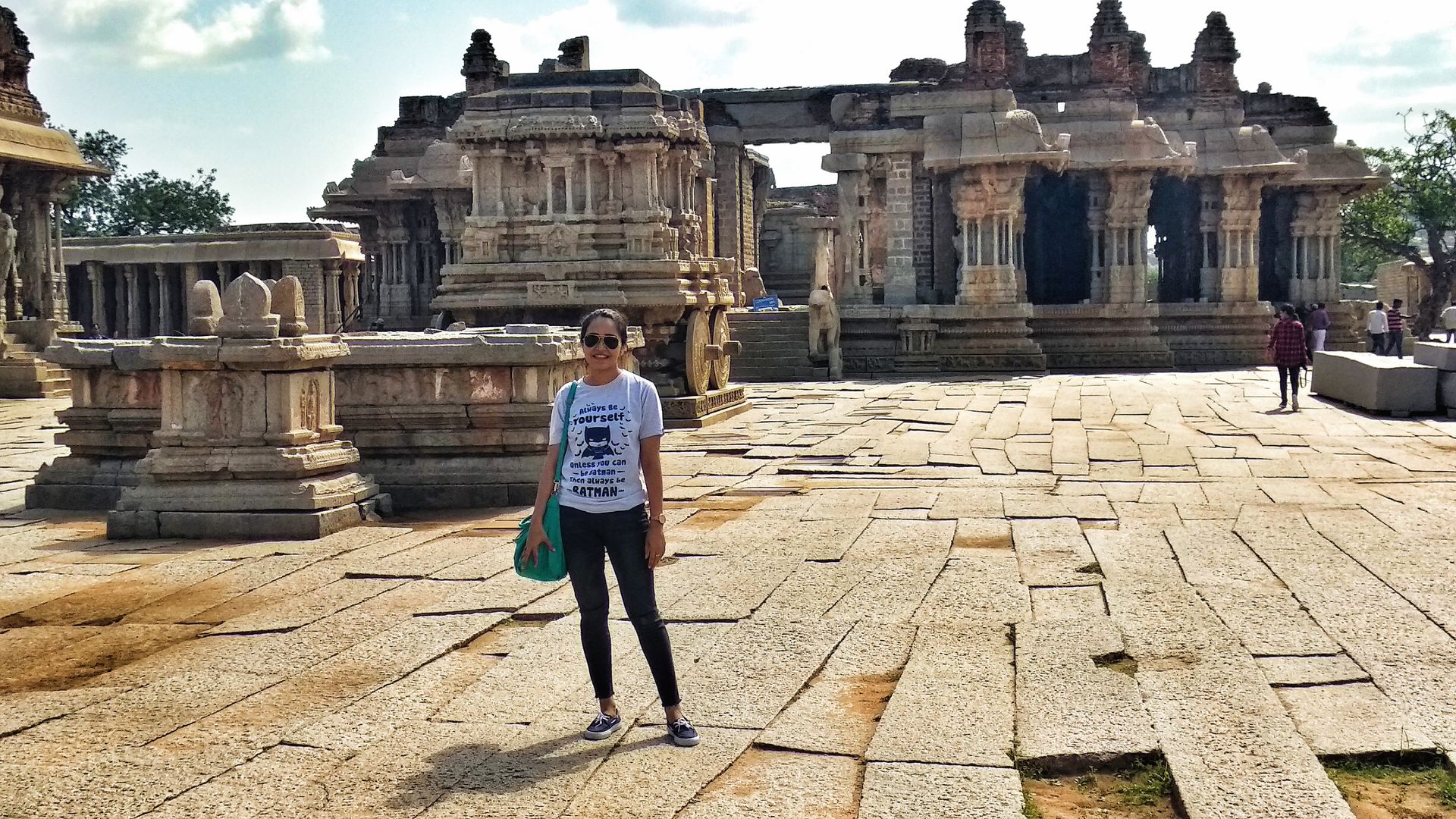 There are many halls, pavilions, and shrines inside the Vittala campus. I couldn't stop myself to ask someone to click a picture of me. So here you go!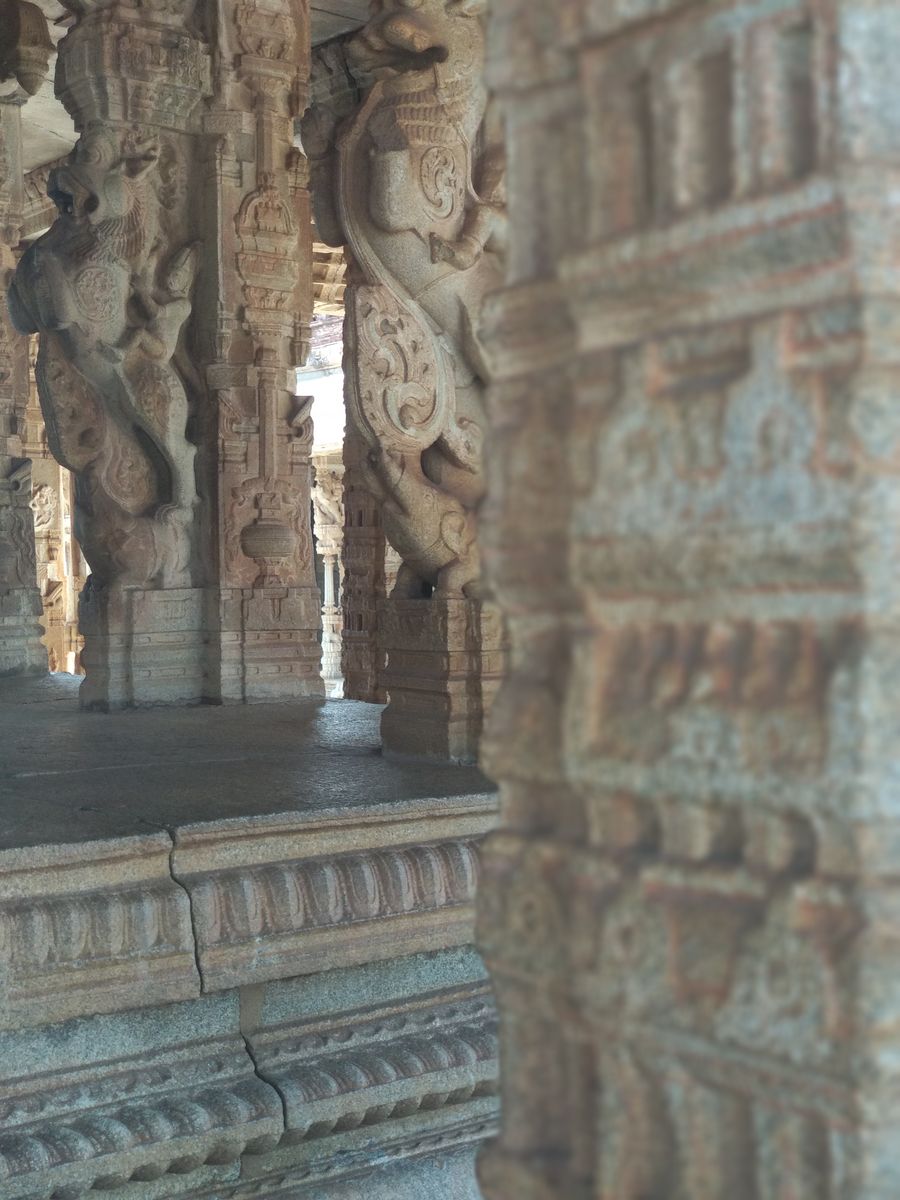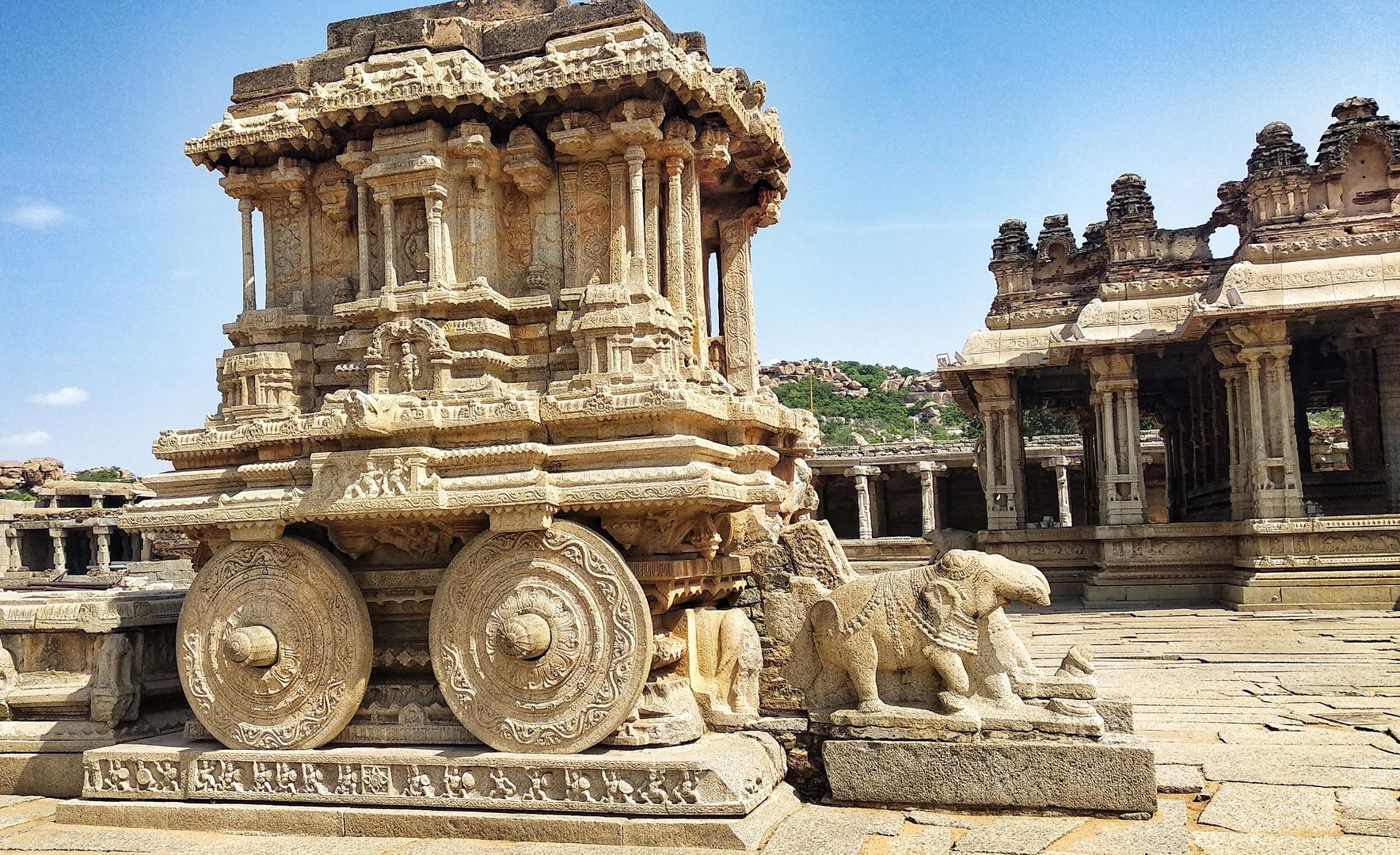 The Stone Chariot of Vittala Temple is the main attraction here and a must do in a two days Hampi trip. Do you know the Stone Chariot of Hampi is one of the three chariots in India! The other two stone chariots are located in Konark and Mahabalipuram. It is a shrine dedicated to Garuda. However, the sculpture is extensively damaged now.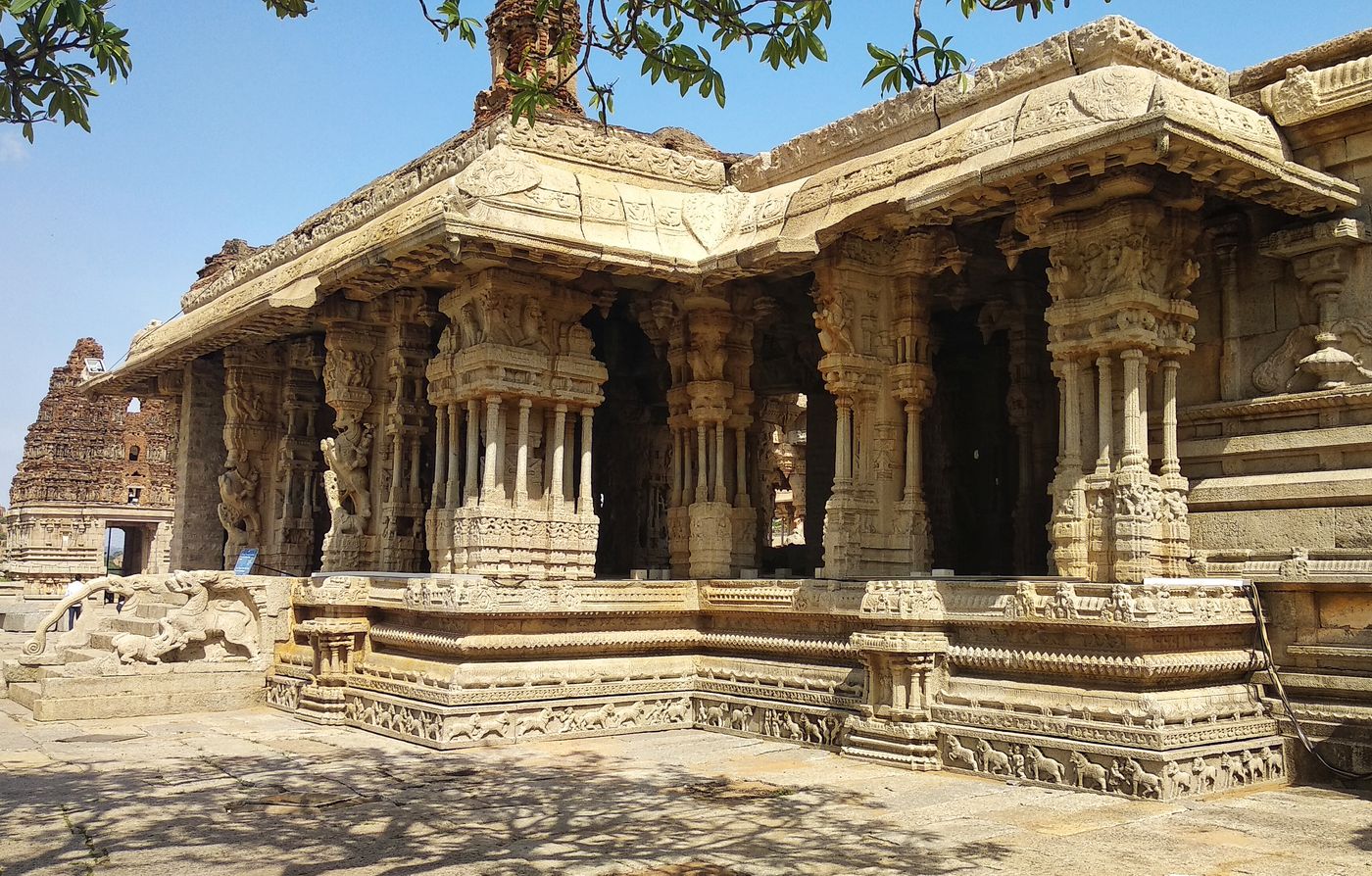 Ranga Mantapa is another highlight of the entire campus. I was fascinated by the musical pillars (56 in total) that are known as SAREGAMA pillars. It emanates the music when tapped gently!
Matanga Hill, Hampi sunset point
Matanga Hill is one the most talked about place here, you can experience an astonishing sunset in Hami and an aerial view of the entire city from the Matanga hilltop. Unfortunately, I couldn't go there as the last ferry to hippie island is at 5:30 pm and I couldn't afford to miss it. Otherwise, I had to take auto that would have charged around 1500 bucks to drop me to another side of the river!
The Hampi island side has a lazy and soothing vibe. You can easily spend several days there, laze around in your shack or just indulge in endless conversations with strangers at the cafes. Hampi has a vibe that is hard to resist and where even strangers look like friends.
Day 2: Hampi Itinerary of 2 Days
So for the next day, I rented a scooter. The other side of the river has its charm of own, I ride through the lush green paddy fields in the backdrop of mountains and trees and headed towards Anjaneya Hill.
Anjaneya Hill
The ancient town of Kishkindha, which is mentioned in Ramayana is the present town of Anegudi, about 5 km from Hampi. That is why Hampi is known as The Monkey Kingdom.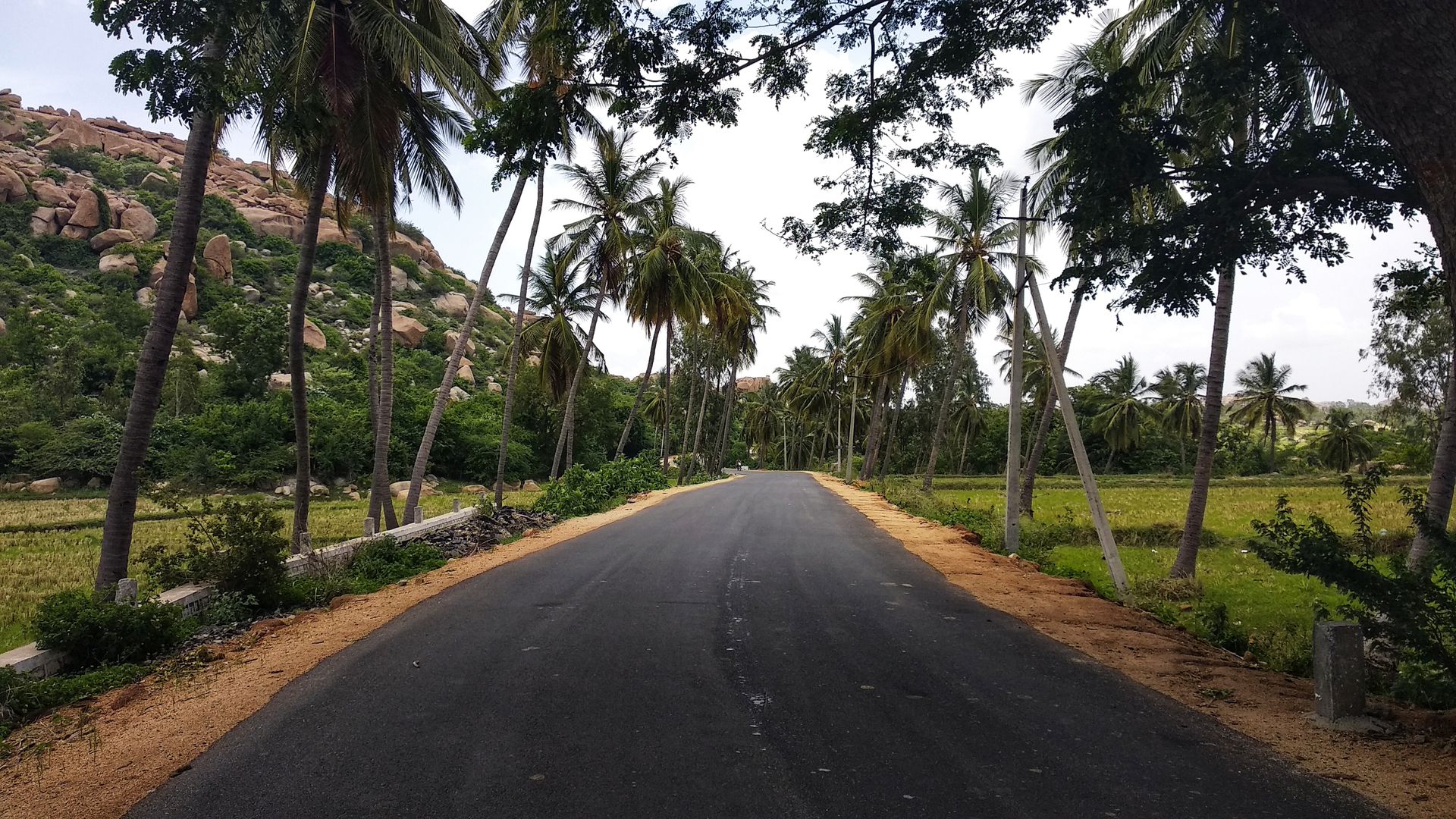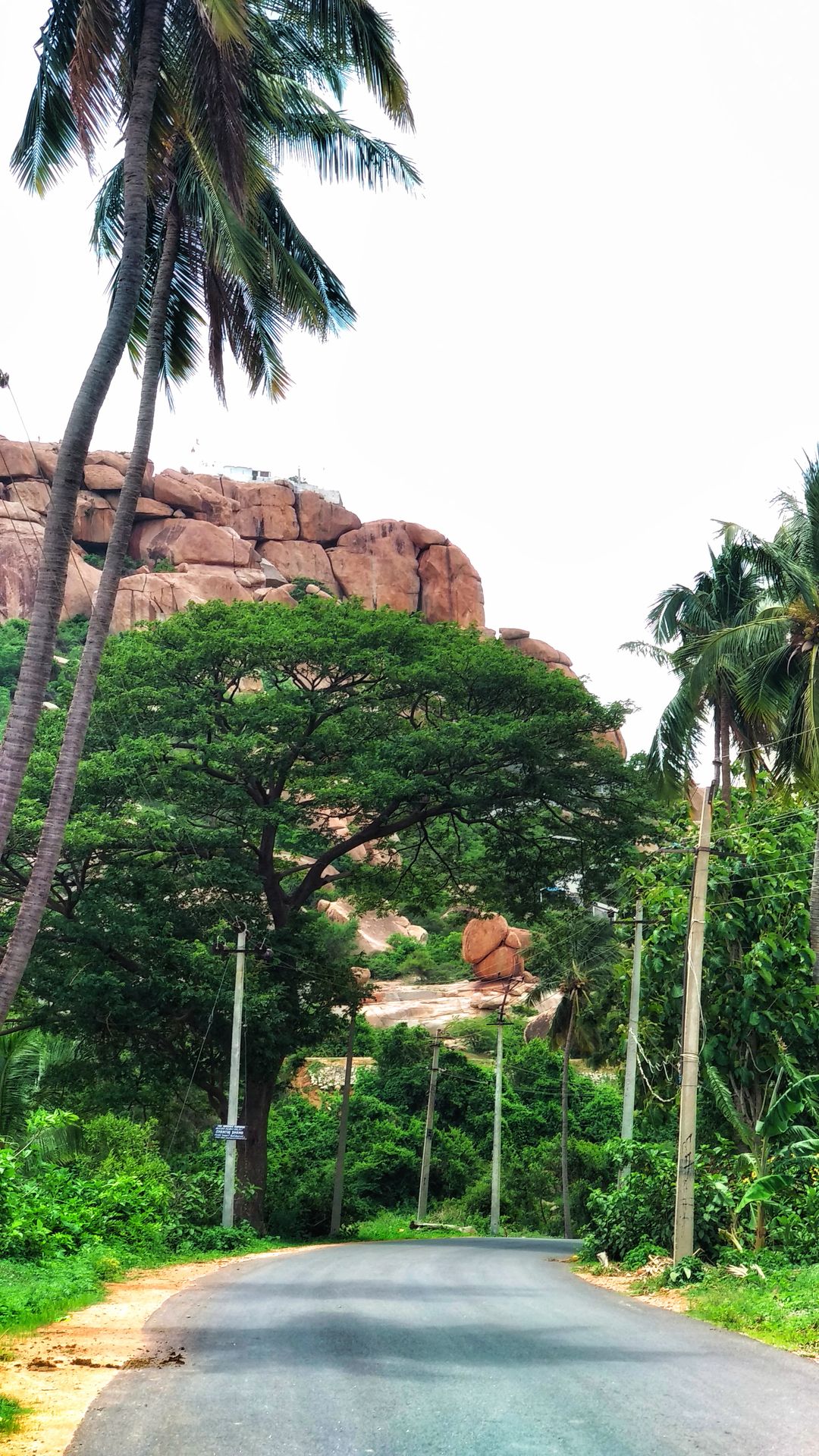 Anjaneya Hill is the birthplace of Lord Hanuman. You can see the temple on the hilltop. The way to the Hilltop is quite a climb, almost 600 stairs.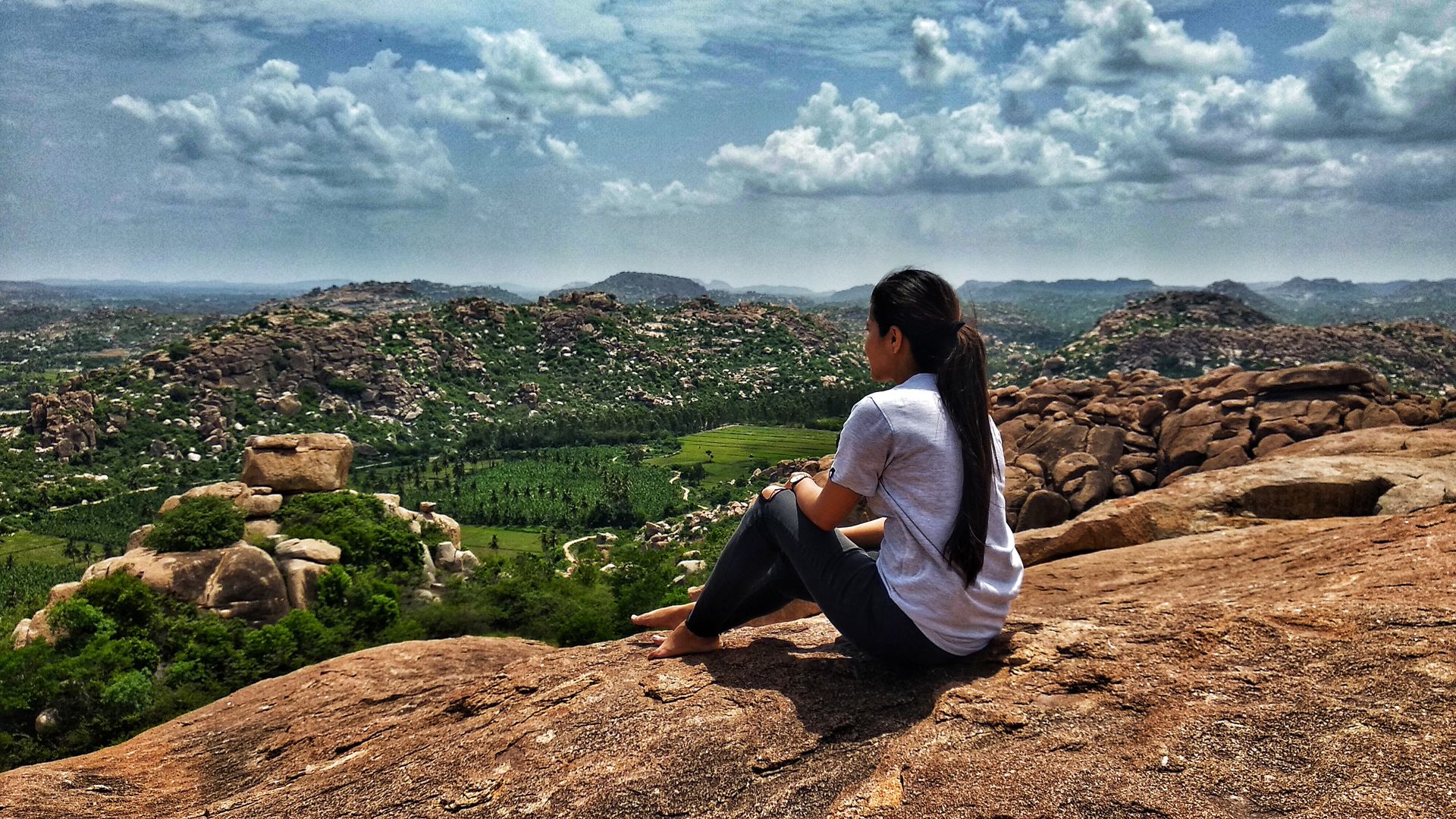 But the climb was worth it definitely. The view was marvelous; coconut trees, patches of paddy field, the ruins spread across the city and the Tungabhadra River.
Tungabhadra Dam
Spend the evening at the Tungabhadra Dam or you can take a coracle ride in the river.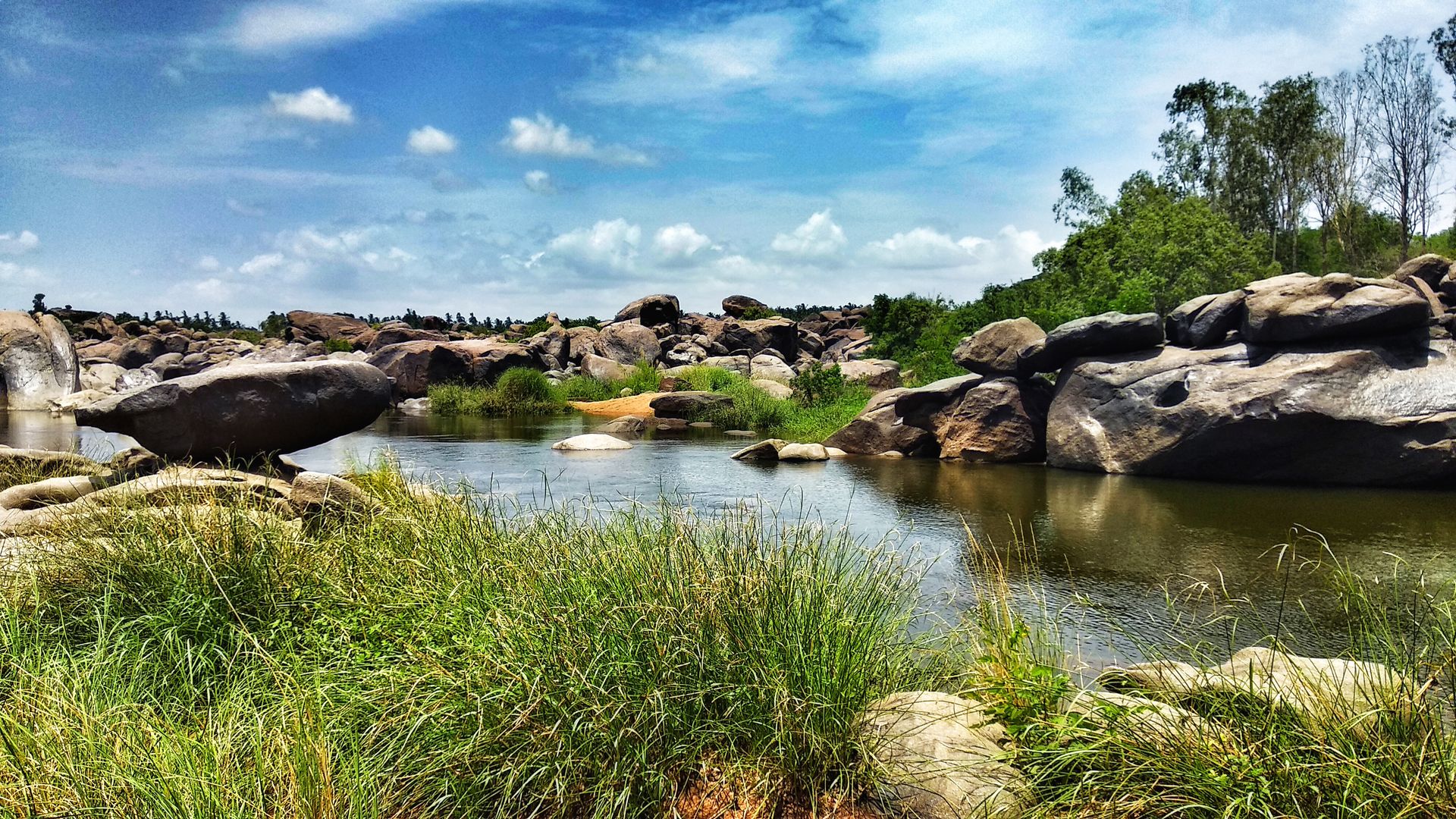 Tungabhadra River Bank, Hampi
I had a bus to catch from Hosapete to Pune at 6 pm. In the end, two days in Hampi felt like breeze. I left the place with the hope of coming back here again and explore the places that are left to get discovered.
Getting there – Pune to Hampi
I started my journey from Pune at 11 pm and reached Hospet at 8 in the morning. There are also direct buses right to Hampi bus stand but I could get one as it was already fully booked. As hospet is nearest town (with railways station) I had no issues to set it as my starting point. This was the first day of my 2 days in Hampi. You can easily get government buses and autos that will take you from Hosapete to Hampi. Hosapete to Hampi buses are relatively cheaper as that will cost you around Rs 25, while the autos charge around Rs 200.
As soon as I reached the town of Hampi for my weekend trip, I was spellbound by the mystical boulder landscape and the ancient monolithic architecture around. It might even remind some of you of Roman Kingdom. You will surely experience the best of both worlds in Hampi.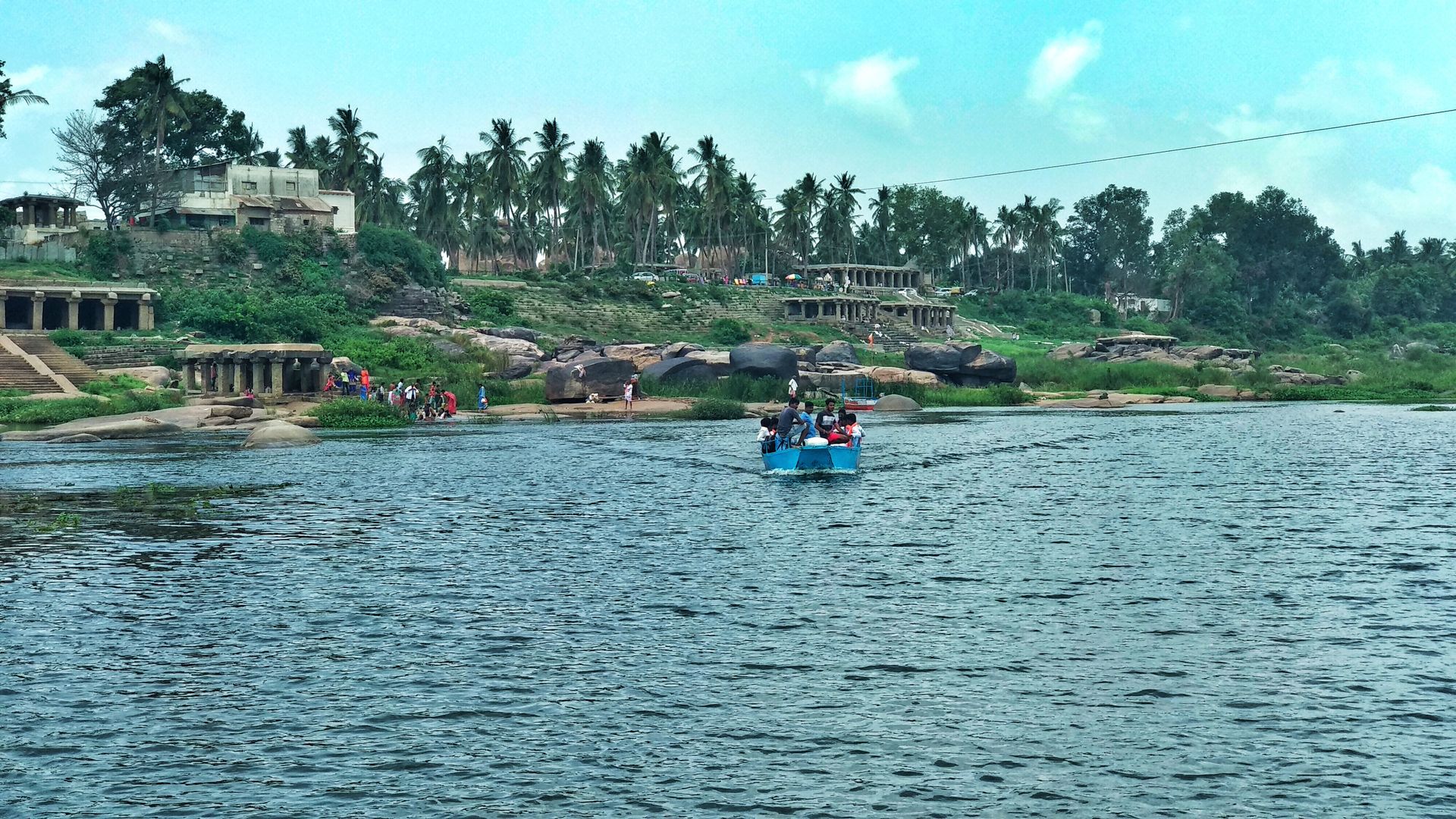 Tungabhadra River, Hampi
The village side has all the major historical monuments of Hampi, and as well as temples while the other side of the Tungabhadra river is known as 'Hippie Island' by the locals. Hippie Island is a popular destination among backpackers including young travelers from abroad. If you too are in same league, I will recommend you to stay on the Hippie Island. Also, to mention that there are often rave parties in Hampi that go on this side!
I chose to stay on the Hampi island for 2 days, for that one has to take a ferry from the ghat to cross the Tungabhadra River. The ferry is going to cost you Rs 20-50 depending on the luggage you are carrying along. The ferry point is right behind the Virupaksha temple, very close to the Hampi market.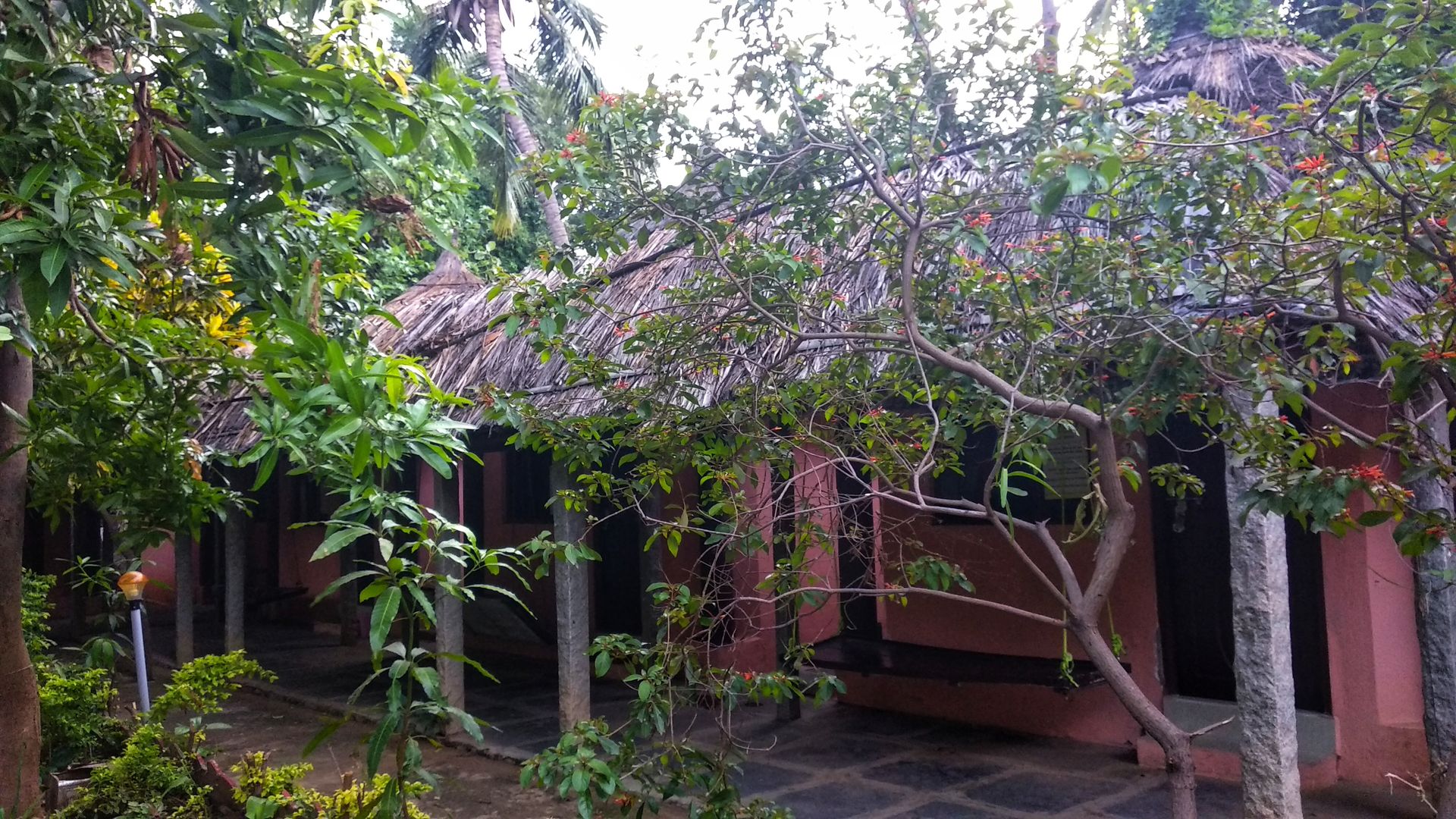 Once you cross the river you can find plenty of homestays. During the off-season, it is relatively easy to find a place to stay in Hampi but I will still recommend to book prior if you are planning to visit Hampi in the season (from October till February). I paid around 500 bucks for a single room. These homestays in Hampi have in-house cafes that will amaze you with their menu, from Idli Dosa to European breakfast they serve a variety of deliciously cooked food. And my hunger pangs were well satisfied for my 2 days of stay, no complaints!
I would strongly recommend setting aside more than 2 days to truly see the wonders of Hampi. No matter whether you want to chill in the hippie culture of the Hampi island or get amazed by the history and captivating architecture of the city, this ancient Indian town has lot to offer.
✓ Follow on Instagram:
👍@triplyzer
---
✓ Find the best offers on your
Stays on 🏡 booking.com
---
✓ Deals on Private xfers, City tours, Day trips
on 🛵 GetYourGuide
---