✓ You on Insta?
👍@triplyzer
---
✓ Find the best offers on your
Stays on 🏡 booking.com
---
✓ Deals on Private xfers, SIM Cards, City tours, Day trips
on 🛵 GetYourGuide
|
on 🛵 Klook
---
You are here at the beautiful rustic hill station of Darjeeling because you have been following my North east India itinerary, a perfect resource to help you plan your backpacking trip to north east India.
So, what is it in life that you cherish the most? No, don't say your parents, your significant other, children or so on. Make it more more about you… something defines you as a person…
I know, I know that's a tough one.
Tiger Hill Darjeeling distance
The distance between Darjeeling and Tiger Hill is 12 km. Tiget Hill is located in the small town of Ghoom just before Darjeeling.
Tiger Hill Darjeeling Height
Tiger is located at an altitude of 8482 feet (or 2,590 m) from the sea level.
Tiger Hill Darjeeling Taxi Fare
To get from Darjeeling to Tiger Hill by private taxi, it costs around 2200/- INR. If you go by shared taxi, it will come around 180-200 INR per person.
My Experience | Darjeeling to Tiger Hill
But I guess not as tough as getting up 3 in the morning, that too in freezing cold. But you know sometime all that pain is really worth it. This pain is what transforms moments into cherishable moments. So, here I was pumped up, the clock tick-tocked 3:15 (yes, I mean A.M.) and I was standing at the reception. Where the hell is my cab?
Boy was I excited! Is there anything which could be more magical than the view of Sun as it rises from the crests of the Kangchenjunga. I have read that peaks turn Orange in the hue of the rising Sun. I could only imagine myself basking in the lights of the majestic mountain.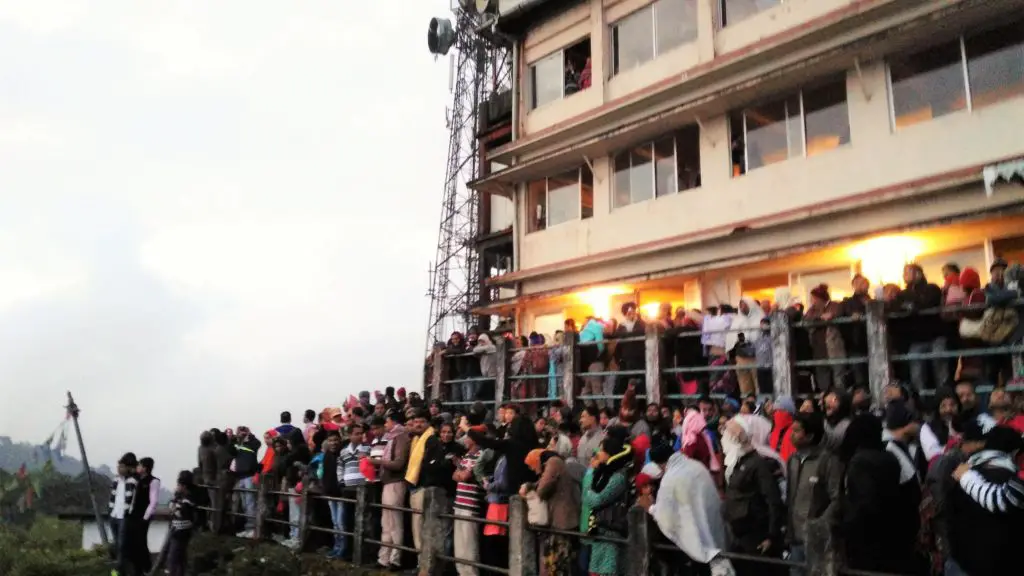 Darjeeling to Tiger Hill by Taxi
I was really nervous as I sat on the rickety sofa watching the clock tick, where the hell was the cab? I got in the cab at around 03:50, there were few people already sitting inside. The was a family of four with a five-year-old kid. There was this pair of girl who seemed familiar. One of them gave me a nervous smile; I flashed an awkward smile back wondering who they were.
The cab left at 04:15 sharp, I quite literally had to push the driver who wanted to wait for few more passengers to arrive. He didn't look very happy, he even asked me to get out if I was in such hurry. But I held on my position and kept on pushing him until he finally turned the key. The engine roared and off we went.
The miss nervous smile unwrapped a foil, and out came the momos. They, both the momos and the girls, looked familiar.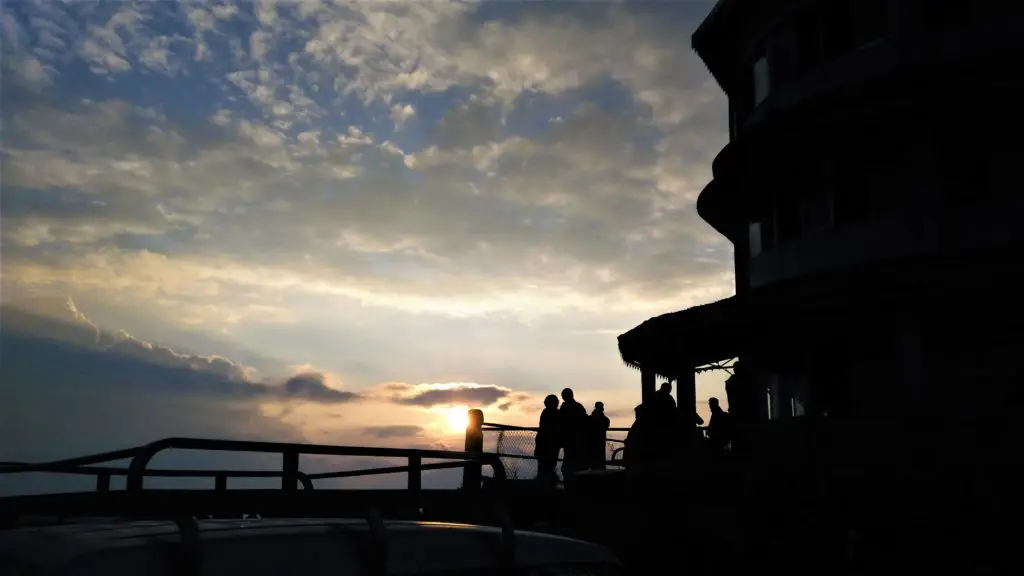 "You were there at this momo place?" The other girl asked.
"Kunga?" I suddenly remembered. They were the same ones sitting across me yesterday evening. What was happening to my memory, I should really start taking Brahmi (read my Kochi experience).
Darjeeling Tiger Hill Sunrise
The sunrise wasn't till 05:15 so we still had ample amount of time to get there. Boy, how wrong I was to assume that! As we moved along the highway to Ghoom, the traffic kept getting denser. It reached its peak just before we could reach the peak of the Tiger hills.
From the parking it was a short but cold walk to the view point. I pushed through the crowd and found myself a good enough spot.
As the time of Sunrise drew near, the atmosphere grew tense, nudges turned into pushes, everyone wanted the best spot. But what for?
I raised my gaze toward the distant clouds, took a deep breath and closed my eyes. I tried to imagine the moment, the fresh mountain air caressing my forehead, the vast sky encompassing me, the snowy peaks standing majestically, and the glowing Orange light inspiring and guiding.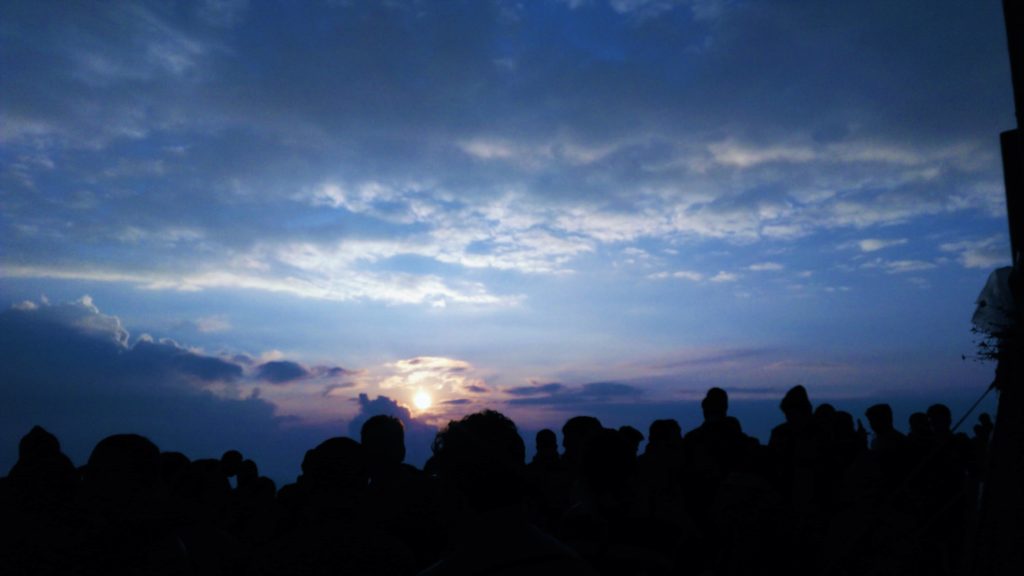 I opened my eyes and the dream was broken, there was nothing in front of me but a clouded vision. Would I ever be able to find what I was looking for? Did I really know what I was looking for? Or life was just an unending quest to chase something unattainable?
I flagged down a cab which dropped me to jorbangla turn, from there I found another cab going to Siliguri. In two hours flat I was in Siliguri.
I took the bus going to Nepal which dropped me at Bihar mod. Everything went as expected (how boring!) and by 09:00 I was standing at the Bihar mod. I had plenty of time so I decided I'd eat something. I spotted a decent looking dhaba and went in. The waiter got me poori subzi, it was the only option available in breakfast.
After the food the waiter insisted me to have mishti but I first ordered a tea. After the tea came the Mishti, a huge rasogulla! I savoured every bite of it. I liked it so much so that I ventured to have some more sweet, and got myself some chum chum. The whole breakfast bill came to mere 35 and six pieces of sweet costed me 45 INR! Was it because Bengal was a socialist state?
I hailed an auto and found one more guy going to airport. Inside the airport I found a comfortable enough spot where I could stretch my legs over chairs in front of me.
I was so bored I started reading messages on the tee shirts, and saw one with the message – Hogwarts alumni. How the boy wonder doing these days? I almost felt like asking him.
I chatted with a family of four who were going to Mumbai after a week's vacation, I caught the twenty something guy looking at me couple of times, perhaps she was wondering what I was typing so intensely on my smartphone (this post actually) or my ragged, unkempt appearance raised his curiosity. He finally mustered up the courage to speak,
"Where is your luggage?"
I smiled and looked at my backpack resting on the next seat. I looked at the suitcases that piled on each other on a trolley kept near to him. I got up and pulled my backpack, it was time for my flight.
PS: On the flight i had a very strange dream, only that it wasn't a dream. My sleep was broken and I looked outside the window, we were flying over a very strange land… till date I had no which was that place.
✓ You on Insta?
👍@triplyzer
---
✓ Find the best offers on your
Stays on 🏡 booking.com
---
✓ Deals on Private xfers, SIM Cards, City tours, Day trips
on 🛵 GetYourGuide
|
on 🛵 Klook
---