✓ You on Insta?
👍@triplyzer
---
✓ Find the best offers on your
Stays on 🏡 booking.com
---
✓ Deals on Private xfers, SIM Cards, City tours, Day trips
on 🛵 GetYourGuide
|
on 🛵 Klook
---
My solo trip to North East India started with a whim… and the execution of it too was kind of last minute, though nothing odd about it… if you have been following my travel blog you know that's my usual thing.
I built a quick North East India itinerary, booked my ticket and off I went…
Loktak lake had been on my mind for quite some time, it just that I couldn't find that 'some time'.
I originally planned my solo trip to Loktak in earlier during extended republic day break, but it finally materialized later during the Independence Day break.
Better late than never, right?
Loktak lake is one of the most beautiful natural lake in India.
Add to the fact that there are not many travelers around, makes it a top destination in north east India.
In-fact, when I was there in the Loktak lake area, there was no, yes not a single tourist, around.
I had the whole lake for myself, of-course along with the locals.
Tourism in Manipur is at nascent stages as the area has suffered from militant insurgency for long time.
It's only a few back that Manipur has stabilized and gained peace.
There is no surprise then tourists are slowly discovering Manipur.
Interestingly, the Loktak area was once the centerpoint of Manipur's insurgency.
It was terrifying and sad at the same time to know that this beautiful place was haunted for so long.
I stayed at a guesthouse run by a local who had been staying in Loktak area for all his life.
Imphal airport is quite barebones in terms of facilities, perhaps because it's a military airport and not a commercial one.
To reach from Imphal airport to city center I was told to take a shared auto.
I walked out to the main road and got one with ease.
The shared tuk-tuk ride was very comfortable and I reached the Imphal center in 15 minutes.
There was no traffic on the road, all the while I was looking around like a curious baby trying to figure where am I.
On the way from Imphal airport to the city center.
I saw quite a few temples… I was surprised, I had the impression that Christianity was dominant religion.
I saw people wearing starch white traditional clothes on the road, I saw some of these near the temple.
Perhaps, this was some kind of dress code; I couldn't figure.
Since, Loktak lake is located bit outside from Imphal, the next step was to find a public transport.
To reach the Loktak lake from Imphal, you can either hire a tuk-tuk or cab for around INR 1000/-.
Alternatively, you can get on a shared ride, for a fraction of a cost.
I got in shared taxi, it was the last seat available, which meant I don't have to wait for it to get full.
But on the flip side it was little uncomfortable to sit in.
As it turned out I was out of luck that day, as the main road to Loktak lake was blocked due to some political gathering or something.
The driver took us through dusty, bumpy in roads which added lot of time to the journey.
The journey time taken from Imphal to Loktak is usually 40 minutes, but this was took around 1.5 hours.
After a bone rattling ride I finally landed in the town of Moirang.
I was quite surprised to know that this small dusty town of Manipur had a very important place in the history of India.
Moirang is the place where the flag of Independent India was hoisted for the very first time.
Though, it was much before the independence the rest of the India got.
The man who freed India and hoisted the national flag was no other than the forgotten hero, Subhash Chandra Bose.
His Indian National Army entered Manipur through Myanmar as the state shares a long border with Myanmar.
Today, you can still visit the exact place where the flag of Independent India was first hoisted.
The distance between Moirang and Loktak lake is around 10-15 km and it take about 15 minutes to get to the lake area.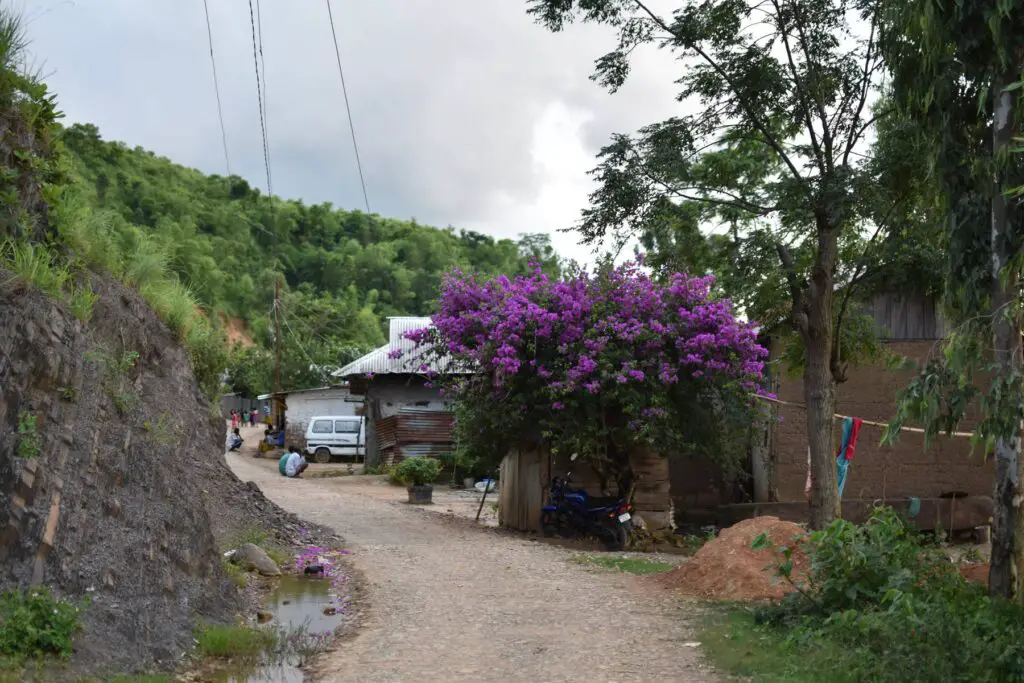 From Moirang town I boarded another shared tuk-tuk, which took quite a lot of time to get started as it was empty.
The locals in the tuk-tuk were excited and happy to have a tourist among them.
They knew exactly where I was going as Maipakchao homestay is the popular option for budget backpackers.
There is also a resort, Sendra Resort, which is popular as a honeymoon stay.
From the road, I walked down the small road to reach the Loktak lake guesthouse.
As soon I reached the spacious premise I was smilingly greeted by the owner.
He had been on phone with me all this while and gave me the exact directions to reach Loktak lake from Imphal airport.
My room though very humble, was just about right for a solo traveller.
After I settled down, I was invited for tea and snacks.
What a fantastic view!
That was first view of the beautiful Loktak lake.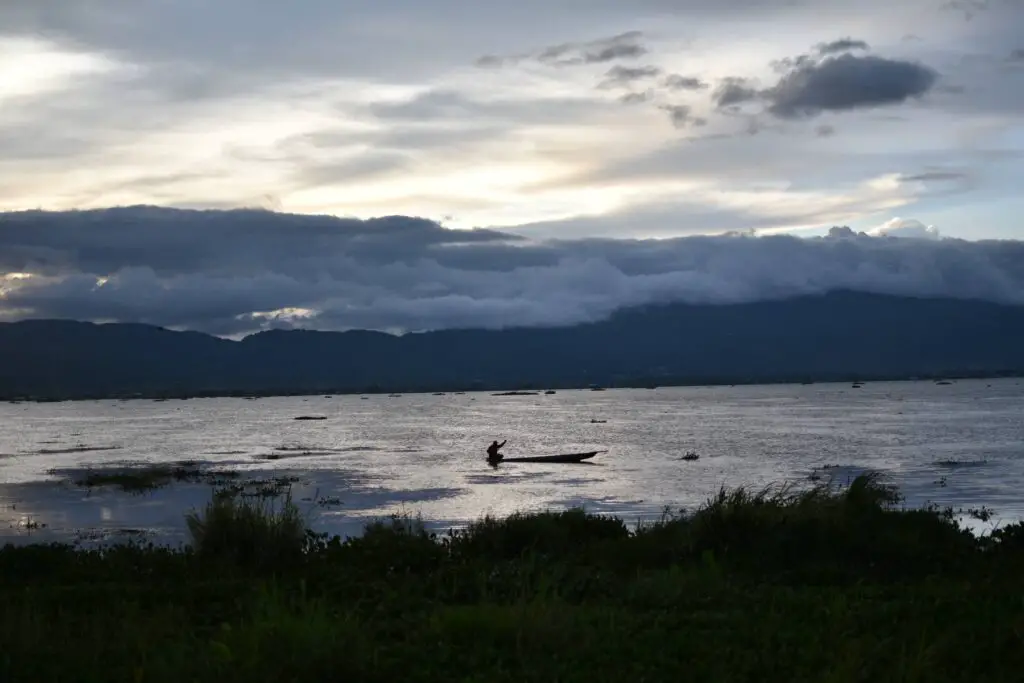 I was served with the local Black tea, which was little different to say the least.
He asked me for how long I was staying in Loktak lake, I had a plan for 2 days in Loktak.
But as it turned out I ended up staying longer.
I was in love with this natural beauty.
Keibul Lamjao National Park Later in the evening Mr. Maipakchao offered me a ride to the Keibul Lamjao National Park.
Spread over an area of 40 sq. km., this unique national park is famous for being the only floating national park on the planet!
The Keibul Lamjao National Park is famous for hog deer.
The short 15 minutes' drive took us through a beautiful village scenery.
The rustic old villages of Manipur set admist the rolling hills and the quaint Loktak lake.
We drove on a thin strip of land both sides of which was the lake.
When we finally reached the gate of the national park, the guard happily let us in.
Thanks god there is a visitor, I could read his mind.
The ownertook me to the viewing post which directly looked over the floating national park.
He handed over the binoculars to me and start instructing on where to look for the hog deer.
Watching hog deer in its natural habit, beautiful floating national park, spread over upto the limits of my vision, was truly a unique thing to do in Loktak Lake.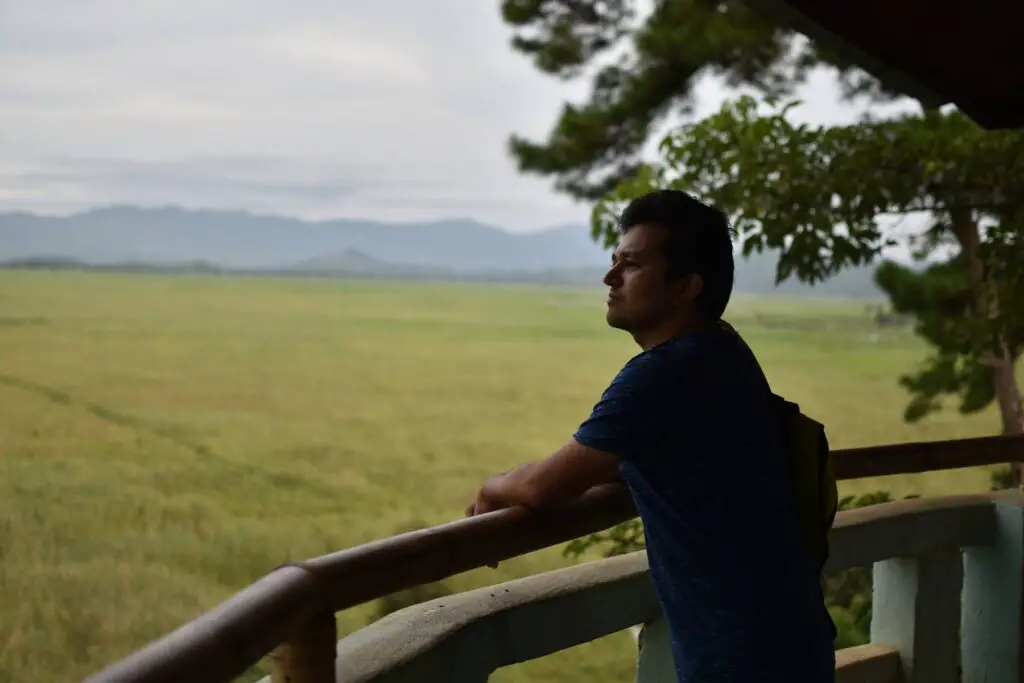 On day two of the Loktak itinerary, I got up and got myself ready for the boat ride.
I was really excited to go early and see the sunrise but perhaps I didn't really insist on it and the boatman arrived a bit late around 8.
The boatsman was a local boy who was helping his family with an extra income.
I took the quaint Loktak lake boat ride on a row boat, cruising smoothly over the gentle waves.
Maybe it was my own fault or the guy was smart, we didn't really go much further.
The short boat ride on Loktak lake didn't really justify its price.
At the same on boy's defence, there was strong wind which was making the boy struggle with the oars.
A strong reason I didn't really insist him on taking me to further distance.
Interestingly, the body had loaded a battery on the boat before leaving and offered me to show his floating guesthouse on Loktak lake.
Well, a bamboo guesthouse which was located smack in the middle of the lake.
So, the idea was that the boy was to drop the battery to his guesthouse.
We spent some time on his floating guest house, the whole family, mother, father and a young daughter greeted me.
They had a viewing platform built, the views from which were fantastic to say the least.
I can confidently say it would be a great experience to spend the night there and witness the beautiful sunrise over the Loktak lake.
The woman and kid were watching a daily sop on their mobile, a testimony to Indian's mobile internet revolution that has swept the country in past couple of years.
I stretched under the mosquito net, on the hard floor as the sun was blazing in its full glory.
After resting for few minutes, it was time to go back.
On day 3 of my Loktak lake itinerary, I didn't really do much.
I went to Moirang and visited the Subhash museum.
I needed some cash and there were no ATM in the village, it only made sense to go to the Moirang to get the necessary cash to pay this Loktak lake homestay.
My original plan on last day of Lotak lake trip was to go Imphal and come back.
In the hindsight I can say I could have moved in the evening and stayed in the Imphal city to take a day trip next day.
This is what I will recommend to you as well.
I didn't do it probably because I was feeling too comfortable, of-course I was charmed and just wanted to spend more time lazing around the beautiful lake.
I spent a pretty relaxed day, and in the evening, I went on to climb a nearby hill to witness the beautiful sunset over Lotak lake.
Sunset, did you say sunset?
Yes!
I have not seen such a magnificent sunset before in my life.
The range of colors that exploded on the dusky sky will take years to count!
Interestingly, the girls were more excited to be up there.
They took, let me count, 1..2…3 ..
okay well no less than hundred pics… And then they went on to take even more pics, playing around with snapchat filters… I also managed to request couple of my pictures to be taken and happily obliged.
By the time we descended from the hill top it was dark.
I had few slips but thankfully it was just minor stuff.
It was now time for me to leave, I had to return from Lotak lake to Imphal.
Along with Mr. Maipakchao waited for some time for the shared auto to come by but as if he could feel my uneasiness; after all I had a flight to catch.
Mr. Maipakchao was kind enough to drop me in Moirang, he even made sure I was seated in the shared tuk-tuk going from Moirang to Imphal.
Everything was going fine, I felt that I should be able to make it in time.
But what if there was again some political disturbance on the road?
The missed connection could ruin my entire 7 days north east itinerary.
On the way, we were stopped by a bunch of armed forces, perhaps Army or some kind of border force, I can't say for sure.
Anyway, I was unsettled to see there were heavily armed and checked everyone's luggage.
I was asked to show my id and which I duly did.
When I said earlier in this Loktak lake travel blog that insurgency was a big problem in the area until recently it seemed quite evident now.
Lucky for me, check-in was completed rather quickly, and we were (me and other co-passengers) again on the road.
From Imphal city I again walked down to a tuk-tuk stand were I easily found one of the shared tuk-tuks going towards Imphal airport.
Leaving Imphal made me sad, there was so much to explore that at minimum I needed an itinerary of 6-7 days in Manipur.
But with a promise to come back, I set on course to my onward journey.
My next stop on my 14 days North East India Itinerary was the adobe of the clouds, Meghalaya.
✓ You on Insta?
👍@triplyzer
---
✓ Find the best offers on your
Stays on 🏡 booking.com
---
✓ Deals on Private xfers, SIM Cards, City tours, Day trips
on 🛵 GetYourGuide
|
on 🛵 Klook
---