✓ You on Insta?
👍@triplyzer
---
✓ Find the best offers on your
Stays on 🏡 booking.com
---
✓ Deals on Private xfers, SIM Cards, City tours, Day trips
on 🛵 GetYourGuide
|
on 🛵 Klook
---
I backpacked through Laos, and came up with this Luang Prabang backpacking guide. In this Luang Prabang Solo Trip Guide, I have listed down the tips and hacks that anyone backpacking Laos need to know.
By the time I arrived in Luang Prabang from Hanoi it was dark. Here I was in a strange land, completely alone, and left in dark to figure out what to do in Luang Prabang. Instead of worrying, I decided to take it one step at a time, and the first one was getting a Laos visa at the Laung Prabang airport.
Tips | Backpacking Luang Prabang
1. Visa: Getting the Laos Visa took a max of 15 minutes – super easy process, no documentation required. Just a photograph. On arrival tourist visa for Indians cost $41 If you don't have the cash you can use the ATMs outside the airport.
2. ATM at airport: There are four ATM machines outside the airport, each with different transaction fee – 20k kips, 40k kips and 3% of the transaction amount. Choose you think is cheapest for you.
3. Budget Tip: If you are arriving from Vietnam or Thailand you'd find Laos bit expensive in terms of accommodation, food, transportation and entrance charges.
4. How many days in Luang Prabang: One day is good enough to see the attractions of the town. But if you have more time,  spend half a day or a full day to rent a bike go to the nearby water falls.
Money and Currency Exchange in Luang Prabang
5. Change money in the town, you can find rates as high as 8100! which is basically the ongoing rate in the exchange. No extra fees. Try the shop next to Indigo House for the best rates. It's right at the central circle.
Getting from Airport to City Center | Backpacking Luang Prabang
6. Taxi to Luang Prabang town from airport costs a flat 50k kips. Now, you have two alternatives to save some money: Walk out of the airport to main road and catch a songthaew for 10-20k kips depending on your negotiation skills
Or talk to the cab driver directly and negotiate a price. This is what I did as I arrived late in the night – I paid 25k kips i.e. half the original price.
7. From Luang Prabang town to airport: Your hotel can help you split the cab fare, ask the staff. Else take the tuk-tuk to the airport, the cheapest you will be able to get is 20k kips. I was asked 50k kips (that's the rate of taxi!) and was able to get it down to 20k.
Where to stay
8. Backpacker Downtown – booking.com/backpacker
There is only one good backpacker hostel in the town called Backpacker Downtown Hostel, dorm room rate are 50 kips per night. The Backpacker Downtown hostel is conveniently located at the center, near to both the night market and river front.
This is the highest rated hostel in Luang Prabang with an average of 9 stars (335 reviews). This is where I also stayed and can vouch for it. Breakfast is included in the price and tea, coffee are available all day for free. Also, lots of opportunity to make friends in the common area. I met an interesting trio of professors from a Kerala university, and a Japanese woman who has been almost everywhere (including Rishikesh).
Bed in 6-Bed Dorm Room:  $6 U.S | Breakfast included
9. LPQ Backpackers Hostel (Chanthy Banchit Guest House)
The stylish LPQ Backpackers hostel is located at a 10 minutes walk from the Phousi Mountain (consider this the center of the town).
Bunk Bed in Mixed Dorm: $5 US | Standard Double Room: $12.5 US
10. Sa Sa Lao Hostel for Backpackers – booking.com/sasa
I think Sa Sa Lao is the most beautiful hostel/ guesthouse in the entire Luang Prabang. It has an attached garden, and a terrific terrace (facing the river) where you can relax and enjoy a drink. And yeah, did I mention the rooms made with bamboo? On the downside the hostel is quite away from the center.
Bed in 6 Bed Mixed Dorm: $9 | Deluxe Double Room with River View: $25
12. Viradesa Guesthouse – bookin.com/viradesa
Located right on the riverfront, this is an affordable,no-frills guesthouse run by a Chinese owner. Did I mention the dorms are very spacious?
Bed in Mixed Dormitory: $7 U.S. | Standard Twin Room With a/c: $18 U.S.
Things to do | Backpacking Luang Prabang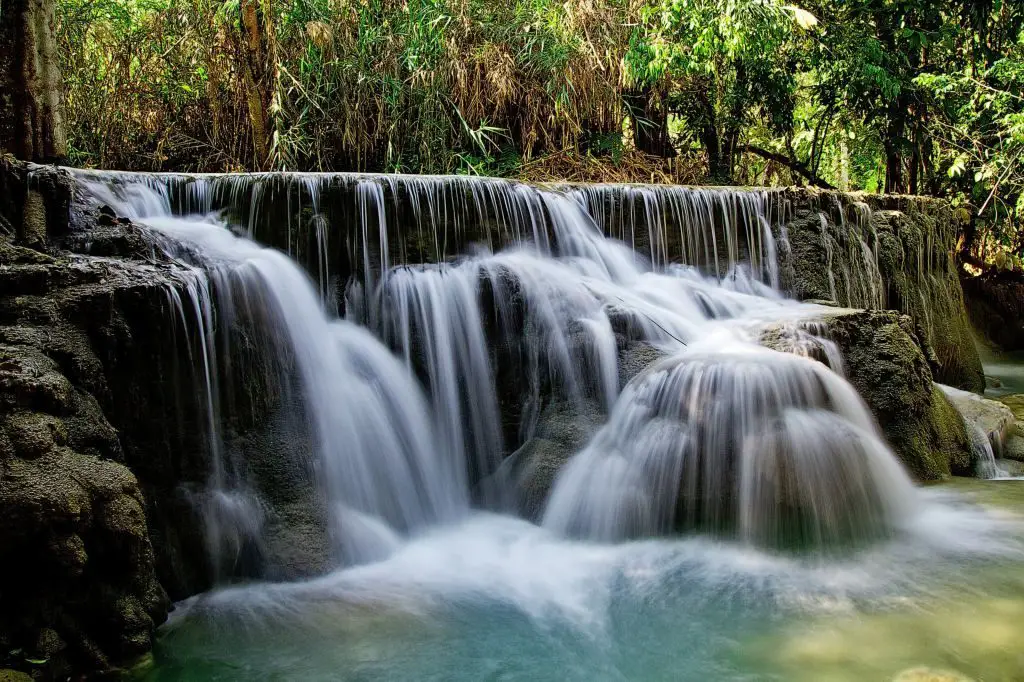 13. Explore Luang Prabang, Old Quarter: The beautiful Old Quarter of Luang Prabang is UNESCO World Heritage site. Walk along the shores of the great Mekong and you'll come across a string of beautiful houses and ancient temples still in great shape. I think the old colonial French architecture fuses really well with the grandeur designs of the Lao temples.
14. Wat Xieng Thong: The one temple you need to see in Luang Prabang. The gold decoration is exquisite. Go late around the closing time to avoid the entrance fees.
15. Climb up mount Phousi: for great sunset view over Mykong. Entrance fees is 20k kips. Mount Phousi is located right in the middle of the town, the entrance is opposite to the Royal palace. Interestingly you can get up there for free if you come from the opposite side of the hill.
16. Kuang Si Waterfall: There are couple of waterfalls outside town – Kuang si is the one you want to see at a distance of 30km from the city.. You can go by motorbike, take a tuk tuk (20k kips round trip) or take pre-arranged mini bus(35k kips round trip). Skip if it's raining.
17. Pak ou caves: Skip Pak ou caves, it's a tourist trap.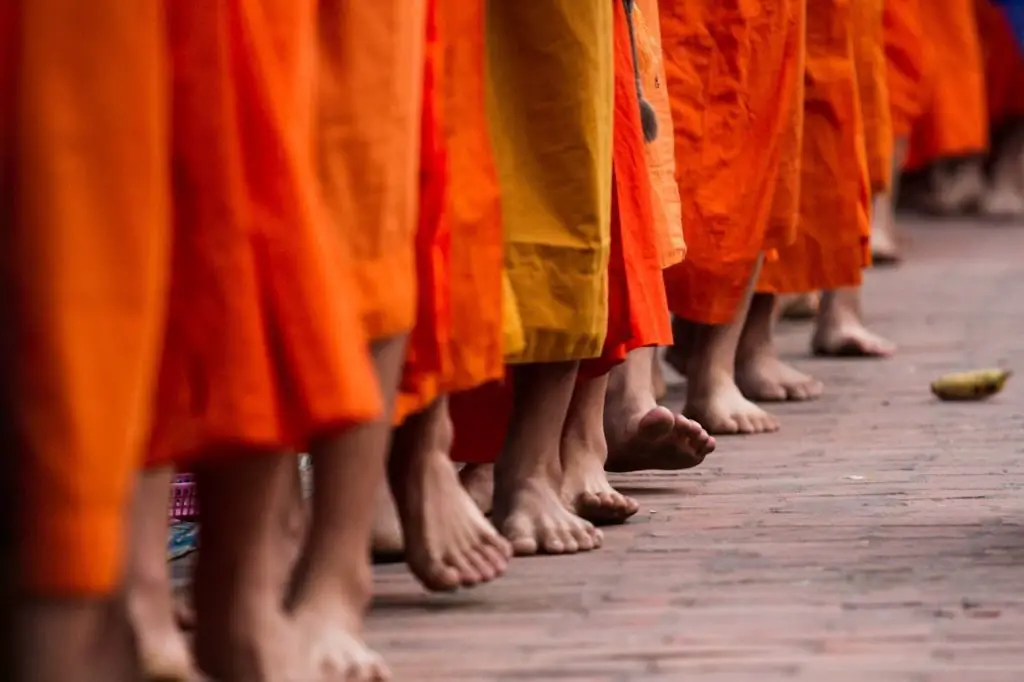 Where to Eat | Backpacking Luang Prabang
18. The cheapest options to eat are on the river front and in the night market. A meal costs at least 25k kips but you can find something at 15-18k kips as well if you look hard.
19. Lao Lao garden: Meals as low as 19k kips. They claim to use vegetable oil for cooking.
20. There are no mini Mart chain stores (like 711 or kmart) in Luang Prabang but only small shops run by locals. A big water bottle would cost 7000 kips while a smaller one would be 5000 kips.
21. D&T supermarket: The only big supermarket you will find in Luang Parabang. Refill you groceries at comparatively cheaper rates here.
22. Eating at the Luang Parabang night market: You might get tempted to eat the buffet at the night market but I'd advise you to skip. It's served cold and rather 'cheap' in taste – definitely not worth 15k kips.
Save the money and spend it at a half decent restaurant. If you must try street food try the baguette with olive,cheese and tofu. It costs 20k kip and you can find it near the circle just where the tuk tuk park.
Where to Drink | Backpacking Luang Prabang
23. Try the local beer called Beer Lao. Small one costs 8000kips while bigger one costs 12000 kips.
24. In supermarket near Dara market the Beer Lao lager costs 5500 kips and local whiskey around 10k
What Next
25. Van vieng – Prearranged Bus Ticket from your hostel – 100k kips – day bus only
26. Vientiane – 160k kips – overnight bus
✓ You on Insta?
👍@triplyzer
---
✓ Find the best offers on your
Stays on 🏡 booking.com
---
✓ Deals on Private xfers, SIM Cards, City tours, Day trips
on 🛵 GetYourGuide
|
on 🛵 Klook
---