Backpacking Sri Lanka alone had been on my to do list for quite some time, until one fine new year break, I got the chance to explore this beautiful island nation.
My Sri Lanka solo trip turned to be even great adventure than I had imagined it to be. Beautiful beaches, great food, cheap and fast transport!
Traveling to Sri Lanka alone is easy, thanks to excellent road and train connectivity. Hotel booking can be easily done through booking.com and you can just pop-in to your reserved hotel in Sri Lanka.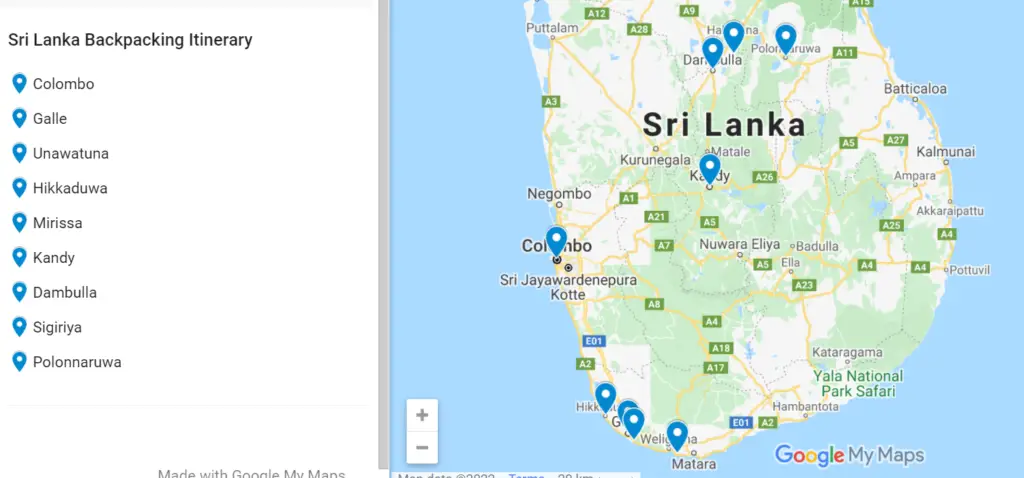 In this travel blog I will share my tips along with the top destinations that travelers must go to while traveling to Sri Lanka alone.
So, without further ado, here are places to include in your solo travel to Sri Lanka:
Colombo | Sri Lanka solo travel
Your trip to Sri Lanka begins with Colombo. The city of Colombo will give you a feel of mix of young and old. It has both an essence of cosmopolitan as well as a heritage of age old traditions.
Mostly tourists choose to skip Colombo as it doesn't really have anything unique to offer the travelers to Sri Lanka. Tourists either proceed from Colombo to Kandy, a beautiful mountain city or to Galle, a famous port town.
The international airport in Colombo is small but serves its purpose. You can stack up on some alcohol from the duty free shop on the way out, at least this is what I saw lot of people engaged in.
Once outside you can either take a bus to Fort railway station or take one of the cabs (shared also available) to Kandy. From Fort railway station you can take a train to either Kandy or Galle.
---
Kandy | Sri Lanka Solo Travel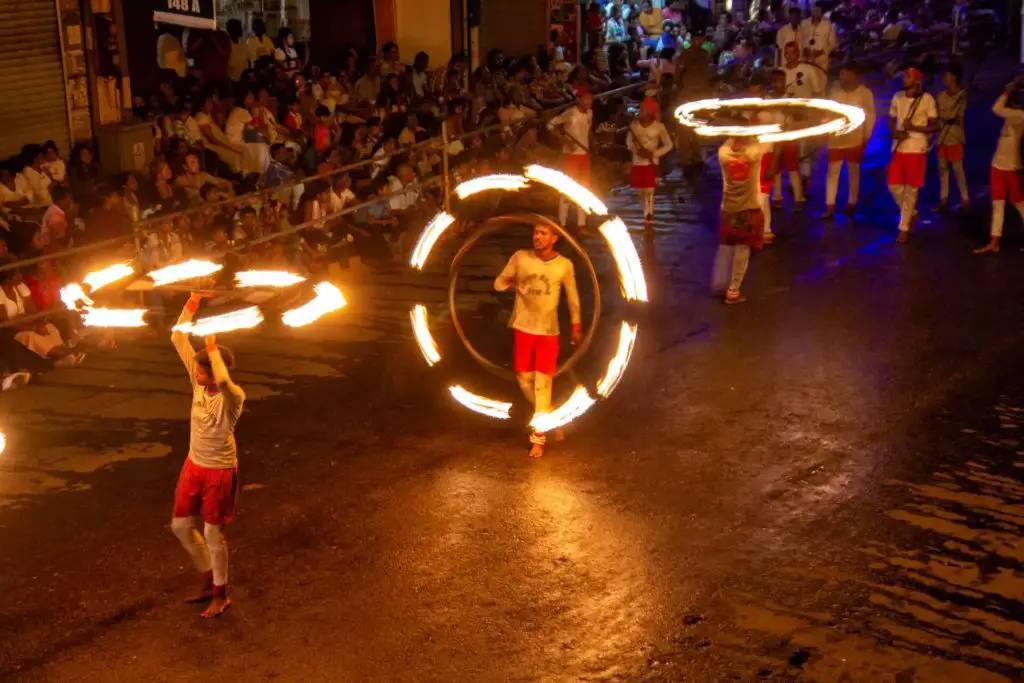 The next destination on your solo trip to sri lanka is the hill station of Kandy. The town of Kandy is known equally for its beautiful landscape as well as the highly revered temple of tooth. As the name suggests the temple in Kandy houses a tooth relic of Buddha.
The entrance fee of Temple of Truth is 1500 LKR for foreign nationals and 1000 LKR for people from SAARC countries. During peak morning and even times, the temple can get crowded so plan accordingly.
The gardens attached to the temple are free to roam, even if do not wish to enter the temple you can watch and soak in the energy around from outside.
---
Galle – Solo travel in Sri Lanka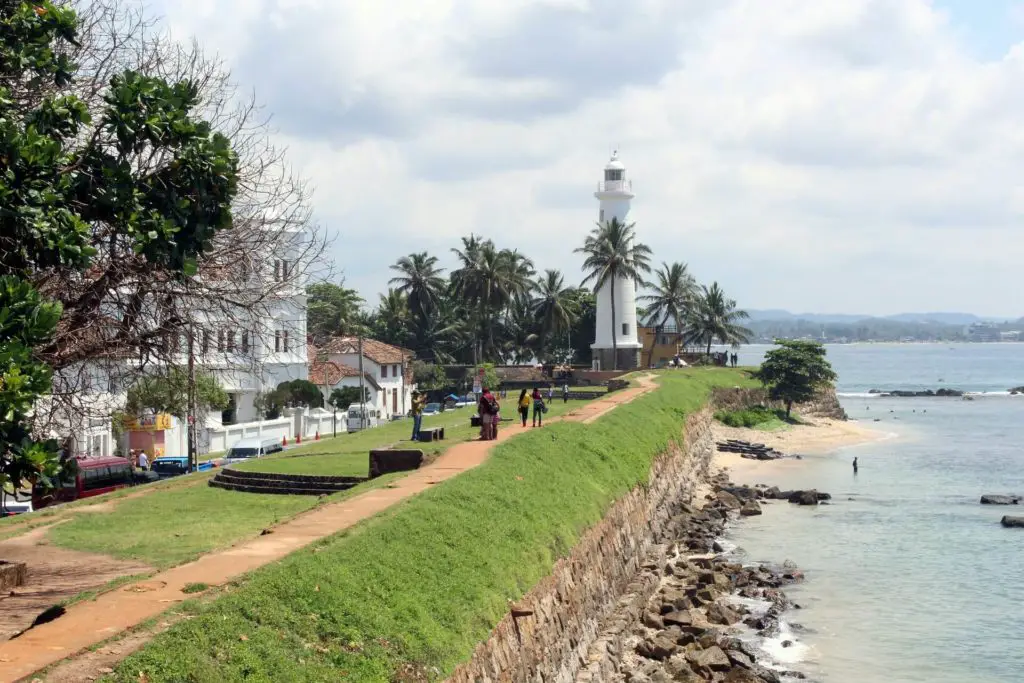 Galle is one of my destination on the Srilanka backpacking route. Pronounced as Gaul, Galle is the fourth largest city in the country. It is fast and easy to get to Galle from Colombo as it is located on the coastal highway.
Galle is known for its beautiful coastline and a well preserved old town. The old town remains as a heritage of the colonial rule and today houses numerous restaurants, cafes and hotels.
How to get to Galle from Colombo
Take bus no. 138 from fort bus station to maharagama bus station in Colombo. There is no need to reserve the bus as several buses run every hour, throughout the day. From Maharagama the first bus to Galle from Colombo leaves at 05:45 AM.
There are both ac and non ac buses available. Ac buses are way faster and preferable if you are short on time. Non ac buses takes about 2.5 hours to reach Galle. The ticket costs about 140 LKR for non-ac buses.
---
Dambulla | Sri Lanka Solo Travel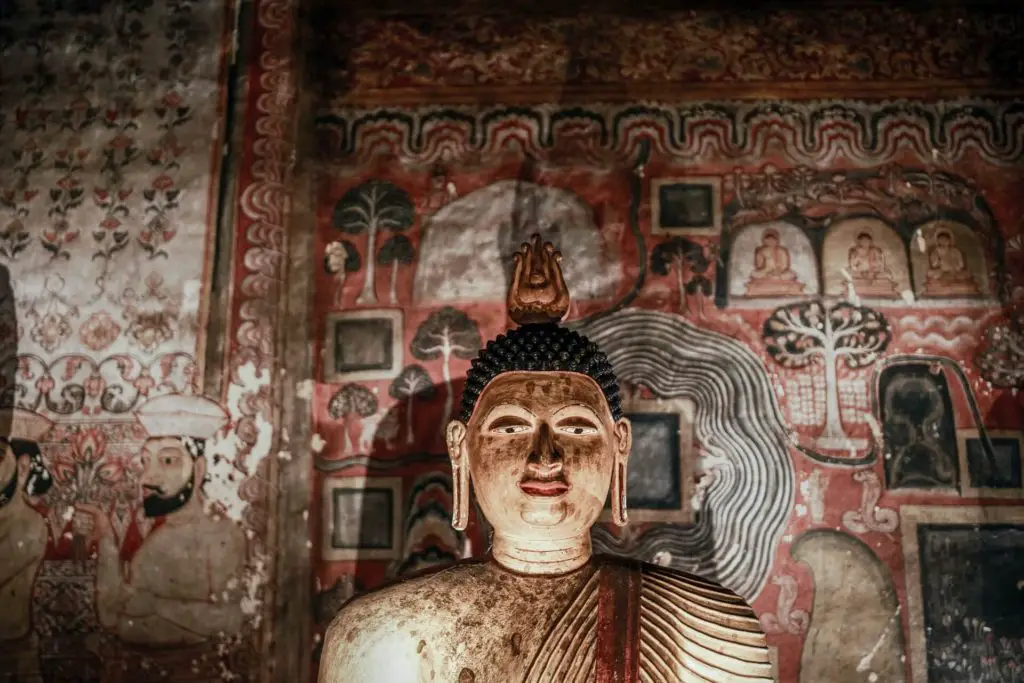 There are two reasons solo backpackers to Sri lanka visit Dambulla. The biggest of the two reason is to climb Sigiriya Rock Fortress. And the other reason is to visit the Dambulla cave temple. 
Dedicated to Lord Buddha, Dambulla cave temple is a rock cut temple that houses Buddha statues and imagery dating hundreds of years back.
The temple is also known as Golden Temple of Dambulla and is listed as UNESCO World Heritage site. Luckily, the temple is located right on the highway and you can easily get a local bus from Kandy.
There is a bit of climb involved to get to the top where the cave temple of Dambulla is located but it is definitely no sweat climb.
Beware of the numerous monkeys that you will encounter on your way, steer clear of them as they can be quite aggressive. Not to mention take care of your food item as this is usually monkeys are after.
Once at the top you will get fabulous view of the surrounding valley. You can visit Dambulla rock temple as a day trip from Kandy or you can choose to stay in Dambulla (or Sigiriya) and combine it with trek to Sigiriya Rock. It is so because the two are very close to each other.
---
Sigiriya – Sri Lanka Solo Travel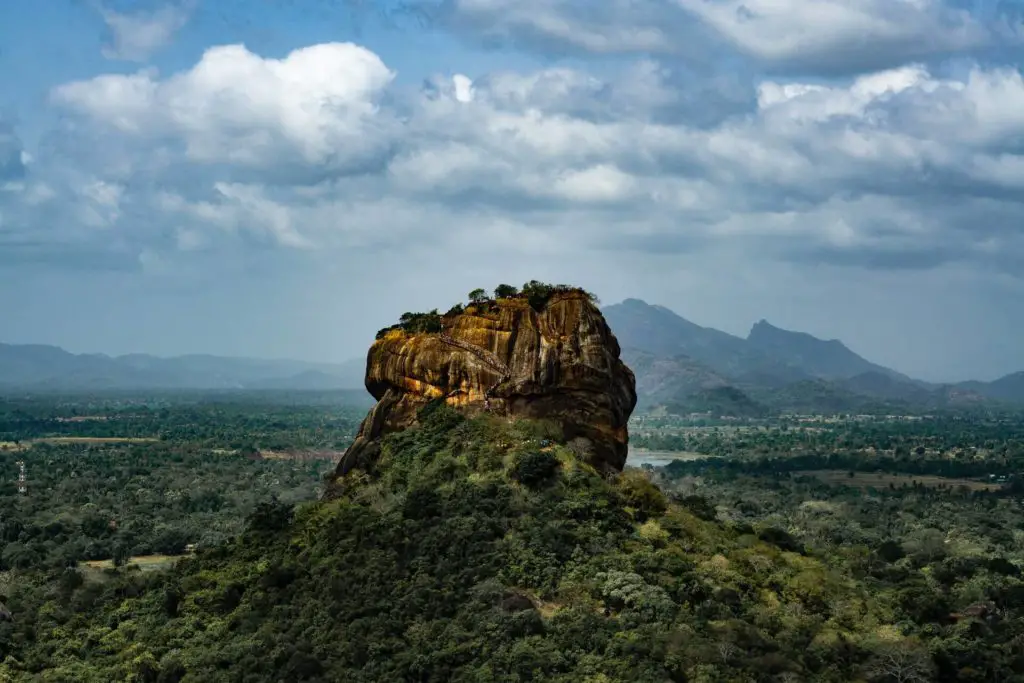 Sigiriya is a very small town, or perhaps a village where thousands of tourists throng in to visit the famous Sigiriya lion rock. There a handful of guesthouses and hostels in Sigiriya town where you can stay for the night. If not, you can stay in Dambulla, and take the regular bus which will drop you to Sigiriya, right near the entrance to the lion rock.
From the entrance you have to walk further down to find the ticketing booth. Ask anyone where the tickets for foreigners can be bought.  The Sigiriya rock entrance fee is 3900 LKR (US$30) for foreigners. Sigiriya entrance fee for SAARC countries is 1950 LKR. For Indians the Sigiriya entrance fee is 1950 LKR.
It is evident that entrance fees to tourist attractions are quite steep in Sri Lanka. Though, for SAARC nationals the same is discounted. If you are and Indian or belong to any other SAARC country do remember to carry your passport as it is only form of id which is accepted.
---
Mirrisa – Solo travel to Sri Lanka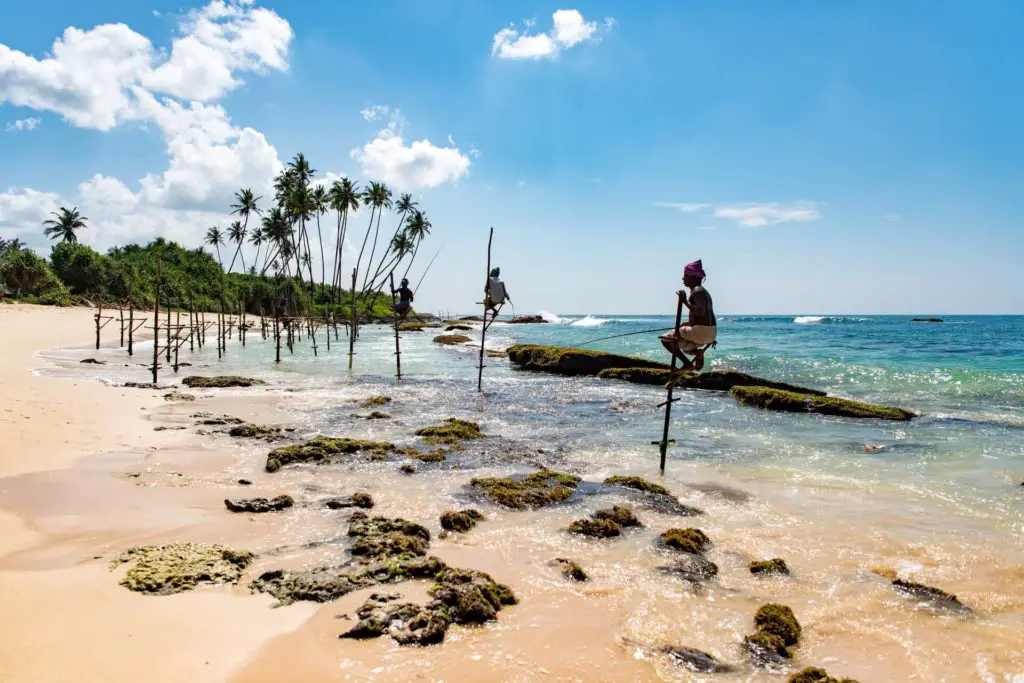 If you are in Galle, make Mirrisa your next backpacking destination in Sri Lanka. Since there are no great beaches in Galle, people come to the nearby town of Mirrisa. You can conveniently take a tuk-tuk or a local bus to get to Mirrisa from Galle. 
Bus ticket from Galle to Mirrisa costs 60 LKR. The buses can be easily boarded from the highway which run parallel to the cost and is very near to the beach.
The Mirrisa beach isn't too big but isn't too small either, and there are number of shacks on the beach. The prices at the shacks is very reasonable and all of them run happy hours till 21:00 – 22:00
The cocktails are sold at 300-400 LKR during happy hours, and the quality matches the cheap price. Lion beer large is available at 350-400 LKR. Great thing is there is no 10% extra service charge.
When it comes to food, you will have a variety of options from traditional Sri Lankan food to Indian, Chinese and Italian. There are also numerous roti shop around if you are looking for one. 'The Indian' serves Indian food but is too expensive to justify its price. A curry costs 1100 LKR and there is an extra 10% charge.
I spent my new year in Mirrisa, and let me tell you it was a great night. Lots of fireworks on the beach as well great crowd and decent party atmosphere all around. Mirrisa is definetely a go to place for backpackers to celebrate New Year in Sri Lanka.
---
Polonnaruwa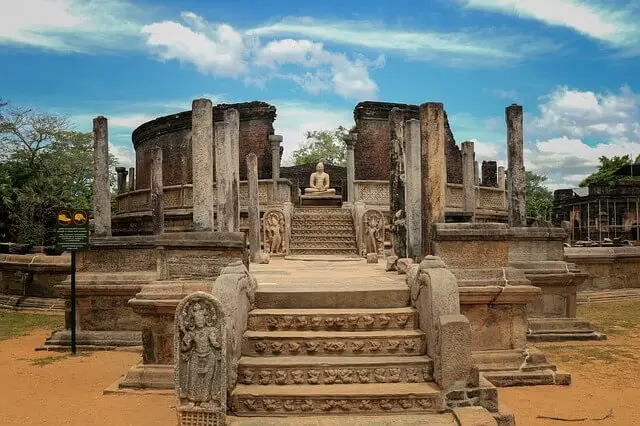 From Sigiriya Rock backpackers usually come back to Colombo or proceed further to the city of Polonnaruwa. Solo travelers to Sri Lanka visit Polonnaruwa to check out the ruins of the ancient city.
Spread over a large area, the visit to the ruins would take up your entire day. Some of the ruins are in very quality while for some you have to use your imagination. Exploring ancient city of Polonnaruwa will mean a visit to palaces, religious complexes, shrines and a giant statue of sleeping buddha.
Just as anywhere in Sri Lanka tickets are expensive.  Polonnaruwa entrance fee for foreigner is 4500 LKR (about 25 USD). Polonnaruwa entrance fee for SAARC countries is 1625 LKR and for Indians it is also 1625 LKR. Do remember to carry your passport if you are from SAARC country, in order to prove your nationality. Any other form of id is not accepted.
As the ruins are spread out in a wide area, the best way to explore the ancient city of Polonnaruwa is to rent a cycle. The bicycle rentals are everywhere and thus easy to choose. It can get really hot even during the 'cooler' months in Sri Lanka, so drink plenty of water and stay hydrated.
Polonnaruwa vs Anuradhapura
Travelers usually go with Polonnaruwa in their Sri Lanka backpacking itinerary. The reason is two fold, close distance to Sigiriya and the compactness of area where the ruins are spread out.
---
Hikkaduwa – Sri Lanka solo travel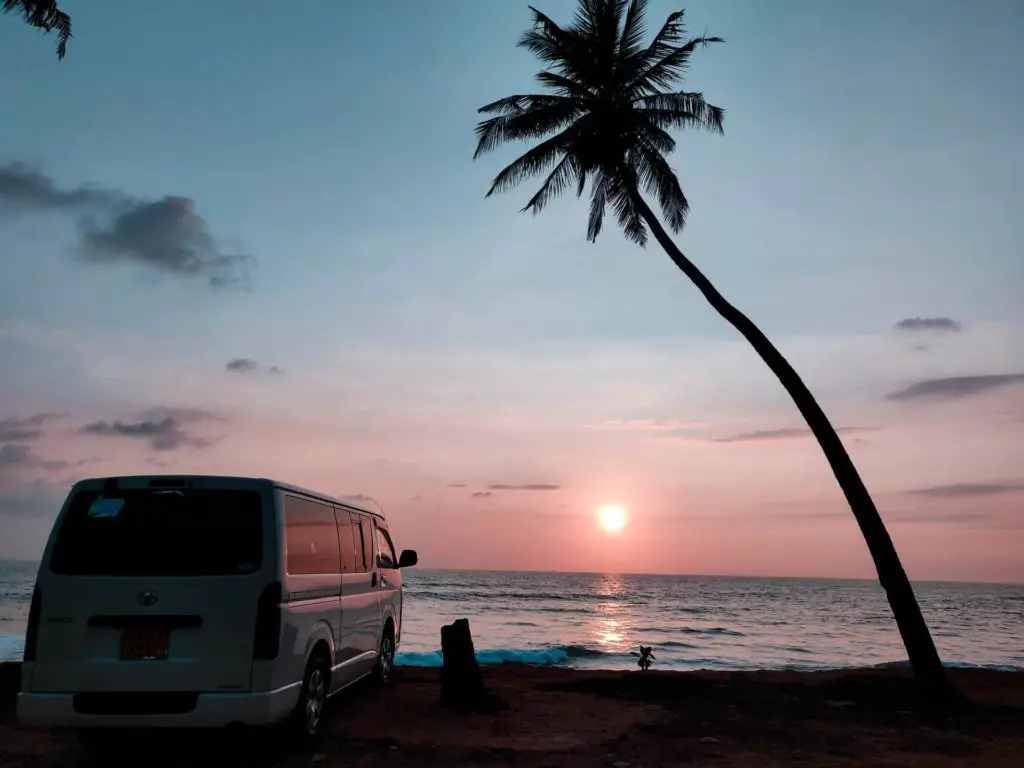 Next destination on your Sri Lanka itinerary is the beach town of Hikkaduwa. Hikkaduwa is your perfect relax and do nothing beach getaway, a place where you can easily spend a large part of your Sri Lankan vacation.
This is despite what The Rough Guide says, the development at this town is no worse than Unawatuna and Mirissa. The beach in Hikkaduwa runs parallel to the main road (the highway) and can be reached in no more than two minutes from the road. Backpackers surely love this small town for its cozy feeling and relaxed vibes.
How to Reach Hikkaduwa
Bus ticket from Colombo to Hikkaduwa costs 125 LKR.
Beaches in Hikkaduwa
A visit to Hikkaduwa is an essential part of Backpacking Sri Lanka. The town has two beaches Hikkaduwa beach and Narigama beach separated by about half a kilometers from each other. There are plenty of options – eateries and restaurants to eat around both the beaches.
There are, what the rough guide calls, ugly resorts on the beach. Both the Hikkaduwa beaches are quite small in size as compared to beaches in Mirissa and Unawatuna.
There are a range of activities available from Snorkeling to Surfing. In fact the Hikkaduwa beaches are quite popular for surfing and you'd see a plenty of surf schools on the beach with men trying to offer you lessons.
Places to eat in Hikkaduwa
The food joints on the main road are quite expensive as they specifically cater to the tourists. A Western breakfast would set you back by at-least 600 LKR. Curries might be cheaper but it is almost impossible to have Dal and Rice in the morning.
For a coffee fix you can head to a specialty coffee shop such as Batista and Starbeans (a starbucks rip off) but may remind you coffee there are as expensive as you will get in the West.
I particularly liked Dineth restaurant, family run food joint which serves excellent black coffee with milk at 90 LKR. The coffee serving is big and perfect to satiate your coffee cravings.
While you are there also try one of the numerous rottis available on the menu. The cheapest one is Veg Rotti at 80 LKR, the same costs 170 LKR at a nearby restaurant.
Places to stay in Hikkaduwa
The budget accommodations are located on the other side of the highway, and you have to cross the busy road every time you want to get to the beach. That being said, it's easy to cross the road than one might think, this is no American expressway or German autobahn.
Happy Tuna Hostel: This is where I stay and will recommend you as well. Quite close to the beach, a decent wifi and a good crowd Happy Tuna Hostel is a pretty relaxed place to stay.
Itinerary
You will need at least 10 days in Sri Lanka, but 2 weeks would be just perfect to experience and explore this tropical destination. The places I have mentioned above in this trip blog can are from South and Central SL and can be covered comfortably in 10-15 days.
Budget | Sri Lanka Solo Travel
Sri Lanka is inexpensive, in-fact prices for transport and hotels are as cheap as India or even more. A typical cost of Sri Lanka trip for 10 days would come around 30,000 LKR. Remember this is a comfortable budget and you can save more if you stay in cheaper hostels.
As I mentioned earlier, prices here in SL are less as compared to other South East Asian destinations. And you can easily get by in 3000 LKR per day.
So, a typical 2 weeks in sri lanka budget will be around 42,000/- LKR. And a 3 weeks in sri lanka budget would come around 63000/- LKR. It is best round off these numbers to 45k and 65k LKR, so expect to spend around this much.
Safety
Yes, Sri Lanka is perfectly safe place to travel, not matter you are backpacking alone or with friends. Just stick to the tourist places and avoid going to unknown places.
Sri lanka is a solo female travel heaven! Perfectly safe, locals are curious but not over-friendly. Be polite and refuse if you are not comfortable in a situation. Traveling late is safe but you at least be careful where you go.
---
Conclusion
Hope you liked this travel guide to backpacking Sri Lanka alone. Hope my travel blog will help you plan sri lanka trip, and if you have any questions don't hesitate to ask in the comments section below.
Enjoy and have a great solo trip to Sri Lanka!