Lost in Toledo, Found in Madrid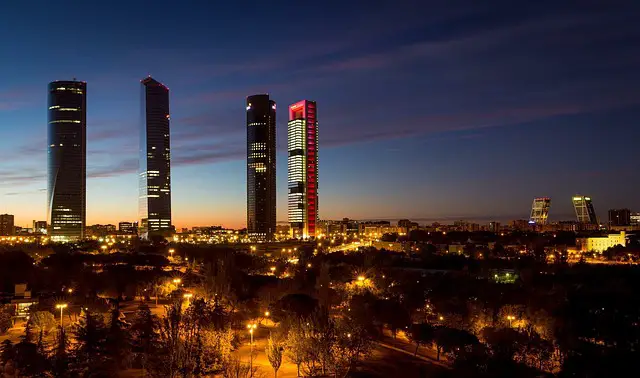 Read Now, The Himalayan Tsunami - a gritting new novel by Vidyut Rautela

We talked about women and football, as we enjoyed a cool glass of sangria with some tapas to go in a roadside bar. Could life be more idyllic than that?
My friend was a huge supporter of his home team, Atletico madrid. Not to mention my friend's dorm room, next to mine, was filled with posters and memorabilia of Spanish footballers.
There are several football clubs in Madrid and Atletico is one of the top one after the famous Real madrid. Needless to say, football is a religion in itself in Spain, the fever rises to frenetic levels with the domestic competition La Liga (imagine it like IPL of football) with fans vowing allegiance to their favorite FC.
I am, on the other hand, not really a football guy but I could see his passion for the game. My own knowledge of football was limited to Zidan's head-butt, David Beckham's haircut, and makeshift football games on basketball court in my school.
Madrid's rivalry with Barcelona is well known and is rooted in Catalan Independence movement. Culturally and linguistically Catalonia is quite apart from rest of the Spain, and add it to the fact that the Catalonia region feels they are economically neglected, you have a perfect recipe for discontent. Though as a traveler I didn't feel such a difference, as Spaniards in general were very welcoming everywhere.
As soon as I touched down in Madrid, I ran-off to get a bus to Toledo. Interestingly, I was more interested in getting out of the city than to actually stay and explore Madrid.
Typical me.
Toledo is a very well preserved medieval city, with narrow cobbled stone streets, located at a distance of 70 km from Madrid. The worst and the best thing you can do while in Toledo is to be lost in its winding, labyrinth of streets. Thankfully, I bumped into an American who was equally lost as me and together we found our way out.
When, I (finally) arrived in Madrid, my friend was to pick me up from the famous square La Puerta del Sol but my phone got switched off and I had no means to get his no. to call him. I went to the information center but the charging points were not working. Finally, there was again good old McD to the rescue, my phone sprung to life as I waited sipping an espresso (cheapest item on the menu).
My friend's mother stood confused when my friend told her that I was a vegetarian. How's that even possible? She spoke only Spanish and though my friend was my translator I looked up a few words in an app and tried my best to converse in Spanish. The result was a riot of fun! Her mother was great to talk to, despite the fact we didn't speak a common tongue. I had never met such welcoming people and I doubt I'd do so in future. Spain is a country worth visiting just to meet the gracious people.
I was served an yummilicious vegetable sabzi and dressed salad with nuts. Who says vegetarian food is boring? My friend too had a taste of vegetarian food as he was getting his wisdom teeth removed in couple of days. We slept early, we had a full day of sightseeing ahead of us.
It was a hot, sweaty summer day in Madrid, kind of which makes you wanna stay inside palaces and museums. Anyhow, we chose to go walk in a nice park and then to the temple of Debod. Apparently, the temple of Debod dates back to 200 BC (!) and was a gift from Egypt. It's particularly good place to visit late in the evening, for the sunset from the hill and the beautiful evening lights. Later, we went to Atocha train station which has a decent enough tropical garden complete with floating tortoise, a tourist attraction in itself.
Sometime in the afternoon, I bid adieu to my friend, who dropped me to Prado. He was worried what'd I do the entire afternoon and evening inside a museum. Anyway, I'd no problem as I ended up spending hours and left just in time for my flight. The collection of art in Museo del Prado is just too good. At around 15 Euros it certainly gives you a bang for your buck. Of all the masterpieces Las Meninas and 'The Third of May, 1808' stood out for me but it is Goya's 'Saturn devouring his son' and 'The submerged dog' that has haunted me ever since.
There is a locker facility available in the Prado museum which you can access for free. The lockers are big enough to hold a mid size backpack. If you have a bigger backpack you can move out some of your stuff to a second locker.
I swiped my card and passed through the turnstile only to realize I had forgotten one of my bag. I just keep forgetting stuff, I felt like kicking myself. When will I become more conscious of my surroundings? Is there hope for me? Do you guys think so? I requested the metro official and he allowed me to go back. I knew exactly where the bag was so getting it back wasn't really a problem. I forgot it at the money exchange and it was lying right there when I got back.
The metro station was a giant maze (but nothing can't beat Paris metro) and I had to rush to get to my Airport metro.
– – – – –
Museo Del Prado is listed in top 10 museums and galleries in the world by NGC Travel.
Interestingly Reina sofia ranked 6 place higher in the most visited museums list.
Ticket: 16 Euros.
Free Days: Monday to Saturday – 18.00 to 20.00. Sundays and holidays – 17.00 to 19.00. Lockers are free and big enough to keep your backpack.