✓ Follow on Instagram:
👍@triplyzer
---
✓ Find the best offers on your
Stays on 🏡 booking.com
---
✓ Deals on Private xfers, City tours, Day trips
on 🛵 GetYourGuide
---
Situated in the north of Vietnam, and only a short drive from Hanoi is the beautiful sleepy town of Ninh Binh.
With plethora of things to do in Ninh Binh day trip, you will be spoiled for choices, certainly you need more time! And if time isn't a constraint consider spending a few days here, the guest houses are pretty and located right near the town's scenic nature.
Among the many Ninh Binh attractions, 'Tam Coc' and 'Trang an' are the top ones, in-fact they must be the reason that you have come here.
The stunning Karst scenery here in Ninh Binh is exceptional. Imagine Ha Long Bay only that instead of scattered limestone hills in the water, you'd experience waterways (river in-fact) through the karst hills.
So, without further delay here are the top things to do in Ninh Binh:
Tam Coc Boat Tour
Nothing beats taking in the Karst scenery on a Ninh Binh Boat Trip! There are two options Tam and Trang An, unmissable on a Ninh Binh one day tour. The bad news is you can only do one, and you have to choose.
Tam Coc entrance fee: 120,000 VND
Tam Coc boat fee: 150,000 (can be split between 4 passengers max). Though as I was traveling solo in Vietnam, I could find only one co-passenger for my Tam Coc Boat Ride.
Total expense: 120k+75k = 195,000 VND or $8.5 U.S.
Trang An Boat Tour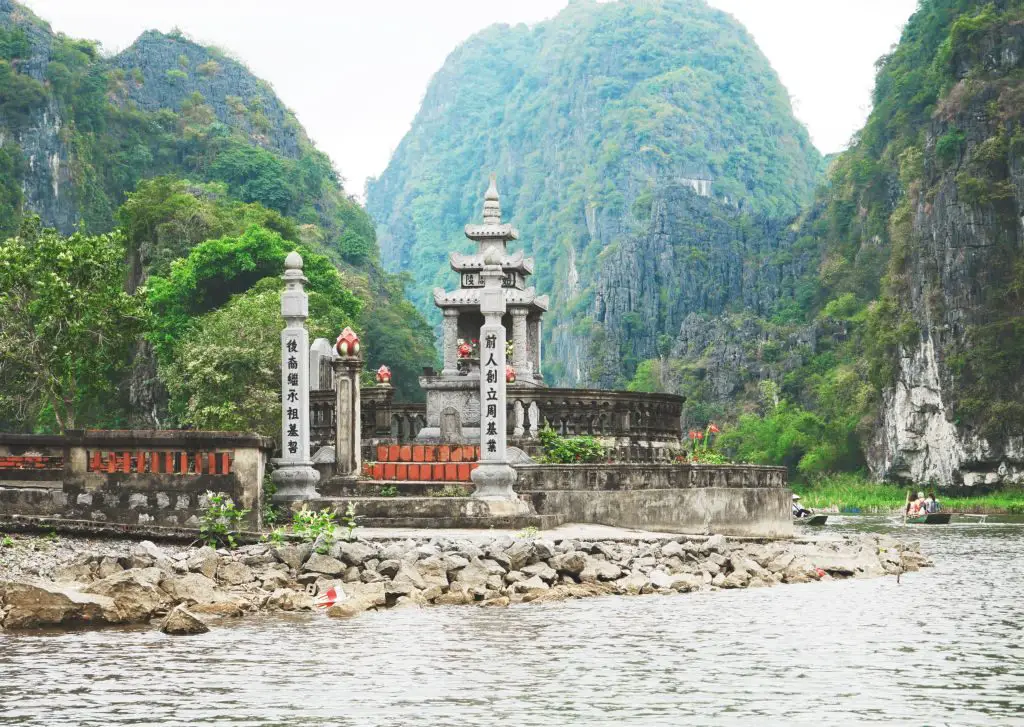 Next up on your list of things to do in Ninh Binh is Tran An. Slowly drift through this UNESCO World Heritage Site in a row boat and simply enjoy the landscape around you.
You might find the scenery eerily familiar, that is, if you have watched the movie Kong – Skull Island, which was shot here.
The boat ticket in Trang An costs 150,000 VND (~$7 USD) and the boat is shared by four passengers. You can hire the whole boat for yourself by paying 600,000 VND (~ $15 U.S.).
Climb the Hang Mua Peak
Hang Mua Peak, one of the top things to do in Ninh Binh, is part of Ngoa Long Mountain, and lies some 5 km from the Tam Coc pier. To get to the Hang Mua peak you need to do quite a bit of trekking, i.e. climb the 500 odd steps. 
On the peak is a intricately carved stone dragon looking over the valley below. Dragons have an important place in Vietnamese culture as Vietnamese believe themselves to be the lineage of a dragon and a fairy. Dragon also symbolizes prosperity, a harbinger of good fortune, necessary for good crop produce.
The stairs are located at the base of the Hang Mua Peak, where you will find a small garden and a cave. The cave is called Mua Cave and there is an interesting legend behind it. King Tran used to frequent the Mua cave to watch the female performers sing and dance. Hence the name Hang Mua – meaning dance in the cave. Hang = Cave; Mua = Dance.
The 30 minutes hiking will take you to the top of the Hang Mua Peak. A must visit addition to your Ninh Binh trip, Hang Mua Peak offers spectacular views from the top, justifying the strenuous climb. Stunning panoramic views of the waterway, rice fields and nearby hills are simply unforgettable.
The eco lodge where the peak is located also encircle a beautiful garden and small pond. The entrance fee for Hang Mua Pea is 100k VND.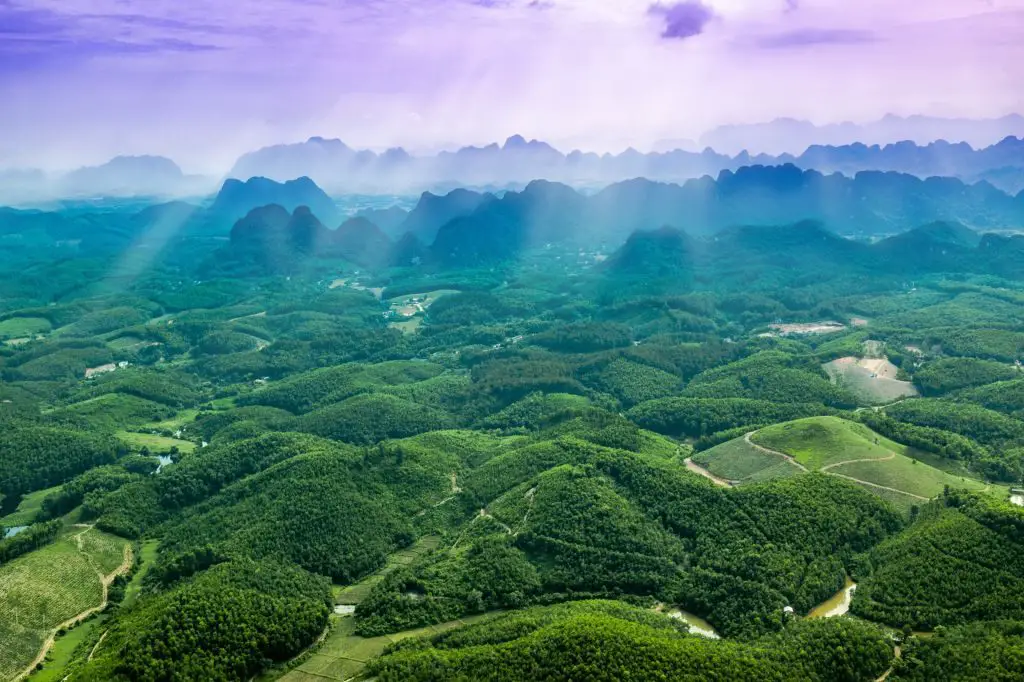 Tips:
As the Ninh Binh weather remains hot and humid, it is best to climb the Hang Mua peak in the early morning or in the evening.
Carry a bottle of water as the climb is bit strenuous.
Wear good footwear to help you in the climb.
For a small parking fee, you can park your motorbike inside the Hang Mua complex.
How to get to Hang Mua Peak
You can easily get to Hang Mua from Tam Coc by motorbike or bicycle.
Hang Mua Entrance fee: 100,000 VND
Hang Mua Opening hours: 7 am – 5 pm
Hua Mua motorbike parking fee: 3k VND
The panoramic views of Tam Coc from the top are simply unforgettable. Sorry Ha Long bay, you get beaten here once again!
Bich Dong Pagoda
In short: 3 km after the Tam Coc Pier, built on one of the cliff and which provides incredible views
Another solid idea worth considering for your Ninh-Binh trip is the rustic Bich Dong Pagoda. If you are looking to visit a serene pagoda, head straight to Bich Dong, located only a few km (2-3 km) from Tam Coc. Bich Dong pagoda is considered to be built in the year 1428.
The site consists of three pagodas, aligned one over the other, against the mountain. Inside the temples the fragrance of burning incense will fill you with tranquility.
From the pagoda at the base, take the 100 odd steps to visit the middle one, from there continue to the third one, and a further steep ascent will take you to the top. Get here for the excellent views of the countryside. Remember to wear shoes as it might be uncomfortable or even risky going up in the slippers.
Thai Vi Temple
Thai Vi Temple was built by the King Tran Thai Tong in the year 1258 to celebrate his victory over the Chinese army. Beautifully built with stone carved in traditional Vietnamese style, Thai Vi Temple is one of the must things to do in Ninh Binh.
Inside the temple, you will find that from pillars to altar all are made of monolithic greenstone. Notable are the beautiful statues of Sudhana (the Child of Wealth) which stands on either sides of the King's statue.
Best time to visit Thai Vi Temple
On 14th – 17th of March of the lunar calendar, locals and tourists throng to visit the Temple to attend the Thai Vi Temple Festival. You can enjoy or at least watch locals play folk games like dragon dance, human chess, wrestling and boat rowing. Thai Vi Temple Festival is celebrated to pay homage to the kings of Tran Dynasty.
How to get to Thai Vi Temple
Thai Vi Temple is Located in Van Lam village, very close to Tam Coc. You can easily walk the 1 km distance from Tam Coc to Thai Vi Temple.
Bai Dinh Pagoda
A great place to explore on a trip to Ninh Binh, the beautiful Bai Dinh Pagoda is located in Gia Sinh area around 14 km. The sprawling complex consists of an ancient pagoda and a group of pagoda which were recently completed in 2010. The majority of the travelers agree that Bai Dinh is one of the top things to do in Ninh Binh.
The Bai Dinh Pagoda is looked after by Trang An cultural tourism cente, and you will find all the necessary facilities inside the complex.
Guess which is the largest pagoda in Vietnam? Bai Dinh Pagoda, yes that's right, but not just that it is also the largest pagoda in Southeast Asia.
Bai Dinh Pagoda has a beautifully crafted 3 gate entrance and just after you cross the entrance you will see the 3 storey tall bell tower.
Next to the bell tower is the Tam Quan Noi Temple; also located nearby are the Avalokitesvara Temple, Phap Chu Temple and Dien Tam Temple. The Bai Dinh Pagoda is set against the backdrop of a hill and the meandering river.
Bai Dinh Pagoda Entrance Fee – Free.
Fee to get to the top of the pagoda – 50,000 VND (around $2 U.S.)
Cuc Phuong National Park
Vietnam's largest national park, Cuc Phuong National Park, is one of the top attractions in Ninh Binh. People also visit the Cuc Phuong National Park as a day trip from Hanoi to Ninh Binh.
The park is a paradise for nature lovers, there is a paved road of more than 20 km. leads in to the various section of the forest; there are also numerous caves that you will pass on your way.
To get around, you can rent a bicycle or a motorbike from the park entrance. I will recommend bicycles for a relaxed trip, which you can easily rent for 60l dong.
Inside the park there are many limestone caves to explore, including Thang Khuyet Cave, Pho Ma Cave, and Dong Nguoi Xua (also called the Cave of Prehistoric Man).
Excavation in the Cave of Prehistoric man has interestingly brought to light the evidences of earliest human habitation in Vietnam. Several human graves, tools such as knives, spears and axes were dug, and were dated to be old by around 7500 years.
If your Ninh Binh trip is longer, don't miss to Include it. Should you choose to stay for the night, you can rent a dorm bed at $7, or pick one of the bungalows for $23. For more information you can email: [email protected].
Cuc Phuong National Park entrance fee: 40,000 VND
Endangered Primate Rescue Center
For the animal lovers, the well organized rescue center is one of the best things to do in Ninh Binh. Pay a visit to Endangered Primate Rescue Center, here you will see some of the rare endangered primates.
Founded in 1993, Endangered Primate Rescue Center houses species of Langurs and gibbons. You can easily get to Endangered Primate Rescue Center by 10-12 minutes walk from the park entrance.
Cuc Phuong Turtle Conservation Center
Cuc Phuong Turtle Conservation Center, another top thing to do in Ninh Binh, was founded in the year 1998. Cuc Phuong Turtle Conservation Center houses endangered turtle species native to Vietnam. Pay a visit if you are interested in seeing hatchlings, you can also see some grown turtles.
The grown turtles are mostly rescued from wild life smugglers in Vietnam, who take them to China. You can easily combine a visit to Cuc Phuong Turtle Conservation Center with the Cuc Phuong National Park as two are only 10 minutes apart by walk.
Van Long
If you are staying for more than a day, a visit to beautiful wetland of Van Long is one of the best things to do in Ninh Binh. The boating experience through the tall limestone karsts is similar to Tam Coc, but only calmer and more tranquil. Consider Van Long a much more relaxed alternative to tam coc.
Hire the bamboo rowboat to go around, and indulge yourself in some bird watching – try spotting black faced spoonbill or white browed crake. If you are lucky you will also be able to spot the endangered Delacour's langur.
The boat ride will take you through Fish Cave, which is the longest cave here. Look out for the stunning stalactites on the cave ceiling. The boat rides lasts for 90 minutes and only two persons are allowed on a boat.
How to get to Van Long
Van Long is located around 20km from the city of Ninh Binh, on the Cuc Phuong road.
Phát Diệm Cathedral
Phát Diệm Cathedral lies around 30 km south east from the city of Ninh Binh. Phát Diệm Cathedral is unique for it's architecture, particularly the roofs, which basically looks more like a pagoda than a church.
Phát Diệm Cathedral was built by the priest Tran Luc, also known as father six. Phát Diệm Cathedral prominently features in the 1955 novel The Quiet American, written by Graham Greene. The church was built in the year 1892, and serves as a marvelous example of Sino Vietnamese style fused with European Gothic style.
Inside the Phát Diệm Cathedral, you will find the wooden altar, just above it are the paintings of European missionaries. Also, notice the angels painted on the vaulted ceiling. Interestingly, the walls are covered with images symbolizing eastern philosophy, such as dragons and tortoises.
The sprawling complex also includes a beautiful old stone chapel, and a tall bell tower located right in front of the Cathedral.
Check out the nearby covered bridge which dates from 19th century. Also, worthy to notice is the brilliant white statue of Our Lady of La Vang in the pond opposite the cathedral.
Tip : You can climb up the bell tower, to have a sweeping view of the town.
the cathedral is in service and you can attend the daily mass conducted twice a day at 5am and 5pm.
How to get to Phát Diệm Cathedral: It is 40 minutes drive by motorbike from tam coc.
Catch the bus no. 2 from Ninh Binh bus station. The ticket costs 25,000 VND, which you can buy onboard from the conductor. It takes about one hour to get to Phát Diệm Cathedral from Ninh Binh by Bus.
Entrance fee to Phát Diệm Cathedral: Free
Tran Temple
Tran Temple, or the Noi Lam Temple, is located near the dock of the Trang An boat ride. As the name suggests, the temple was built by the Kings of Tran Kingdom. The Tran temple is used by locals to pray God Quy Minh and his wife Minh Hoa.
It takes about an hour to take a round trip of the temple from the base.
To get to the Tran Temple you will pass through the Sang (Morning) and Toi (Evening) Caves, and climb up the spiraling stone steps.
How to get around Ninh Binh
Motor bike rental cost – 100,000 rental. I also spent 30,000 VND on petrol
What to do in Ninh Binh
The Karst landscape of Trang An, Tam Coc and the rustic countryside pagoda are my top picks. And if you are there longer, don't miss the serene Cuc Phuong National Park.
Where to go in Ninh Binh
Go to Tam Coc, take the boat ride or to Trang An, pick any of these both are equally breathtaking. Rent a motorbike and enjoy the countryside, or better take a bicycle and have an active trip.
Hanoi to Ninh Binh
Many tourists take Hanoi to Ninh Binh day trip, however I'd suggest a longer itinerary. There are multiples ways to travel, including public pus, private bus, private tours and train.
Tam Coc vs Ha Long Bay
Came to Vietnam to check off Ha long Bay? Forget it! Take a couple of hours day trip from Hanoi and come visit Tam Coc. It is the place to go in Vietnam! Don't miss it at any cost!
You'll find lot of locals in Tam Coc taking the boat ride through the incredible karst hills. Do as the locals do, don't they say? On the other hand you'd hardly see any local tourist in Ha Long Bay.
Still, not convinced? Try it yourself. Take a boat trip among the giant limestone hills and the yellow fields of Tam Coc, watch as the locals go around in their daily lives.
With so many options you must be very confused. I will suggest a boat tour of Trang An or Tam Coc. What are you thoughts? Have you been to Ninh Binh, got any tips to share? Let me know in comments!
✓ Follow on Instagram:
👍@triplyzer
---
✓ Find the best offers on your
Stays on 🏡 booking.com
---
✓ Deals on Private xfers, City tours, Day trips
on 🛵 GetYourGuide
---