✓ Follow on Instagram:
👍@triplyzer
---
✓ Find the best offers on your
Stays on 🏡 booking.com
---
✓ Deals on Private xfers, City tours, Day trips
on 🛵 GetYourGuide
---
Getting from Khao San Road to Don Muang Airport? While Backpacking Thailand, many choose to stay in Khao San Road. And this is a guide for helping you find the quickest and cheapest connection!
Travelers going to DMK airport from Khao San often take taxi (price 220 THB), or take the shuttle buses (150 THB shuttle bus price to DMK airport). But I'd strongly suggest to skip both of these and go with the third option. And what's the third option?
About A4 Bus | Khao San Road to Don Muang Airport
Best way to get to Don Muang Airport from Khao San is to take the A4 bus. Bangkok A4 bus is cheap (50 THB), real quick (45 minutes max) and tout free (no dealing with the shady tour operators.)
Check here: Budget Hostels in Bangkok
The cheapest way to get from Khao San Road to Don Muang Airport is by taking the A4 bus. The best part is that A4 bus to Don Muang Airport goes through a limited number of stops and takes the express way for the journey.
A4 bus stop on Khao San Road
The A4 bus stop is on Chakrabongse Road, the other end of the Khao San Road. This bus stop is opposite to 'Wat Chanasongkhram Ratchaworamahawihan' which can be easily located on Google Map.
---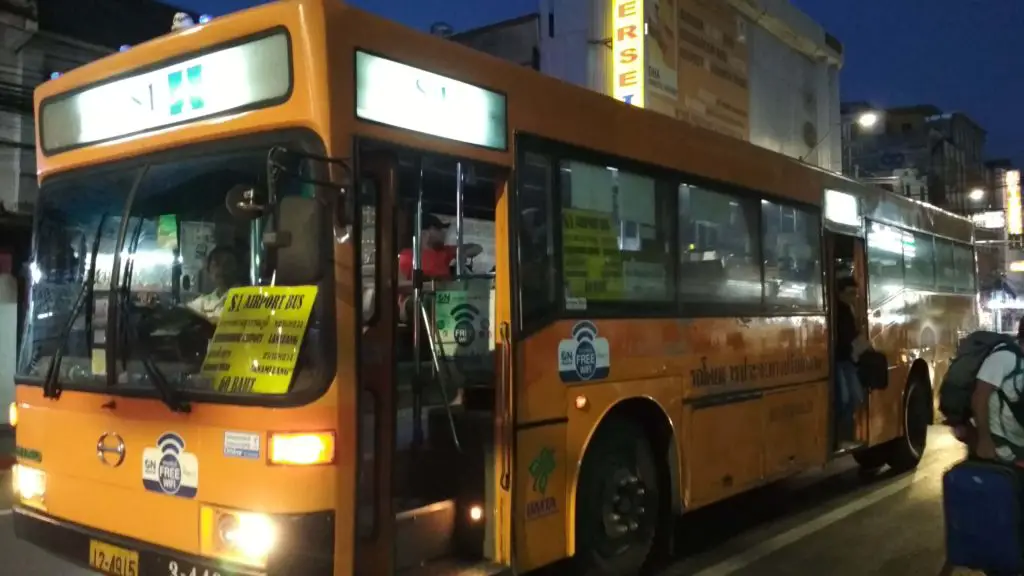 If you are coming from Rambuttri Alley, the quieter cousin of Khao San, take the right on Chakrabongse Road and the A4 bangkok airport bus stop is right there. If you are coming from Khao San Road (the police station end) it take about 5 minutes to reach this a4 bus stop khao san road.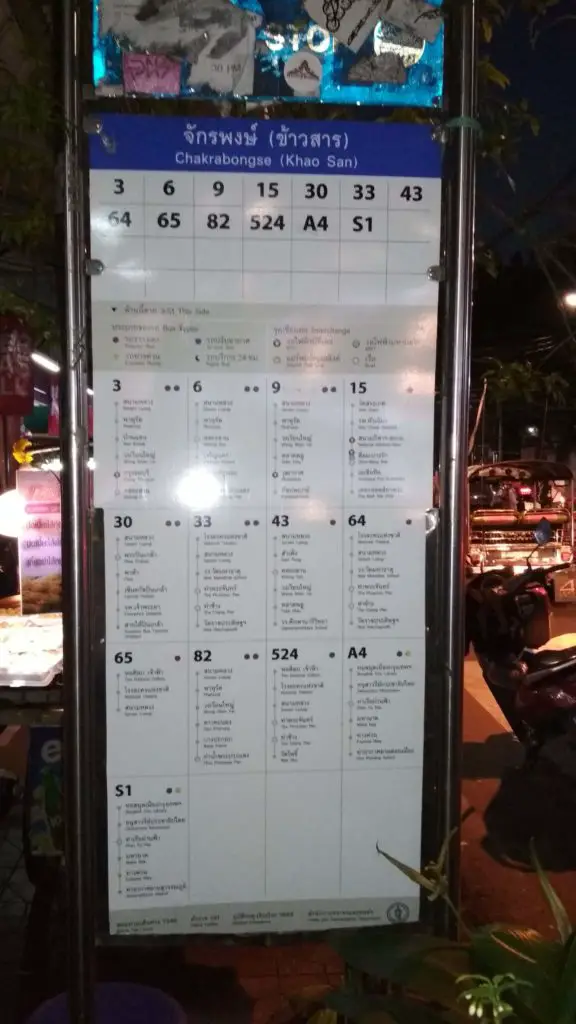 Can you see the DMK Airport A4 and Suvaranbhumi airport S1 bus route above?
Beware that there is no proper bus stop here and the a4 bus to don muang airport stop just about anywhere, including the middle of the road. Be careful of the traffic as you might have to run to your bus with all the luggage.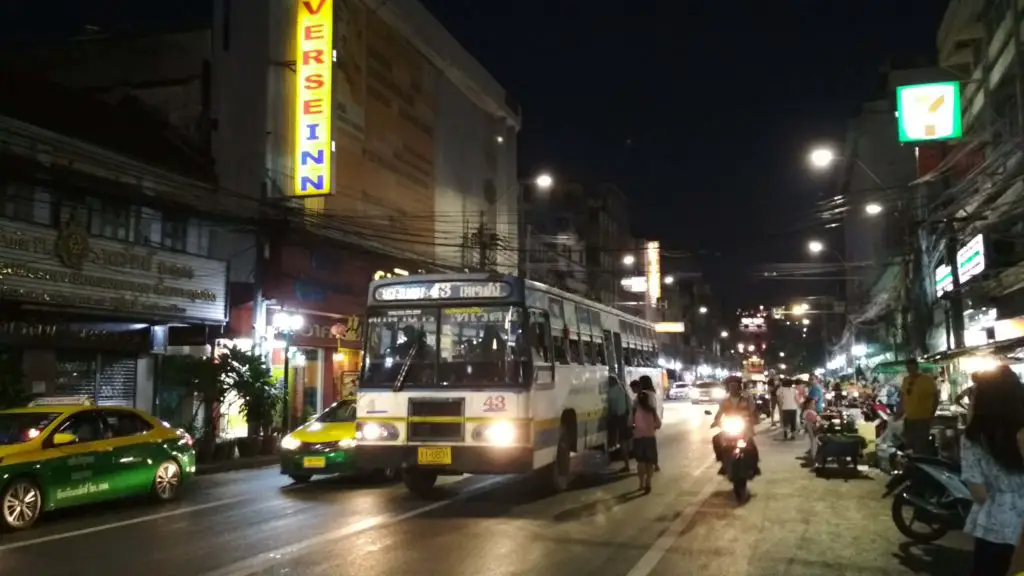 Also, remember to flag down the dmk a4 bus because it might not stop if there are no passengers getting down.
And yeah, grab some fresh tender coconut while you are waiting 🙂 Also, read this next if you are going from Don Muang Airport to Pattaya and this if you plan to go from Suvarnabhumi airport to Pattaya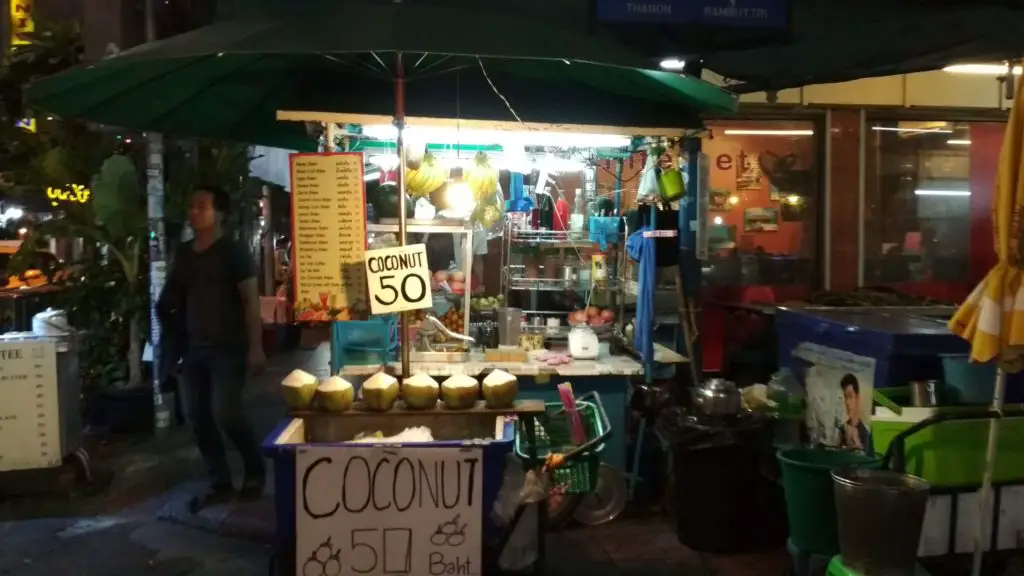 A4 Bus Schedule | Khao San Road to Don Muang Airport
The Khao San Road to Don Muang Airport A4 bus runs between Sanam Luang and DMK airport. A4 bus timing are quite convenient for the solo travelers to Bangkok. The first a4 bus between Khao San Road- DMK airport is at 7 AM in the morning, while the last A4 bus is 11 PM in the night.
Frequency: The A4 bus bangkok runs every 30 minutes. Check below the detailed route and timetable:
A4 bus route bangkok

DMK Airport Bus Terminal
Don Mueang Terminal 1 (Floor 1 Exit 6)
Don Mueang Terminal 2 (Floor 1 Exit 12,14)
Mission Hospital, Mahanak
National Economic And Social Development Board
Wat Khae Nang Loeng
Thai Airways Building
Wat Ratcha Natda Ram
Satriwittaya School
Bang Lumphoo
Wat Chanasongkram – The a4 bus stop on khao san road
National Gallery
National Theater
Sanamluang Bus Terminal
A4 Bus Route Map | Khao San Road to Don Muang Airport
A4 Bus Fare | Khao San Road to Don Muang Airport
The fair for DMK airport A4 bus is only 50 THB. Cheap! Tickets are sold on board and only cash is accepted.
I wrote this blog post while I was traveling solo in Thailand. I was searching for options to go from Khao San Road to DMK airport by bus, but found out that information was difficult to find. The same happened when I was looking for a bus from from DMK airport to Khaosan Road. And that's how this guide was born!
If you found this blog guide helpful, don't forget to like it so that other travelers can also be benefited!
As always, don't forget to let me know your thoughts in the comment below!
✓ Follow on Instagram:
👍@triplyzer
---
✓ Find the best offers on your
Stays on 🏡 booking.com
---
✓ Deals on Private xfers, City tours, Day trips
on 🛵 GetYourGuide
---