♥ Adventure? - Read my book on Kindle: The Himalayan Tsunami
Hill stations in South India
South India hill stations provide a refuge from the scorching summer of the plains. We all know how hot it can get in summers in South India! In this blog post I have compiled a list of cool hill stations in south india. I have been to most of these places as weekend getaway from Bangalore. Some of these are well known, while some of these still are considered unexplored hill stations in south India.
Which is the best hill station in south India? I personally find Kodaikanal and Coorg the best, and you will have your own favorites as you visit them one by one! Kodaikanal is one of the highest hill station in south india and one of the coolest too! There are many resorts situated in these hill stations, so you can enjoy the nature and the cool weather to the maximum.
Here's a list of top tourist places to visit in summer in South India:
Ooty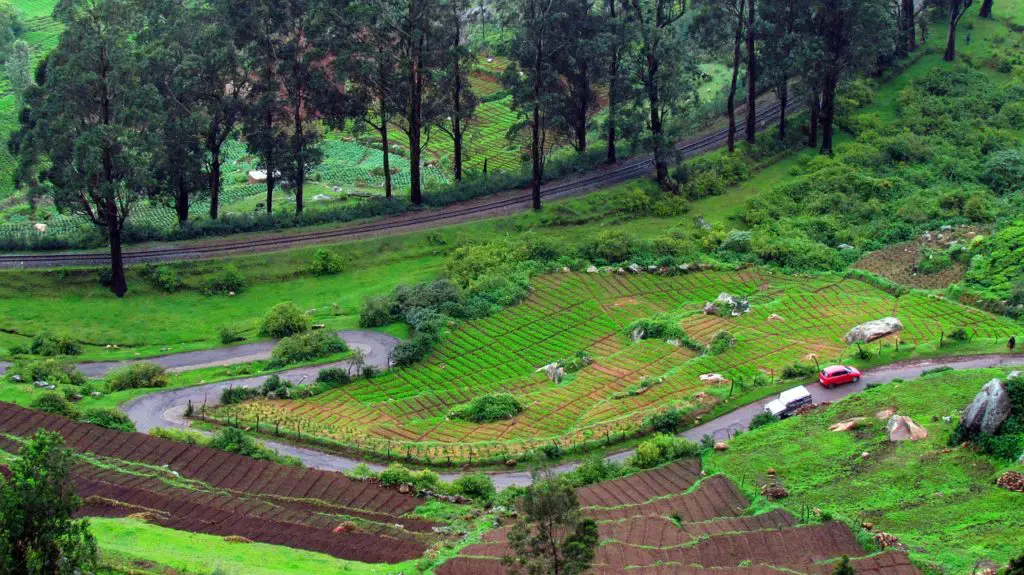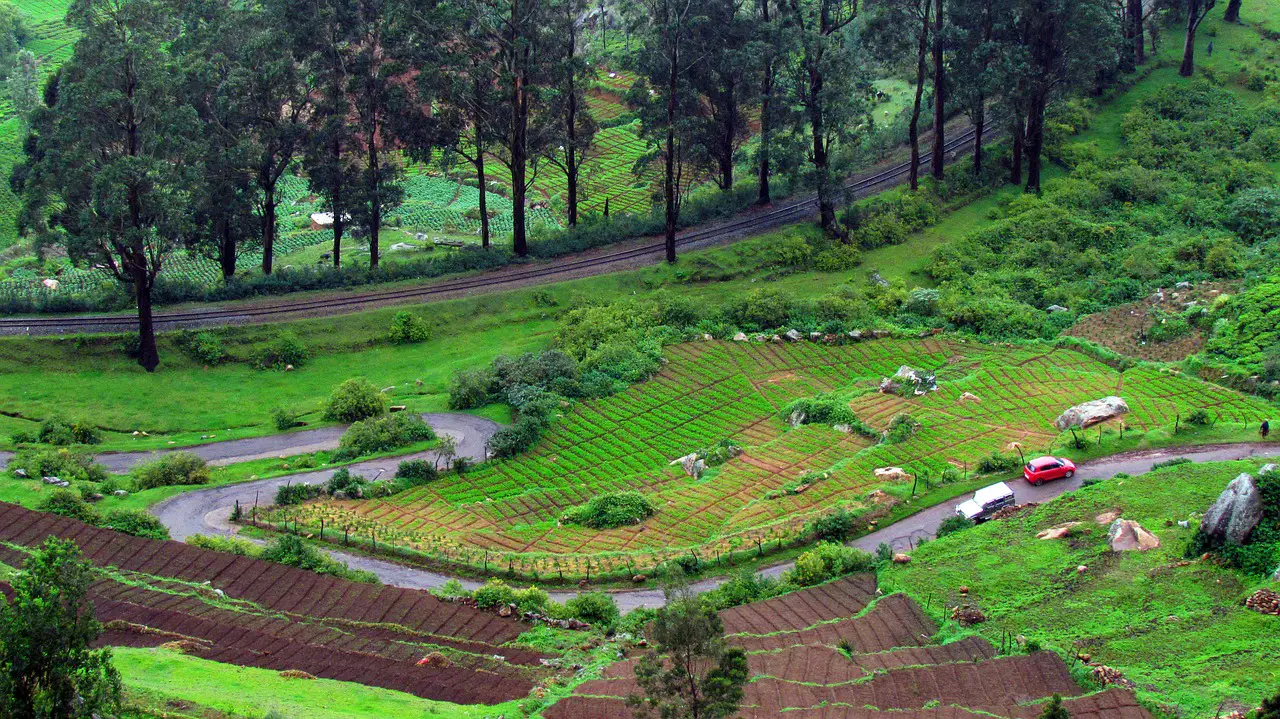 Ooty is one of the most visited hill stations in south india for honeymoon. The famous hill station of Ooty is located in the Nilgiri range at a height of 2240 meters above sea level. Ooty is known for its tea plantation and dense forest coverage with eucalyptus trees. Summer is the perfect time to escape the soaring temperatures of Bangalore and pay a visit to the Ooty hill station located in the South Indian state of Tamil Nadu.
The tiny hill station will win you over with its lush green rolling hills and the beautiful lake which spreads its wing right in the center of the town. The Ooty temperature in summer range from 22 degrees to 26 degrees, while there is always a possibility of rain showers. Ooty is undoubtedly one of the coldest hill station in south india.
On the downside Ooty is always full of tourists and in the peak summer season you might have to jostle shoulder to shoulder with the typical Bangalore crowd.
Ooty is packed with usual points of interests – you can spend an evening paddling a boat in lake Pykara, or taking a lazy afternoon stroll in the Botanical gardens. Alternatively, you can check out couple of famous few points, Lamb's Rock and Dolphin's Nose (Seriously how many hill stations have the viewpoints with exact same names, where's the creativity, huh?) In short there are plenty of places to visit in ooty.
Kodaikanal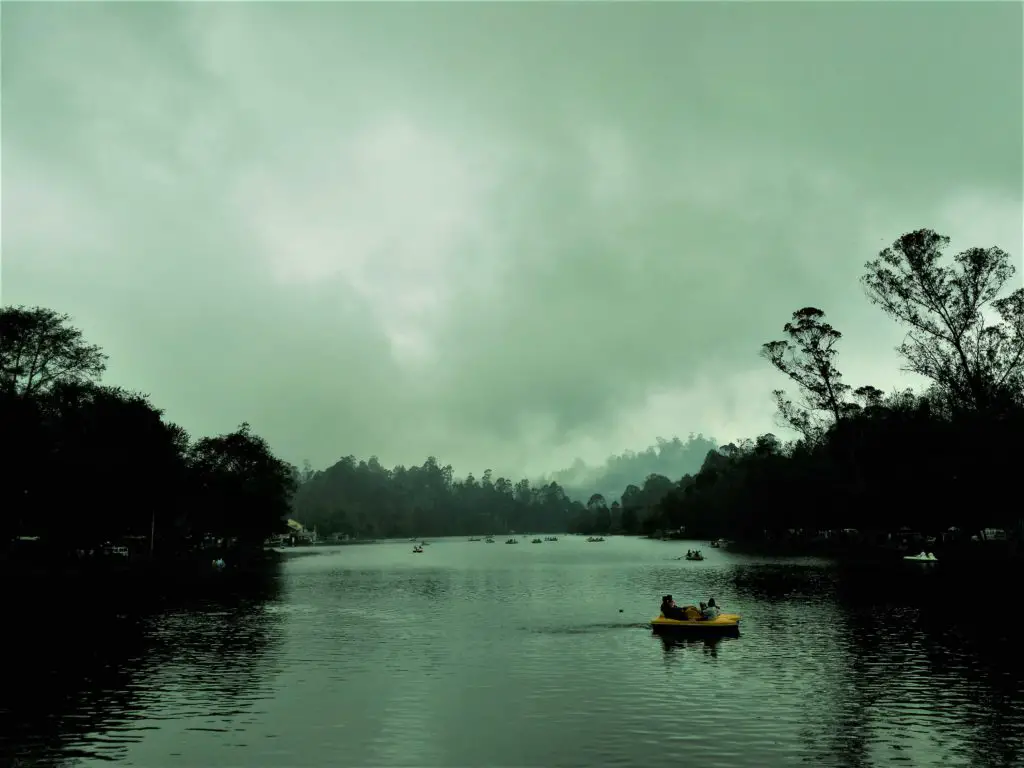 Okay, I have to admit I am bit un-partial when it comes to beautiful hill station of Kodaikanal, it's one of my absolute favorites. Located at a height of 2133 meter above the sea level, in the Palani hill and with cool temperature all year around, Kodaikanal is a hill station in a true sense.
Summer temperature in Kodaikanal range around 20-25 degrees, often with cool breeze and the unpredictable mist which descend down on the hill station anytime. Dare I say that the mist lends a 'myst-erious' charm to this beautiful town.
There are plenty of places to visit in Kodaikanal. Such pleasant whether makes walking and bicycling around the lake an absolute pleasure. Boating in the Kodaikanal lake is also quite popular among the tourists. The other two attractions frequented by tourists and located within the city with walking distance to each other are Coaker's walk and Bryant park. There are some other viewpoints outside of the town such as Dolphin nose (wtf!) but imho they are not worth it and are just set as tourist trap.
And yeah while you are there in Kodaikanal do try the home made chocolates which is available at throwaway prices and even if you are not interested in buying you can ask for a sample for free.
PS: I strongly advise you to not visit Kodaikanal for the simple reason that I don't want you to ruin my experience. in an unlikely event this Bangalore summer get away blog post start getting heavy traffic, and you guys start getting there in droves, Kodaikanal might meet the same fate that Ooty had become. So, guys please heed to my pleads and don't go!
Coonoor
Coonoor ranks in top 10 in the list of hill stations in south India. At about a distance of 20 km Coonoor is located very close to Ooty, thus allowing you to combine the two hill stations together during your weekend getaway from Bangalore. Coonoor, the little brother of Ooty, is much more peaceful as the crowd largely stays in Ooty. The summer temperature in Coonoor remain in pretty much same range as Ooty.
There are many places to visit in Coonoor. If you are interested in sightseeing in Coonoor you can visit the Tea garden which gives an enormous opportunity to take selfies among the rolling hills of the tea plantation. Sim's Park is also quite a popular choice to enjoy a peaceful afternoon's walk in the nature. Imho I find Sim's park much more picturesque than the Botanical garden of Ooty. For waterfall aficionados there is Laws Falls situated just outside the Coonoor town. To top it off Coonoor also has a tiny railway station which due to its old world charming beauty also doubles as a tourist spot
Coonoor is for sure one of the best hill stations to visit in south India! I will strongly recommend you to add it to your bucket list of hill stations to visit in south india.
Munnar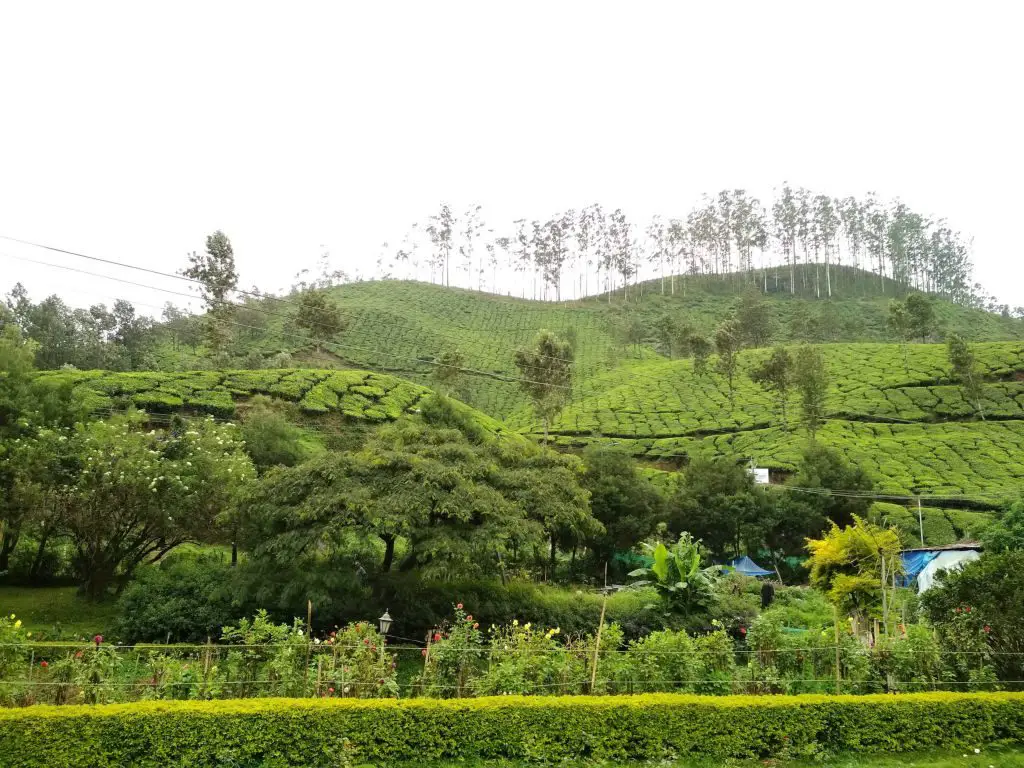 Munnar is one of the most popular hill stations in south india for honeymoon. Well, what should I really write about Munnar, the topic has been beaten to death by bloggers and travel bigwigs alike. Beautiful rolling hills, acres of tea plantations, several walker friendly trails leading into unscathed landscapes with mountain goats (including the engendered Nilgiri Tahr) grazing lazily – what not to like about the place!
Munnar is located at a height of 1532 above sea level and the area also boasts of Southern India's highest peak at about 2700 meters.
In summer Munnar temperature ranges from 23-28 degrees and it starts getting cooler as the monsoon arrives. In the winter season the temperature of Munnar dips down to a minimum of 3-4 degrees, so be sure to carry woolens (Or you can just lie around in your bed wrap yourself in rajai all day long as you sip cup after cup of freshly brewed and piping hot filter coffee. Damn! sounds like heaven!).
There are many top places to visit in Munnar. Sight seeing in Munnar includes few waterfalls – Atukkad Waterfall, parks – Blossom park, a handful of viewpoints – Pothamedu, Munnar Echo Point and Photo Point (Can there be a cheesier name! The place has written tourist trap all over it.)
Yercaud
The hill station of Yercaud, located in Tamilnadu, is quite possibly the closest one to Bangalore (about 200 kms) among all the ones listed here. The drive takes about 4-5 hours and if you are going by bus it takes about 6 hours to reach from Bangalore to Yercaud.
While you are in Yecaud don't forget to check out (Geesh it sounds like sales pitch, isn't it?) Anna Park (Park check), Yercaud Lake (Lake check), Arthur Seat – Lake view point (view point check), and Kiliyur Falls (waterfall check). All the items on the list checked, anything left soldier?
Hope you liked my blog on coldest hill station in South India. As always if you have questions, or suggestions post them in the comments below.
---
✈️🗽 Travel Resources: Plan Your Travel Now
1. Find cheapest hotels/ hostels: HotelsCombined.com
2. Book your hostel: Hostelworld.com
3. Book your hotels: Booking.com | Agoda.com | Airbnb
4. Book activities, private transfers, day trips, SIM Cards: Klook | GetYourGuide | Voyagin
5. Book your Flights/ Bus: 12go.asia | Kiwi.com | jetradar.com
---